Are you asking yourself "will my boyfriend propose" lately? Well, you've come to the right place!
I have compiled a list of signs that will give you an idea of what he might be thinking.
If he does these things, then it might be time for you to start thinking about how big your diamond should be!
13 signs that your boyfriend is going to propose soon
You might be in a relationship for six months, or you might be celebrating your 10th year together. Either way, it's natural to be curious about what your boyfriend has in store for the future.
Related: What are the qualities of a good man
Here are the top signs that your boyfriend is preparing to propose very soon. If he shows these signs, then he is probably waiting for the perfect time to surprise you with a beautiful ring.
1. He starts talking about the future
A wedding is a conversation that starts with the words "someday," and if your guy has started talking about what to do after marriage, you may be on the verge of an engagement.
If he starts talking about the future in terms of "you and I" or "us," and not as a single entity, you best believe he's thinking about wedding plans. Talk of children, house hunting, and your future life together are all good signs that he is moving towards the proposal route.
Related: How to choose the right man to marry
If you're dating a guy who has never given you an engagement ring, chances are this talk signals his intent to propose soon! If your boyfriend is in the wedding stage of his life (or he wants to be), then he will start talking about what to do next for that future, which includes you.
You'll be shocked when you realize the conversation changed from "someday" to "soon."
2. He's acting all jittery and nervous around you
If you noticed that your boyfriend is acting all jittery and nervous when he's around you, this could be a sign he is ready to propose.
He may also start coming up with excuses for why he needs to get out of the house or go on an errand, even though it seems like there should not be anything pressing at hand.
If he starts to act strange and out of character, it may be because he wants to propose but is having second thoughts. He's nervous about not knowing how you will react or if the timing is right.
Some people love surprises, while others are always planning in advance so they have everything lined up before anything can go wrong. Since your partner is probably thinking about proposing, he will want to make sure everything goes smoothly, and there are no problems that can arise from the situation.
He wants to propose but does not have the courage or self-confidence yet, so he becomes anxious when you are near. This should give you some insight into where your relationship stands.
3. He starts spending more time with you
There are no major signs he's proposing other than when a guy stops spending time with his friends just to spend more time with you. Remember, men like their "game nights" on Saturdays. But if it's you, he surprisingly doesn't care that much about keeping his bachelor activities.
He is suddenly finding more time to spend with you both in and out of work hours. You may even find yourself spending weekends together - something that was not the norm before this love affair started!
So if all of his free time has turned into spending quality one-on-one time, and it's not just because it's your birthday or Valentine's day is coming up, chances are this relationship is headed for marriage.
4. He starts to say "I love you" more often
The frequency of your boyfriend saying "I love you" could be a good indicator.
If he starts to say it more often and with much greater sincerity than before, then this is a sign that his feelings for you have deepened and grown stronger. If he isn't ready to get married now or in the near future, he will not be saying "I love you" more often.
"The more often he says it, the stronger his feelings are," relationship and etiquette expert April Masini told The Huffington Post.
"If he only said it once in a blue moon, but now is saying 'I love you' every day or at least three times per week? He's telling you that wedding bells might be ringing soon. Literally."
If your boyfriend has never said the words of affirmation before and suddenly starts to say them more frequently, then this could mean he will propose to you soon.
5. He started looking for a home or property together
He is ready to propose when he starts to look for a cozy home together. One of the major signs that your man may be proposing soon is if he's been taking you along while house hunting.
If he is asking you to come along and seems interested in your opinion, it's possible that he wants this house to be a future home for the two of you. It would become more obvious if he lived in an apartment and he suddenly decided to look for a better property that could accommodate you and your preferences.
Besides, it would make sense, don't you think? If you love each other and are about to share your lives together, why not live in the same place?
If he is always asking for your opinion on things like paint colors or furniture placement, then this is a sign that he wants you there with him. Not only does this mean love, but it also means a commitment to your relationship and future.
6. He mentions marriage a lot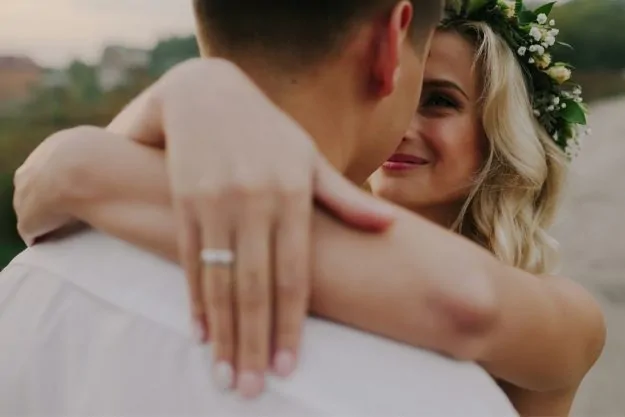 It could be subtle, or it could be overt, but if your guy talks about wedding plans a lot more often than you do and is always asking for advice or opinions, he may be feeling the pressure to pop the question.
If he's constantly talking about wedding plans, arrangements, and the future wedding date to you, it may be because he wants to make sure that your thoughts match his.
This is not a definite sign of an impending proposal, but if this is something that has never come up before, it could mean that he sees marriage as an inevitable step in the relationship.
7. When he's suddenly all about saving money
A proposal does not come out of nowhere. It's a deliberate decision that takes planning and preparation, so it's only natural for you to be on the lookout for signs that he might propose.
If your man has been saving money with an eye towards something big - such as buying a house or starting a family - take note and don't be surprised if he pops the question soon.
So when you notice how he suddenly can't afford the bag you want to add to your collection, he's saving up every dollar for something bigger.
8. You notice him checking out a jewelry store
This is another definite sign that could make you ask yourself, 'will my boyfriend propose?'
We know how most men are just plain clueless about rings. So if your boyfriend seems to be spending a lot of time checking out jewelry stores, it could mean he is getting ready for something. This might be the first obvious hint that he is going to propose soon.
He may have been trying to figure out what ring size you wear or which kind of diamond ring would best suit his bride-to-be. You could subtly help him if he seems to be having a hard time picking. You could give him a hint of your preference, like "I love the ring in this picture".
9. His family and friends start asking when the two of you are getting married
"How long have you two been together?"
"Your wedding must be soon, right?"
"What are your wedding plans like so far?"
These questions may seem harmless enough at first. However, if he is not proposing and these comments continue to come up, it is natural to feel a little skeptical! If a guy has told his family and friends that he is planning to propose, these questions should not be coming up.
It may seem as if they are just being nosy and want to know about wedding plans while you're still in the dating phase of your relationship; however, this behavior is a sign that someone suspects something, more often than not.
Also, if your boyfriend's family is constantly asking when the wedding might be, it may be because they want to know if you are going to take their son away from them. If his friends start teasing him about not settling down yet, or he starts making wedding-related jokes with his buddies more often, then it is a sign that wedding bells are in your future.
10. He's acting like husband material
Don't freak out. That man who suddenly initiated to do the laundry, wash the dishes, make the bed, and leave the toilet seat down is none other than your boyfriend.
This person may seem like a stranger, but he's just trying to show you that he could do housework too! He's showing you that he could adapt to domesticated living and that you should be at ease with him as your partner.
If you found him taking care of other duties around the house without being asked or told to do so, there is a high chance that he's about to propose. He may be thinking this will give him some brownie points with you!
11. Your man wants to walk down memory lane with you
The love between two people is an expression of who they are and what their relationship means to them. It's about the memories being shared, not just a feeling.
That's why your partner may want to walk down memory lane with you before he proposes. He wants to share sentiments about the love between you two and will want to know if this is a journey that both of you are ready for.
If your boyfriend suddenly starts bringing up memories from the past or starts asking questions about your love, then he might want to propose.
12. He's planning a romantic outing
Oh, girl, you're in for a pleasant surprise! Most guys will plan a romantic outing before proposing. He may have planned it for months in advance or he might be planning the perfect day as recently as that morning.
Don't worry about getting your nails done or picking out an expensive outfit because there's no way you can know what he has planned!
Your boyfriend might suddenly tell you that he booked a flight to Paris or that he booked a table for two at your favorite restaurant 'just because'. Sometimes, you might do something so normal as going for brunch at your favorite snack bar. It's not that you're surprised, but it does seem like something is up.
13. Your woman's instinct is tingling
You'll love this! You may not be able to read your boyfriend's mind, but there are many ways a woman can sense when her man is about to propose. And we know how a woman's instinct is often right.
When love is at its height, we feel things that usually go unspoken. And when those feelings grow into love, you can't help but think about the big question: "Will he propose?"
Pay close attention to his gestures and verbal cues in the coming weeks for these signs of love:
He texts you more often than usual or shares especially personal emails with you.

He puts on cologne before he visits you at work.

His family members comment that your boyfriend seems happier than ever.

He's more attentive and romantic than usual.
A woman can sense love when she feels loved, so these signs will not go unnoticed by you!
Your boyfriend will not propose in the near future if he does the following things
Now let's take a look at the signs if your boyfriend is not likely to propose soon.
He never talks about your future together
He never talks about buying a house
He never talks about traveling together
He never talks about having children
If you ask him about the above things he says: "Not yet." or "I am too young for that."
He don't want to move together
He does not act like a gentleman with you
He does not trust you
He is not willing to compromise
He never takes you out (to nice restaurants, movies, etc.)
He never lets you know what he is thinking or feeling
He does not express his love for you
He does not believe in marriage or having kids
He goes out with his friends often without you
He doesn't introduce you to his friends or family members
He is not willing to take the relationship seriously
He doesn't take photos or record your good moments together
Summary
Do any of these signs sound familiar? It's easy to read too much into the signs your partner is giving you. Sometimes it's just a misunderstanding or miscommunication between two people who are in love.
But there could be something more going on if he suddenly starts doing things that seem out of character for him. If you're wondering whether any of these signs could answer your 'Will my boyfriend propose?" question, don't worry.
You can always ask your boyfriend to clarify what his action means.
Sometimes, it may not even require saying anything at all, and sometimes just paying attention will reveal important clues about his feelings.
Nicole Graham is a relationship expert at Womenio.com. She is helping women grow into their best selves so they can be confident and bring more love, passion, and purpose to their lives. Nicole enjoys studying the psychology of love and is passionate about writing on them. She offers helpful tips and advice to help overcome any relationship issue, whether you're single or already in a relationship.