Cinnamon rolls are delicious on their one, but one of the greatest parts about them is the soft, doughy middle ball of the bun that is drenched with cinnamon sugar and icing. Monkey bread is a delicious, easy way to get to the middle of the cinnamon rolls without the fuss of making a whole batch of buns.
Instead of taking the time to make dough from scratch, this recipe calls for pre-made pizza dough that you can buy right at your local grocery store. Pre-made pizza dough isn't just great for homemade pizzas and breadsticks; it's a great element in baking sweets as well. The texture is perfect for monkey bread. It develops a thin crust on the outside but it still chewy and soft on the inside.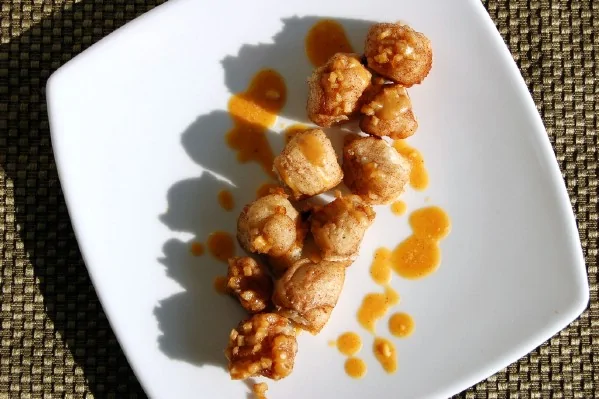 Adding caramel apples to the monkey bread sure doesn't make it any easier to eat, but it adds a crunch and seasonal flavor to the bread. When choosing apples, be sure to use tart apples like granny smith apples or the glaze will be too sweet.
While cream cheese frosting is a staple with cinnamon buns, this recipe goes great with a pumpkin glaze. The recipe is quick and easy, something that can be put together as a special treat for the kids or a sweet afternoon snack. While I'm sure your guests would love it, serving at a party might get a little messy! This bread is best served immediately while it's hot and fresh. If for some reason there is still some leftover, go ahead and re-heat it in the microwave but it is not recommended to heat the glaze.
Cinnamon Apple Monkey Bread Recipe
Prep Time:20 minutes
Cook time:20 minutes
Yields – Serves: 4-5
Nutrition facts:
350 calories
,
17 grams fat
Ingredients:
11 16 oz. bag of pre-made pizza dough (found in the produce section of the grocery store)

12 ½ tablespoons unsalted butter

1½ cup granny smith (or other tart) apple, small dice

11 tablespoon maple syrup

11 tablespoon brown sugar

11/8 teaspoon salt

11/8 teaspoon lemon juice

13 tablespoon granulated sugar

11 tablespoon ground cinnamon
Instructions:
Remove the pizza dough from the refrigerator and let it sit out at room temperature for 15-20 minutes.
Pre-heat oven to 350 degrees.
Lightly spray an 8X8 glass baking dish or other small baking dish with non-stick spray.
Heat a small saucepan to low heat and add the butter. Melt the butter slowly until it develops a light brown color. Be careful not to let it burn. It will brown quickly with such a small amount.
Once the butter is light brown, add the apples, brown sugar, maple syrup, salt and lemon juice. Stir together and let the ingredients simmer gently to a thick syrup.
While the syrup is on the stove, remove the pizza dough from the package by turning the bag inside out and place on a floured surface to prevent sticking. Using your hands, press the dough down gently to form a flat circle.
Using a large knife carefully cut the circle of dough into 5-6 strips and then cut again in the opposite direction forming 1 inch pieces of dough.
Combine the sugar and cinnamon in a small bowl and drop each piece of dough into the cinnamon-sugar mixture. Roll the dough into the sugar mixture and then in your hands and completely cover the ball with the mixture.
Remove the syrup from the stove. Start to place the balls into the baking dish. Lay each ball flat and close to one another. They will rise a little while baking, so it is ok if there is a little bit of space between the balls and the dish.
Once all of the balls are in the baking dish, pour the syrup on top trying to cover all of the balls.
Bake for 15-20 minutes until golden brown. Allow to cool for 5-10 minutes.
Serve immediately. For easy service, you can take out all of the balls yourself and place on to a serving dish or you can flip the baking dish over on to your plate and serve the monkey bread whole.
Optional Dipping Sauce – Pumpkin Glaze or Dip
Ingredients:
1 cup plain cream cheese

½ lb. powdered sugar

1 cup pumpkin puree

1 teaspoon cinnamon

Up to 1 cup water
Note: You can omit the water and use the pumpkin mixture as a dip instead of a glaze
Instructions:
Remove the cream cheese from the refrigerator and let it soften and come to room temperature.
With an electric or stand mixer, whip cream cheese with powdered sugar until soft and fluffy. Add the cinnamon and pumpkin puree and continue to mix on medium-high speed while scraping the edges of the bowl.
On medium-high speed, gradually add the water until the glaze is soft enough to drizzle.
Drizzle the glaze over the monkey bread or serve on the side in a ramekin for dipping.
Sylvia Silverstone is a passionate writer who loves to share her knowledge and expertise on a wide range of topics, including beauty, life hacks, entertainment, health, news, and money. With a keen eye for detail and a talent for storytelling, Sylvia's engaging writing style keeps readers coming back for more.