There's really nothing in the world quite like being alone all by yourself. Why? Well, for starters, it happens to be a completely judgment-free atmosphere. You don't have any pressure to perform and no expectations that need to be met. Nobody gives you strange looks when you might be vocalizing pure nonsense when you're in an empty room. There's nobody there but you.
Interestingly enough, some of our most bizarre behavior occurs when we're by ourselves. The fact is that, often what we do is so random that we prefer not to ever talk about it. For example, performing a remote tracing with one's big toe or simply lining our feet up with the floor tiles so that we won't end up dying.
If you've ever worried about whether it's actually normal to be involved in specific behavior when you're all by yourself, then you'll be happy to know what mental health experts say about it. They say that those actions may be more normal than you might think unless you engage in something that is incredibly inappropriate or just very bizarre.
So, to that end, we put together a list of all the unusual things that everybody does but doesn't dare talk about. And, the fact is that it's probably better that way.
#1
---
#2
---
#3
---
#4
---
---
#5
---
#6
---
#7
---
#8
---
#9
---
#10
---
#11
---
#12
---
#13

---
#14

---
#15

---
#16

---
#17

---
#18

---
#19

---
#20

---
#21

---
#22

---
#23

---
#24

---
#25

---
#26

---
#27

---
#28

---
#29

---
#30

---
#31

---
#32

---
#33

---
#34

---
#35

---
#36

---
#37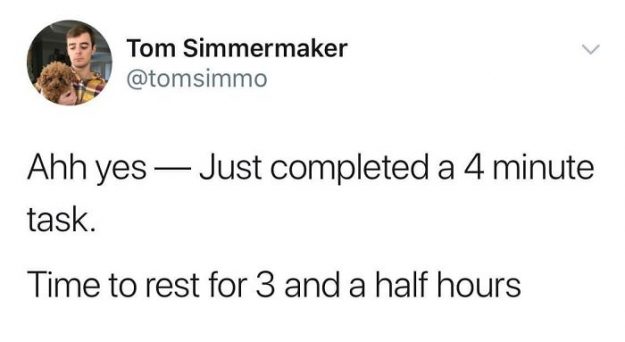 ---
#38

---
#39

---
#40

---
#41

---
#42

---
#43

---
#44

---
#45

---
#46

---
#47

---
#48
Y'all ever try to breathe quieter while walking up a hill so bystanders don't hear you fighting for your life

— Deyoncé (@deelalz) April 3, 2019
---
#49
Do u ever drive like a solid 5 min while thinking about something incredibly random and stupid and then ur like we're any of those lights I passed green how did I get here WTF

— Gabby Lizzul (@gabbylizzul) July 29, 2018
---
#50
I just need 8 to 12 hours of alone time in the mornings and then I'm recharged and ready to tackle the day

— Kevin Farzad (@KevinFarzad) April 14, 2020
---
#51
Movie theater: Please silence your phones.

Me, who hasn't taken my phone off silent since 2012: *double-checks*

— Gayer, Angrier Aaron (@abgates7) May 22, 2018
---
#52
ok I got a question. When you're laying down, do y'all ever just put your hand up for no reason? No just me? pic.twitter.com/mTlFGWcskN

— Kassy (@KassKassy2) December 22, 2017
---
#53
U know that feeling of anxiety as you're about to walk past the security sensors on your way out of a store and u think omg did I shove a tv up my a.s.s i can't remember

— m@thew (@TweetPotato314) December 26, 2019
---
#54
i should get in the shower

*2 hours later someone else starts the shower*

me: oh my god f*ck you i was JUST about to get in there

— Sarcasm (@Heissarcastic) May 15, 2015
---
#55
Have u ever tried to rush outa bed go toilet quickly and rush back to bed before u lose any 'tired' 😂😂😓

— Manny (@MythManny) April 16, 2017