Our boyfriends can sometimes become unbearably adorable. Whenever this happens, it makes us wonder why he's being so cute. If he gets any cuter, he will probably become a puppy.
Some of the reasons why your boyfriend is so cute could be because he's always fun to be around, or maybe his weirdness matches your weirdness. He could also be just into you, which makes him want to do things that you'll find cute.
Related: Why Do I Want to Bite My Boyfriend?
Below are the reasons why you find your boyfriend unbearably cute.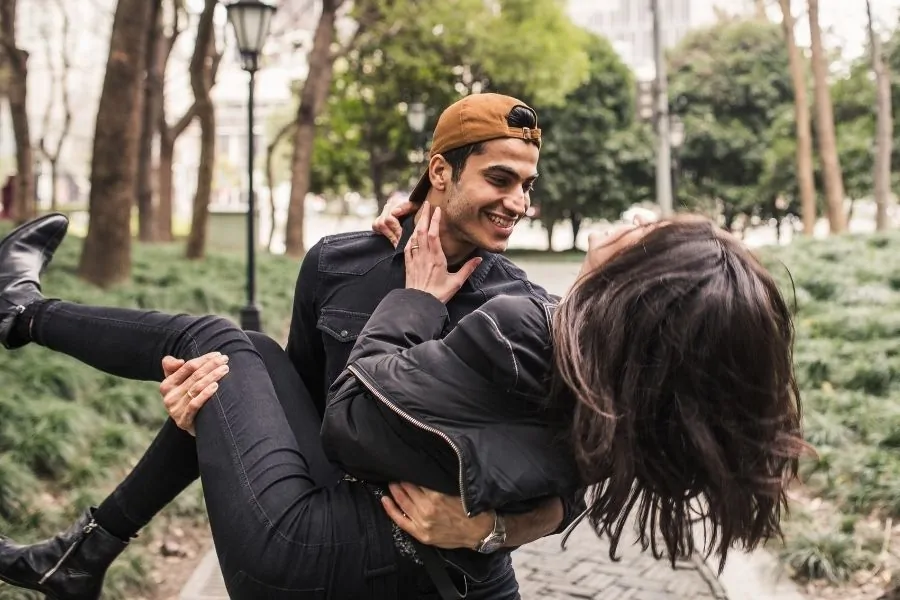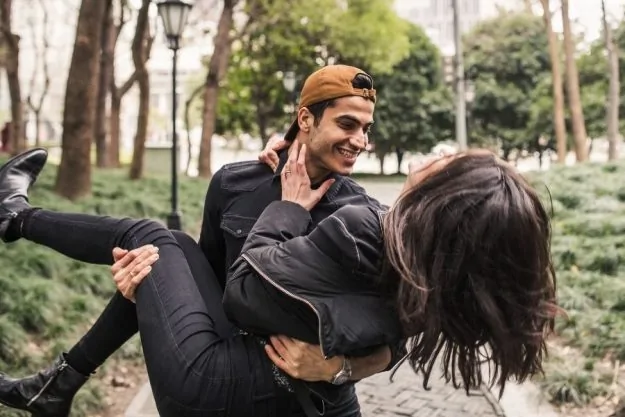 HE'S A FUN GUY
Fun guys tend to be a lot easier to be around. In addition, they can easily turn even the worst situations into enjoyable circumstances. This ability makes them seem childlike and innocent, which makes him too cute to be real.
Like that one time when you got stuck in a line for two hours, and he made you spend by guessing what all the other people you saw did for a living. He kept coming up with sillier occupations, like 'professional nugget eater' and such, which made you pass the time laughing with him.
Related: Cute Love Letters For Him That Makes Him Cry
HIS WEIRD MATCHES YOUR WEIRD
He's probably one of the few people on the planet who can relate well with you. This is because you are operating on the same wavelength. Whatever crazy idea turns you on will undoubtedly occur to him as well. For that matter, you probably complete each other's sentences.
Such as that time when he came to your apartment wearing a bathrobe and bringing ice cream. He told you he just felt like it. The truth was because he knew you watched reruns of Friends in your bathrobe whenever you have your period. This makes him certifiable cute.
HE'S A GREAT GUY
The way he consistently makes you feel good about being his girlfriend makes him the cutest person alive. He's probably a great guy outside of your relationship too. This means he doesn't just treat you well- he treats your grumpy next-door neighbor the same way.
He's a good catch, as well as a good person. His singular ability to impress you with his good deeds makes him one of the most decent people alive. After all, he does it because it is his nature, and not because he wants to be praised.
Related: Reasons Why I Love You
HE INTRODUCED YOU AROUND
He has introduced you to his friends. In fact, most of his other friends whom you haven't met also seem to you. This is because he bragged about you to his friends. The way he talks about you all the time makes him the all-time cutest guy in the world.
You are his pride and joy and this makes him the greatest guy in the world.
HE BELIEVES IN YOU
He knows that you are already one of the coolest people in the world. However, he also knows that you have the potential to be better and even more awesome. He believes that you can become more.
His faith in you makes him downright adorable and loveable. After all, not all guys can successfully do this with confidence. He also believes that you're one heck of a gorgeous woman, even when you don't feel so hot. He even told you that Jennifer Lawrence doesn't hold a candle to you.
HE GETS ON WITH YOUR PARENTS
Generally, in-laws are one of the reasons for most unsuccessful attempts at marriage. Even potential in-laws can be intimidating and downright scary. But he refuses to adhere to popular culture.
Instead, he emails your mother regularly. He even hangs out with your dad sometimes. He also remembers to ask about your siblings and friends. He's the cutest.
HE TAKES CARE OF YOU
What makes him even cuter is the fact that he takes care of your personal needs. He's not a selfish lover. He is also tender and sweet. He remembers where you like to be kissed and proceeds to do so whenever you want and need it.
He also gives you a foot massage or a back rub without prompting. He does this to ensure your well-being in his care. He's also a ready ear and a willing shoulder for your emotional needs.
HE SUPPORTS YOU ALL THE WAY
Even when you told him you wanted to run 10k in the dead of winter, he never batted an eyelash. He was supportive all the way. Even more so, in fact, since he knows you are more capable than you're letting on.
He's the kind of guy who will train with you so you can make it, as well as run with you until you reach the finish line together.
FAQ
WHY IS MY BOYFRIEND SO CUTE WHEN HE SLEEPS?
Your boyfriend is cute when he sleeps because his face relaxes with slumber. Whatever worries and tension he carried around all day to make his face mature, fall away when he's asleep. This makes him look younger, cuter, and more innocent.
IS IT WEIRD TO CALL YOUR BOYFRIEND CUTE?
No. It is not. It's only weird if you find your boyfriend cute but will not tell him. Guys like to receive compliments. It's also always better to be truthful rather than secretive.
HOW DO I KNOW IF MY BOYFRIEND IS CUTE?
You will know when he does all these things that will get your attention, as well as your praise. Cute boyfriends are hard to come by. Generally, they will reveal themselves to be cute whenever they act.
HOW DO I ACT CUTE FOR MY BOYFRIEND?
If you want to act cute for your boyfriend, you should first try to see if he likes cute girls or if he even wants you to act cute. Some guys have preferences. If he wants you to, you can always make sure to need him. Guys like it when they're needed. They feel more powerful.
Nicole Graham is a relationship expert at Womenio.com. She is helping women grow into their best selves so they can be confident and bring more love, passion, and purpose to their lives. Nicole enjoys studying the psychology of love and is passionate about writing on them. She offers helpful tips and advice to help overcome any relationship issue, whether you're single or already in a relationship.