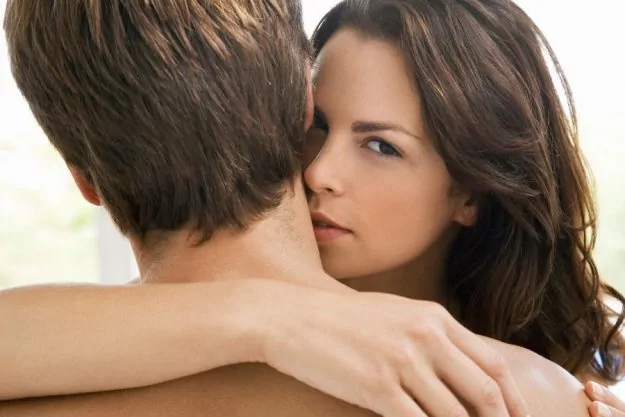 You may sometimes be wondering why you get the urge to bite your boyfriend. You were probably feeling a little too playful, and then the next thing you know, you have a bit of his neck in between your teeth.
There are a lot of reasons why you suddenly want to bite your guys. There are several reasons for this, including cute aggression, a mark of intimacy, your playfulness with each other, as well as your willingness to take part in things beyond the normal boundaries of lovemaking.
Related: Why Does My Boyfriend Bite Me
Here are some reasons why you get this sudden urge to take a bite out of your man.
You Have A Case Of Cute Aggression
Cute aggression is what you call that sudden urge to nibble, squish, and bite something that you find overly adorable. This sometimes happens when you're being playful with your guy or when he does or says something excruciatingly cute.
According to research conducted by psychological scientists from the University of Yale, this "social biting" that we may have learned from our ancestors is actually a neurochemical reaction.
This neurochemical reaction happens to help prevent us from being too overwhelmed or distracted by whatever he says or does. It's basically our body's outlet for a few overwhelming emotions, like a reaction to cuteness.
Related: Love Letters For Him That Makes Him Cry
You Want A Mark Of Your Intimacy
While some guys like to give you presents to wear- such as necklaces- as a sign of your intimacy and commitment, ladies also like to leave a mark. In this case, it's a literal mark on your partner's skin.
Love bites sometimes occur when you feel the need to mark your guy as yours. The bites don't draw blood. They usually disappear after a couple of days. However, what you felt when you did it is not something that dispels just as easily.
It's not just a mark of possession or ownership. It's also one of the ways you can prove and show your affection. After all, actions speak louder than words. When you're overwhelmed by your affection, sometimes, there's no other way to let it out other than biting.
You Need Your Man
Contrary to popular belief, needing someone is not a sign of your weakness as a person. It is a sure sign of strength. So when you bite your boyfriend, you're actually letting him know that you need him in your life.
This is the same as when we were babies who suckled off our mother's teat.
Biting your boyfriend is relatively harmless, but it does carry a load of commitment. After all, it's not easy to admit to someone that you need them. This makes your biting him kind of a big deal.
Your man should definitely be happy with your playful side.
You're Playful And Adventurous
Biting is not something you can just shrug off as normal. Not all couples use biting to express their affection, after all. So when you suddenly feel the urge to bite your boyfriend, it signifies that you are a bit different and that you're not shy about showing it.
Wanting to bite someone means that you're playful and adventurous, in and out of bed. It also means that you're not shy about letting your guy know this side of your personality.
You're Very Comfortable With Your Boyfriend
Biting is one of those activities that you never do to someone you've just met. If you do, you will not only come off as weird but also a little crazy. You're worth more than a side-eye if you do this.
This means that when you do bite someone, it probably means that you're very comfortable with that person. There are no bounds to your relationship. You've shared almost everything with him, and you're not hesitant about showing him your weird side.
Being comfortable with someone is a sign of growing intimacy. Once you find yourself biting your boyfriend, and he's receptive to the attention, it's probably time to take your relationship to the next level.
FAQ
What Does Biting Mean In A Relationship
Biting implies a certain reliance on the other person in the relationship. When you find yourself biting your boyfriend or vice versa, it means that you need each other. This is a good thing for your relationship. It means that you're past the point of shallow affection. You're now on your way to falling in love.
Is Biting A Sign Of Affection?
Yes, biting is a sure sign of affection. The fact that you can go beyond kissing and hugging into biting (which isn't a normal past-time activity) means that you're very comfortable with one another. It's the level of comfort you only get on with someone you are already very intimate with.
Where Do Guys Like To Be Bitten?
Guys generally like to be bitten playfully on the lips, neck, ear lobes, lower abs, inner thighs, and nipples. These are some of the most erotic zones for men. If you're the kind of girl who likes to bite her boyfriend, these are the body parts you should be aiming for.
Where Do Guys Bite Their Girlfriends?
Guys like to bite their girlfriends on the ears, on the back and side of their necks, lips, face, collarbones, hips, breasts, etc. Most guys have their preference, but generally speaking, most men tend to like the whole package when they feel strongly about their girl. In all probability, if he's a biter, you're probably going to be showing the evidence all over your body.
Why Do Guys Like To Give Love Bites
Guys like to give love bites because they like to bring some fun to an otherwise serious circumstance. Most men are playful creatures, and their playfulness is a sign of their affection and comfort. Another reason is their need to put a mark on your skin to signify that you're his love. He probably wants to tell the world how wonderful you are and how lucky he is to have you.
What Does It Mean When A Guy Bites Your Neck?
When he bites your neck, it probably means that he wants to make love to you. Your neck is one of the most sensitive parts of your body, after all. Another reason is he probably wanted to give you a hickey to show the world that you belong to him.
Why Do I Want To Bite My Boyfriend Hard?
Because he triggered your cute aggression by being very adorable. Biting, albeit a little painful, is also considered a pleasurable activity. It makes the bitten skin more sensitive and a lot more receptive to pleasure. If you want to bite your boyfriend hard, it means that you want to give him pleasure.
Read next:
Nicole Graham is a relationship expert at Womenio.com. She is helping women grow into their best selves so they can be confident and bring more love, passion, and purpose to their lives. Nicole enjoys studying the psychology of love and is passionate about writing on them. She offers helpful tips and advice to help overcome any relationship issue, whether you're single or already in a relationship.