I recently replaced my broken old bedroom door with a new one. The old door stood propped against my bedroom wall for what seemed like an eternity! I put off throwing it away for weeks, certain I could figure out something to do with it. I was nearly ready to throw it in the dumpster, when a light bulb appeared over my head: Why not buy some chalk board spray paint, and turn it into a headboard for behind my bed? It seemed like a simple enough project, so I began to research what I would need to make this idea a reality.
The materials you need to complete this project are simple: Just a can of chalkboard paint, which can be purchased at your local home improvement store for about $4.99.
I used the "Rustoleum" brand. There are several kinds available for purchase, including a kind you can dye yourself in any color. In an attempt to keep it simple, I decided to use black.
If you're concerned with clean up, you can lay down newspaper before spraying the door.
I did the project outside on my porch, and was not concerned with making a mess. You'll be pleased to know if it gets on your floor, it wipes off with just a damp cloth. Just make sure you clean it immediately, or it may stain your work surface.
You can prep your door for more even coating by first wiping it down with a damp cloth.
In order to get a more even coat, make sure you aim the nozzle close to what you're spraying.
The spray coats very nicely. I went over the entire door twice, and still only used one can.
It spreads evenly, and the fumes are minimal, as well.
This is what a portion of what the headboard looked like when it was finished drying. The drying process only took about 15 minutes. This is great news if you're attempting to complete this project with a child. They will be able to see rapid results, which is always great!
I was eager to test the chalkboard immediately. I was surprised at how quickly it dried and was ready for use. I drew a simple symbol with the initials of myself and my significant other, with a heart in the middle.
I purchased a bucket of jumbo sidewalk chalk at the dollar store for $1.00.
You can use any kind of chalk, in a variety of colors or sizes.
When you're ready to change designs, you can use a damp cloth as an eraser.
Here is an example of what the headboard looks like behind our bed: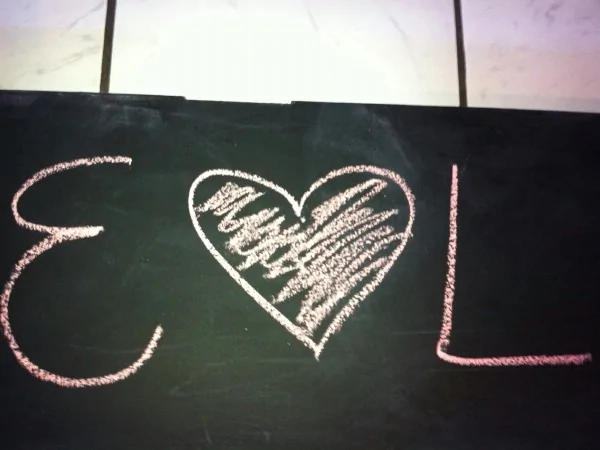 I did not fasten the headboard to the bed, although you could easily do so with a drill and some screws. I'm not well versed when it comes to power tools. I merely slid the old door/new headboard behind our existing bedframe, and it looks great!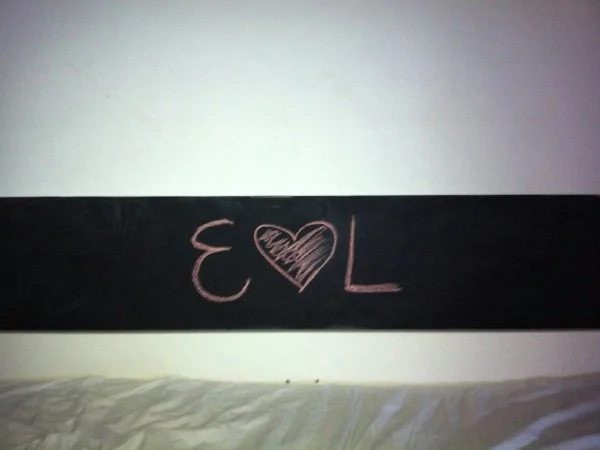 A chalkboard headboard would be a great way to spruce up a child's bedroom, too. My 3-year-old son spends "quiet time" in our room with me during the day, and he usually grabs the chalk to draw the alphabet or cars. It makes for a great teaching tool, in addition to being a fun way to change your bedroom décor on a semi-regular basis. The fun thing about having a chalkboard headboard is you can constantly change the design. You can leave messages for each other, or just be creative together!
Sylvia Silverstone is a passionate writer who loves to share her knowledge and expertise on a wide range of topics, including beauty, life hacks, entertainment, health, news, and money. With a keen eye for detail and a talent for storytelling, Sylvia's engaging writing style keeps readers coming back for more.