Whenever I see "Oreo" or "cookies and cream" or anything else related to that delicious little cookie on a menu, I always order it. I rarely buy packages of Oreos knowing that I would eat the whole package in an embarrassingly short amount of time. Instead, I'll buy a package occasionally and challenge myself to create one of the desserts I always crave when I eat out.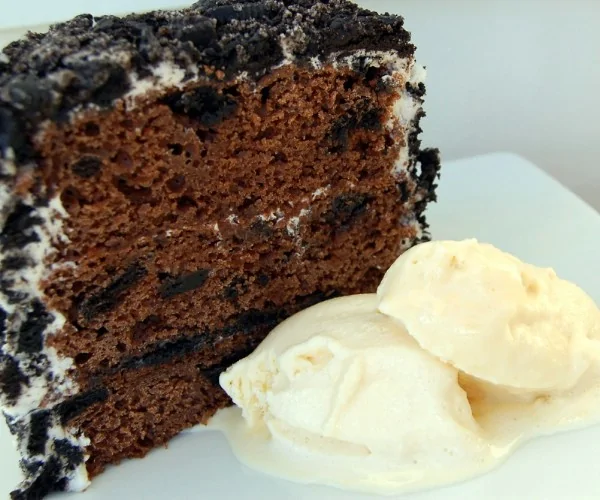 This cake is easy enough for the everyday cook to make but it also offers a little bit of a challenge as well. It's not your standard 8X11 cake. I like playing with shapes and slices and this cake is a tall tower of chocolate, Oreos and buttercream frosting. You can dig up your grandmother's chocolate cake recipe or buy your favorite boxed cake. As long as the recipe yields enough batter to make an 8X11 cake, you will be in good shape.
Another great thing about this cake is that it isn't going to cost you a lot of money to make. It might even cost you the same amount that you would pay for one slice of cake out at a restaurant.
If you are trying to save money while making this cake, I recommend using a box cake from the grocery store and using the "store-brand" cookies. Often times the same manufacturer that makes the "name-brand" item sells the exact same item to grocery stores for re-sale at a cheaper price.
I used them a few times while baking and didn't seem to taste the difference. I also used "I Can't Believe It's Not Butter" instead of real butter. Real butter is expensive and the other brand does not have any trans fat and doesn't make this dessert completely unhealthy!
Not including the regular ingredients that I usually have in my pantry (eggs, oil, etc.) I spent less than eight dollars to make this cake.
Oreo Crumble Tower Cake
Serves: 4-5 large slices
Prep Time: 30 minutes
Cook Time: 25-30 minutes
Ingredients:
1 Chocolate Cake Recipe (I used a box milk chocolate cake recipe)
1 Package Oreos or Chocolate Cream Cookies
2 Sticks Butter or Margarine, Room Temperature
2 lbs. Confectioners 10x Sugar
1 Teaspoon Vanilla Extract
Instructions:
Using your hands or a food processor, crumble the entire package of cookies.
Prepare cake recipe per specific instructions. While mixing the cake, add 1 cup of the crumbled cookies and fold together.
Bake the cake in an 8x11 pan. Once the cake is baked, let it cool completely before cutting and frosting the cake.
While the cake is baking, prepare your frosting. With an electric mixer, whip the butter until soft and creamy. Add the vanilla extract.
Once the butter is soft, gradually add the powdered sugar. Set aside. (Do not refrigerate the frosting if you are planning on frosting immediately.)
Once the cake is completely cool, cut into three equal pieces. Cut the cake in thirds through the long (11 inch) side creating three 11x3.5 inch pieces.
On a clean plate or cake stand, place the first piece of cake in the middle. Spread the frosting on the top of the piece of cake and along the sides.
Place the second piece of cake evenly on top of the first piece of cake and repeat the frosting process.
Repeat again with the third piece of cake. Once all three pieces are stacked on top of each other, it's a good idea to put the cake in the freezer for 10-15 minutes. This allows the cake to harden and is easier to frost.
Once the cake is ready to frost, spread your frosting over the entire cake. You probably will not use all of the frosting, but make sure you cover all holes and gaps. The frosting will stay fresh for 5-7 days for other applications.
Take the cookie crumbles and cover the entire cake. This is easiest to do by taking handfuls of the cookie crumbles and pressing them against the side of the cake. Pick up any pieces that fall and use them to cover the remainder of the cake.
Once the cake is complete, using a long spatula, slide the spatula underneath the cake and place the cake on a serving platter. Cut into slices and serve with your favorite ice cream or in good Oreo-fashion, a tall glass of milk.
Sylvia Silverstone is a passionate writer who loves to share her knowledge and expertise on a wide range of topics, including beauty, life hacks, entertainment, health, news, and money. With a keen eye for detail and a talent for storytelling, Sylvia's engaging writing style keeps readers coming back for more.