A spicy pork stew doesn't need to be loaded with a ton of jalapenos to be hot and make your taste buds tingle. And it can be loaded with layers of flavor built from a few spices, to create a delicious and healthy stew that just makes your eyes tear up slightly.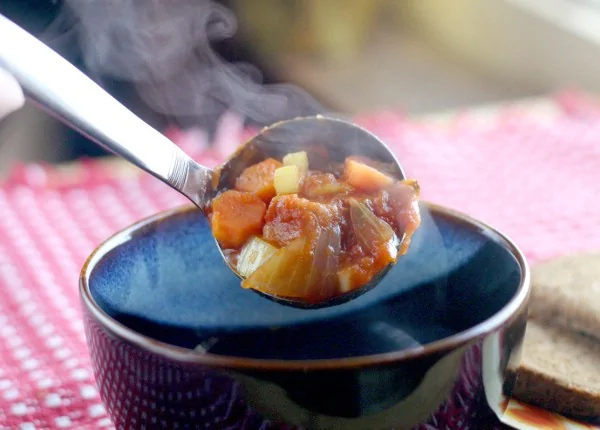 I respect spicy food. In fact, I adore spicy food. However, the one thing I don't like is the aspect of machismo that can be built up around the culture of capsaicin.*
Shows like Man vs. Food where the eater has to sign a waiver to eat chicken wings so spicy that they're named "stupid wings" doesn't appeal to me at all. In fact, that's what I call heat like that – dumb. Food should be a joy, not a challenge.
And this stew won't win any "Oh My God This is the Hottest Thing I've Ever Eaten in My Life" awards. It has kick, but more importantly it has flavor. And the scent of it filled our apartment with warmth and made my stomach growl.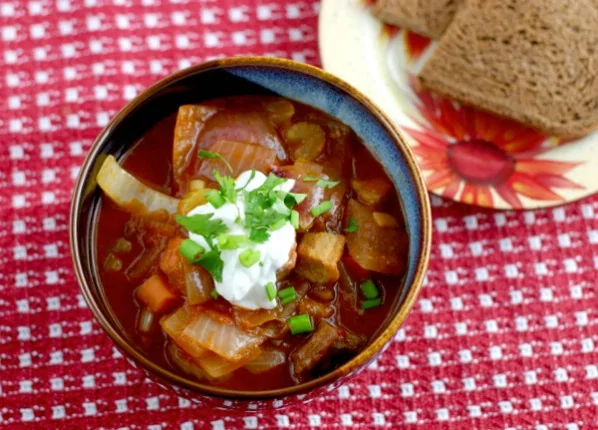 Smoky and Spicy Pork Stew
Prep Time:15 minutes
Cook time:50 minutes
Yields – Serves 4
Nutrition facts:
190 calories
,
20 grams fat
Ingredients:
1 pound of pork butt with fat removed and chopped into 1 ½ inch pieces

2 tablespoons of olive oil

Kosher salt

Black pepper

½ cup of flour

1 cubanelle pepper

2 carrots, chopped

2 stalks of celery, chopped

1 large red onion, diced

4 scallions (white part only)

1 tablespoon of pickled jalapenos, chopped

2 teaspoons of Worcestershire sauce

½ can of fire-roasted whole tomatoes

4 cups of chicken broth

2 tablespoons of tomato paste

2 teaspoons of hot smoked paprika

2 teaspoons of cumin

1 teaspoon of cayenne

Garnishes:

Sour cream

Cilantro

Greens of scallions
Instructions:
Preheat oven to 425.
Season the flour with salt and pepper and roll the pork pieces through it so that they are totally covered.
Heat the olive oil over medium heat until hot but not smoking, and drop the pork in. Brown on both sides.
Remove the pork and add the onion, carrots, celery, scallions. Cook vegetables until softened, about 7 minutes.
Add the pork back to the pan along with the jalapenos, Worcestershire sauce, tomatoes and chicken broth.
Simmer covered for 30 minutes or until the vegetables are tender. While the stew is simmering, wash the cubanelle pepper and place it on a rimmed sheet pan in the oven.
Roast for 20 minutes or until it's blackened in spots.
Remove the pepper from the sheet pan and place in a paper bag.
Let it sit for 10 minutes. (That helps the skin to come off easily.) Remove the pepper from the bag and pull the skin off.
Cut the top off and remove the seeds. Dice the pepper and add into the stew along with the  tomato paste, paprika, cumin and cayenne.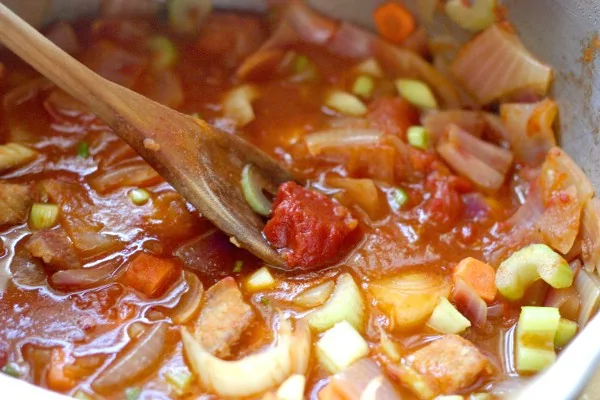 Simmer the stew uncovered for 15 minutes to thicken it.
Serve with sour cream, cilantro and scallions.
Photos by ©Launie Kettler
*Not that I'm knocking capsaicin though! Not only does it give peppers their heat, it also has a whole range of health benefits. It helps to fight arthritis symptoms, headaches, sore sinuses and it's also a general anti-inflammatory.
But the good news doesn't stop there. If a person is looking to lose weight, consuming capsaicin is a very good idea. It's a thermogenic agent, which means that it helps to boost metabolic activity, which helps to burn calories and fat. Capsaicin also raises the body's temperature which can help a you burn more calories after a meal. Also, because capsaicin comes cloaked in spicy chilies, they get a double boost of health, because chilies are full of vitamin C. In fact, one chili pepper can hold nearly four times the amount of vitamin C as a an orange. So, enjoy a chili or two - or three. Just don't hurt yourself to do it.
I am an American writer who is currently pursuing my Bachelor's Degree in English Literature. I have, over the past 5 years, been published both online and in print magazines. I enjoy writing about anything and everything related to home and family including home décor and design, women's health and providing others with tips for enjoying some down to earth family time. I love helping gardeners to plan their landscapes and offering advice on a number of home related topics. As a mother and grandmother, I have plenty of experience to share.