Planning a nursery can be a rewarding and even fun project. If you are expecting a new baby, and you want your nursery to be unique, there are a number of ways that you can accomplish this. Creating a unique nursery for your precious new baby is not difficult; you simply need the inspiration to get you started. Here are a few ideas of how you can turn your nursery into a unique and very comfortable place to bring your baby home.
1. Elegant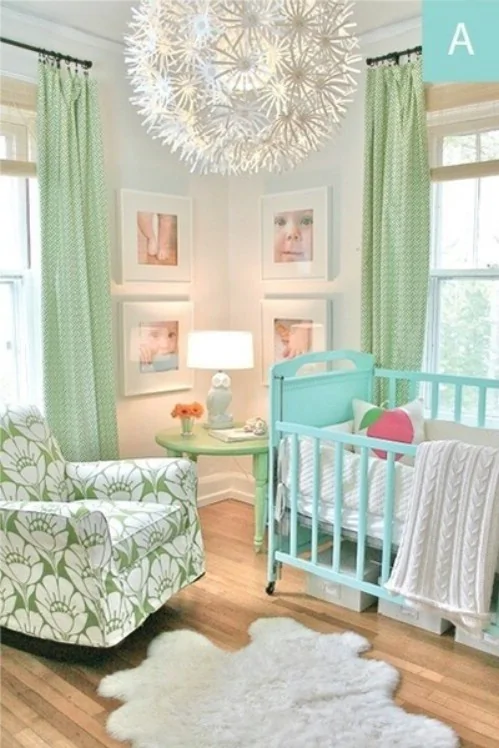 OK, so elegance may not be what comes to mind when you think of a newborn but aside from the feeding, burping and changing you can add a little elegance to the room. Think about soft colors. Light greens and beige work well for boys and girls and adding just a few simple touches will give you a very elegant looking room.
Finish the room off with white walls and light flooring or if you have hardwood flooring, consider adding a throw rug in a light or pastel shade. Lighter colors will instantly brighten your mood and lighten baby's mood as well. Instead of a dark colored crib, consider painting it white or a light shade of blue or green.
Add some flowing curtains and you are well on your way to an elegant and happy nursery. Using white in combination with lighter shades of blues and greens gives you a beautifully elegant room and one that any baby would be happy to come home to.
2. Basic Colors
You remember the basic colors, right? Blues, browns and other basics work well together to create a stunning room and one that is very eye-catching. These colors work very well in smaller rooms because depending on how you use them, you can make that room appear much larger. Think about painting one wall with blocks of basic browns.
Divide the wall into several large blocks and then paint each block with a varying shade of brown, beige and other neutral colors. Choose one or two blocks and paint those pink or blue depending on whether your baby is a boy or a girl. This helps to personalize the room and makes a stunning statement along that wall.
Putting baby's crib up against this wall will make that the instant focal point of the room and after all, your baby should be the main thing in the nursery that draws attention. Add a light colored rocker in shades of light blue, pink or white and curtains that match the pink or blue blocks on your wall and you have a beautiful room that is fit for a king – or queen.
3. Primary Color
If you really want to make a unique statement and decorate your nursery specially for your newborn, consider simply splashing color all around. If you are having a girl, use different shapes of pink. For boys, use varying shades of blue. You can keep the entire room focused on just one color without it looking tacky. If you are planning to decorate primarily in one color, you have to be careful that you do not make the room structure that color. In other words, you have to use neutral colors on the walls and ceiling and then choose furnishings and other items in your color of choice.
Think about pale gray walls or off-white with white trim. Now, you certainly do not want to go too overboard so it is best to keep your floors neutral as well. This all out color scheme works best for hardwood floors as opposed to carpeting although you can use neutral colored carpets if you choose. Simply add your colored accents like rugs, bedding, curtains, and other items in any one color or different shades of color that you want. This is an excellent choice if you have older baby furniture and you really want to dress up the room with it.
4. Vintage
If you like the look of vintage furniture and you want to incorporate that look into the nursery, there are many ways that you can make the room look beautiful no matter how vintage your pieces are. Add an old dresser or nightstand along with an older rocker or even a nicely upholstered armchair.
These work great in rooms of any color and you can even mix and match your colors as well. Darker colors work great to give you that vintage nursery look. Hardwood floors and darker walls are the perfect pairing for older cribs and vintage patterns. You can even use some of your own baby furnishings and items to really help you to connect with your newborn.
Think about visiting flea markets or yard sales and picking up items that can be redone before the baby arrives. Older furniture like chairs and night tables can easily be refinished and used to create a stunning look in the nursery.
5. Captain's Quarters
Finally, whether you live by the sea or not, you can incorporate this look easily into your nursery. Begin by simply painting the walls blue and adding soft red accents. Red rugs, curtains and other smaller items will help to pull the look together without being too overbearing. Add a nice little sailboat and your little sailor will be adorable in this unique nursery. Add an old nightstand that looks a bit weather worn and even a comfortable rocker to finish off the look.
Creating a beautiful and unique nursery is not difficult. As long as you know what you want, you can create any look that you desire and give your little one the perfect place to call home.
Read next: DIY Glow in the Dark Stones
Cynthia is a U.S. writer who has been writing online for more than a year. She enjoys writing and sharing the latest hair fashions including caring for hair, and giving hair style tutorials; tips for having great skin and a healthy body just to name a few things. Offering a little advice for getting through tough days is another subject she enjoys adding her 2 cents on. She has lots of hands-on experience with hair care, lifestyle tips and hair styles.