If you are one of those people who like to be different, we have a great idea for you. Instead of spending hundreds on solar lights for your pathway or garden area, consider making glow in the dark rocks. No, these are not something that you will find at your local home improvement store. They are something that you can make which makes them the perfect project because not only do you get a beautiful and unique pathway, you get it cheap.
How to make glow-in-the-dark rocks?
You can make glow-in-the-dark rocks that blend with any landscaping design.
Lay your rocks on newspapers to protect your work surface.
Brush all of the loose dirt and dust from the rocks with a dry paintbrush.
Paint two light coats of glow-in-the-dark paint on the surface of your rocks.
Best glow in the dark paint
First of all, you'll need the best glow in the dark paint that you can use on rocks or stones.
After a thorough research we found a promising glow in the dark paint from Amazon and it worked really well in fact: Glow in the Dark Paint - Amazon.com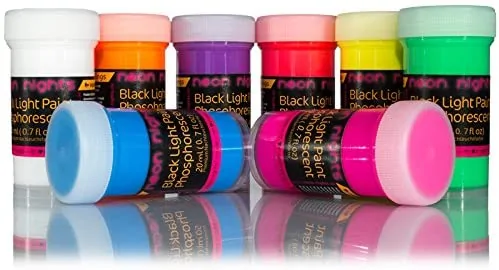 You can use any type of rocks that you want for this project so if you happen to live in an area that has lots of river rocks then this will really be a breeze. You will need to purchase a can of Glow in the Dark Paint. This is a brush-on paint and you will need about a seven-ounce can. If you are planning to do a relatively large area, you may want to consider picking up two cans. This idea works great with any type of landscaping design.
Painting The Rocks/Stones
Once you have your materials ready, just lay the rocks on newspapers or other material to protect the area where you are working. We recommend painting the rocks outdoors so that the paint fumes do not get too strong.
Be sure that you thoroughly clean the rocks, brushing any dirt or other debris from them before you paint. Even the best glow in the dark paint will fail if you skip this step and don't clean the rocks. Next, you just brush a light coat onto the surface of all of your rocks. Once this coat dries, go ahead and add a second coat to ensure that you get the surface of the rocks covered well.
You can add a light coating of epoxy or another clear coat if you want to ensure that the paint lasts through different weather conditions.
That is all there is to it, this is how to make glow in the dark rocks.
Now you have lovely rocks that will provide excellent and unique lighting for your pathway. Just lay them in the places where you want them and build a beautiful walkway that will charge up during the daytime from the sun's UV rays.
During the night, you will have a lovely glow on your walkway. You can add other elements if you want to make it truly unique, but this inexpensive and easy idea is really all you need to create a lovely walkway or garden area.
How long do glow in the dark rocks last?
It will vary depending on the type of paint you get. If you are looking for the best glow in the dark paint for rocks then check this out. After using the paint, the glow in the dark rocks will absorb the sun's rays throughout the day. The amount of glow they have will depend on how much sun you've had that day and how strong the sun was. You should get 10 to 12 hours of glow on a good sunny day. But, you may see some variation.
How do glow in the dark rocks work?
The paint on these glow in the dark rocks absorbs the sunlight during the day. When the sun goes down, the fluorescent paint glows causing the rocks to glow in the dark. There is no electricity required to get them to glow. But, you do need to have UV light from either the sunlight or a special UV lamp.
Using glow in the dark rocks is a wonderful way to gently illuminate an area in your yard without using solar or electrical lights. They can also be used to light driveways and sidewalks where you don't have access to electricity.
Will these rocks glow inside?
These glow in the dark rocks work because the paint on them absorbs the UV light from the sun. They do not glow simply by painting the surface with the paint. So, if you keep the rocks outside all day to absorb the sun and bring them in, they will glow in the dark at night.
However, you cannot paint the surface of the rocks and expect them to simply glow inside. But, you could use a UV light to charge the rocks inside and then have them glow. You must have UV light for the rocks to glow inside.
What types of rocks should I use?
You can use any type of light-colored flat rock. If you want to use these glow in the dark rocks as a pathway, you should look for large flat rocks that are large enough for people to step on comfortably. You can order garden pavers or stepping stones Here from Amazon that are specially made for this purpose if you like.
But, if you simply want these rocks as an accent or a border in your garden, you can use any size rock. It will be easiest to pain rocks that have flat surfaces. The paint will not charge well if the rock has lots of crevices and cracks. The paint will only charge where the sunlight reaches. So, a large flat rock is best.
Can I paint other things?
Yes, you can use the glow in the dark paint to make other things glow. You can use it on the outside of your birdbath or any stone garden decorations. You can even use it on your garden lantern or your flower pots. Experiment to see how it looks to have your whole garden glow in the dark.
You can easily use more than one colored paint to create designs or decorations on your rocks as well. Or, paint different rocks with different colors for a unique, multi-colored look. For a fun Halloween project, you can paint your Jack O Lanterns different colors and have them glow in the dark as well.
Pre-Made Glow-In-The-Dark Pebbles For Extra Glow
It's also a good option to buy these pre-made Glow-In-The-Dark Pebbles available in Amazon: https://amzn.to/2XftE9Q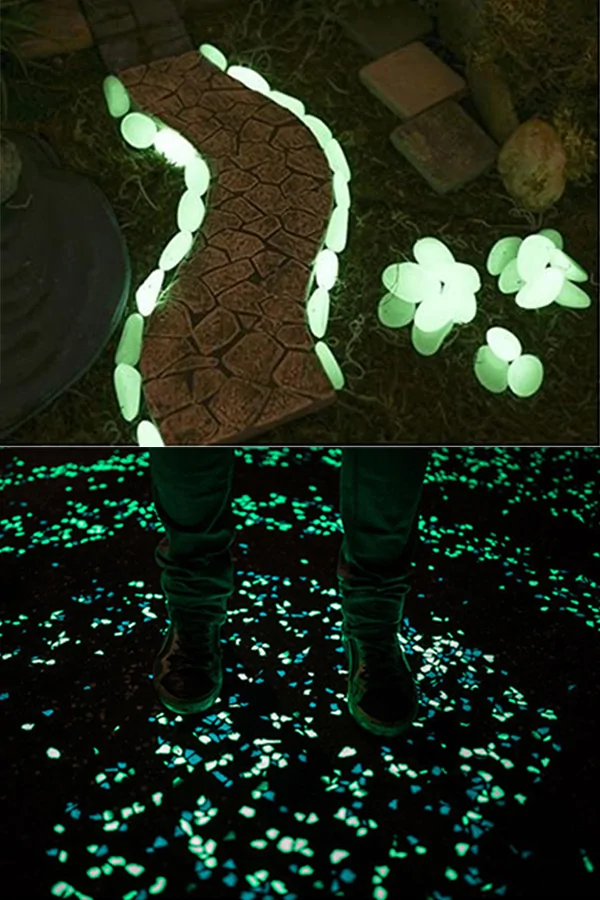 Are glow in the dark rocks safe?
Yes, these are completely safe. When painting, you may want to do it outside to avoid any odor from the paint. But, you can easily add these to your garden or your yard without any harm to plants or wildlife.
How do you make glow in the dark paint last longer?
If you want the paint on these glow in the dark rocks to last longer and glow more brightly, here are a few tips you can follow. I recommend using the best glow in the dark paint for rocks like this.
Use light-colored rocks rather than dark-colored rocks.

Use a white primer underneath the paint for the best results.

Let the paint dry for 10 to 15 minutes between each coat.

Use two or three coats of paint on these glow in the dark rocks for maximum glow.

Check for coverage using a black light to be sure you haven't missed a spot.

Be sure to charge them under the sun on a very bright day.

Rocks that are in a shady area will not charge well.
What do I need to make glow in the dark rocks?
This glow in the dark rocks DIY uses only a few simple materials. You may already have most of them at home. But, if you don't, you can order what you need online. Or, find them at your local craft store.
Large flat rocks

Glow in the dark paint

Paintbrush

Newspapers to protect the surface

A scrub brush to clean your rocks and remove debris
Pro Tip
Before you paint your glow in the dark rocks, it's important that they be free of dirt, dust, and debris. You can brush them off with a scrub brush to remove anything loose from the surface of the rocks. Or, if you want, you can wash them with mild dish detergent if they are heavily soiled. But, be sure that you allow them to dry completely before you paint them. This should take at least twelve hours for a large rock. You can help it dry more quickly by placing it outside in the sun. Or, you can use a hairdryer on low.
If you don't clean them properly and allow them to dry, the paint won't adhere to the surface well. And, this will result in rocks that don't glow well. Or, it may cause the glow in the dark paint to flake off the surface of your rocks.
More DIY projects to try
If you enjoy making these glow in the dark rocks, You might want to learn how to repurpose an old bedroom door. Or, check out our DIY vase collection for ideas on how to make a truly unique vase for your flowers. Need more?
PIN THIS TO SAVE FOR LATER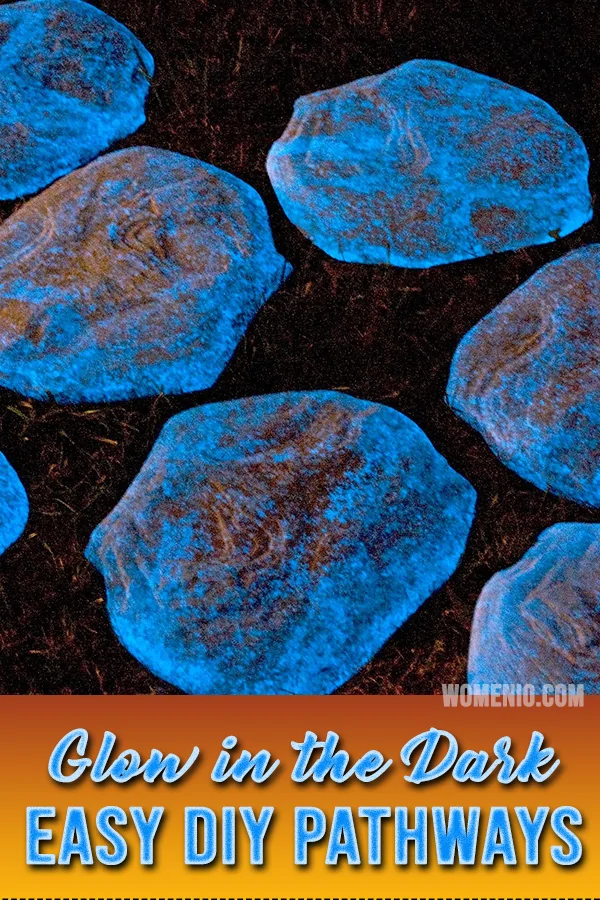 I am an American writer who is currently pursuing my Bachelor's Degree in English Literature. I have, over the past 5 years, been published both online and in print magazines. I enjoy writing about anything and everything related to home and family including home décor and design, women's health and providing others with tips for enjoying some down to earth family time. I love helping gardeners to plan their landscapes and offering advice on a number of home related topics. As a mother and grandmother, I have plenty of experience to share.