Ann Hiatt did not think much when she applied for the job at Amazon. Before meeting Jeff Bezos, she went through a typical interview process on various levels within the company.
Once she got an interview with Jeff Bezos, one of the wealthiest people on the planet, Hiatt became his junior assistant on the spot. All it took were two carefully designed questions.
Ann came to the interview relaxed and felt even greater relief once Bezos informed her that he would only ask two questions. So, here is what it took Hiatt to become Bezos' right hand.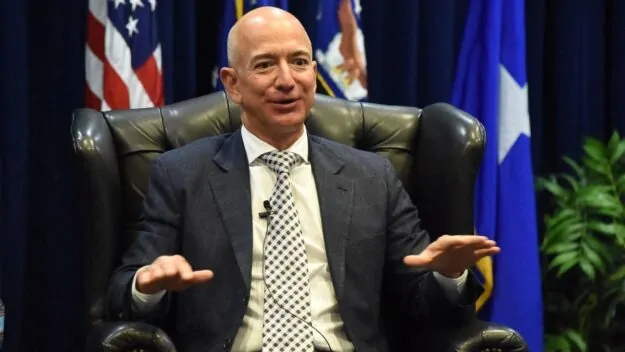 Hiatt talks about the first question Bezos asked
Hiatt revealed the interview process on CNBC show CNBC Make It.
When she got to talk to the billionaire CEO, he asked her to solve a brain teaser, saying, "I'll do the math."
Bezos asked:
"I want you to estimate the number of panes of glass in the city of Seattle."
Hiatt responded she would involve the city's population, then determine whether they had homes, transportation, an office, and a school.
The two went into detail and "got down into every possible scenario, group, anomaly, and ways to account for these exceptions."
Bezos finally concluded:
"That looks about right."
The second question was less puzzling
Once Hiatt impressed Bezos with her first answer, he asked about her career goals.
Hiatt responded that "Amazon had proven to be a company full of ambitious and passionate people."
She added she wanted to learn from the company since "their strengths were in the areas I wanted to develop."
Though she told her future boss she had no experience as an assistant, Bezos hired Hiatt on the spot.
Also read: 21 Things Women Wear That Men LOVE
Jeff Bezos' questions measured the candidate's potential
It took Hiatt several years of working for Bezos to figure out what he wanted from an interview.
Not only was the young woman hired on the spot, but her desk was closest to Bezos', three feet away. That's how she figured out how Bezos' mind works.
Explaining his interviewing process, Hiatt said that Bezos "was measuring my potential." He wanted to explore if the then-potential employee "had the grit, courage, and motivation to run at his pace and be brave enough to jump with him and level up consistently."
Bezos was right about hiring Hiatt
Today, Ann Hiatt is a Silicon Valley veteran. Her interview with Bezos from 2002 only proved that the CEO knew how to spot talent despite her lack of experience.
With time, she landed new opportunities, started her own company, and became a published author.
Hiatt's hiring story is encouraging, proving that the most successful bosses follow unconventional interviews. However, they are much simpler than we once thought.
READ NEXT:
Sylvia Silverstone is a passionate writer who loves to share her knowledge and expertise on a wide range of topics, including beauty, life hacks, entertainment, health, news, and money. With a keen eye for detail and a talent for storytelling, Sylvia's engaging writing style keeps readers coming back for more.