Most of us love potatoes. Fried, baked, boiled, mashed... They are a comfort food for sure and now that winter is here, we can enjoy them without the guilt of overdosing on carbohydrates.
During colder months, our body needs the slowly released extra energy coming from starchy foods like potatoes.
But we also need protein for a balanced diet and this recipe does not lack in protein either! We are used to the concept of getting the protein we need from meat. Too much animal protein can cause a number of health issues though, so it is good to enjoy it just once in a while , if you must.
There are excellent sources of plant-based protein that you can incorporate in your diet. Beans, that we are going to use in this recipe, are a great example.
So, potatoes offer you fiber, vitamin c and potassium. And you get proteins but also antioxidants from beans. Would you like an extra antioxidant and anti-aging boost? Don't worry! Just add in a portobello mushroom and you will get quite a bit of selenium. What selenium does, is that it protects our bodies from oxidative stress. These beautiful fungi are also rich in niacin, a form of vitamin B that helps our metabolism. Portobello mushrooms will also add to this recipe the chewy texture of meat, as they have thick, full flesh and a deep flavor, when cooked right.
But if you have a fancy dinner, could you serve plain potatoes with beans to your guests? No matter how healthy that would be, you probably need something a bit "sexier". Well, this recipe has a few simple twists that will transform the basic ingredients into a gourmet dish. Take a pen and start making your shopping list (the ingredients list is for 2-3 people):
Ingredients: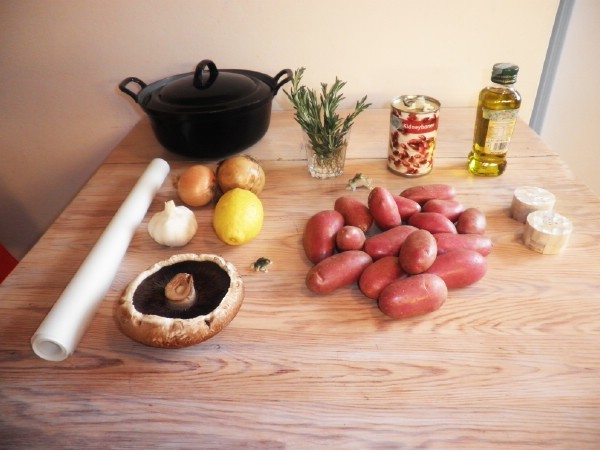 10-14 red-skinned potatoes, depending on the size
1 can red pinto beans or any other type of beans you like
2 medium onions
1 whole garlic
1 portobello mushroom
4-5 tbsp olive oil
fresh rosemary (a lot of it, if you like it)
1 lemon (you will just use the rind)
salt and pepper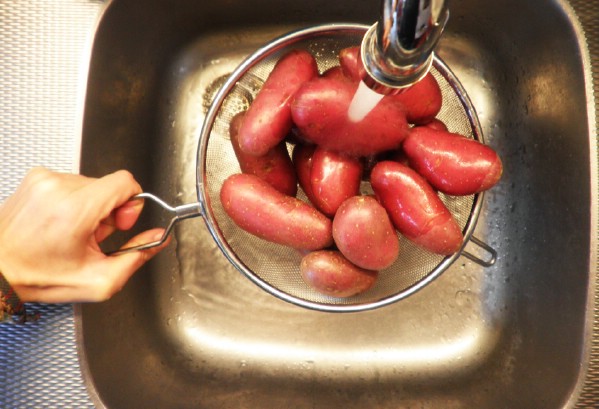 1. Wash thoroughly the potatoes, as you will bake them with the skin. By choosing red-skinned potatoes you make the dish more impressive and they do have a milder taste than the regular, yellow-skinned ones. But you can use those of course and the recipe will be equally successful.
2. Drain the beans from the can water and rinse them.
3. Pick out your prettiest oven-friendly cookware. A cast iron skillet would be the best, but a glass one is also suitable. Line it with some parchment paper. Quick tip: If you soak your parchment paper with cold water, you will be able to line it easier on your skillet, no matter what the shape. The extra moisture from the evaporating water will help keep the moisture of your dish, while it bakes.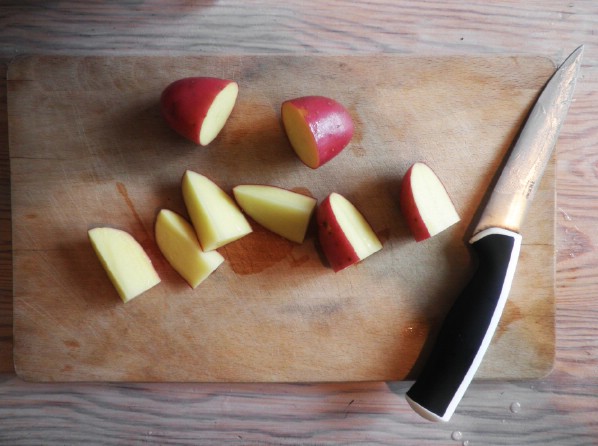 4. Cut the potatoes in half, and then each half in quarters.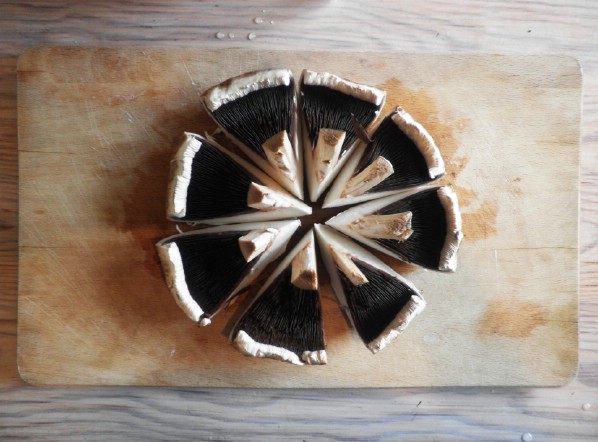 5. Brush the mushroom with a cloth or soft brush and cut it up in 8 pieces.
6. Brush the parchment paper with olive oil and then put in the potato and mushroom pieces.
7. Peel the onions and cut in chunky pieces or onion rings, according to your preference. Add them in the skillet.
8. Peel the garlic and cut the garlic cloves in half length-wise and scatter them in the skillet.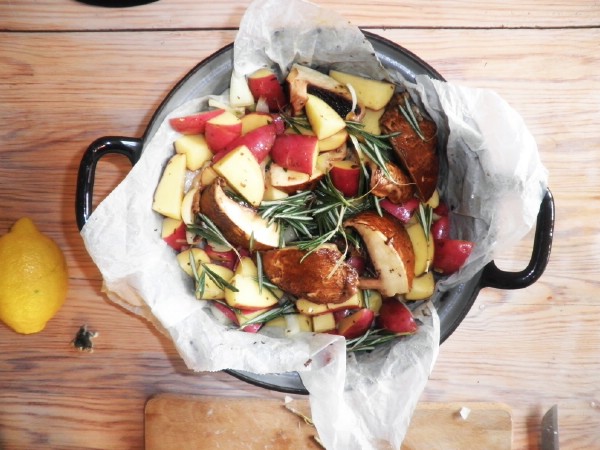 9. Poor the rest of the olive oil in the skillet and use your hands to "massage" all the ingredients with it.
10. Add the fresh rosemary and sprinkle with salt and pepper.
11. Bake in the oven at 200C (400F or gas mark 6) for 40 minutes.
12. Take out of the oven and add the beans. Bake for 15-20 more minutes (depends on your oven). Pierce the potatoes with a fork and if they are tender, your food is ready.
13. Serve on shallow dishes and grind lemon rind on top of each dish. This does really make a great difference and makes the heartwarming dish also elegant and light-tasting.
In this recipe, canned beans are used to save you time and they are usually more easily digested than home-cooked beans. But if you do have time to properly soak dried beans for 8-12 hours and then simmer them for around one hour, then you can cut your cooking cost. In case you are worried about the digestion of beans, there are a few tricks to make them more digestible, when cooking them from scratch: add in their boiling water a slice or two of ginger, fennel seeds or a bay leaf. Do not add salt while simmering, as this hardens the beans.
This is a very versatile recipe. Feel free to add fresh spinach or Brussels sprouts. They taste great when baked and you get even more valuable nutrients. This way, you can take out onion and/or garlic, if you have issues with them, and still keep a full taste.
Enjoy this dish with a glass of white or rose wine. Lemon and rosemary blend well with dry white wines, but if you feel like having a red one, do not worry. The distinct taste of portobello and beans can handle it as well.