The two biggest trends I am obsessed with this fall are colored skinny jeans tucked into tall boots, and pumpkin-flavored anything. Unfortunately, pumpkin-infused foods and skinny jeans are rather contradictory things to love.
A Starbucks Pumpkin Scone contains nearly 500 calories, while my fall drink of choice, a Soy Pumpkin Spice Latte, brings in nearly 400 calories. This is depressing, but that means I have already consumed about half of my daily calorie intake by the time I pull into my parking space at 7 a.m.
As a health-conscious vegetarian and avid runner, I am NOT okay with this. But I'm also not okay with giving up the pumpkin. I just want to enjoy my pumpkin without looking like one!
After playing around in the kitchen, I have found that it is indeed possible to replicate the delicious tastes of these seasonal treats without sacrificing your health or going up a size (or two!) in those skinny pants you love.  Most of the replica recipes you will find tagged on sites like Pinterest yield delicious products, but they're just as packed with calories, sugar, and fat as the original Starbucks versions.
Check out my recipe below to get as close as you can to the real thing without shelling out cash or consuming empty calories!
Starbucks Pumpkin Scones
This recipe makes eight large scones, or twelve "mini" scones. If you're bringing them to a party or the office, I would suggest making the "mini" version.
What You Need:
2 cups whole wheat flour
7 tablespoons sugar blend or sugar replacement
I used Splenda.
1 tablespoon baking powder
½ teaspoon salt
½ teaspoon cinnamon
½ teaspoon ground nutmeg
¼ teaspoon ground cloves
¼ teaspoon ground ginger
Note: I have also used one teaspoon of pumpkin pie spice in place of the ginger, cloves, and nutmeg. You could do the same if your pantry is missing any of these spices.
½ cup canned pumpkin puree
3 tablespoons soy creamer or fat-free half and half
I used Silk Original Soy Creamer.
6 tablespoons margarine or vegetable spread
You could certainly use old-fashioned butter instead, but it will add calories and fat to your scones.
1 egg
To make the recipe vegan-friendly, use a non-dairy egg substitute.
The first thing to do is measure out your dry ingredients in a large bowl. Combine the flour, sugar, and spices. Preheat the oven to 425 degrees after you do this.
Then add the vegetable spread/margarine to the dry ingredients and blend together in a food processor or mixer. The food processor would probably be quicker and easier to use, but for those of you out there who are on a teacher's salary or the equivalent like I am, an affordable mixer does the trick! Note that the consistency of the butter mixed with the dry ingredients will be gritty, similar in texture to cornmeal.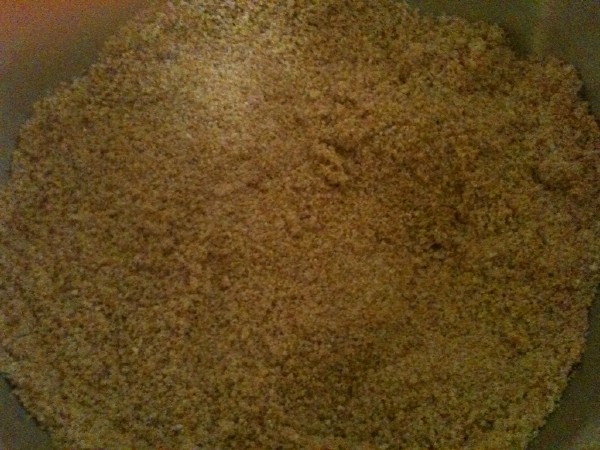 In a separate bowl, combine pumpkin puree (do NOT use pumpkin pie canned mix- just pure pumpkin) and egg. Blend the egg/pumpkin mixture into the dough.
Once all your ingredients are combined, you should be left with a thick dough that can easily be formed into a ball. On a non-stick surface like a glass cutting board, flatten the ball out so it is a flat circle that is about one-inch thick.
Using a pizza cutter, cut the circle into eight equal sections and carefully lift the sections onto a cookie sheet lined with non-stick foil or parchment paper. Bake for 12-14 minutes.
Note: Make sure not to overbake them! The first time I made this recipe, I put them in for 14 minutes and they were so burnt that even the squirrels outside my apartment didn't want them. Check them after 12 minutes to see whether they are golden brown.
They are delicious, but I would suggest allowing them to cool for about 45 minutes to an hour before devouring these goodies. You don't want to burn your taste buds and prevent yourself from enjoying the full flavor! I personally serve them plain to cut out the calories that come from a sugary glaze, but if you have too much of a sweet tooth to resist icing, simply mix together one cup of powdered sugar and 2 tablespoons of soy creamer or half and half. Drizzle the icing over completely cooled scones with a large spoon. Allow the icing to harden before serving.
Of course, the final step is to enjoy one of these scones with a hot cup of coffee and a good book!