Even though I'm looking winter straight in the eye and saying, "Bring it on," in my biggest, boldest, fakest voice, I'm actually clinging onto fall with both hands.
I envision myself in a huge tug of war - with me on one side, Mother Nature on the other and a mud pit between us. And my heels are slipping.
Leek, Apple, and Blue Cheese Tart
So it's time to live in the moment and enjoy the fresh fall vegetables that I have left to play with before they're gone. Because, sooner rather than later, I'm going to be stuck with bland vegetables that have traveled hundreds of miles to get to the grocery store. Sure, there are some delicious foods that really represent the cold weather - like pomegranates, parsnips, beets and potatoes - but in general winter means lackluster tomatoes, sad strawberries, wilted celery and anemic spinach.
With that in mind, I stopped by the farmers market last weekend like a woman on a mission. What I found made me grin like a fool. Because it was the weekend before Halloween, the beautiful barn where one of our favorite local farms hosts a seasonal market was over run with pumpkins, and little kids were pulling the orange globes half the size of their bodies in wagons. Farmers were happily talking to customers and answering questions about the fall crop while dogs merrily ran around the technicolor gourds dotting the lawn in front of the barn. Inside the building, the slatted walls whistled as chilly October air blew through and over stalls of multicolored produce and local dairy products. I wound my way through the throng of happy shoppers to the far wall where I discovered some of the most beautiful produce I've seen. There were stunning empire apples, gorgeous leeks, fresh summer savory and delightfully pungent Vermont blue cheese.
When I saw those amazing ingredients I knew that it was time to make a seasonal tart.
However, even though I love fresh ingredients that celebrate the season – I do take one shortcut when cooking with them: I buy frozen puff pastry. I'm a purist about a lot of things. I make most of my own spice blends, I make my own naan and tortillas, and I even make my own pumpkin puree instead of buying it in a can.
But, when it comes to convenience, using frozen puff pastry only makes sense, unless you're a truly dedicated baker. Which I'm not. And unless it's a truly mind blowing recipe I also can't justify taking three days to make something that I can purchase for less than five dollars. I'm not the only one. Ina Garten uses frozen puff pastry and Martha Stewart's magazine even suggests it occasionally, as does Bon Appétit.
So don't feel like you're cheating if you keep a box of puff pastry in the freezer for last-minute drop-in guests, or just to make yourself an luscious, simple meal in the middle of the work week. It lends itself to any kind of protein: think beef wellington, pork en croute or chicken pot pie. It also works well with vegetables and cheese, as in the recipe below.
All you need for this savory fall tart to become a complete dinner is a salad with baby greens and a delicate vinaigrette. Well, that and a nice bottle of wine: check the pairing suggestions at the end to help you round out this very simple but full-flavored tart.
Ingredients
1 large leek, white part only, sliced
1 apple, skinned, cored and chopped
1 tablespoon of olive oil
Salt and pepper
½ cup white wine (pinot grigio works well)
2 teaspoons of fresh, crumbled summer savory
1 piece of thawed puff pastry
1 tablespoon of flour
½ cup of crumbled gorgonzola
¼ cup of sharp cheddar, grated
1 egg
1 tablespoon water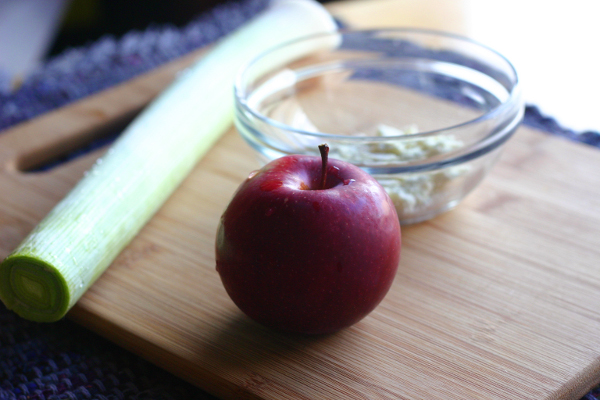 Instructions
Preheat the oven to 375 degrees.
Over medium heat, saute the leek and apple together in a sauce pan with the olive oil, salt and pepper. After about 5 minutes, when the leeks have softened, add the wine and summer savory. Cook over low heat for about 10 minutes until the wine has reduced.
Sprinkle the flour over a work surface and gently roll out the puff pastry into a 13-inch square. Lay this over a  9-inch pie pan and gently trim away the edges, leaving a 1-inch overhang. Spoon the leek and apple filling onto the pastry and top with the blue cheese. Beat the egg and water together in a small bowl. Gently crimp the edges of the pie dough together and brush with the egg wash. Scatter the cheddar over the edges of the pie. Bake for 20 minutes or until the edges are golden brown.
Serves 4.
White wine pairings that would work well with the sweet and savory aspects of this tart are chardonnay, riesling, Gewürztraminer. If you're more of red wine person, try reaching for a bottle of your favorite gamay, rioja or shiraz.