Today I decided to take on a project that's been on my agenda for months: Turning my son's old crib rail into a rack for my accessories!  I'd been storing them in the drawer in my bathroom, and it was becoming unmanageable! Every time I wanted a bracelet or hairclip to wear, I found myself emptying the entire drawer, getting things tangled together and creating a giant mess!
I had pairs of sunglasses littering my kitchen counter, and an overflowing necklace holder with chains twisted in knots.
Here is a list of the materials I used: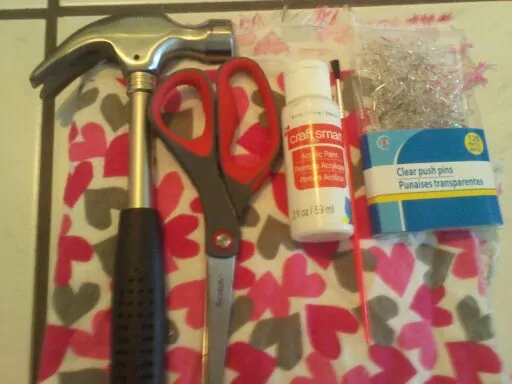 1 crib rail
1 strip of scrap fabric
1 pack clear push pins
1 bottle acrylic paint (I used white)
1 paint brush
scissors (for cutting fabric)
Step 1:
I used a wet cloth to wipe down the crib rail, priming it for painting.
Step 2: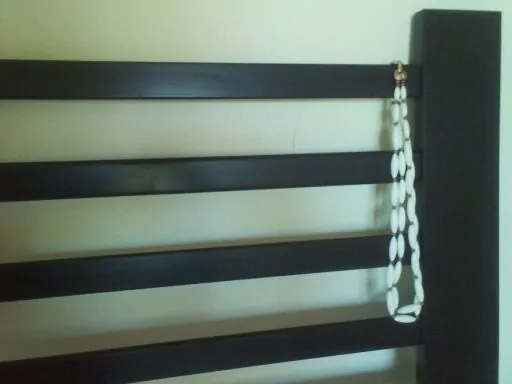 The order in which you decide to hang accessories is entirely up to you. Necklaces are my number one go-to accessory, so I decided to make the top row necklaces. I hung one on the top bar to see how many bars I would need to go down before I began to inserting push pins; which would be used to hold bracelets.
Step 3: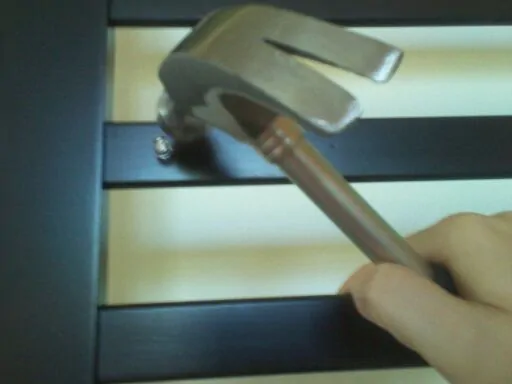 Because most of  my bracelets do not have clasps, I decided to  use push pins as hooks to hang my bracelets on. The wood the crib rail is made out of is sturdy and thick. This is good for wear and tear, but ultimately difficult to just stick a push pin into. I decided my best bet would be to use a hammer. I hammered the first push pin in with ease, about an inch to the right of the left edge.
Step 4: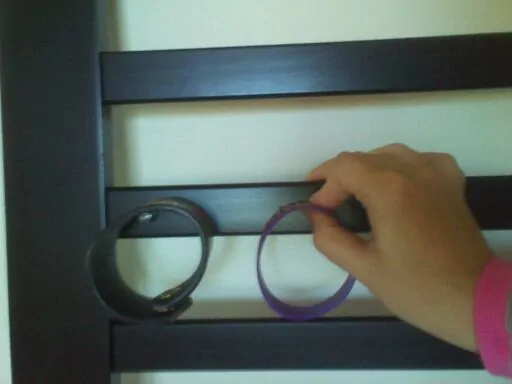 I hung the first bracelet: PERFECT! I then held a second bracelet next to it, to see how far apart my push pins needed to be. I continued to space them, fitting five push pins on each bar. You may find you're able to fit more or less on yours, depending on the size of your crib rail, and the size of your bracelets.
Step 5:

Now I am ready to begin painting. I squirted about a half-dollar sized amount of white acrylic paint onto a piece of scrap paper.  You're free to get creative and express your style here. I decided on a simple swirl design, as I am not much of a painter. You could do flowers, initials, or even label which accessories you're putting on each bar.
Step 6:
When I completed painting both sides, I moved on to cutting a strip of fabric to fasten my hair clips and pins to. My earrings have their own home, but you could use the strip of fabric to hold your earrings. If the fabric is thin enough, you should be able to push your earrings right through it.
I hung all of my accessories, and here is my finished product! I am very pleased with how it turned out! It's nice to be able to get ready in the morning without having to shuffle for the touches to my outfit!
My total cost for materials was $1.00 for the pack of push pins. Everything else I already had laying around my house.  Even if you needed to buy everything on the materials list, (except for the crib rail itself) you could complete the project for under $5.00
Read next: Glow in the Dark Rocks
Sylvia Silverstone is a passionate writer who loves to share her knowledge and expertise on a wide range of topics, including beauty, life hacks, entertainment, health, news, and money. With a keen eye for detail and a talent for storytelling, Sylvia's engaging writing style keeps readers coming back for more.