Red lasagna is good, but white lasagna is where real decadence lives.
However, just because this creamy bechamel sauce-coated dish is naughty – that doesn't mean it can't be nice too. Loaded between layers of cheeses, are hearty sauteed kale, wine-braised leeks and gorgeous green tomatoes.
That said, I'm not going to lie. This recipe has a lot of components, and it's not something that you can just whip together at the end of a long day at work. But - and this is a big "but" –  it's worth it.
If you want to be really nice to yourself you will double the recipe and freeze half of it. You can either freeze the container whole or divvy it into portions and freeze them individually.
That way if you do have a horribly long work day - or have guests coming over and want something special for dinner - all you need to do is preheat the oven and wrap the lasagna in foil.
Dig in and enjoy the flavor.
Ingredients Green Tomato, Kale and Leek Lasagna in a Bechamel Sauce
1 box of lasagna noodles (not the "no-boil" variety) (1 lbs.)
Ice water
3 green tomatoes
Salt and pepper
Olive oil
1 bunch of kale
½ teaspoon of red chili flakes
1 large leek (white part only)
¼ cup of pinot grigio
1 container of whole milk ricotta (15 oz.)
½ cup of chopped parsley
1 egg
4 cups of shredded mozzarella + ½  cup divided
2 cups of shredded parmesan cheese + ½ cup divided
Ingredients For the Bechamel Sauce
4 tablespoons of unsalted butter
¼ cup of all-purpose flour
5 cups of whole milk
Salt and pepper
1 bay leaf
Instructions:
Preheat oven to 375 degrees.
Meanwhile, start the bechamel sauce by melting the butter in a large saucepan and adding the flour. Whisk together and add the milk - ½ cup at a time - to the pan, making sure to whisk well each time. Bring the sauce to a simmer and add salt and pepper to taste, along with the bay leaf. Let the sauce cook for about 15 minutes, whisking occasionally. It's very important not to just leave the sauce alone because it will separate. Remove the sauce from heat but keep it warm by covering it with foil or a lid.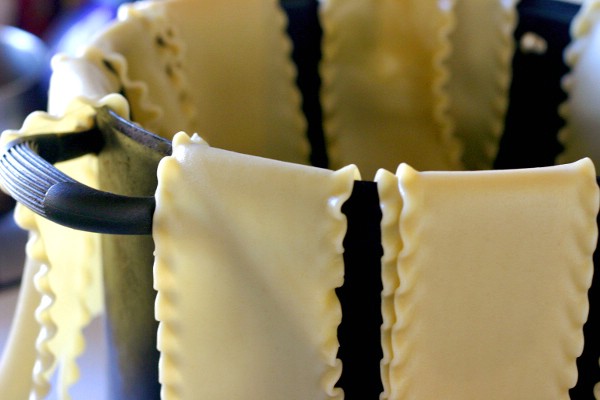 It's time for the pasta. Bring a large pot filled with salted water to a boil. Drop the lasagna noodles in - three pieces at a time - until all the noodles are in the pot. Stir and cook for 7 minutes or until the noodles are al dente. Drain the noodles and place them into an ice water bath to keep them from continuing to cook. When they have cooled completely hang them off the pot to allow them to drain while you finish prepping the ingredients.
Slice the tomatoes and salt them to pull out extra moisture. Let them stand for a few minutes to bring the moisture out and then gently pat them dry with a paper towel.
Strip the kale from its stalk and roughly chop. Add the kale to a large frying pan along with a tablespoon of olive oil and chili flakes. Generously season with salt and pepper. Saute the kale until it resembles cooked spinach. Let cool for a few minutes, and then squeeze dry with paper towels. Set aside.
Split the leek down the middle and then chop into ½-inch slices. Put the leek pieces into a bowl of cold water and move them around with your hands to remove the grit. Drain the water and rinse the leeks again in a colander to make sure that they are completely clean. (Leeks hang onto grit like crazy.) Dry the leeks with a paper towel. Saute them over medium-low heat with 1 tablespoon of olive oil, and salt and pepper. Cook them until softened, about 5 minutes, and then add the pinot grigio. Reduce heat to a simmer and let the leeks cook until the wine is absorbed, about 10 minutes. Let the leeks cool.
Quickly combine the ricotta cheese with the chopped parsley and egg. Season with salt and pepper.
To assemble:
Ladle ¾ cup of the bechamel sauce into the bottom of a 9" x 13" baking pan. Top with three of the cooled lasagna noodles, and gently spoon three rounds of ricotta onto each noodle. Top with ¼ of the sauteed kale, leeks, and green tomatoes. Sprinkle with a quarter of the mozzarella and parmesan, and then pour ¾ cup of the sauce over the noodles. Top with three more noodles and repeat the process twice. Finish with three more noodles, remaining sauce and the reserved mozzarella and parmesan.
Cover the pan with aluminum foil and bake for twenty minutes. Pull the pan out of the oven and carefully (to avoid steam burn) remove the foil. Bake for an additional 15-20 minutes or until the cheese is golden brown. Let sit for 20 minutes and serve.
Makes 12 pieces of lasagna.