Many guys are giving up on women because they are feeling crushed by social norms and expectations. They might feel like they need to impress women or compete for their attention, and many men do not want to do this anymore.
Who are the guys who give up on dating? You know the type of guys I'm talking about. There's probably one in your friend group, your family, or hey, maybe it's you!
This is the guy who is always saying "I just don't have time for a relationship." Or maybe he says something like "It takes too much effort to date these days."
You might not think it would be hard to find someone willing to put in some work, but that doesn't mean it's easy.
The Real reasons why single guys give up on dating
There are plenty of other reasons why dating is tough on guys today.
CHIVALRY DOESN'T MEAN PAYING THE BILL
One, they are all still expected to make all the plans and pay for everything when they go out with a girl. This could be hard for a working guy who saves for his dreams. It's one of those antiquated conventions that should be scrapped but isn't.
Two, it takes longer than ever before for guys to get anywhere because most women want to get their attention by sending them hints that are impossible to interpret.
So yes, it is difficult to find love in the modern dating world. That's why it takes a certain type of man to be able to work through the challenges and frustrations that come with finding that special someone who gets you.
And yes, it does seem like a hopeless quest, but there are still many men out there who believe in romance and want to find their perfect match. Or at least, believed, until their dream girls chose the wrong guys.
ONCE BITTEN, TWICE SHY
The guys who give up on women would have been the same guys who had been burned before. They had probably done the dating dance at least once, with less optimal results. The frustration alone would have hardly encouraged them to do the complicated little dance again.
And here's the kicker- most of the guys who give up on dating are nice guys. They're almost always kind, sweet, and dependable, which, translated into women's language, means boring. Some women like men who are mysterious, complicated, hot, and a bit bad. And unfortunately, nice guys are very much drawn to these kinds of women. They are begging the world to stomp on their hearts.
TOO NICE TO BE BAD
Nice guys who compete with these kinds of men for the attention of hot women almost always lose. They are considered a catch in their own rights, but they would never hold a candle to a bad boy. Or at least, some women like to think so.
This kind of mindset is why the nice guys end up waving the white flag on proper dating. They become the guys we inevitably talk about in articles like this. Or hey, they're probably reading this right now. It wasn't their fault. And the ladies who broke their hearts would quote Selena Gomez and say "The heart wants what it wants".
MEAN GIRLS
The other side of this conversation involves the ladies and forces them to take a bit of responsibility for their behavior. A lot of women, especially if they're hot, treat men, anyone, really, like they're doing them a favor by paying them a little bit of attention. It's like an act of pity, to them, when they stoop down to talk or strike up a conversation. Which anyone with the least bit of self-respect wouldn't take too kindly.
Guys who give up on women are just regular guys, and as such, are entitled to their feelings. And it is unfair to blame it all on them. The truth is, there are a lot of reasons why they decided to leave the dating scene altogether. True, some of them just couldn't give two fudges about dating. But most of them ended up outside the barrel because they were pushed out, and not because they voluntarily rolled off.
WHAT DOESN'T KILL YOU MAKES YOU GUN SHY
Let's talk about the guys who did not only get rejected but who got their hearts broken. These guys could have been the best boyfriend or husband to their partners, but hey, they still got their hearts stomped on and flat out crushed. Yes, it takes two to dance, to fight, and to destroy an entire relationship. Sometimes, though, one is enough to do a lot of damage.
These poor, hurt men would never willingly enter into another relationship, much less date, for at least a couple of years. It would take a lot of convincing, a lot of pushing, and buckets of motherly tears to get them to go on another date. Maybe even a minor miracle.
INVISIBLE GUYS
What about the men who just don't have enough confidence to ask their dream partners out? They would be the ones who got ignored enough to stop wanting to see the same vacant eyes and facial expressions appearing in their dream girls' faces. They are the ones people hardly ever remember after high school.
Does that mean they don't deserve to have their own happy ever after? It's not their fault they got ignored. Oftentimes, society is harsh on people who don't fit in. And in every environment, there is always a hierarchy, and groups. This is not helpful to their situation.
TRAUMA FOR DAYS
We also have men who have been mistreated by their partners before. This would make them stay as far away from the dating scene as possible. If leaving the planet was a possibility, these guys would be the first out of Earth. Abuse is never okay, yet it always exists. Especially since most laws protect women, and vilify men.
And their hardship goes unnoticed by a society that is extremely sympathetic to abused women, yet, uncaring to abused men. They'd just brush them off and encourage them bracingly to, 'Man up!'. This is the farthest from helpful. And yet, it still happens.
So don't judge a guy for not wanting to dip his toe into the dating pool. He could have a lot of reasons, and some of those could be traumatic. If only the world is kinder to sensitive men.
DATING IS NOT FOR THE FAINT OF HEART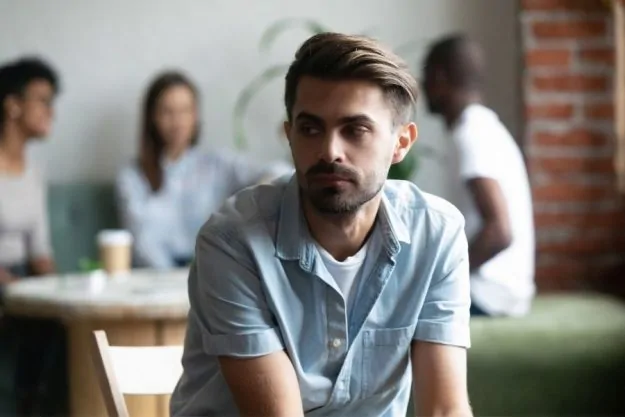 Dating can be a real struggle. It's exhausting to try and find someone that meets all of your criteria amid so many other options around you. But if there is one thing we need to do more than anything else, it is to keep trying!
If you believe that you will become happier and fulfilled with a partner in crime, and in life, go for it. Don't let your failure keep you from trying again. Life is not that long. We should grab happiness by the throat for as long as we can.
However, if you believe, with all your heart, that you will be happier alone, I don't think anyone in the world has a right to judge your decision. Make your life work for you, and no one else.
The reasons why guys give up on dating are often varied and personal. It can be hard to find the right person, and when you do they may not feel like it's a good time for them as well. However, there is no better feeling than being in love with someone who loves you back! And this is why we try, time and time again.
Don't sell yourself short, but also don't make the same mistake twice. You deserve happiness. Don't throw in the towel out of frustration and hurt.
It is not uncommon to feel discouraged when it comes to dating, but the truth is, there are a lot of really great people out there who would be perfect for you. The first step in finding one is realizing that no one will ever make you happy if you don't try.
So, take as many risks and chances with love as possible. Be yourself. Don't make your life harder by keeping up appearances. Instead, be the best version of yourself, all the time. And know that love and happiness will knock on your door once you're ready, and not before.
If you want to find love and happiness, it's important to be open-minded.
The best way to do this is by dating in a variety of situations. You don't need any special skills or tricks, just an open mind! Be ready for love anytime and anywhere.
FIRST, LOVE YOURSELF
Remember, the best way to be ready for love is by focusing on yourself and being the person you want to meet.
What does this mean? Focus on your happiness, do things that make you happy, spend time with people who are good for you, take care of your mental health (and physical), stop comparing yourself or worrying about what other people think.
Love will find its way into your life when it's meant to happen. So go out there, live a full life and enjoy every moment!
And then, once you're ready, your love will find its way to you.
So don't close your doors.
Be ready.
The best days of your life are just up ahead!
Nicole Graham is a relationship expert at Womenio.com. She is helping women grow into their best selves so they can be confident and bring more love, passion, and purpose to their lives. Nicole enjoys studying the psychology of love and is passionate about writing on them. She offers helpful tips and advice to help overcome any relationship issue, whether you're single or already in a relationship.