There are a lot of reasons why guys date more than one woman. There are some who aren't monogamous. Some are dating several girls for the variety in bed. Others may be looking for "the one." Some enjoy getting away with it. Some guys avoid commitment and prefer casual relationships with multiple women over an intimate relationship with one. Some like it because it makes them feel good about themselves.
Some people believe it shows confidence and can lead to more success, while others see it as disrespectful and an indication of insecurity.
Ultimately, this is a decision that each individual has to make for themselves based on their personal preferences.
Let's dig a little deeper in their motives.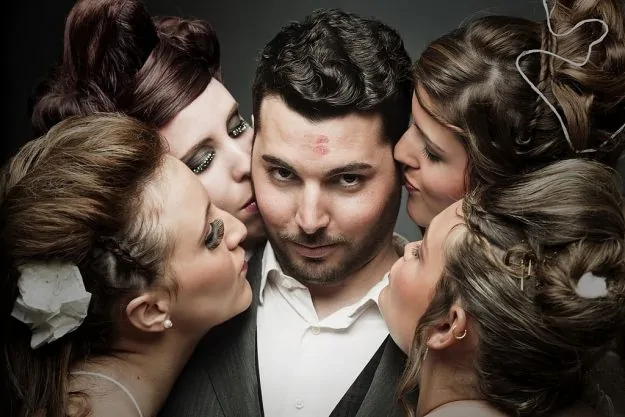 Top reasons why a man date more than one woman
For the sake of pleasure
Some guys just want to have sex with as many women as they can. They see sex as a non-emotional act. Most girls don't like a one night stand, so these men create a illusionary relationships to trick them into bed. These are the guys who often brag about their body count.
Related: How to know if a man doesn't respect you
They are not monogamous
For some man monogamy doesn't make any sense, and they want to avoid it. There are also many men who don't really know why they're dating more than one woman, but if you ask them about their real feelings on monogamy, they might have a different opinion.
To find the right one
Other guys date more than one woman because they want to find their "type" of a woman. They believe in the law of large numbers and don't want to end up with the wrong person.
They are not mature enough
They are dating multiple women because they can't decide on what kind of relationship they want. They might not be ready to commit, or they don't want to be in a long-term relationship at all.
Related: Childish men
For the thrill
Some men who date more women do it because they might be looking for the thrill or because of a challenge of some sort.
To avoid boredom
If men are spending most of their time with one woman, they may feel that a monogamous relationship can get a bit stale and routine. With dating multiple women at once, men will never have to worry about being bored.
When men date more than one woman, it provides something new every day, keeping relationships fresh, exciting, and challenging.
To have a date for any occasion
This means men who are dating more than one woman will have no problem finding someone to go out with or be in their arms during an event that requires a date.
They can find women who want company in the evening and have another for the morning brunch.
They're searching for themselves
Some men need lots of options, like a kid in a candy store. Experiencing different personalities allows them to express themselves in a way that might not be possible if they were only dating one person at a time.
For dumb reasons
There are even silly reasons why men date more than women. For example, some only do it to impress their friends, improve social life, or just because the Playboy lifestyle sounds good.
For the sense of power and control
Men like to be in control of every aspect of their life, and dating more than one girl gives them this sense of power and control.
They don't have to worry about what she thinks or if he's doing something wrong because there are so many other girls who want him anyway. It also makes him feel special when he can routinely get new girls into bed.
Besides that, men feel like they are making an impact on society when they can have their choice of women from any class, race, or religion - plus, there's always something new to try out!
Can a man love more than one woman?
It's a common assumption that men can't love more than one woman at once, but recent studies show this might not be the case, and it makes perfect sense.
Related: Signs you are the other woman
The belief is often attributed to the idea of "unconditional love" and how it's impossible for someone to truly feel unconditional love for more than one person at a time.
But in reality, people are capable of loving more than one person at the same time with different levels of intensity. By the way, this means they could still have feelings for their ex-partner even if they're currently happily married to someone else!
This idea goes against the popular opinion because society has long taught us that true love only exists when you're wholeheartedly devoted to just one other person.
However, as we've seen from new studies on men and dating, they are definitely capable of loving more than one person at once!
In light of this development, polygamy is becoming less stigmatized, and men are more likely to date a bunch of people than ever before.
What are the benefits of dating multiple women at once?
There are notable benefits to this kind of dating. Here's to name a few:
confidence booster
never boring
no commitment
no pressure
more sex
more variety
feels powerful
having more control
some people will look up to them
not depending on one partner
What are the drawbacks of dating multiple women at the same time?
Now let's see the drawbacks to keep a harem of women:
It might be hard to keep track of all dates at once
At times it may be challenging to keep track of where and when he is having dates with his different partners. It requires a lot of time management and planning if he wants to keep all the women happy. Not to speak about conflicting schedules that arise.
It can be emotionally and physically exhausting
It may be difficult for a guy to properly balance the time and effort given to multiple lovers if they all want a decent amount of attention. It could also become confusing as his partners have different feelings, desires, and expectations.
It might also be difficult for men to juggle all their dates at once if some of his women want an exclusive relationship and others only want something casual or mini relationship.
It's not cheap to maintain multiple relationships
It takes a lot of money to date multiple women. The cost to take a person out on an average date is close to $100, according to Yahoo Finance, so if a guy is going out with more than one woman, that's double or even triple what it would normally be.
It requires a tremendous amount of time investment.
Dating a woman takes time, which means dating more than one woman leads to less time spent with other pursuits. Say bye-bye to friends, hobbies, family, and so on.
He might get too attached to one girl
It's not uncommon for men to get really attached and invest in a relationship with one woman while they are dating others. And things can get really complicated from there.
They may feel guilty (if they don't have a heart of stone) when it comes to ending a relationship with those who want more. A tricky situation.
Conclusion
We all have our own preferences when it comes to dating, and the man's preference for polygamy is just that. It doesn't necessarily mean he has a problem with monogamy or women in general.
If you don't like this about him, the best thing you can do is be honest about how you feel from the start of your relationship. Be prepared though; not everyone shares your values on monogamy!
Nicole Graham is a relationship expert at Womenio.com. She is helping women grow into their best selves so they can be confident and bring more love, passion, and purpose to their lives. Nicole enjoys studying the psychology of love and is passionate about writing on them. She offers helpful tips and advice to help overcome any relationship issue, whether you're single or already in a relationship.