Weddings are probably some of the most memorable events in a person's life. A lot of people take a lot of time and money to ensure that it's perfect. Some aspects like the bride's gown, wedding rings, cake, and décor are focal points. However, there are also more minor details that contribute to the overall perfection of a wedding.
One of these small details is wedding corsages worn by the special female guests and family members. A corsage is a small flower arrangement used for the wrist with a ribbon. But it can, so it's important to ask whoever will be wearing the corsage whether they want it pinned or wrapped around like a bracelet.
They can also be designed in different ways, depending on the bride and groom's special requests. Usually, florists have a compilation of predesigned corsages that anyone can choose.
But customers can also send corsage ideas to their florist if they have a specific design request, such as new trends. To find out the corsage trends for 2022, check out the list below:
Red Roses Corsage
No matter what's trending in terms of wedding designs, there will always be classic styles that are perfect no matter what year it is. One of these flowers that are stylish all year round is red roses since they've always been a symbol of love and passion, which are undoubtedly perfect for tying the knot.
Furthermore, a red rose can stand well on its own, and it might not need too many embellishments. Nonetheless, if you want to dress it up a bit, red can pair gorgeously with black and white frills.
Here are some examples: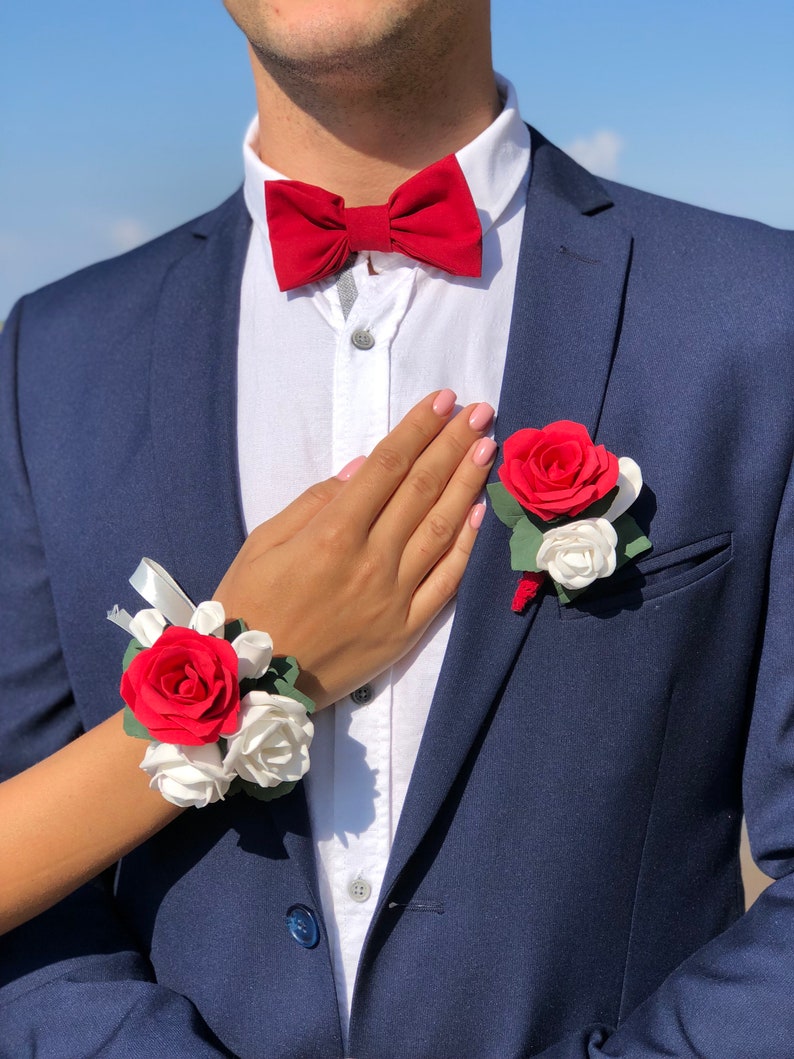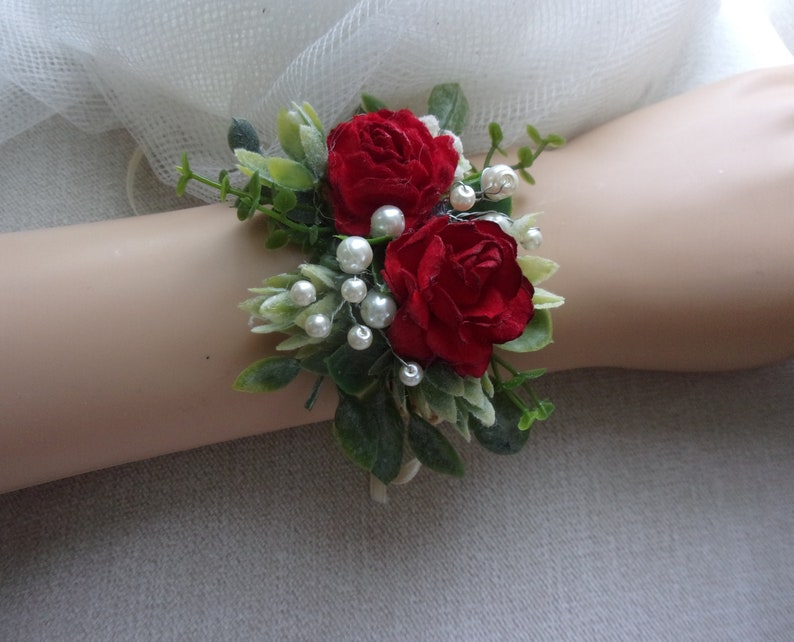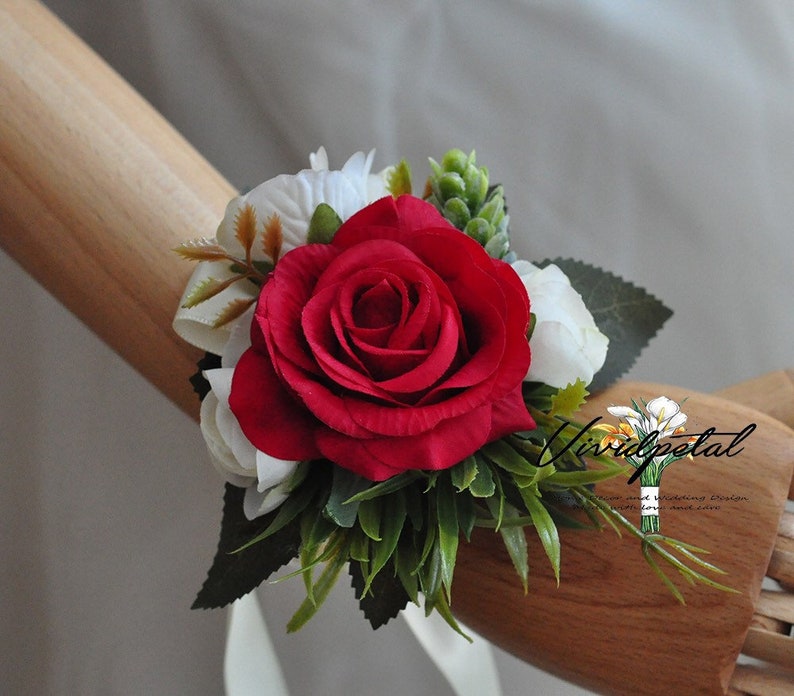 Simple And White
Another trendy corsage idea is to stick to something simple and elegant. White corsages have always been a favorite because they pair with different gowns and color themes. It's similar to some of the best wedding dresses of all time, in that they'll look great all the time. Roses and poppies are some great examples of flowers that are great for simple white corsages.
Examples of white wedding corsages: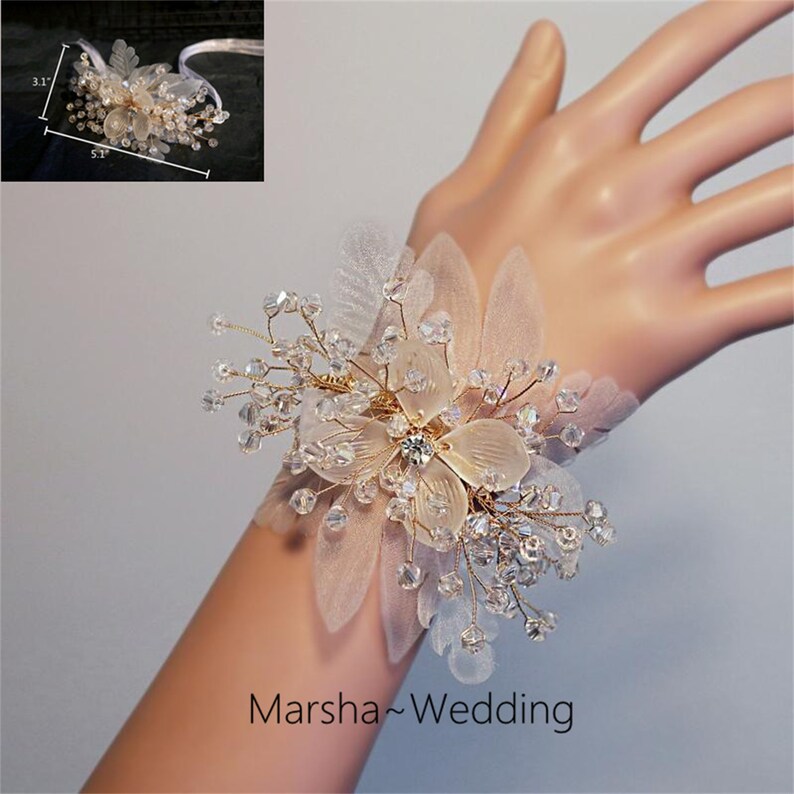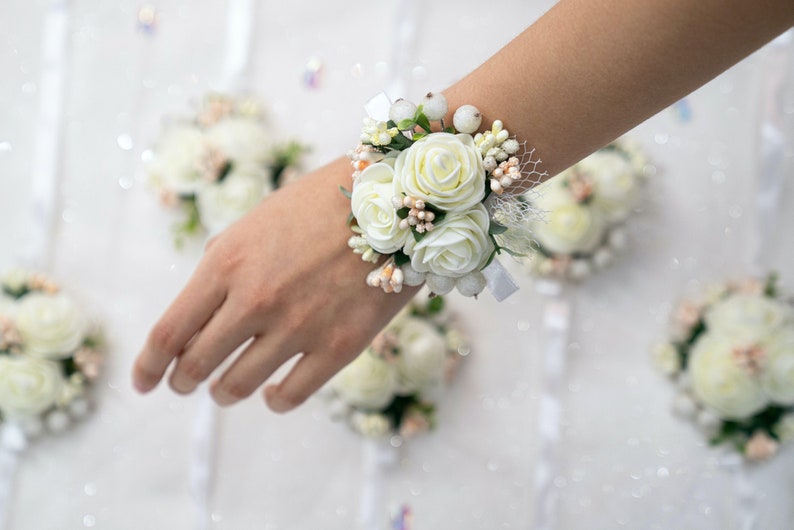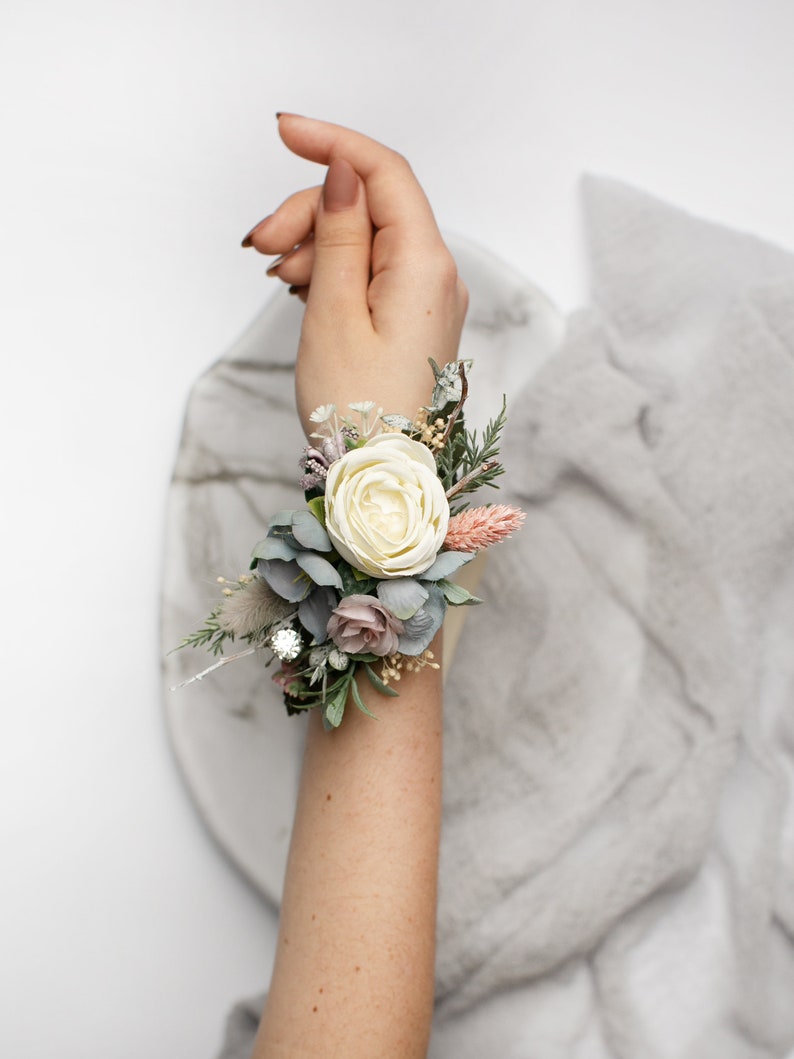 Adding Berries
A whimsical way to add something different to the entire design of the corsage is to add berries. Fresh berries can be charming and fragrant, but they might also stain. Besides, the wearers might end up snacking on them. So, it might be better to use fake ones that look real to give the corsages a charming detail.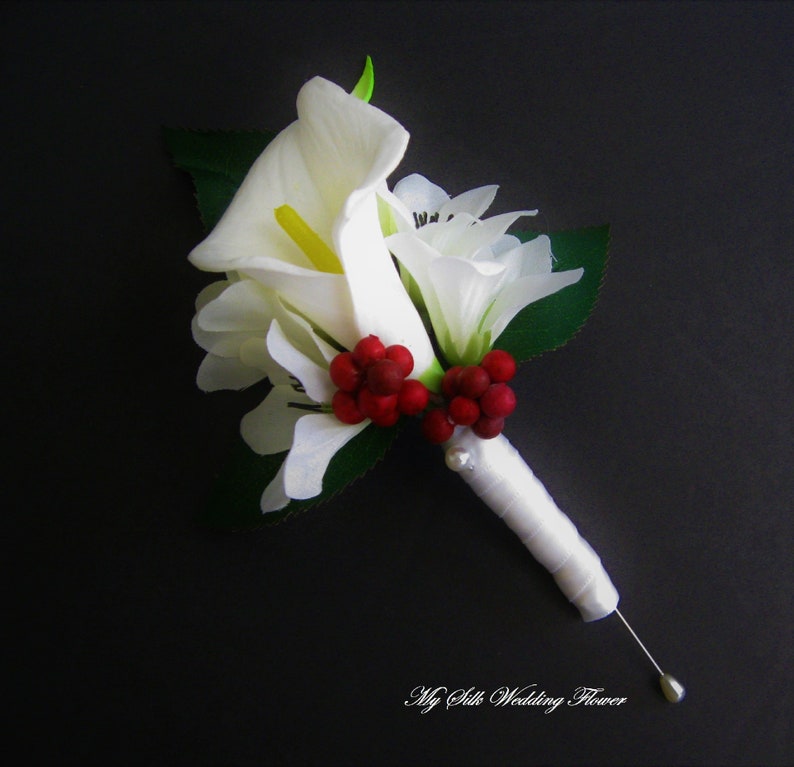 Using Ferns
Aside from berries, ferns are also growing in popularity as a choice of greenery for bouquets and corsages. While ferns might seem like an unconventional choice, they can add a forest-like feel to any flower arrangement, such as corsages. Ferns pair splendidly with wildflowers because it brings out their untamed beauty. If that's the kind of theme you're going for in your wedding, then a fern can achieve that woodland aesthetic.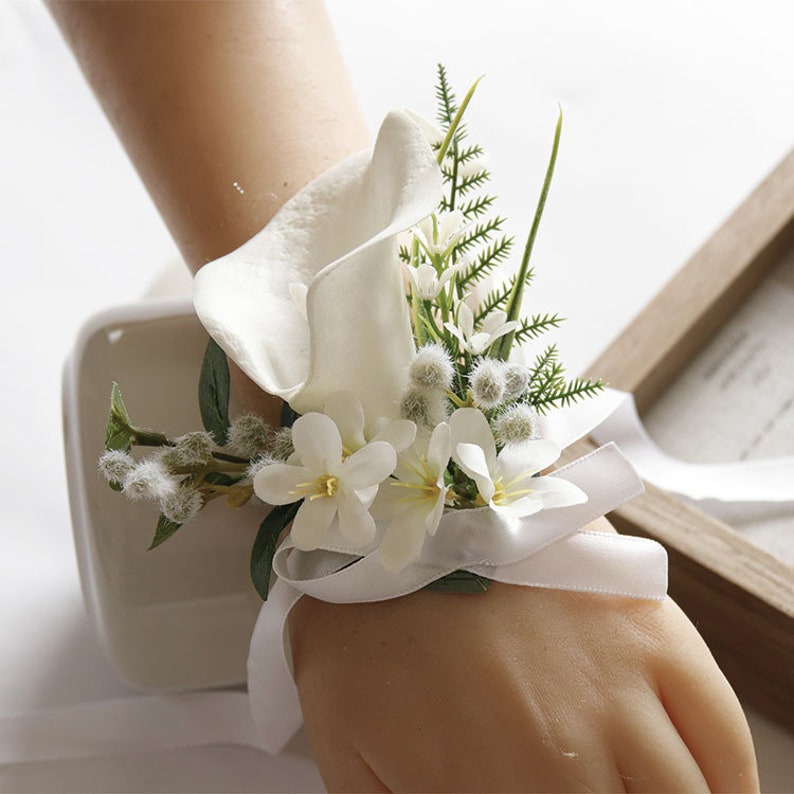 According To The Season
The kinds of designs and fresh flowers you can achieve for corsages depend on the season, too. Therefore, trends will also change on the flowers that grow in certain seasons. Also, this is why spring weddings are pretty famous, because the weather is good for celebrations, and so many kinds of flowers are available.
During fall or winter, flowers might be hard to find, so you can opt to have artificial flowers. The great thing about this is that the flowers won't wilt quickly. However, it's essential to look for real ones instead of ones that look too fake.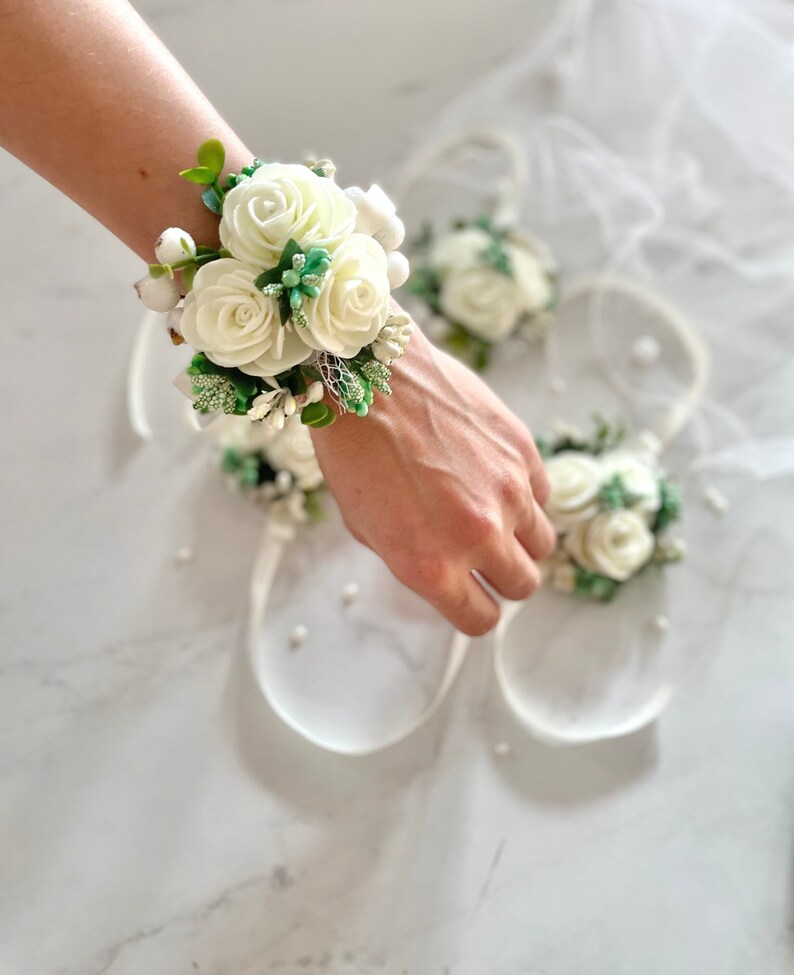 Unconventional And Bold Choices
These days, more people are open to nontraditional designs. Perhaps this is because traditional corsages can be stale, the couple has a flower allergy, or maybe it's a matter of personal taste. Nevertheless, corsages don't always have to be a spray of flowers. Making creative choices such as using oak, wheat, acorns, pinecones, and succulents is becoming quite trendy these days. It also makes a great conversation starter, if used in other flower arrangements like centerpieces.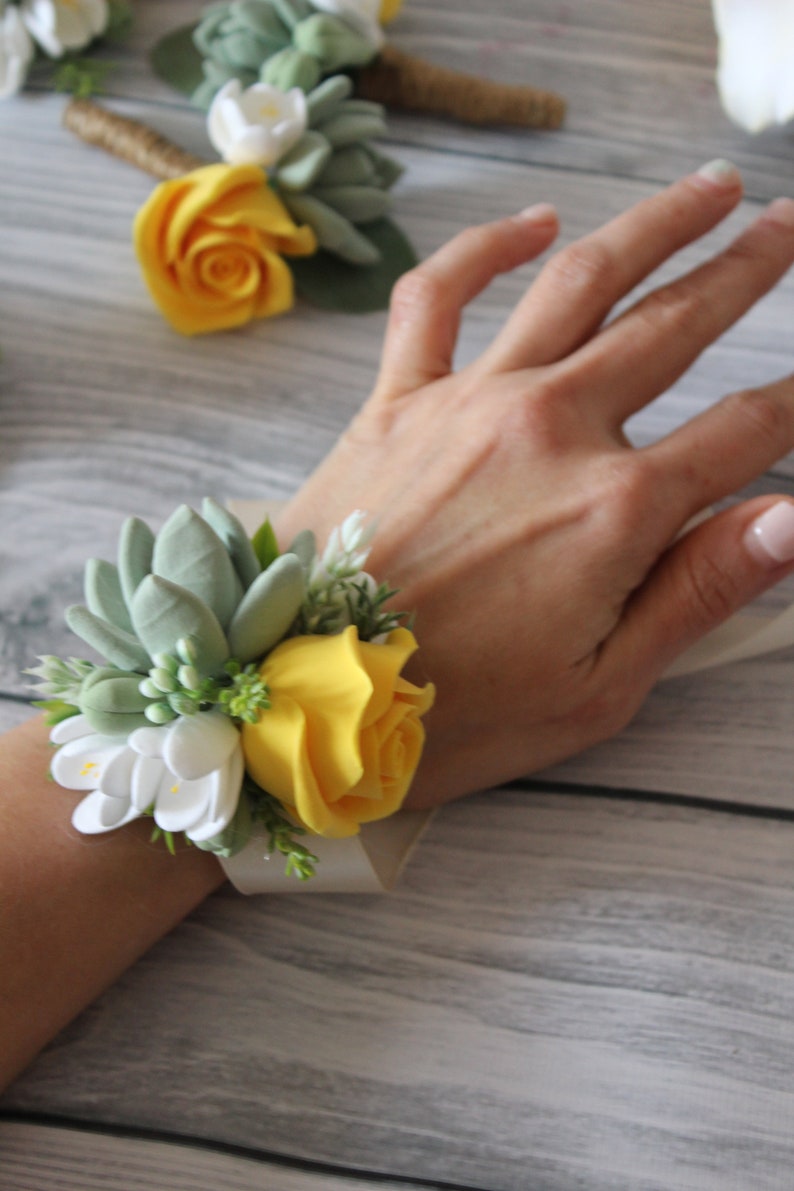 Conclusion
There will always be trends for anything related to weddings, from engagement rings, gowns, designs, and venues. Corsages, small as they are, can make a huge impact, especially on the wearers. It is because it shows the wearers that you recognize their importance to the couple and their wedding. Because of this, it's essential to spend some time thinking of what materials, flowers, and designs would be excellent. Either way, whatever current trends, couples should always go for what makes them happy on their special day.