Wedding dress designs have certainly changed over the decades but one thing that will never change is how a woman feels on her special day. Every bride wants to look like a princess and we have compiled a list of the top 10 celebrity wedding dresses of all time that were sure to have done their jobs. Of course, looking like a princess does have a cost. Check out the price tags on some of these beauties and what some celebrities have paid to look perfect on their special day.
Hillary Duff
Hillary Duff married Mike Comrie in 2010. She wore a mermaid styled wedding gown that was designed by Vera Wang. Wang and Duff worked together to ensure that the dress was everything Hillary wanted for her big day. It was all embellished by hand and the finished product was an elegant gown created from silk tulle in a blush color. Giant blossoms adorned the mermaid train and the entire gown was created exclusively for Hillary's big day.
Gwen Stefani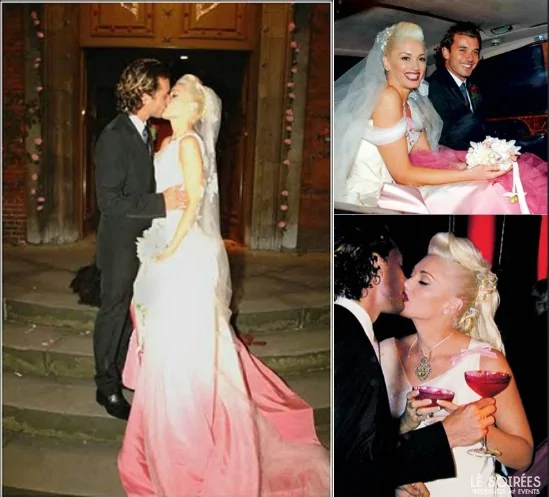 Most women end up putting their wedding dresses away in the attic to save for their daughters. Gwen Stefani's Christian Dior original actually ended up in a museum. Before that though, it gave Stefani the wedding of her dreams to rocker Gavin Rossdale. This exclusive by designer John Galliano is a beautiful creation in pink and not at all the typical white gown. Stefani wanted her wedding to be unique and that is exactly what she got in this beautiful dress made from white and pink silk faille. The antique lace veil she donned was also designed by Galliano.
Princess Diana
Who can forget beautiful Diana Spencer when she walked down the aisle to marry Prince Charles in 1981? This was, until then, the most elaborate and simply beautiful wedding gown that had ever graced the television screen. The dress had a 25 foot long train and was hand embroidered and decorated with lace. The silk taffeta was adorned with more 10,000 pearls as well as sequins. It was simply the most beautiful dress anyone had seen. Elizabeth and David Emanuel designed the dress and it cost thousands, so many thousands in fact that to wear the same dress today will set you back about $400,000.
Christina Aguilera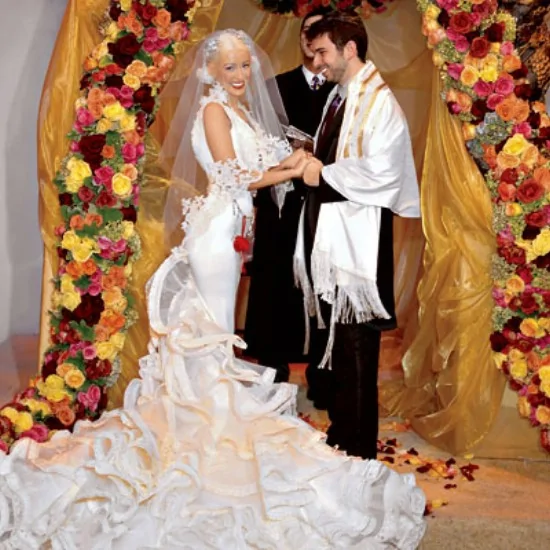 When she married Jordan Bratman in 2005, Christian Aguilera wore a stunning Spanish styled gown designed by Christian Lacroix. The gown had a ruffled train that just kept going and although the bodice of the dress was very simple, the train more than made up for it. Along with her Lacroix original, Christina also wore jewels and white flowers in her hair which really brought the ensemble together. She spent a whopping $2 million on the wedding and more than $30,000 of that went for the gown.
Celine Dion
When Celine Dion married manager Rene Angeli in 1994, she wore an elegant yet elaborate Mirella and Steve Gentile gown that featured a 20 foot train. The dress took more than 1,000 hours to create and Celine topped it off with a tiara that weighed seven pounds and contained more than 2,000 Austrian crystals. The gown with its long sleeves and form-hugging bodice was the perfect choice for Celine and she certainly looked like a princess.
Jessica Biel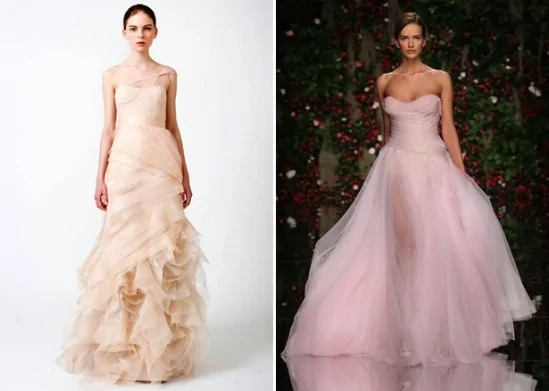 Gwen Stefani was not the only bride to ever wear pink. When Jessica Biel married Justin Timberlake in October, 2012, she donned a beautiful Giambattista Valli creation, and it was pink. Jessica wanted something different for her wedding and she certainly go that. The gown had a fuchsia and pink pattern that was certainly a bit off the traditional road. Still, it was a lovely gown and perfectly matched Jessica's skin tone and darker hair color. Who says wedding dresses have to be pink anyway?
Reese Witherspoon
Ok, so there are a lot of pink gowns that made our list, but they are all incredible. When Reese Witherspoon married second husband Jim Toth, she chose a very elegant and simple Monique Lhuillier gown that featured a traditional fitted corset top and an A-line skirt. The sleeveless dress fit perfectly and the slightly darker colored sash really made it stand out. This is one of the simplest celebrity wedding gowns that we've seen in a while and it is certainly one of the most beautiful.
Grace Kelly
We did say "of all time" and nothing is more timeless than Grace Kelly in her traditional white wedding gown. Royal weddings in general are typically elegant and lavish and this gown was certainly no exception. When Grace married Prince Ranier III of Monaco in 1956, she wore a long sleeved dress made of silk and lace with a full skirt. The dress was designed by Helen Rose of MGM studios. Today, her gown is one of the most remembered and loved of all time. The dress now resides in the Philadelphia Museum of Art and is said to have inspired Kate Middleton's own wedding gown to Prince William in 2011.
Nicole Richie
Nicole Richie actually wore three different gowns when she married Joel Madden in 2010. She had one for the ceremony, another for the reception and one for her wedding dinner. The Marchesa gown that she wore during her ceremony was created from more than 100 yards of tulle petals and draped silk organza. The long sleeved lace bodice gave a striking contrast to the organza on the skirt. This is one of the most unique dresses of its day and certainly one that will make any woman feel like a princess on her wedding day. The traditional tulle veil really helped make the dress stand out.
Katie Holmes
Katie Holmes married Tom Cruise in 2006. She wore a stunning Giorgio Armani ivory silk gown in an off the shoulder style. The gown was embellished with Swarovski crystals and Valenciennes lace. It was elegant and absolutely breathtaking. The gown took more than 350 hours to create and was paired with a traditional tulle veil and lots of crinoline to make the skirt stand out. Rumor has it that the gown itself cost more than $50,000, although it may have cost more. After all, it was an Armani.
If you are looking for affordable ones, discover the latest wedding dresses at Styleaisle.
So there you have them, our picks for the top wedding gowns of all time. Some of these are a bit above the average wedding budget but a girl can dream.
I am an American writer who is currently pursuing my Bachelor's Degree in English Literature. I have, over the past 5 years, been published both online and in print magazines. I enjoy writing about anything and everything related to home and family including home décor and design, women's health and providing others with tips for enjoying some down to earth family time. I love helping gardeners to plan their landscapes and offering advice on a number of home related topics. As a mother and grandmother, I have plenty of experience to share.