I'm lucky that not only do I like beets, I adore them. It wasn't always that way, though. I had to step out of my comfort zone when we received beets for the first time in our CSA basket. I spent a good deal of time staring at a huge bag of baby beets dumbfounded about how to make them palatable. My only previous exposure to beets were the canned variety – water-logged, mushy and, to me at least, inedible. I was not excited the first time I saw beets in that basket. But, at least these were fresh. There was hope.
I inherently knew that anything roasted is better than boiled, so I played around with them. Sure enough, the roasted beets were absolutely sweet and delicious but still a little firm - completely the opposite of canned beets.
Now that I'm thoroughly "Team Beet," this is one of my favorite salads. The roasted beets play off of the crispy goat cheese rounds with their gooey insides, and the delicate baby greens provide an even larger contrast to the two stars of the salad. And when it's topped with a delicate vinaigrette? This salad is a showstopper.
Fried Goat Cheese and Roasted Beet Salad
Prep Time:10 minutes
Cook time:50 minutes
Yields – Serves 2
Nutrition facts:
440 calories
,
70 grams fat
Ingredients:
8 baby beets

Olive oil

Salt and pepper

1 log of goat cheese

1 egg, beaten

1 tablespoon of water

¼ cup of shredded parmesan

2 tablespoons of parsley, finely diced

½ cup of panko breadcrumbs*

4 cups of "spring mix" lettuce
Vinaigrette's ingredients:
¼ cup of olive oil

2 tablespoons of sherry vinegar

Salt and pepper

1 tablespoon of dijon mustard

1 teaspoon of dried dill weed
Instructions:
Preheat oven to 400 degrees.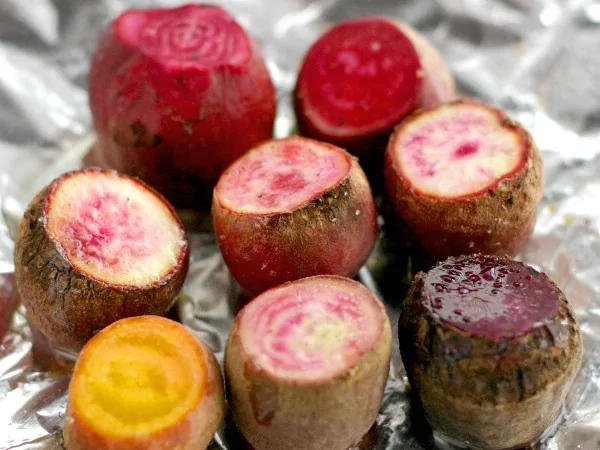 Scrub the beets and cut the bottoms and tops off. Place in aluminum foil, drizzle with olive oil and season with salt and pepper. Wrap the foil tightly, and bake for 45 minutes to 1 hour, or until the beets are completely fork tender. (Even "baby" beets tend to vary in size, so some may need to cook a little longer.) When the beets are done, remove them from the oven and let cool until they can be handled. Using a paper towel, gently rub the beets until the skin comes off. Reserve to a stain-resistant plate or aluminum foil. (Don't leave them on a wooden cutting board, that's something I learned from experience the hard way.)
While the beets are roasting, put the goat cheese in the freezer for up to an hour. Pull the goat cheese out and slice into 8 even sized rounds. Mix together the parmesan cheese, panko and parsley. Working quickly, dip the cheese into the beaten egg and then into the cheese/panko mixture. Place onto a cookie sheet that's lined with parchment paper or wax paper and freeze for another 15 minutes. Heat ¼ cup of olive oil over medium heat in a non-stick pan until it's hot, but not smoking. Gently drop the goat cheese in the oil, and cook until brown on the first side which should take about 1 minute. Flip the cheese and brown on the second side.
Assemble the salads by laying the beets and goat cheese on top of the spring mix lettuce. In a small bowl, whisk together the oil, vinegar, salt and pepper, dill and mustard. Drizzle the vinaigrette over the salads and eat while warm.
*If you don't have panko in the house, don't despair. It doesn't take much work at all to make the breadcrumbs from scratch – it just requires a little forethought – which sometimes is easier than going to the grocery store, especially if you usually have bread around. And it really is simple to create these wonderfully crunchy and low fat breadcrumbs. First off, take an end piece of a loaf of bread, and run it through the food processor, using the shredding disk I don't even have a full-sized food processor, I just have a little 2 cup guy with one attachment and it works like a dream. Chop the bread until it's coarse – you don't want to over process the crumbs. Preheat the oven to 300 degrees, and place the crumbs on a metal rimmed baking sheet. Cook for 5-7 minutes, or until the crumbs are dry but not brown. Make sure to shake the crumbs around a few times to ensure they cook evenly. When they're cooked, let them cool and store in a plastic bag in the freezer. The fun thing about making them yourself is that you can mix up the flavor profile. You can use white bread, Italian bread or sourdough. I'm lucky enough to be married to a guy who loves to make homemade bread, so the smell when I grind the bread into crumbs is actually intoxicating. I highly recommend it. For 1 end-piece of homemade sourdough bread, I get about 1 cup of panko. And it really is always a good idea to keep bread ends in the freezer for recipes like this. It's saved me from having to run to the grocery store more than once when I'm starting a recipe for dinner.
© Photos by the author Launie Kettler
I am an American writer who is currently pursuing my Bachelor's Degree in English Literature. I have, over the past 5 years, been published both online and in print magazines. I enjoy writing about anything and everything related to home and family including home décor and design, women's health and providing others with tips for enjoying some down to earth family time. I love helping gardeners to plan their landscapes and offering advice on a number of home related topics. As a mother and grandmother, I have plenty of experience to share.