If you have a loved one in your life who is allergic to peanuts or has issues with milk, these vegan "No-Peanut-Butter" Chocolate Balls are a perfect addition to your recipe collection.
This recipe takes the classic peanut-butter Buckeyes recipe but makes the necessary changes so everyone can enjoy them.
If you're gluten sensitive but still want some sweets, check out these delicious Halloween candies!
Most of the vegan ingredients can be purchased at grocery stores or health food stores, and the recipe can be adjusted to make everyone happy. Instead of using peanut butter, you use your favorite brand and texture of soy nut butter, from smooth and creamy to crunchy.
Soy nut butters have come a long way in the past few years and even the biggest peanut-butter aficionados often cannot tell that these sweet treats are not made from actual peanut butter. Soy nut butter does have the same oily texture that peanut butter has, so you will need to add a little bit of soy milk to make the inside creamy.
If you use regular peanut butter for this recipe, omit the soy milk.
Tools:
Mixer or hand mixer
Mixing bowl for ingredients
One or two cookie sheets covered in parchment or wax paper
Double boiler or stainless-steel bowl and small sauce pan for boiling water
Toothpicks
Spatula (for scraping the chocolate off of the bowl)
Oven mitt to hold stainless-steel bowl
Ingredients:
4 oz. of vegan cream cheese (Tofutti makes a delicious cream cheese)
4 cups powdered sugar/confectioner's sugar
1 ½ cups of soy nut peanut butter
½ tsp. vanilla
1 package vegan chocolate chips (Enjoy Life chocolate chips are perfect)
2 tbsp. vegetable shortening
2 tbsp. white soy milk (regular, light, or vanilla)
Instructions:
Line one or two baking sheets with wax paper and freeze while you combine the ingredients
Mix 2 ounces of the vegan cream cheese with 2 cups of the powdered sugar and mix until smooth – to the consistency of frosting.
Add the soy nut butter, vanilla, and remaining sugar. Beat until all mixed together. Add the soy milk and beat until smooth. Depending on the soy nut butter you use, you might need to add an additional teaspoon or two of soy milk to get the consistency just right.
Take the cold baking sheets out of the freezer.
Using your hands, roll the mixture into balls about one-inch in diameter and place on the wax paper. Refrigerate for 15 minutes.
After the balls have chilled, melt the chocolate chips and shortening in a double burner (stainless-steel bowl over small sauce pan).
Dip the balls into the chocolate (using toothpicks) and place the back on the wax paper. Put them back in the refrigerator for at least thirty-minutes.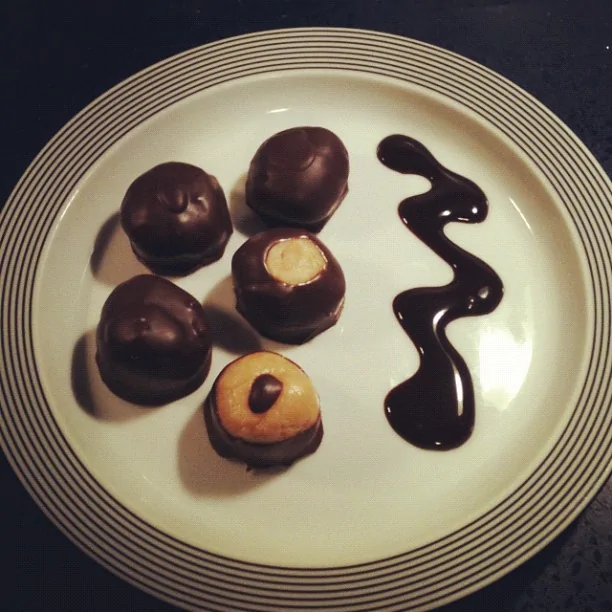 When you dip them in the chocolate, you have complete control regarding how you want them to look. You can dip them so a little bit of chocolate shows through the top or you can cover them completely. If you want to cover the hole from the toothpick, use a spatula to drizzle a little bit of chocolate. Enjoy!
Cynthia is a U.S. writer who has been writing online for more than a year. She enjoys writing and sharing the latest hair fashions including caring for hair, and giving hair style tutorials; tips for having great skin and a healthy body just to name a few things. Offering a little advice for getting through tough days is another subject she enjoys adding her 2 cents on. She has lots of hands-on experience with hair care, lifestyle tips and hair styles.