Homemade ketchup is a cinch to make and takes only a few minutes of time. And the difference between store bought and from-scratch is extraordinary. The ketchup is a little spicy and full of flavor. And then when you use that as a base for barbecue sauce? You have an incredible barbecue sauce that really is finger-licking good. Oh, and it will clean out your sinuses too. So, top a nice grilled pork chop with the sauce and serve a jimaca slaw on the side and you'll have a healthy and gorgeous dinner that will bring everyone to the table.
A couple of years ago my grandmother told me something that changed my life. I was lamenting the gazillion pounds (no exaggeration*) of tomatoes that I had received as a gift, but after the first 10 pounds they felt like a practical joke. I couldn't process them fast enough to even feel like I was making a dent in the sheer poundage.
And my grandmother said: "You know, you can just freeze them."
I was astounded. "Honest and for true? I can just...freeze them raw?" I asked.
"Oh, yes," my grandmother said. "You can't use them in a salad or anything like that, but they're great for sauces. And that way you have beautiful summer tomatoes - that are a little freezer burned – but still miles better than winter tomatoes."
So, every summer I freeze pounds and pounds of tomatoes – just for a recipe like this one.
Homemade Ketchup Recipe
Yield 1 ½ cups
Ingredients:
1 pint of cherry tomatoes (Because mine were frozen I just ran them under lukewarm water until they defrosted.)
1 dried chipotle pepper
½ cup of boiling water
1 small onion, diced
1 tablespoon of olive oil
Black pepper
Salt
1 teaspoon of Dijon mustard
½ teaspoon of allspice
¼ cup of apple cider vinegar
1 tablespoon of tomato paste
¼ cup of brown sugar
Instructions:
Pour boiling water over chipotle pepper and cover. Let sit for 10 minutes. Blend the tomatoes together with the chipotle pepper and 1 tablespoon of the cooking water. In a medium pot, saute the onion with olive oil, salt and pepper over medium-low heat until softened, about 5-7 minutes. Add the tomatoes, mustard, allspice, vinegar, tomato paste and brown sugar. Simmer over low heat for 10 minutes. Remove from heat.
Sweet and Spicy Barbecue Sauce Recipe
Yields 1 ½ cups of sauce.
Ingredients:
1 ½ cups of apple vinegar
¾ cup of homemade ketchup
1 heaping tablespoon of tomato paste
½ cup of water
2 tablespoons of brown sugar
1 tablespoon of pickled jalapenos, diced
Instructions:
Combine all of the ingredients in a medium sauce pan and simmer for 20 minutes over medium-low heat. The sauce will be reduced by half. Remove from heat.
Grilled Spice Rubbed Pork Chops Recipe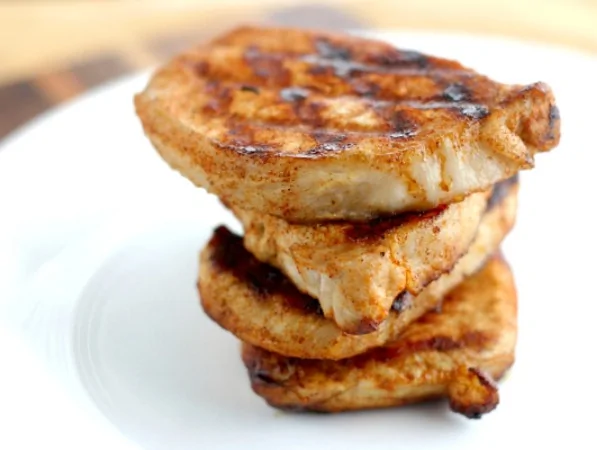 Ingredients:
4 boneless pork chops
1 teaspoon of cumin
1 teaspoon of chipotle powder
1 teaspoon of paprika (optional)
2 tablespoons of olive oil
Instructions:
Preheat grill. Mix the olive oil and spices together on a paper plate. Coat the pork chops all over with the olive oil/spice mixture. Grill pork on each side for approximately 4 minutes, or until the internal temperature is 150. Tent with aluminum foil to keep warm.
Jicama Slaw
Serves 4.
Ingredients:
½ of a jicama
2 carrots, shredded
2 scallions, chopped
½ of a red bell pepper, diced
¼ cup of olive oil
1 tablespoon of sherry vinegar
1 tablespoon of dijon mustard
Black pepper
Kosher salt
Instructions:
Cut the jicama in half and peel the skin off. Shred the jicama with a box grater or in a food processor. Combine the jicama, carrots, scallions and red pepper in a medium bowl. Whisk together the olive oil, sherry vinegar, dijon, pepper and salt. Pour this vinaigrette over the slaw and refrigerate for 1 hour, to let the flavors meld.
Serve the pork chops with barbecue sauce and slaw.
*Ok, I didn't literally have a gazillion pounds of tomatoes. But I had an awful lot of them. Boxes and boxes stacked on top of the kitchen table as a gift from my father-in-law's garden. Just to clarify, I knew what I was getting into when he asked if we wanted "some" tomatoes. The man has a green thumb, and must grow twice his body weight in cherry tomatoes each summer. But, there's just no way that I can say "no" to more tomatoes than I know what to do with. I. Just. Can't. Say. No.
(© Photos by Launie Kettler)
I am an American writer who is currently pursuing my Bachelor's Degree in English Literature. I have, over the past 5 years, been published both online and in print magazines. I enjoy writing about anything and everything related to home and family including home décor and design, women's health and providing others with tips for enjoying some down to earth family time. I love helping gardeners to plan their landscapes and offering advice on a number of home related topics. As a mother and grandmother, I have plenty of experience to share.