Many women do not take the time to consider what minerals and vitamins they are regularly ingesting. Some have no clue of what is needed for good health. Magnesium is a mineral that is very important for your overall health and one that is relatively easy to get on a daily basis, provided you know what foods to eat. While you can certainly get magnesium through vitamin and mineral supplements, these supplements do not always give you the total amount that you need. Even if you are taking a good multi-vitamin every day, it is important to understand the benefits of magnesium and how you can easily add this vital mineral to your daily food intake.
Where To Get Magnesium
Magnesium is found in a number of foods and many of these foods are actually tasty. This is not one of those minerals that require you to ingest cardboard-like bran in order to ensure that you are getting enough. There are many tasty foods that contain good amounts of magnesium and a number of healthy recipes that will ensure you are getting enough of this vital mineral in your daily diet.
Vegetables and Fruits
Vegetables and many whole grain foods also offer rich magnesium qualities. You remember your Mom telling you to each your vegetables, right? This is why. Mom knows that magnesium is important and here are a few vegetables that should certainly make their way to your plate on a regular basis. Nine of our top 20 foods high in magnesium come from the fruit and vegetable category.
Spinach
– Spinach is a dark green leafy vegetable that offers many health benefits. Swiss chard is also included in this category and both give you about 150mg of magnesium which is almost 40% of what you need each day. Plus, they contain only about 50 calories each in a 1 cup serving so they are filled with minerals and they are great if you are watching your weight.
Brown Rice
– Brown rice, buckwheat, millet and a few other whole grains give you about 25% of the amount of magnesium that you need. Just one 1 cup serving can help you to really get on your way to the full amount of required magnesium each day.
Cooked Cabbage
– Cooked cabbage is a rather tasty vegetable that can give you 12mg of magnesium. While this is not nearly as high as other vegetables for a 1 cup serving, it is very easy to add cooked cabbage to recipes that contain other magnesium rich foods.
Banana
– Just one banana will give you 32mg of magnesium. Adding a banana to your breakfast lineup each morning will help you to really get on your way to the total that you need each day.
Blackberries
– One cup of fresh blackberries contains 29mg of magnesium.
Raspberries
– One cup of fresh raspberries contains 27mg of magnesium.
Avocado
– Just one 1 ounce serving of avocado has 8mg of magnesium. If you love guacamole, you can get up to 25mg in just a regular serving size. A whole avocado has nearly 30mg.
Watermelon
– During the summer, enjoy fresh watermelon and tackle your magnesium deficiency. One cup of cubed watermelon has 15mg of magnesium.
Passion Fruit
– Passion fruit has 29mg of magnesium per serving and a serving size is a medium sized fruit.
Seeds and Nuts
Seeds and nuts are the best source of magnesium. If you tend to eat a lot of pumpkin or sunflower seeds then you may already be getting the required amount each day. Five of the top foods in magnesium content come from the nut and seed category. Take a look at these tasty nuts and seeds and the amounts of magnesium that each gives you:
Pumpkin Seeds
– Pumpkin seeds give you 185mg in just a ¼ cup which is nearly 50% of the recommended daily allowance for this mineral.
Sunflower and Sesame Seeds – These also offer magnesium rich qualities. Just ¼ cup of either of these seeds will give you about 126mg of magnesium which is around 30% of the recommended daily amount.
Almonds
– Almonds or cashews have lower amounts of magnesium but are still higher in the mineral than many other foods. Just ¼ cup of either of these nuts gives you 100mg or around 25 percent of the recommended daily amount.
Brazil Nuts
– Brazil nuts give you 500mg of magnesium in one cup which is over 125% of the recommended daily amount. Even a ¼ serving will give you nearly half of what you need in one day.
Pine Nuts
– Pine nuts are quite tasty and high in magnesium. A 1 cup serving gives you 339mg or more than 85% of the recommended daily amount.
Beans
Beans and legumes are also good sources of magnesium. Whether you like pinto beans, navy beans or any other type, you will find that they give you a good amount of this vital mineral. 2 of our top 20 foods come from this category although most beans and legumes offer a relatively high level of magnesium.
Black beans and Soybeans
– These contain the best sources of magnesium in the bean and legume category. Either of these will give you more than 30% of the recommended daily amount.
Navy and Pinto
– Navy beans, pinto beans, lima and even kidney beans offer at least 20 to 25% of the recommended amount of magnesium each day. All of these percentages are based on a 1 cup serving of cooked beans so keep this in mind when measuring.
Fish
Fish is good for a number of vitamins and minerals. We have based 2 of our top 20 foods on fish because there are 2 types of fish that offer the best magnesium content. Fish in general is low in fat and calories and generally healthier than any other meat that you can eat. Fish choices like salmon and halibut will give you about 138mg which is almost 35% of what you need each day. These are based on 4 ounce servings so if you opt for a 6 ounce serving, you can bump that up to about half of what is required for women.
Herbs
If you enjoy cooking your own meals and creating new recipes, this category is for you. Many dried herbs contain high amounts of magnesium. Coriander offers 14mg of magnesium per tablespoon and chives, sage, basil, spearmint and savory offer at least 10mg per tablespoon. Use fresh or dried herbs when you create your dishes and you will have a tastier meal and a heaping serving of magnesium as well.
Other Foods Rich in Magnesium
So, our final 2 foods rich in magnesium contain one choice that is a favorite among most women and one that may be an acquired taste. Either way, these final two foods on our list give you tasty benefits and contain good amounts of magnesium.
Cocoa
– Cocoa powder or dark chocolate may not be on your menu but it should. Cocoa powder gives you 429mg of magnesium in each cup. This means that you can enjoy that chocolate cake and get your daily dose of magnesium as well. Dark baking chocolate gives you 95mg of magnesium per square. Even that naughty chocolate bar gives you 28mg per bar so you can have your chocolate and feel good about eating it.
Molasses
– Molasses is a great substitute for those looking to bake healthier. You can replace the sugar in your cookies and cakes with molasses and get 816mg of magnesium per cup or about 12% of the recommended daily amount per tablespoon.
Our Favorite Magnesium Rich Recipes
Ok, so knowing that you need magnesium and actually getting it are two very different things. You need to know how to add some of these foods into your daily diet – aside from the chocolate that is. Most women know perfectly well how to add chocolate to their diets. We have compiled a few recipes that are tasty, healthy and contain great amounts of magnesium per serving. Here is a list of our favorites.
1. Grilled Halibut
Fish is a great source of magnesium. If you are typically at your wit's end trying to figure out how to prepare halibut into a tasty dish, here is a great recipe that includes a tasty tomato tapenade as a topper.
Begin with:
1 pound of halibut – Grill the halibut for about 6 minutes on each side, ensuring that it is light and flaky. You want the center to be opaque. You can brush with olive oil and add salt and pepper while grilling.
Mix – In a small bowl, mix ½ cup of tomatoes, 3 chopped black olives, 1 tablespoon of chopped capers, 1 teaspoon of red wine vinegar and a tablespoon of chopped red onion. Note that these ingredients are optional. If you do not like olives or onions for instance, you can just leave them out or substitute another condiment.
Once the fish is finished grilling, simply top with the tapenade. This is a low-fat and low calorie recipe that gives you more than 50% of the magnesium that you need each day.
2. Breakfast Blend
You can start your morning off right with our breakfast blend that is high in magnesium. This recipe actually does not require any cooking. You simply mix the ingredients together and enjoy a tasty and healthy breakfast or save it for a mid-morning snack.
Mix together – 2 tablespoons of your favorite dried fruit. You can use bananas, berries or a combination if you want. Add 2 tablespoons of almonds, 2 tablespoons of flaxseed and mix it all together in a cup of fat-free yogurt. If you prefer, you can add a dash of sugar or cinnamon to taste. This recipe takes only a few minutes to prepare and gives you a great start to your day with about 25% of the magnesium that you need.
3. Tasty Spinach Saute
Okay, so spinach is not your favorite food, but it is very good for you. This tasty sauté contains enough spinach to give you more than 50% of the magnesium that you need for the day and is a great side dish for virtually any main course.
Begin with – Take 2 tablespoons of olive oil and add 2 cloves of crushed garlic and add to a skilled. Cook until the garlic gets soft and then add 1 cup of sliced or quartered mushrooms. Note that if you do not have fresh garlic you can substitute dried or minced garlic. Add a 10 ounce package of frozen spinach that has been thawed and drained and ½ cup of diced tomatoes or grape tomatoes cut in half. Cook this just until the spinach and tomatoes are warmed.
4. Whole Wheat Spaghetti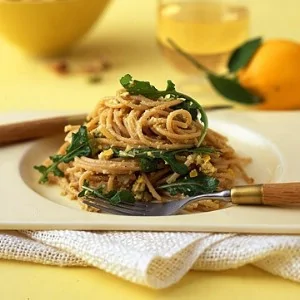 Remember that many whole grains contain good amounts of magnesium. This whole wheat spaghetti recipe is tasty and easy and contains other foods high in magnesium content as well.
Begin with – 1 pound of whole wheat spaghetti noodles. Cook these as per the directions on the box. While the spaghetti is cooking, heat olive oil in a skillet, about 2 tablespoons. Add 2 whole garlic cloves or about tablespoons of minced garlic, 1 cup of chopped walnuts and ¼ cup of fresh or dried parsley. Cook about 4 minutes or until the garlic is soft. Once the spaghetti has finished cooking, this normally takes around 10 minutes, add 12 ounces of baby spinach – fresh is better but if you need to use frozen then cut it down to about 10 ounces. Leave the spinach in the water with the spaghetti until the spinach wilts. Then simply mix all of the ingredients together and enjoy. This gives you a whopping 50% of the magnesium that you need per day for each serving – incidentally the recipe makes 4 servings so you can share it with the family or freeze the leftovers for other days when you need your magnesium in a tasty meal.
Magnesium is important whether you are trying to get healthier or you simply want to ward off certain diseases and illnesses. Getting the required amount of magnesium is really not as difficult as you think. Add these foods to your menu at least a few times each week and see how much better you feel and how much healthier you look.
References
http://www.doctoroz.com/slideshow/magnesium-grocery-list
http://ods.od.nih.gov/factsheets/Magnesium-HealthProfessional/
http://www.healthaliciousness.com/articles/foods-high-in-magnesium.php

PIN THIS TO SAVE FOR LATER
I am an American writer who is currently pursuing my Bachelor's Degree in English Literature. I have, over the past 5 years, been published both online and in print magazines. I enjoy writing about anything and everything related to home and family including home décor and design, women's health and providing others with tips for enjoying some down to earth family time. I love helping gardeners to plan their landscapes and offering advice on a number of home related topics. As a mother and grandmother, I have plenty of experience to share.