The best part of spring is seeing the colorful flowers that literally bloom everywhere. Even if you are not an avid gardener, planting a small flower garden is simply a must if you want to bring some color to your landscaping (check out glow in the dark rocks for something special).
Whether you have a large garden area or just room for a few plants, we have compiled a list of great choices for that spring garden. The flowers that made our list are all rugged, easy to maintain and beautiful. So, what are you waiting for? Pick your favorite from the list or plant them all together.
Spring is just around the corner so now is the time to begin planning that easy and beautiful spring garden.
Hostas
Hostas are beautiful perennials that are perfect for any flower garden. They are versatile as well so you can add them to your garden or use them to line your deck or the area around your home.
Most people choose hostas for their foliage. They offer a wide variety of colorful foliage and the leaves are all so different that they make the perfect cover. You can use hostas to fill in around other flowers and they grow well in virtually any spring climate.
These are shade plants which means that you do not have to have your garden in complete sunlight in order for hostas to thrive. If you have shaded areas in your garden, these are the perfect fillers.
Buy Hostas seeds from Amazon.com - $1.79.
Why We Love Them
Foliage – With the different varieties of hostas you can add foliage of many different colors and really liven up any garden area.
Flowers – Hostas give you a beautiful bloom around late spring/early summer. From purple to pink and other hues, hostas add a lovely splash of color.
Fragrance – Hostas smell wonderful – although they do not give you a bold scent, you can certainly smell them in the garden when you have several planted.
Maintenance – You actually have to be trying to kill them off in order to hurt them. Hostas grow in all types of weather conditions and unless you actually cut them down, they are very hardy. They can withstand abuse and still grow and they spread. You can plant one hosta this year and enjoy spreadings as early as next spring.
Daylilies
Another hardy and tough plant, the daylily comes in a wide variety of colors. Daylilies also spread, quite abundantly in fact. Plant just a few this spring and you will have them popping up all over your garden next year.
They cultivate easily so you can cut a few and plant them in other areas around your lawn, giving you splashes of color all over your home.
Buy Daylilies fans from Amazon.com - $29.95.
Why We Love Them
Color – Daylilies come in so many beautiful colors that you can actually plant a handful of bulbs and have different colors from each plant.
Abundance – Again, you simply have to plant these once and you can enjoy them over and over again. Not only that but they will spread so once you begin planting daylilies, you will have tons of them after just a couple of years. They are taller plants so they are perfect for those areas around trees and around the house.
Maintenance – They are literally the toughest flower that you can plant. Just like the hosta, unless you are actually trying to kill them off you will find that they can withstand a lot of abuse and many different climates.
Gladiolus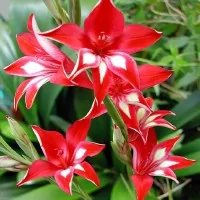 Gladiolas are beautiful flowers that give you a wonderful scent and can survive any gardening experience. They offer lovely colors and some come in blooms of multiple colors. These are perfect if you are flower gardening for the very first time because they are hardy and tough.
Buy Gladiolas bulbs from Amazon.com - $7.99.
Why We Love Them
Color – From pink to white, purple, yellow, green, red and the multicolored variety, you are certainly going to enjoy the beautiful colors of gladiolas. The tall flowers will give you the perfect backdrop for smaller, even more colorful blooms.
Maintenance – We love easy to maintain flowers. Gladiolas are another variety that you simply have to plant once and you can enjoy them for years to come. They require very little actual care and are tough so they thrive even in the harshest of garden environments.
Size – Their tall stalks make them great for larger gardens. They can be planted virtually anywhere and are perfect for places where you want to add a backdrop for other types of flowers. They also look beautiful when cut and put in a vase so if you have a mind to keep fresh flowers indoors this spring, these are the perfect choice.
Coneflowers
Coneflowers are native to North America which means that they grow wild in some areas. They can also be purchased as bulbs and added to any flower garden. They are perennials as well so you can enjoy them for years after the first planting.
These daisy-like flowers offer bold colors and raised centers that will make a dramatic statement to your garden.
Buy Coneflower seeds from Amazon.com - $3.15.
Why We Love Them
Uniqueness – Adding something unique to your garden is essential if you really want something special. Coneflowers are unique and if you live in a climate that does not really allow for more tropical choices, these are the perfect centerpiece for any garden.
Maintenance – This is another easy to maintain flower choice and they grow up to four feet tall so they are versatile as well.
Fragrance – Coneflowers do not have a bold fragrance, but the butterflies love them. If you want to attract spring butterflies to your garden, these will do it for you.
Color – Aside from their unique look, coneflowers give you bold colors that will instantly spice up any garden area. If you are looking for a flower that is colorful and virtually maintenance-free, this is the perfect choice. These are also perfect for cutting and bringing indoors and they often thrive for weeks when properly cared for in vases.
Orchids
Finally, we have the orchid. Orchids are a favorite flower of many gardeners. Their beautiful colors and unique look gives any garden an instant facelift.
Each petal of the orchid offers unique beauty and they come in so many different colors and appearances that you can actually plant your garden only with orchids and have a very versatile spring flower garden. Really, who doesn't love orchids?
Buy Orchid plants from Amazon.com - $4.97.
Why We Love Them
Beauty – We just can't stress enough how beautiful these flowers are. With colors that range from white to pink, purple, red, yellow and every other imaginable color of the rainbow, orchids simply give you the most color choices of all perennials.
Fragrance – Orchids have a mild fragrance but one that is very sweet. Butterflies and other wildlife simply love them.
Maintenance – While they are a bit more difficult to maintain than other flowers on our list, orchids are still relatively easy to care for. You do have to plant them properly, ensuring that they are at least 2 inches apart and keep weeds away from them, but they grow beautifully in most climates.
Whether you have been gardening for years or you want to plant your very first flower garden this spring, these flowers are great choices for any spring garden.
Choose one or plant them all and create a stunning garden filled with lovely colors and fragrances that your neighbors are certain to notice.
Resources:
http://www.extension.umn.edu/distribution/horticulture/m1241.html
http://www.garden.org/plantguide/?q=show&id=2047
Img ©Brian Coleman
I am an American writer who is currently pursuing my Bachelor's Degree in English Literature. I have, over the past 5 years, been published both online and in print magazines. I enjoy writing about anything and everything related to home and family including home décor and design, women's health and providing others with tips for enjoying some down to earth family time. I love helping gardeners to plan their landscapes and offering advice on a number of home related topics. As a mother and grandmother, I have plenty of experience to share.