Years ago huge entertainment centers and television stands were the norm for many households. Today however, there are many other options for your living room decorating. Instead of those old bulky entertainment centers or boring TV stands, there is a better way to showcase your TV and make the area around it look enticing as well.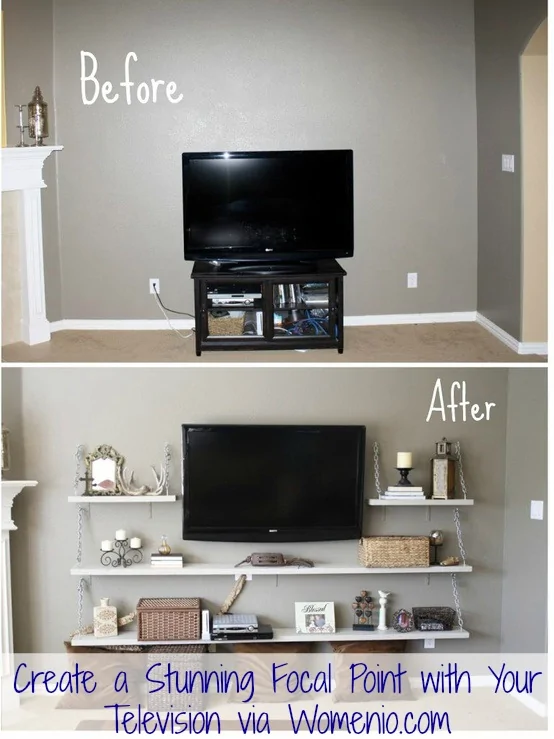 The television is often the focal point of a living room. Unless you have a fireplace or some other type of architecture that instantly draws the eye, your television is it. Because the TV is the focal point, it is important that the area around your TV be clean, neat and well designed. The wall where your TV is displayed should really showcase your decorating tastes and style. Adding a few shelves around, under or even above the TV can instantly change the look of that area and give you a focal point that you are proud to show off.
Mount the TV
Wall-mounting kits are available at most home improvement stores as well as television shops and even your local Wal-Mart. You can easily install this kit on the wall and mount your flat screen television so that you no longer need that boring old stand. This allows you to get as creative as you like and really spice up the area around your TV. Think about adding shelving. You can use the shelves to store DVDs, as bookshelves or to simply add a few favorite knick knacks that you want included in your focal point.
Choose Colors Wisely
You have to keep a balanced décor in mind. You certainly do not want to go to the trouble of changing your TV area and end up with something that looks overcrowded. Think about the color and the texture of your walls. If you have lightly colored walls then you can add darker elements on the shelves. If your walls are dark, red is a popular color choice for living room walls these days, then add lighter colors for accents. White shelves look striking against dark colored walls.
You can even add a few throw pillows and other accents to really pull the look together. Again, consider your colors carefully. If you are using dark wood for your shelves then be sure to add lighter colored pillows and other accents around the shelves to create a contrast. You also have to think about the texture of your walls when choosing your accents. You can play with various looks and designs and see what works best for you. Try to get a look that is functional yet clean and attractive. Because this is your focal point you want it to present a nice, clean look. Keep it clutter-free and use only a few decorative pieces to pull the look together.
Highlights
You can choose to keep your television as the focal point of your room or blend it with other elements of the wall. If you are using shelving around the TV, think about things that will accent those shelves. Decorative shelf holders create a stunning look and will help you to blend the entire décor together. Highlights are important in ensuring that the design does not look overcrowded and that attention is drawn to the specific piece that you want. For instance, you may actually want the shelving to be the focal point which can be accomplished by adding certain decorative accents.
Check the Height
When mounting your television on the wall, you have to ensure that you get it at the right height and angle for the best viewing scenarios. Where you mount it will also have an impact on how you can decorate around it. If you are planning to add artwork then you should try to mount it at eye-view. If you are planning to add artwork above the TV then mount it a bit lower. Think about the look that you want to accomplish before you mount so that you are not drilling holes that you are not going to actually be using. Check the television at all angles to ensure that it can easily be seen without anything obstructing your view.
Artwork
Finally, you can create a beautiful look by hanging a few pictures around the TV but you need to choose this artwork carefully. You certainly do not want to create a wall that looks busy. Choosing simple and abstract prints is best for hanging around the TV as they will not draw attention away from the screen while you are watching. Think about using several small prints and grouping them together. If you have long walls and short ceilings, you can use these smaller collections to give the wall a larger look. Try to create a look that complements itself meaning that the television should complement the elements around it and vice-versa. You do not want pieces that seem to be competing for attention. Keep it simple.
It is not at all difficult to create a beautiful wall for your television and one that will proudly serve as your living room's focal point. Using a few shelves mounted to the wall as opposed to a television stand or entertainment center allows you to create a much more appealing space and one that perfectly matches your personality and décor preferences.
Read next: DIY Glow in the Dark Stones
I am an American writer who is currently pursuing my Bachelor's Degree in English Literature. I have, over the past 5 years, been published both online and in print magazines. I enjoy writing about anything and everything related to home and family including home décor and design, women's health and providing others with tips for enjoying some down to earth family time. I love helping gardeners to plan their landscapes and offering advice on a number of home related topics. As a mother and grandmother, I have plenty of experience to share.