Whether you are normally crafty or you simply have a collection of old mason jars lying around the house, you do not have to throw them away. There are many things that you can do with those jars that will make them useful and give you a number of decorations and gifts to give everyone on your gift list.
Take a look at these 15 unique uses for mason jars that will help you to recycle those jars and add a bit of atmosphere to your home décor.
Gifts In a Mason Jar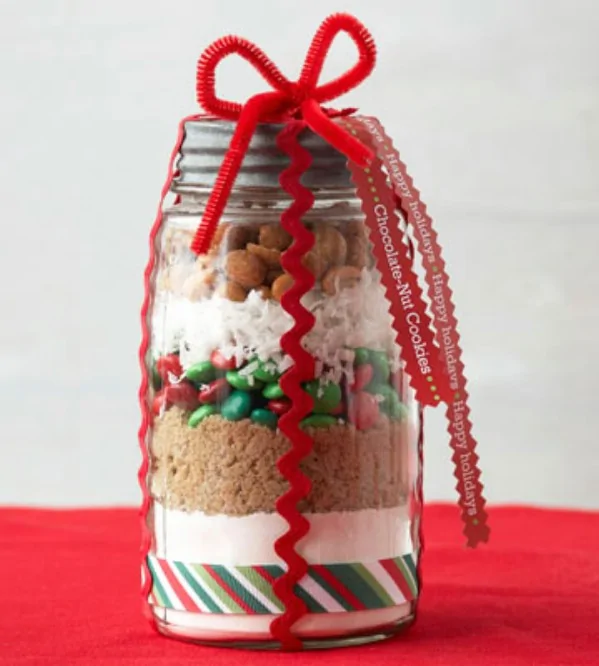 You have probably seen the Gifts in a Jar at flea markets or craft fairs. You simply take your favorite cookie, brownie or other recipe and add the dry ingredients to a mason jar. Add the ingredients one at a time so that it stacks and looks decorate. Then simply attach a gift card with the recipe and whatever other ingredients need to be added. Top it off by tying a ribbon around the lid and you have the perfect gift to give anyone on your list. Recipe to create the photo example at Midwestliving.
Storage Containers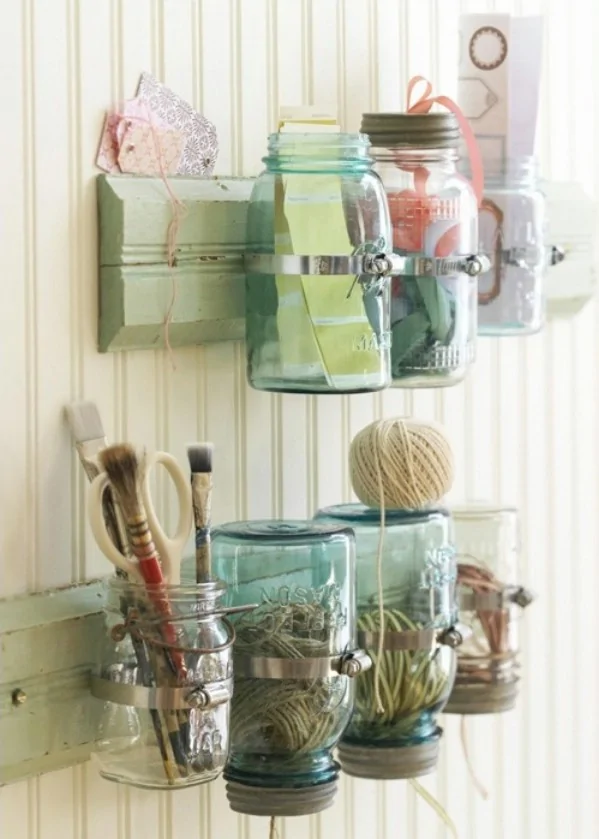 Mason jars of all sizes make perfect storage containers. If you really want to be crafty, take an old board and paint it whatever color you want. Nail pipe clamps to the board for holding the mason jars. Then simply add the mason jars and tighten the clamps so that they hold well. Hang the board on the wall and fill with bathroom, nursery or other supplies. Idea and picture via Missy from RedStickRanch.
DIY Mason Jar Candle Holders
There are many ways that you can use mason jars to create beautiful candles. If you like making your own candles out of wax, beeswax or other candle material, simply use the mason jars for the candle holder. You can also simply fill mason jars with water (add a bit of food coloring to the water to make them really unique) and drop in a floating candle. These work great for outdoor events and weddings. Add glass stones to the bottom to really give it a decorate look. Idea and photo via Toast.
Mason Jar Oil Lamps
Making an oil lamp is easy. Simply fill the mason jar about two thirds of the way to the top with lamp oil. Poke a hole into the jar lid and stick the wick through. Allow the lamp to sit for about an hour before you light it so that the wick gets saturated with oil. Via Etsy not available anymore :(
Mason Jar Vases
Instead of buying more expensive vases, just stick those fresh flowers in a mason jar. You can add decorative ribbons or even fill the jar about half way full with glass stones before you add water if you want a decorative touch. Idea and photo via IloveswMag.
Mason Jar Lotion Dispensers
You can find lotion dispenser pumps at any craft store or just use an old one that you have lying around the house. Make a hole in the mason jar lid to fit the pump and then just fill it with your favorite lotions. These can be decorated any way you want using ribbon or other craft items and they make excellent gifts for the holidays. Detailed tutorial at Girl on Air Blog.
DIY Mason Jar Lights
Mason jars make wonderful outdoor lighting. Just use some clear Christmas lights for the lighting. Attach mason jars to the light strands using heavy wire and run the lights through each jar. You can also cut holes in a large board and stick the mason jars through. Use a heavy duty construction adhesive to attach the jars to the board. Once the adhesive dries, just run the clear lights around the board and through each jar. Hang it with rope tied to each end and you have a wonderful light for your gazebo, deck or even indoors if you want. Via Oncewed.
Vintage Drink Cups
If you have ever eaten at a true Southern restaurant, you will know that you are served drinks in mason jars. In fact, many Southern homes keep these jars just for drinking glasses. Ice tea is much better when served in a mason jar and they are so easy to match up that you can have an entire set of all different sizes. Idea from Southernwedding.
Mason Jar Pincushions
Making a pincushion is relatively easy and takes just a few materials. You will need fabric for the cushion and some cotton batting. Just cut the fabric large enough to fit into the lid ring of the jar. Fill it with batting and sew it together. You can attach the cushion to the lid using a hot glue gun. The jar can then be used to store thread, buttons or whatever else you need to have stored with your pins. These also make great gifts for the sewers in your life. Detailed tutorial at Traci's Blog.
Mason Jar Snow Globe
If you have children, they may have brought home a snow globe made from a small mason jar. You can easily make your own by simply gluing the background into the bottom of the jar. Add water and the right amount of fake snow and enjoy. Even if you do not have children, these snow globes are fabulous and you can use them as gifts for teachers or anyone else who may enjoy them.
Herb Garden
If you are planting an indoor or a deck herb garden, you can use mason jars for your holders. Follow the same guidelines as you would for the storage containers. Just nail or screw pipe clamps to a board and add your jars. Now just fill the jars with potting soil and plant your favorite herbs. You can move the board outdoors when your herbs need direct sunlight and bring them in at night during colder weather.
Cocktails
Smaller mason jars make the perfect holders for cocktails. If you are having a cocktail party, you can premix your drinks and then simply tighten the lids and place the jars in a cooler or ice bucket to keep them cold. Label them so that you know what drink each jar holds. Then just allow your guests to take whichever drink they prefer. Idea by lilmissbossy.
Mason Jar Aquariums
If you have Beta fish, mason jars make perfect aquariums for them. Betas are relatively small and do not really need an aquarium pump to survive. Just fill the bottom of a mason jar with pea gravel or pebbles and fill the rest with water. Add a plant and your Beta. These are very decorative and because they are so small, they will fit anywhere in the home.
Mason Jar Wedding Decor
Colored sand, glass stones, floating candles – the list goes on and one. If you are looking for great centerpieces for a wedding reception, just fill up those old mason jars. Add colorful accents to match the wedding reception theme. These are very inexpensive and very elegant decorations that are sure to make any wedding unique. Via Sawdust.
Piggy Banks

Let the kids decorate the jars and use them as penny banks. Just cut a slot in the lid for dropping in coins. Since the lid comes off easily, you will be able to get to your coins when it comes time to cash them in. You can paint the jars or use a hot glue gun to add any decorative elements that you want. By Michelle Patterson
You really don't have to throw those old jars away. There are a number of useful things that you can do with them and if you do not particularly want to try anything on our list, just use your own imagination to come up with ways to reuse those mason jars.
I am an American writer who is currently pursuing my Bachelor's Degree in English Literature. I have, over the past 5 years, been published both online and in print magazines. I enjoy writing about anything and everything related to home and family including home décor and design, women's health and providing others with tips for enjoying some down to earth family time. I love helping gardeners to plan their landscapes and offering advice on a number of home related topics. As a mother and grandmother, I have plenty of experience to share.