There is nothing in the world better than a good cake. Well, there is – wait, no. There is nothing better than cake. Sugary Winzy has made it her passion to create scrumptious cakes and what she bakes will certainly make your mouth water. Just take a look at our pick for her top 15 cakes. You'll gain 5 pounds just looking at the pictures, don't hold yourself back we've linked each recipe in case you'd like to try yourself.
1. Chocolate Mannequin Cake
This is the most adorable, and scrumptious looking cake ever. It will remind you of one of those old-fashioned doll cakes but with chocolate! Imagine a cake that is as good to eat as it is to look at. The mannequin cake in chocolate definitely takes the cake so to speak. Recipe
2. Harlequin Cake
This is a beautiful cake that has an alternating pattern of white and black. The diamond shapes are cut out of chocolate fondant and the cake itself is 7 inches tall. This would be the perfect cake for any formal event or you could just have it at home for a luscious dessert. Recipe
3. House Bundt Cake
This chocolate marble cake sort of brings to mind those old-fashioned gingerbread houses but instead of gingerbread, it is made out of cake. The cake is baked in a bundt pan that resembles a house, so fairly easy to make and oh so yummy with the chocolate marble flavor. Recipe
4. Coffee Chiffon Lace Cake
Ok, so what could possibly be better than cake and coffee together? This cake has 4 layers of yumminess and even the butter-cream frosting has coffee in it. What more could you ask for? The lace design is gorgeous, although you could probably decorate it however you want. The way this one is decorated makes it perfect for any office or home party or just to enjoy after dinner. Recipe
5. American Flag Cake
This is a beautiful stars and stripes cake and looks as delicious as it does patriotic. It is a vanilla cake that has decorations made from marshmallow fondant. The great thing about this one is that when it is cut, it actually looks just like an American flag. It even has stars and stripes inside it! How wonderful this would be at your 4th of July party this year and it has so many layers, it's really hard to count them all. Recipe
6. Flag Cake
This is another flag cake that is a bit different from the Stars and Stripes cake above. It is a vanilla cake with vanilla frosting and has stars and stripes decorations that are made from marshmallow fondant. It looks delicious and is a beautiful cake that would be perfect for any get together. Recipe
7. Strawberry Cream Cake
Yummy Strawberries help to make up this delectable creation. It's made with 3 layers of cake and with filling between each layer that is made from whipped cream frosting. There are strawberries between each layer as well. Talk about a delicious cake for summer! This one is sure to please anyone at your gathering or you could just keep it all for yourself. Strawberries are healthy, after all. Recipe
8. Chocolate and Cinnamon Raisin Cake
Sugary Winzy made this creation by combining two wonderful flavors into one delicious dessert. The cake includes both chocolate and cinnamon and has walnuts and raisins as well. It is 5 layers of deliciousness and frosted with butter cream that also has cinnamon flavoring added. If you love cinnamon, this is the perfect cake for you and it looks so pretty, too. Recipe
9. Blue Mannequin Cake
Remember the Chocolate Mannequin Cake? Well, this one is like it only decorated in blue. This is a great cake for any little girl's birthday or you could use it for a wedding shower or anywhere you just need a special cake for a special lady. Recipe
10. Carrot Cake
Who doesn't love a good carrot cake? Really, carrots are so good for you and when you combine them with yummy cake, well just about anyone should love carrot cake. This is a traditional carrot cake with walnuts added to the cake batter. It is topped off with cream cheese frosting. It is a beautiful cake that has a collaboration of flavors that are sure to please any palate. Recipe
11. Halloween Bundt Cake
This frighteningly adorable cake has Trick or Treat written all over it. The bundt hole has a large spider crawling out of it. It is perfect for those Halloween parties at school, work or home and it is a chocolate marble cake so again, chocolate! Recipe
12. Lemon Chiffon
Chiffon cakes are so light and fluffy and this lemon one has meringue frosting that makes it look beautiful and taste scrumptious as well. Honestly, who doesn't love a light and airy lemon cake? The meringue frosting is made with egg whites and a few other key ingredients and perfectly complements the lemon flavor. Recipe
13. Triple Chocolate Fudge Cake
Ok, so triple chocolate – what else do you need to know? This cake has ground cinnamon, coffee and of course, chocolate. It is topped with marshmallow cream frosting. Just imagine, chocolate and marshmallow flavors combined in a beautiful cake. Oh, and did we mention triple chocolate? Recipe
14. G Clef Cake
This is a lovely cake that would be perfect for any music lover. The cake itself is filled with chocolate frosting and it is iced with chocolate as well. The G clef decorations are molded from white chocolate. Just imagine the flavor! If you have a music lover in your life, he or she will certainly adore this cake. Recipe
15. Chocolate Cookie Cups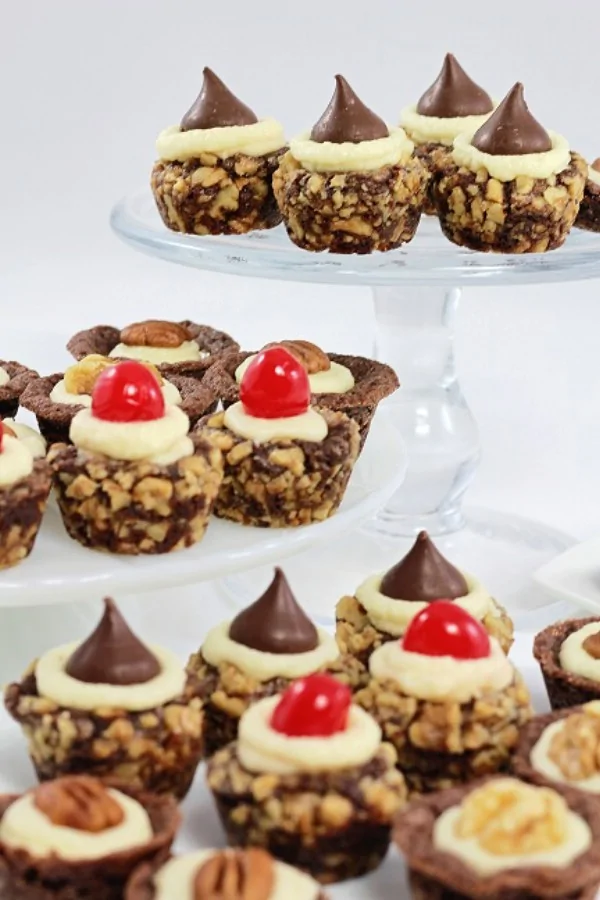 Ok, so these are not technically cake but they are so worth mentioning. She made these by molding cookie dough into a muffin pan and then once baked, she filled them with scrumptious vanilla filling. Some even have crushed nuts around the outside. So, while technically not cake, they looked so yummy that they simply had to make the list. Recipe
So there you have our favorite cakes, these all look so beautiful and delicious that we simply cannot wait to see what she comes up with next, good luck with the recipes she's made easy to follow instructions but these fantastic creations might be tough.
I am an American writer who is currently pursuing my Bachelor's Degree in English Literature. I have, over the past 5 years, been published both online and in print magazines. I enjoy writing about anything and everything related to home and family including home décor and design, women's health and providing others with tips for enjoying some down to earth family time. I love helping gardeners to plan their landscapes and offering advice on a number of home related topics. As a mother and grandmother, I have plenty of experience to share.