Easter is coming and with it often comes crafting. If you are someone who enjoys spending time creating fun Easter treats and decorations, these crafts are for you. Here are a few things that you can make, mostly with items that you have at home or can pick up at any neighborhood store. Decorate your home, send them with the kids for Easter parties at school or use them for your office parties. They are easy, quick and tons of fun. And if you feel like adding something special to your garden, check out these beautiful glow in the dark rocks.
1. Button Eggs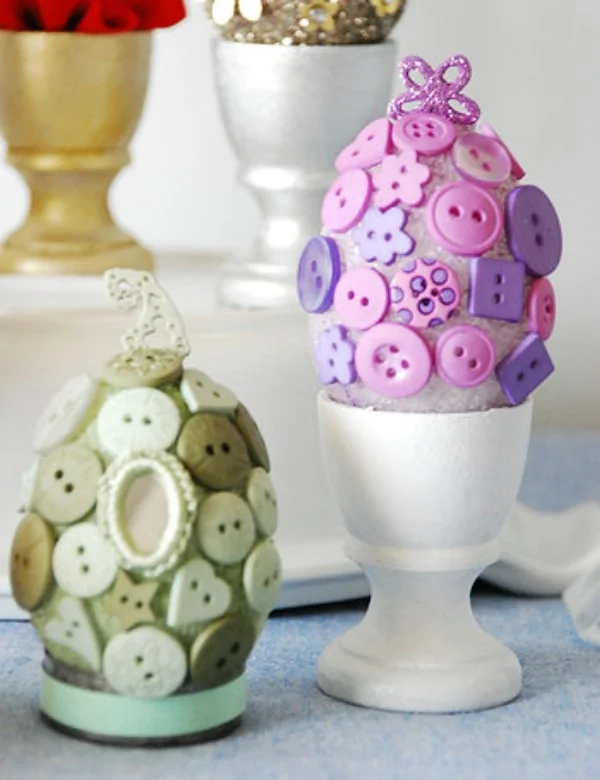 These button eggs are as cute as they are easy. Younger children can help to make these. You just need Styrofoam balls, a collection of colored buttons and headpins. Just stick the buttons to the Styrofoam ball using the headpins. You can use these to decorate virtually anywhere or add them to your Easter tree if you have one. Dotcomwomen
2. Mini Baskets
These adorable mini baskets are made from ice cream cones. Just fill the cones with jelly beans and use licorice for the handle. They take just minutes to make and best of all, they are completely edible. You can use several of them together for a centerpiece or make them as treats for your child's class. Polkadotsandpuppies
3. Easter Egg Sun Catchers
These see-through Easter eggs are the perfect easy craft. You simply have to take clear contact paper, cut it into the shape of an Easter egg and decorate with ribbons, bows, feathers or anything else that you want. Be creative and make several to hang around the house. The best part is that the sun goes completely through them so they look like authentic sun catchers. Gael's Crafty Treasures
4. Jelly Bean Door Hanger
Just cut the letter that you want out of heavy construction paper and hot glue jelly beans over it. You can spray shellac over it once finished to give it a good glossy shine and help you to avoid ants. Once it dries, just attach a large ribbon to the back with a hot glue gun and hang it on your door. BHG Easter Crafts
5. Easter Egg Centerpiece
You just need a metal basket, bag of Easter grass, a foam block and a couple of bags of egg picks. You can pick these up at any craft store or you could simply use dowels and plastic eggs if you wish. Place the foam block in the basket and then just stick the dowels in. You can use a hot glue gun to secure the foam florist block if you wish. SimplyCraftyBlog
6. Easter Candlesticks
You can make these in a couple of different ways. You will need 3 wooden candlesticks and craft glue along with a variety of paints. Just paint the candlesticks however you want and the 3 wooden eggs as well. Attach them together with glue. If you prefer, you can simply add candles instead of the wooden eggs. Either way, these are perfect for decorating any room in the home. PaintMePlaid
7. Egg Candles
This is a bit of a different take on the Easter candlesticks. You will need several small plastic eggs, 2 small round wooden bases for each candlestick that you want to make, a dowel rod that can be cut into three different lengths, glue, a drill and some paint. Just drill a hole into the wooden bases and the plastic eggs. The dowel rod is used to hold the eggs on the bases. Just decorate the bases and eggs however you want and then glue everything together to ensure that it supports your candles. The length is entirely up to you and if you want a stunning centerpiece, create several different candlesticks of varying lengths. Jcsloft at CSI
8. Topiaries
These Easter topiaries are colorful and fun and they are very easy to create from jelly beans. You will need a small pot for each topiary that you want to make. Your local craft store should have these with faux plants in them. You will also need a dowel and a round Styrofoam ball for each one that you plan to make. Simply stick the dowel through the Styrofoam ball and into the pot. Then just glue the jellybeans on the round ball and decorate as you wish. Add florist foam to the pot to hold the dowel on that end and cover with plants, flowers or whatever you want. Crafty Sisters
9. Peeps Wreath
Nothing says Easter more than Marshmallow Peeps. Well, this wreath has Peeps all over it. To make it, simply cover a floral wreath with any color of ribbon. Then just glue the Peeps to the wreath using a hot glue gun and add a satin ribbon to hang it. This is easy, inexpensive and the most adorable wreath ever. Kimberly Danger at Mommysavers
10. Eggshell Planter
Okay, so you surely have eggshells around the house. Instead of throwing them out (or adding them to your compost pile) just use them as mini planters. Fill your egg planters with different types of plants and seeds and arrange them in a box or you can use an egg carton to hold them all. Just decorate the carton and you have a lovely and functional Easter craft. BHG Easter Crafts
11. Jelly Bean Vase
There is no rule that says crafting has to take time. You can make this beautiful vase in just about five minutes. Just take a square shaped vase and a smaller round vase. Place the smaller vase inside the square one, fill the smaller vase with water and add tulips. Then just fill in the area around the small vase with jelly beans. Add ribbon and you have a gorgeous centerpiece that is perfect for any Easter dinner table.
12. Mason Jar Vases
Oh the things that you can do with mason jars. For this craft, just paint the outside of your collection of mason jars in any colors that you want. Don't be afraid to mix and match your colors and you can even use stencils to create bunnies, Easter eggs and other designs in a contrasting color. Then fill the jars with flowers, plants or anything you want. Decor Chick
13. Taped Vases
You know that you can find electrical tape and duct tape in any imaginable color, right? Well you can use those colors to create beautiful spring vases. Just take a collection of different colors and begin taping up old bottles or vases into any design that you want. Be as creative as you wish and then simply add your flowers. BHG Easter Crafts
14. Elegant Eggs
This is the easiest craft of all. You just have to grab a few candle sticks and plastic eggs. Use spray paint to color the candlestick whatever color you want and add the egg. Finish it off by tying sheer ribbon over the egg and you have an easy and elegant decoration. LeAnne Atutis
15. Easter Egg Garland
You can easily create this garland and hang it anywhere in your home. You will need plastic eggs, fishing line and a small drill or something to make a hole with. Just drill holes into the ends of the eggs and fit them together on the fishing line. You can use large beads, ribbon or other items between the eggs to space them if you want. Now just hang your garland wherever you want to add a bit of Easter cheer. Hickety Pickety
I am an American writer who is currently pursuing my Bachelor's Degree in English Literature. I have, over the past 5 years, been published both online and in print magazines. I enjoy writing about anything and everything related to home and family including home décor and design, women's health and providing others with tips for enjoying some down to earth family time. I love helping gardeners to plan their landscapes and offering advice on a number of home related topics. As a mother and grandmother, I have plenty of experience to share.