Gel nails are certainly very popular nowadays. Whether you have long fingernails or short, real or acrylic, there are gel nail designs that are going to be perfect for creating a trendy spring art for your nails.
We have compiled our top 15 favorite designs and these are great for warmer weather and those bright colors that often go along with spring fashion. Whether you paint your own nails at home or you visit a salon, here are a few beautiful designs to keep in mind.
1. Wedding Perfect
This gorgeous design would be perfect for a spring wedding. Whether you are the bride or just a guest, you are sure to get attention when you have this design. The white flowers really set off the light pink color of the polish and although you probably won't want to wear them to wash dishes, they are perfect for anytime you just want to feel a bit elegant and romantic.
2. Pretty in Pink
These pink and white polka-dotted nails are adorable. Just imagine yourself hitting the beach or heading out to a garden party. If you are not a fan of pink, use the polka-dots anyway but do a different color. It's the dots that make them our number 2 pick of top designs so go crazy with whatever color you want.
3. Flower Power
Who doesn't love flowers in spring? Okay, so again with the pink but you can do these in any color you want as well. The alternating flowers on different fingers make them really unique and they just scream spring.
4. Ladybugs
These are not actually lady bugs, but the design just makes you think of those cute little creatures. Love the dots and done in red, these would be perfect for any spring event. These are done in pink and black which can also look like a lady bug and the rhinestones just really set them off.
5. Colorful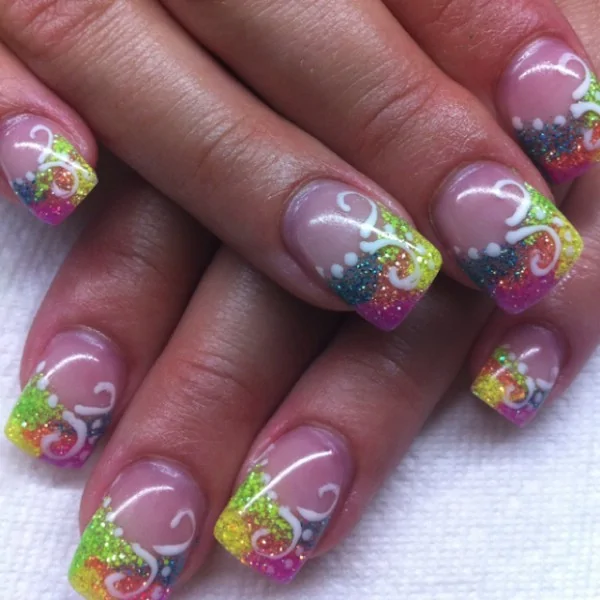 These are gorgeous with all the different colors and the white detailing just really makes them stand out. They have glittery color everywhere and would be perfect for matching with any outfit, provided your outfits have a bit of color in them as well.
6. Orange Crush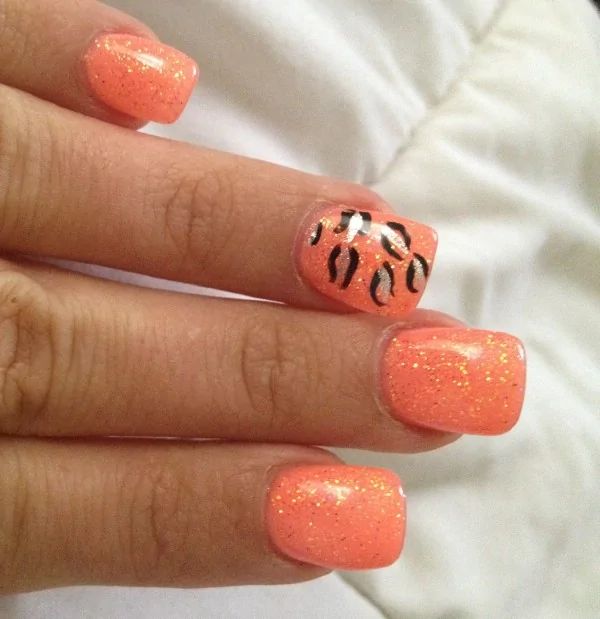 Orange is a great color for spring. These Orange Crush nails would be perfect with a nice tan or even without one if you prefer. Love the detailed design on the ring finger and you could actually add any design that you want, just keep the gorgeous orange color.
7. Colorful Again
These uber-colorful nails are absolutely gorgeous. We love the design details and the colors work well together. If you want nails that are going to grab the attention of everyone who sees them, we highly recommend this design. The colors are a bit dark for spring but the overall design is perfect.
8. Butterflies
Seriously, what says spring more than beautiful butterflies? Whoever designed these is brilliant. Each nail looks just like a butterfly wing and the overall look is stunning. These are the perfect nails for spring, or summer, or just whenever you want to brighten up your look with a beautiful butterfly.
9. Tropical Colors
Spring is the time to begin thinking about just where you want to go on your summer vacation. These tropical color inspired nails would certainly put you in the mood to visit the Caribbean or anywhere the sun shines and the beach is filled with sunbathers. They have those lovely pastel spring shades that we love, too.
10. Blue Daisies
The dark blue polish really sets off those small daisies on each fingertip. This is an elegant design that can be perfect for work or play and the glittery tips are just beautiful. This is a rather simplistic design that has been carried a bit farther by adding small flowers on each nail.
11. Neon Colors
These 80's inspired neon colors are great. You can choose just one bright color for all of your nails or mix and match like the picture and have a different color on each nail. Do your toenails and really bring the 80's neon look together.
12. All Out Spring
Maybe we should have said Hippie Spring. The adorable smiley faces and flowers are so reminiscent of the 70's love children. These would be great for the kids or wear them yourself to show everyone just how happy you are that winter is finally over.
13. Watermelon Haven
Okay, so the watermelons are just adorable. Sport one or ten, either way you are going to be showing everyone just how excited you are that spring is finally here when you are wearing these watermelon designed nails. These would also be great for summer, when watermelons are actually in season but we love them for a cool and classy spring look.
14. Easter Yellow
Do you love Peeps? Well, these yellow nails will certainly remind you of those luscious Easter treats. The yellow and green works great together to give this design a real spring look. The little flowers with rhinestones in the center just top off the spring fashion look.
15. Blue Elegance
These are absolutely gorgeous and the blue and silver work so well together to give it an overall elegant look. Note the very tiny rhinestones and how they really show off the royal blue nail color. This is an absolutely beautiful design that is going to be perfect for going from the office to the dance floor.
Also check out: 30 Cute Gel Nail Ideas for Summer
EVERYTHING YOU NEED FOR CUTE GEL NAILS AT HOME
Here are our favorite hand-picked supplies you'll need for cute gel nails.
Just click on the photo to see it on Amazon:
So whether you have your own gel nail kit at home or you spend a bit of time in the salon having them done, these are some great ideas for spring looks. Choose one or mix and match, after all that's the joy of having gel nails. They really don't follow any sort of specific pattern. You can have anything you want.
Every design is from Pinterest user uploads, I had no time to track down the users who created them so if you'd like to get featured don't hesitate to contact us.
Pint this to save for later
I am an American writer who is currently pursuing my Bachelor's Degree in English Literature. I have, over the past 5 years, been published both online and in print magazines. I enjoy writing about anything and everything related to home and family including home décor and design, women's health and providing others with tips for enjoying some down to earth family time. I love helping gardeners to plan their landscapes and offering advice on a number of home related topics. As a mother and grandmother, I have plenty of experience to share.