Sometimes the very best home decor is something that you have created yourself. There are a number of unused household items that could be put to good use in decorating your home. Take spoons for instance. If you have some old spoons laying around that you are planning to throw out, wait until you have a look at these 10 unique ideas to add a bit of charm to your home.
Related: How to Make the Best Glow in the Dark Rocks & Pathways
1. Garden Hooks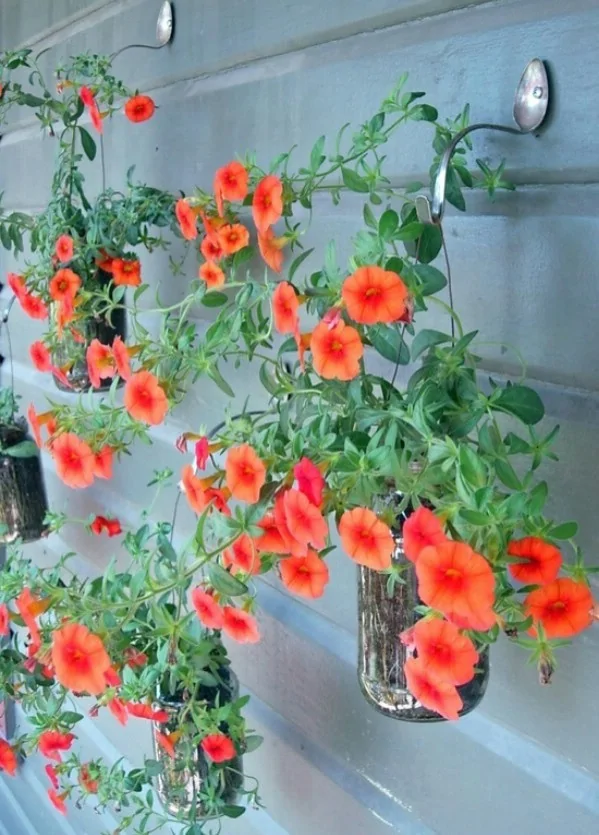 You can create garden hooks for hanging indoor or outdoor plants by using your old spoons as well. Just bend them and flatten the spoon like you would do for the coat racks only instead of screwing them to a board, simply put them wherever you want to hang a planter. Use smaller spoons for the small plants and larger spoons or ladles for larger plants. Get the spoon hook with jar for 15$ from Hutch Studio.
2. Christmas Tree Ornaments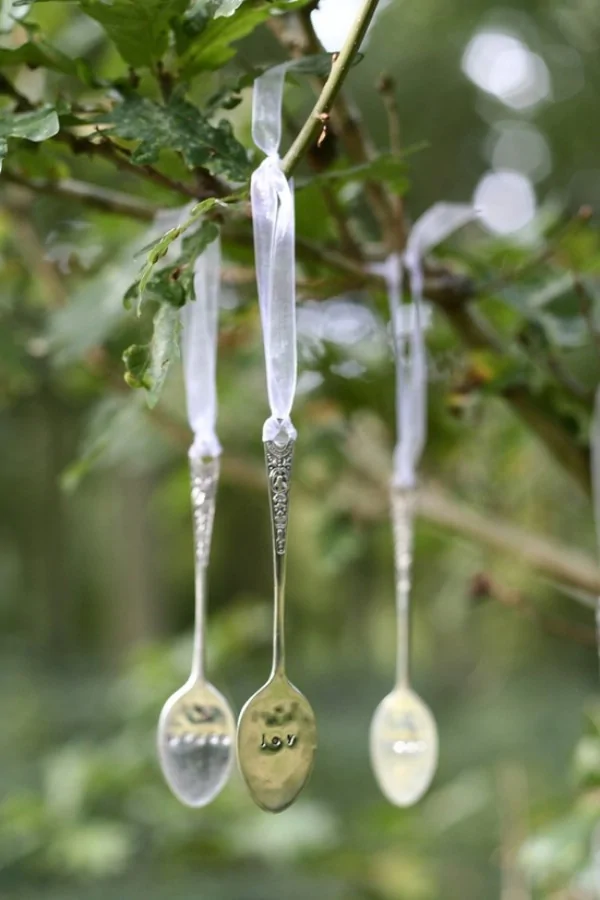 Decorative spoons make wonderfully unique Christmas ornaments. Simply hot glue ribbon to the handle of each one and hang them on your tree. This is an excellent idea for first baby spoons and you can have a special ornament on your tree for every child in your home. These are very inexpensive and very easy to make and will help you to create a stunning Christmas tree display and one that is very personal. Folksy.
3. Coat Hooks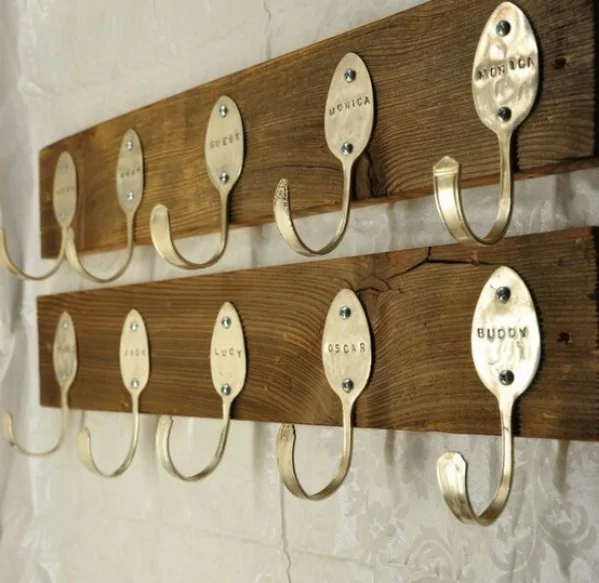 This one is a bit more complicated but definitely worth it. You will need a relatively large board, however long you want your coat hook. Just flatten the spoons out, bend up the ends of the handles and affix them to the board with screws. You can use spoons that all match or mix it up a bit to make it really unique. If you want, you can even have the spoons personalized before you affix them with the names of everyone in your home. Etsy jjevensen.
4. Candy Stand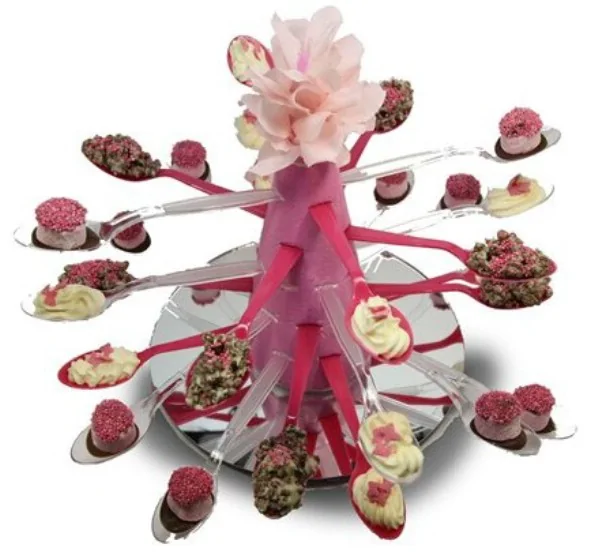 Take those old spoons and stick them into a Styrofoam cone. You can cover the cone with ribbon or anything that you want to hide it and then just arrange the spoons however you want them. This is a great idea for parties or anytime you want to proudly display the treats that you have created. When your guests are ready to try your goodies, they simply have to pull out the spoon that contains the treat that they want.
5. Kitchen Décor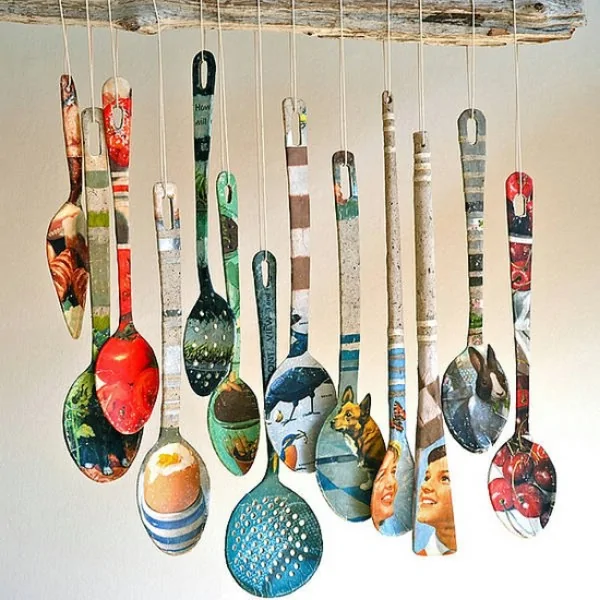 Since spoons technically belong in the kitchen, why not turn those old spoons into lovely decor that you can hang in the kitchen? Just choose a collection of spoons of all different sizes, paint them however you want and hang them in your kitchen area. For a really unique country look, tie them all up with twine and hang them from an old board. They look beautiful and you can customize them anyway you want when you are painting them.
6. Jewelry
Remember those old spoon rings in the 70's? You can recreate that look yourself with old spoons. You will need to carefully cut the spoon to remove the actual spoon section. The ring will be made from the handle. Be sure to file down the edges so that they are not sharp and then bend the handle into the right size for your finger, putting the larger end on top of the smaller end.
7. Light Fixtures
Using large white Christmas lights, you can create beautiful light fixtures with your old spoons that can be hung indoors or out. Just gather the spoons together by the handles and cover each Christmas light with a bundle of spoons. Use heavy wire to hold them together and then hang them wherever you want a unique and lovely light fixture.
8. Clock
This utensil clock is perfect for any kitchen. You can make it using just spoons or add alternating forks for a really unique look. While you can purchase these clocks at most home decor stores for around fifty bucks, why not save that money and simply make one yourself? You just need a standard craft clock and a collection of spoons. Just screw the spoons to the backside of the clock in any arrangement that you like.
9. Wind Chimes
Create a tealight wind chime for your porch or patio easily using spoons. Use a small drill bit to create a tiny hole in the handle of each spoon and then simply insert wire to tie it to your base. You can use any sort of circular metal for the base. Attach a few chains for hanging and you can even add tealights if you want to hold citronella candles for the summer months. The spoons will make a beautiful sound every time the wind blows. Stylemepretty.
10. Candle Holder
Again, using an old board of some sort, simply attach the spoons with a screw in the handle and bend the spoon ends up to hold tealight candles. You can use just about any wood or even metal that you want to make the base and decorate it with various items that will add additional charm to your spoon candle holder. Make it as unique as you want.
There is simply no sense in throwing out those old spoons. You can create beautiful home decor items with a small collection of old spoons and just a bit of time.
I am an American writer who is currently pursuing my Bachelor's Degree in English Literature. I have, over the past 5 years, been published both online and in print magazines. I enjoy writing about anything and everything related to home and family including home décor and design, women's health and providing others with tips for enjoying some down to earth family time. I love helping gardeners to plan their landscapes and offering advice on a number of home related topics. As a mother and grandmother, I have plenty of experience to share.