No one says that vases have to come from Macy's. In fact, there are a number of beautiful vases that you can create yourself and with items that you may already have lying around the house. If you are looking for a new project, these easy and unique do it yourself vases that you can make yourself will certainly give you something enjoyable to do and they make wonderful gifts for Mother's Day which is coming up.
If you have a backyard an want to make your home even more wonderful, check out these awesome DIY Glow in the Dark Rocks & Pathways.
1. Beaded Vases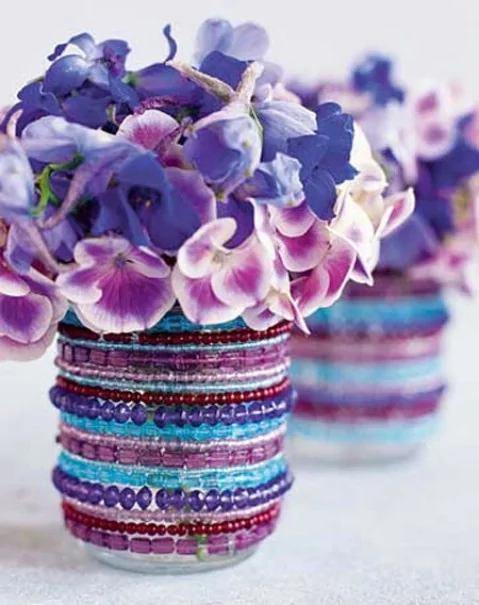 If you have a daughter then you likely have a small collection of old beaded bracelets. Just take those bracelets and stretch them out over an old can or jar and you can create a beautiful beaded vase. This is a great project to get the kids involved in as well. Louise Fiore - Countryliving
2. Twine Vases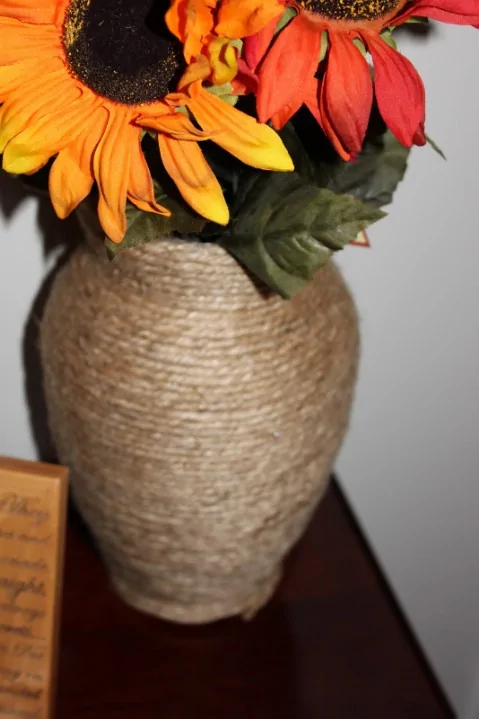 This is another one that you can use any glass jar or bottle for. It is similar to the yarn bottle vases but instead of using yarn, you use twine. This gives it a beautiful rustic look that will go perfect with your country decor. Just add the twine, making sure that you put glue on the glass first so that it will stick well. Dara Marie Teachcraftlove
3. Light Bulb Vases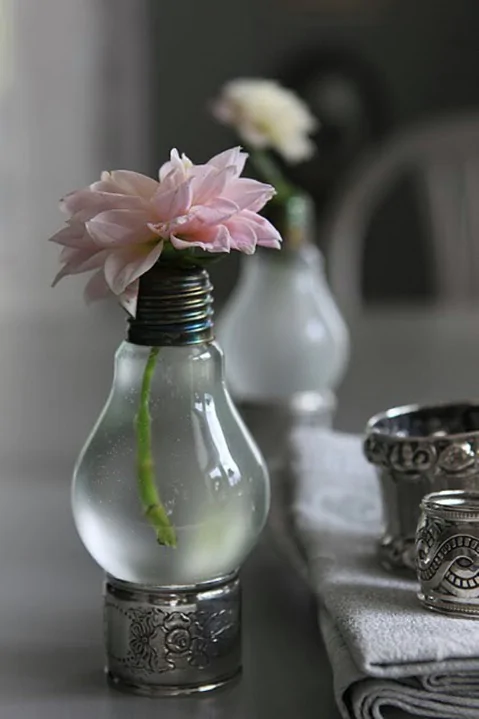 These little light bulb vases are as adorable as they are easy to make. You just have to cut off the bottom of an old light bulb and completely empty out the contents. Rinse it well and be careful to remove all metal fillings from inside it. Then just add water and flowers and use something to hold the vase up. Napkin rings work well or you can completely use your imagination for the base. Tumblr
4. Yarn Vases
If you have old beer bottles or soda bottles lying around the house, you can easily turn them into beautiful vases. Just lightly glue a portion of the bottle and wrap it in yarn. Keep doing this, ensuring that you have glued each portion so that the yarn sticks well, until the bottle is completely covered in yarn. Mix and match your colors or choose your favorite. There is no end to the designs that you can create. Former Etsy product.
5. Eucalyptus Vases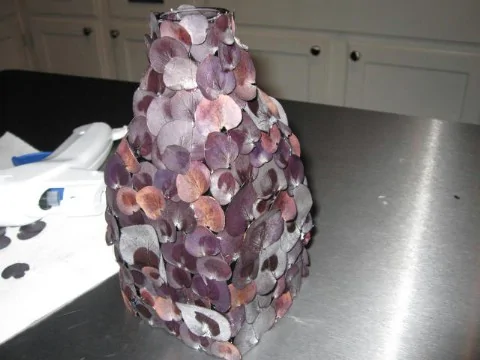 The eucalyptus vase is a bit more complicated but still easy enough to do yourself. You will need a vase or jar, hot glue gun, spray paint in any color that you want and eucalyptus. Just pull the leaves from the eucalyptus and glue them to your glass. Once you have them all glued in place, paint the vase any color. Bethany - Remodelthishouse
6. Painted Jar Vases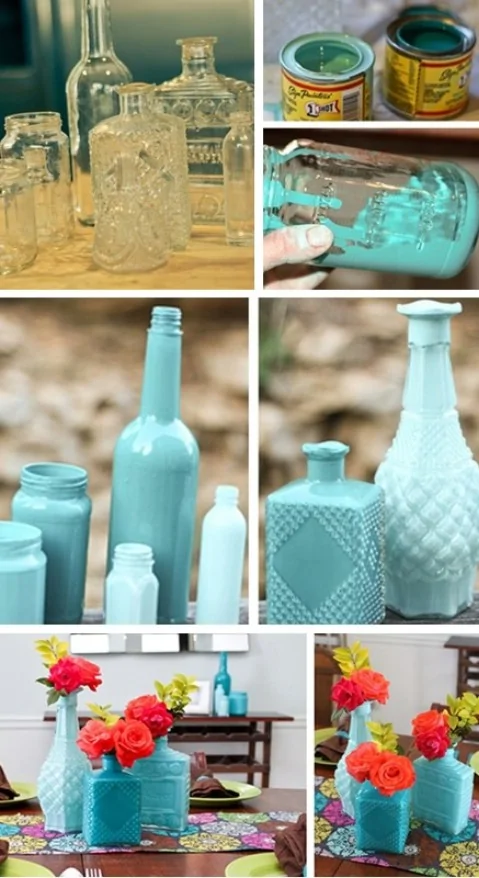 If you have old mason jars or just any old jar that you do not need, why not save it from the landfill and simply make it into a beautiful vase? You just need to take a bit of paint and cover the jar however you want. You can also use old bottles if you want a vase with a smaller tip.
7. Modge Podge Vases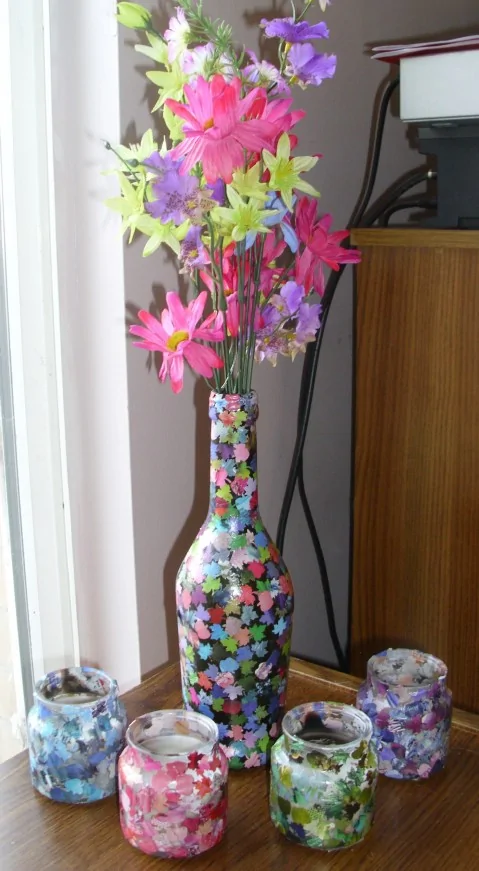 Modge Podge is great and you can be as creative as you like. You can use strips of paper cut from magazines or even create pictures if you want. Glue your modge podge to any glass container and you have lovely vases that can be completely customized so they are perfect for gift giving. Pinterest.
8. Mosaic Vases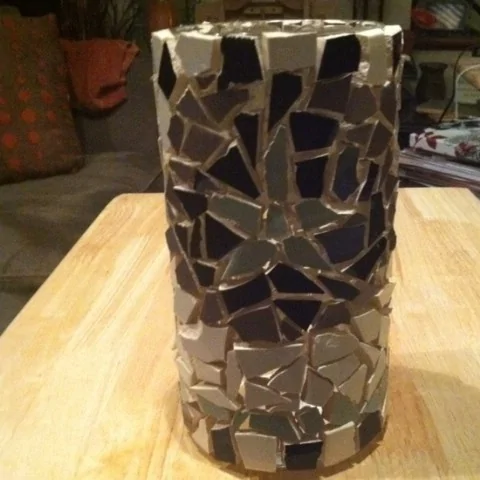 Who knew creating mosaics was so easy and so much fun? You will need a glass container and a collection of broken tiles. Simply glue the tiles to the container using a hot glue gun. Note that you do not have to follow any specific pattern but you can be creative and make pictures from the mosaic if you want. Pinterest.
9. Tin Can Vases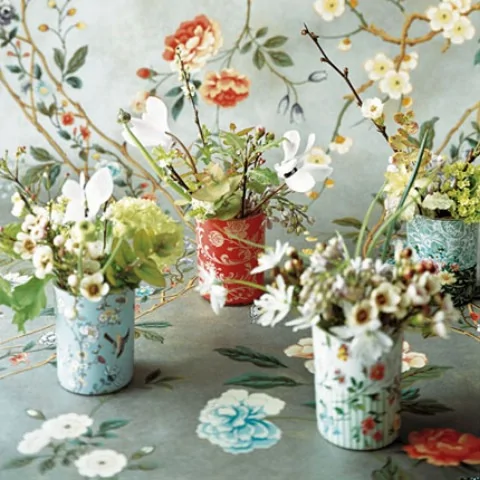 These tin can vases are as easy to make as they come. You will need a few cans or you can use bottles or jars if you want. Take a selection of scrapbook paper and simply cover the vase in any pattern that you want. You can also add scrapbooking decorations to make them really unique or tie them up with a ribbon.
10. Twig Vases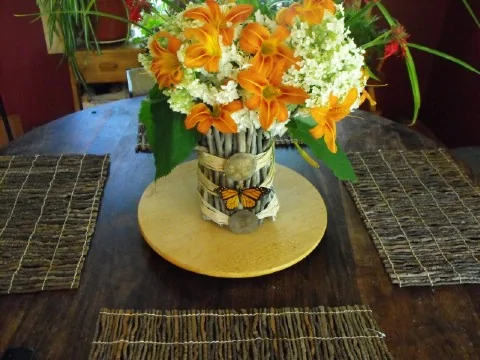 This is the most creative vase in our selection and uses real twigs that you can readily find outside. Just find an old jar and begin measuring twigs to fit it lengthwise. Use hot glue to make the twigs stick to the jar and then you can tie the entire thing together with twine or a ribbon. This is a very easy and very inexpensive vase that will look beautiful in any decor. Maureen at Twigandtoadstool
You really do not have to spend a fortune to get beautiful vases and you don't have to be very crafty either. These vases are as beautiful to look at as they are easy to make and most of them can be made with things that you have on hand so they are also very inexpensive.
I am an American writer who is currently pursuing my Bachelor's Degree in English Literature. I have, over the past 5 years, been published both online and in print magazines. I enjoy writing about anything and everything related to home and family including home décor and design, women's health and providing others with tips for enjoying some down to earth family time. I love helping gardeners to plan their landscapes and offering advice on a number of home related topics. As a mother and grandmother, I have plenty of experience to share.