With spring nearly here, it is time to begin thinking of those beautiful plants and flowers that will be adorning your home and garden. We have put together a list of 10 plant stands that will allow you to show off your lovely plants in a unique way. There is something on the list to suit all personal tastes and a few that are a bit unique for those of you who dare to be different. You might also want to check out these awesome glow in the dark rocks that can bring some magic in your garden.
1. Three Tier Terracotta
Available on Amazon.com
This terracotta stand offers a place for three lovely blooms. It is easy to assemble and you don't even need tools to put it together. It stands about 25 inches high and has flower pots that are 11 ¾, 15 ¾ and 19 ¾ inches so you have a great variety of different sizes.
2. Country Apple Plant Stand
Available on Amazon.com
This is another unique stand that gives you the place for three different flower pots. You have to add your own pots so you can customize the look any way that you want. The shelves are graduated a bit so it gives you a unique look and the stand is decorated in an apple motif that is perfect for a spring garden.
3. 3-Tiered Folding Scroll Stand with Ivy
Available on Amazon.com 
This stand by Panacea Products features brushed bronze leaves and has three different tiers. It is made of steel so it is very sturdy and you can move the tiers around so you can decide where you want to place your plants. The powder-coated finish is a beautiful touch.
4. Ivy Staircase Stand
Available on Amazon.com
Nothing says spring garden quite like ivy. The Ivy Design Staircase Stand is a beauty, it has six different shelves and is made of metal so you know it will last. It stands over 38 inches high and gives you a wonderful addition to your deck or porch.
5. Stacking Pot Stand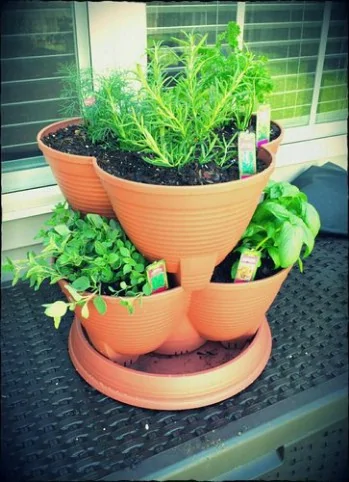 Available on Amazon.com
The Akro-Mils Stack A Pot stand has three different pot sizes and you can stack them however you want. The pots are 14, 30 and 55 quarts and the stand is made from durable plastic. The layers stack in an upward position and you can easily collapse it for better storage options.
6. Bicycle Stand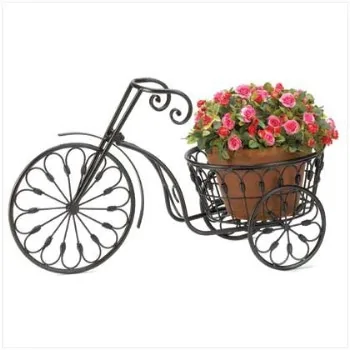 Available on Amazon.com
This is an adorable and whimsical plant stand that looks like a bicycle. It is iron and although there is a little assembly required, it is certainly worth it to have this lovely piece in your garden. The plant basket is 10 inches in diameter and the bicycle is over 14 inches high.
7. Baker's Rack
Available on Amazon.com
A baker's rack is not necessarily meant for the kitchen. This one is a beautiful plant stand that has a brushed bronze finish. It is sturdy and more than 75 inches high. You can really put some plants on this one and for less than $200, you can have a gorgeous plant display.
8. Amish Wagon Stand
Available on Amazon.com
We love the country look of this Amish wagon plant stand. You can use it to showcase your spring flowers or any time of the year. Use it in the fall to hold your mums or put poinsettias on it during the holidays. There is simply no end to the looks that you can create and for this price, you just can't beat the charm of the Amish wagon.
9. Wire Basket Stand
Available on Amazon.com
This two-tiered stand has a wire basket style that is charming. It is made of wire and wrought iron and you can use it indoors or outdoors. It's more than 27 inches high and gives you the perfect place to showcase those beautiful flowers.
10. Garden Wagon
Available on Amazon.com
So here's another wagon and this one is very reminiscent of a traditional garden wagon. This is a lovely stand that 25 inches high and 26 inches long. It has a hunter green finish and gives you lots of space to show off those lovely blooms.
So there you have it – our top picks for garden flower stands for this spring. Choose one or take them all. If you have a lot of plants and flowers to show off, you certainly want to do so with a beautiful stand.
Cynthia is a U.S. writer who has been writing online for more than a year. She enjoys writing and sharing the latest hair fashions including caring for hair, and giving hair style tutorials; tips for having great skin and a healthy body just to name a few things. Offering a little advice for getting through tough days is another subject she enjoys adding her 2 cents on. She has lots of hands-on experience with hair care, lifestyle tips and hair styles.