Aromatherapy is a popular therapy that is great for curing many issues. Studies have shown that certain smells are associated with certain reactions so if you have lavender oils around you for instance, they can help you to relax just by smelling them. What many people do not know is that there are many essential oils and each one offers different benefits. Here is our collection of the top 15 oils and the benefits that each offers.
1. Natural Healing Benefits of Tea Tree Oil
Tea tree oil when used alone can be very effective in helping to boost your immune system.
Because its strong scent, Tea Tree Oil treats many sinus issues
It can be very effective in calming the nerves and helping you to feel less anxious
2. Natural Healing Benefits of Peppermint Oil
Peppermint is not just for Christmas. While it can lead you to think of the holidays, it can also be used for a number of other seasons.
The scent can calm your stomach and help to fight nausea
The menthol in peppermint can help to open the airways and fight congestion due to the flu or common cold
It helps to soothe the symptoms of PMS
It can relieve headache because of its cooling properties
3. Natural Healing Benefits of Angelica Oil
Angelica has a mild smell also and it offers a number of treatment benefits.
It helps to reduce muscle spasms
It is used widely as aromatherapy treatment for many digestive issues
It can calm the symptoms of PMS
4. Natural Healing Benefits of Vanilla Oil
The smell of vanilla is also very calming. Really, who doesn't just love the smell of vanilla? It has been used for centuries as a healing agent and many women in the pioneer days even used it as perfume because it has certain aphrodisiac qualities and other benefits.
It offers mild sedative properties that can help to promote a better night's sleep
It calms you down and relaxes you which is good for stress relief and lowering your blood pressure
It helps to fight depression and heightens your mood
5. Natural Healing Benefits of Rose Oil
The smell of roses makes most women think of romance. You know, getting those beautiful flowers from that special man. Well, rose offers certain aphrodisiac qualities as well so if you are really looking to get in the mood, this is a good scent to use and it offers many other qualities as well.
It helps to fight severe PMS and menopause symptoms
It makes you instantly feel more attractive and romantic
It helps to ward off depression
6. Natural Healing Benefits Pine Oil
Ok, so pine may not be a scent that you consider having around except at Christmas but the smell of pine offers a number of health benefits.
It speeds up your metabolism so it is great when you are working out
It can open your airways and help you to breathe easier which is very beneficial during the cold and flu season
7. Natural Healing Benefits Juniper Oil
Juniper is a great antiseptic when used in oil form and even the scent can be very healthy.
Juniper helps to stimulate the function of major organs
It is very relaxing and beneficial when you are under severe stress
It is very therapeutic to those who are struggling with personal issues and the scent can even help to calm crying babies
8. Natural Healing Benefits of Lavender Oil 
Since we have already mentioned lavender, let's start there. This essential oil not only smells good but it offers a few physical benefits.
Its soft scent is very calming
It offers antibacterial properties and can promote better sleep
It calms the central nervous system and can help to fight joint pain
It offers relief from many urinary issues
It can help to relieve even the most severe headache
It lowers blood pressure due to its relaxing scent
9. Natural Healing Benefits of Lemon Oil
Lemon grass, lemon balm or just plain lemon is a clean scent that may make you think of summer. The scent of lemon provides many benefits.
It helps to lighten your mood and is very effective as an antidepressant
It helps you to be more focused so you can get much more accomplished
It has a clean scent which is great when you are feeling a bit down
10. Natural Healing Benefits of Sandalwood Oil
Sandalwood is actually used in many perfumes because it smells so good. It is also effective as an aromatherapy treatment for many purposes.
It has very effective calming properties and can help to keep anxiety at bay
It helps you to feel more clarity
It can also help to promote better memory perception
11. Natural Healing Benefits of Jasmine Oil
Jasmine is a flowery scent that is perfect for those looking for an uplifted mood.
It can also help you to deal with menopause and PMS symptoms
Its calming scent is perfect for those under stress
It has been used widely in homeopathic therapies to cure sexual disorders that are caused by the psyche
It helps during childbirth because the calming scent offers relief from labor pains
12. Natural Healing Benefits of Marjoram Oil
Marjoram offers a mild scent that can be very sedative and it is used widely in aromatherapy for its therapeutic benefits.
It offers relief from a number of digestive issues
It can help you to breathe easier and reduces congestion
It helps to alleviate pain and is very effective in fighting headaches, particularly migraines
13. Natural Healing Benefits of Neroli Oil
Neroli is relatively uncommon but is used widely in aromatherapy.

It is an excellent scent for those looking for antidepressant qualities
It has a warm scent that instantly makes you feel less stressed out and more comfortable
It has many antibacterial properties and is good for those who experience the occasional digestive issues
14. Natural Healing Benefits of Chamomile Oil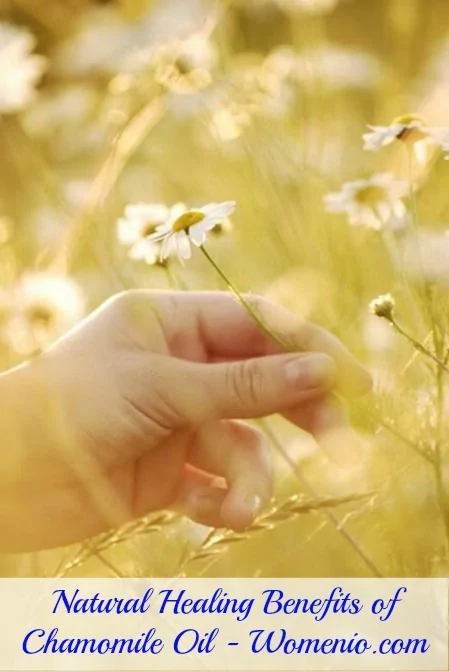 Chamomile is used in tea form to help promote better sleep. In aromatherapy, it can also help you to relax more so that you fall asleep easier and stay asleep longer.
The relaxing scent of chamomile is perfect for those who typically experience insomnia
It helps you relieve stress and makes you feel a bit happier
It can help to aid in the digestive process which is great for those with many digestive issues
15. Natural Healing Benefits of Cinnamon Oil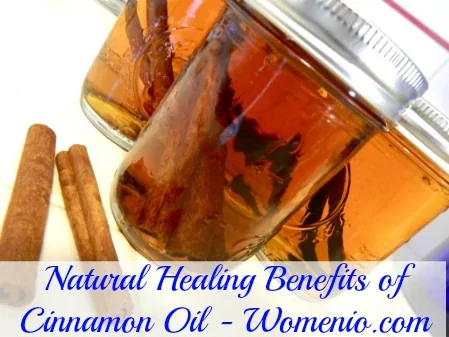 Cinnamon is another one of those scents that you may acquaint with the holidays. This scent however can be enjoyed at any time of the year.
The stimulating scent can instantly lighten your mood and help you to be more focused
It helps to soothe severe symptoms of PMS
It can effectively help to alleviate pain
It simply smells warm and inviting – having cinnamon candles or essential oils around you will instantly make you feel all warm and fuzzy inside
I am an American writer who is currently pursuing my Bachelor's Degree in English Literature. I have, over the past 5 years, been published both online and in print magazines. I enjoy writing about anything and everything related to home and family including home décor and design, women's health and providing others with tips for enjoying some down to earth family time. I love helping gardeners to plan their landscapes and offering advice on a number of home related topics. As a mother and grandmother, I have plenty of experience to share.