Aging is something that every woman is going to face in her lifetime. While this is a natural occurrence and there is really no way to stop it, there are ways that you can slow it down and stay younger looking. Contrary to popular opinion, you do not have to spend a fortune on anti-aging products in order to look younger. There are serums and potions that you can make at home to give you the same effective results. You can avoid using chemicals that could potentially cause additional damage to your skin and are a great addition to your daily skincare regimen.
Here is our collection of 15 wonderful DIY anti-aging products that will effectively keep those fine lines and wrinkles at bay.
1. Homemade Banana Anti-Wrinkle Cream
Bananas work wonderfully to help fight wrinkles and this recipe is so easy that you will want to use it every day. You will simply need:
• 1 medium banana – Actually you only need ¼ of the banana so enjoy the rest in a yummy smoothie.
Just mash the banana until it no longer contains chunks and spread it on your face. Leave it for about 15 minutes and then rinse with clean warm water.
2. Homemade Easy Exfoliator
Exfoliation is essential in removing dead skin cells and making room for new cells to grow. For this recipe you need:
• 1 teaspoon baking soda
• 2 teaspoons oatmeal
• A dash of water
You simply combine the two ingredients and add just enough water so that you have a thick paste. Apply this to your skin and gently rub those dead skin cells away. It is gentle enough to use every morning before your normal makeup routine.
3. Homemade Natural Moisturizer Facial Mask
Avocado is rich in minerals and works well as a natural moisturizer. To make this you will need:
• 1 medium avocado
You just have to mash the avocado into a creamy mixture and then massage it into your skin. Leave the mask in place for about 15 minutes and then gently rinse with warm water.
4. Natural Egg and Honey Based Anti-Aging Mask
Eggs are rich in protein and honey is a wonderful natural moisturizer. To make this natural anti-aging mask you need:
• 1 egg yolk
• 1 tablespoon pure honey
• 1 tablespoon yogurt – plain yogurt works best
• ½ teaspoon almond oil
Just mix the ingredients together and apply to your face as a moisturizer. It will refine and tighten your pores and help to keep those wrinkles from forming.
If you don't have honey at home or don't want to use for any reason then check out our article about DIY face mask without honey.
5. Natural Peach and Honey Rejuvenating Mask Recipe
Peaches are also wonderful for anti-aging. They work well to keep wrinkles from forming and help to rejuvenate the skin so that new skin grows in. To make this mask you will need:
• 1 large peach
• 3 teaspoons honey
• 2 tablespoons yogurt – this is optional and is only needed if your mask is too thick
Just combine the ingredients and work into a paste. Leave the paste on for about 10 minutes and then rinse clean with clear warm water.
6. Homemade Tomato Wrinkle Remover Mask Recipe
Tomatoes are filled with nutrients that are essential for healthy cell growth which means that they are excellent for prompting skin to heal itself and eliminate fine lines and wrinkles. Making this mask is easy, you just need:
• 1 small tomato
You just need to cut the tomato in half and then rub those halves on your face. Leave for about 10 minutes and then rinse clear.
7. Homemade Natural Anti-Aging Rejuvenating Serum
This is an all-natural serum that works much like those very expensive products that you can buy at your favorite beauty shop. It uses rose hip for younger looking skin, hemp seed oil for anti-aging benefits and rosewood for skin rejuvenation. Just add together:
• 4 teaspoons of rosehip seed oil
• 2 teaspoons of hemp seed oil
• 5 or 6 drops of rosewood essential oils
Mix the ingredients together and apply to your face at night, making sure to massage it into your skin. The serum can be stored in the refrigerator and will keep for several weeks.
8. Natural Turmeric Skin Polisher Recipe
Turmeric is an excellent ingredient for cleansing the skin naturally and removing dead skin cells and other product buildup that can lead to aging skin. The polisher leaves skin healthy and glowing and to make it you will need:
• ¼ teaspoon turmeric
• 2 teaspoons milk
• 1 tablespoon gram flour
Just mix everything together and rub it into your dampened skin. Leave for 10 minutes and then gently rinse with warm water.
9. Turmeric and Honey Moisturizing Anti-Aging Mask
Again, turmeric is an excellent skin cleanser and this recipe combines the moisturizing benefits of honey as well. To make this, you need:
• 1 teaspoon of turmeric
• 1 tablespoon of honey
Just mix together and apply to your face, leaving it on for about 15 minutes. Rinse with warm water.
10. Egyptian Skin Renewing Coffee Scrub Recipe
This Egyptian coffee scrub recipe is excellent for moisturizing and helping to renew elasticity to the skin. Loss of elasticity is what causes wrinkles to form so this will help to eliminate wrinkles and prevent new ones from coming in. You simply have to mix together:
• 1 tablespoon of extra virgin olive oil
• 3 tablespoons of used coffee grounds – these should still be moist
• 1/3 teaspoon of honey – organic or pure honey is best
Just mix the ingredients together and use the scrub to gently exfoliate the skin and remove dead skin cells and leftover makeup. Massage in a circular motion and leave the scrub on your face for at least 2 minutes before rinsing with cool water.
11. Natural Under Eye Wrinkles Serum
If you are looking to eliminate those under eye wrinkles, this is an excellent homemade serum. You can begin to see an improvement in about two weeks, or less in some cases. To make it, you need to mix:
• 1 capsule of Vitamin E
• 2 drops of rose hip oil
• 1 teaspoon of grape seed oil
• 1 or 2 drops of lavender oil
Use a pin to create a hole in the Vitamin E capsule and squeeze out the contents. Mix with the essential oils and then apply under the eyes in the morning and again at bedtime. Leave the serum on the face for at least 5 minutes and then wipe away with a soft tissue.
12. Natural Anti-Aging Serum Recipe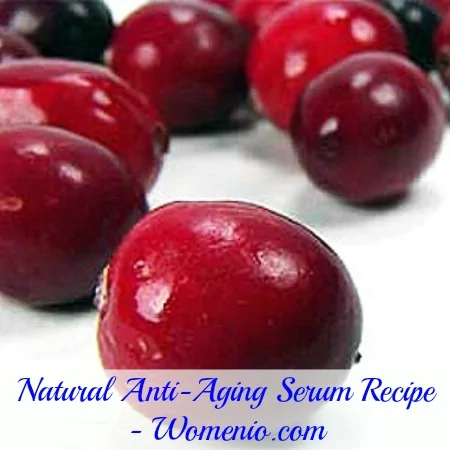 This anti-aging serum works much like those that women pay hundreds of dollars for. You get very effective results and without the use of chemical products. Just add together:
• 2 teaspoons of apricot kernel oil
• 1 tablespoon of grade seed oil
• 1 teaspoon of carrot seed oil
• 1 teaspoon of cranberry seed oil
The oils contain minerals that fight wrinkles and leave skin looking fresh and young. Just mix them together and massage the oil onto your face. You can use this around the eyes as well to combat those crow's feet. Use at night after you have cleaned off your makeup.
13. Natural Eye Rejuvenation Cream Recipe
This eye cream uses coconut oil to help rejuvenate the skin and it gives it a wonderful scent. Mix together equal parts of:
• coconut oil
• petroleum jelly
• cocoa butter
You can mix together as much as you want but we recommend starting with about 4 tablespoons of each. You need to mix the ingredients and then warm over medium heat until they are thoroughly melted together. This can be stored in a glass container for several weeks. Just apply to the eyes each night after your normal cleansing routine and massage well.
14. Natural Eye Rejuvenating Serum Recipe
This eye serum uses a number of natural oils to help rejuvenate the skin around the eyes and leave them looking younger. It will help with that puffiness and those dark circles and leaves skin glowing and fresh looking. Just combine:
• 10 to 12 drops of lavender oil
• 6 drops of chamomile essential oil
• 5 drops of Vitamin E – you can use a capsule and simply empty the contents
• 5 drops of carrot seed oil
• ½ ounce of rosehip oil
• ¼ ounce of jojoba oil
• ¼ ounce of pomegranate seed oil
Mix the oils together and store in a glass bottle. Just use this as you would any other serum around the eyes. Apply at night and in just a few days you will begin to notice a much younger looking you.
15. Natural Egg Paste for Crow's Feet
Eggs are wonderful for removing wrinkles and they work perfectly for those pesky crow's feet. You just have to open an egg and remove the white. Beat the white until it makes a bit of a paste and then just apply that paste around your face and eyes. Leave it for at least 15 minutes before rinsing with cool water.
Read next:
I am an American writer who is currently pursuing my Bachelor's Degree in English Literature. I have, over the past 5 years, been published both online and in print magazines. I enjoy writing about anything and everything related to home and family including home décor and design, women's health and providing others with tips for enjoying some down to earth family time. I love helping gardeners to plan their landscapes and offering advice on a number of home related topics. As a mother and grandmother, I have plenty of experience to share.