Have you ever had a feeling that someone might be watching you while you were in the presumed safety of your home? Well, that is not as far-fetched as one might think, as a couple from Pittsburg learned after installing a surveillance camera in their attic.
Jerome Kennedy heard noises in a home she shares with his wife Ashley and their baby. He saw the lights through holes in the bedroom, making him believe someone was in his attic. He was not wrong.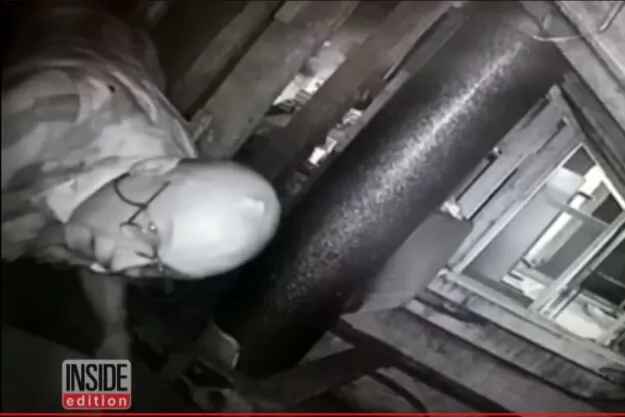 Jerome Knew "Someone Was Up There"
After a series of bizarre incidents, the Kennedys installed a camera above their bedroom. They found that then 69-year-old Robert Havrilla, who was renovating a house next door, was watching them.
Jerome discovered that the neighbor had made a detachable wall to access their attic. The distraught husband also found holes in the walls and saw Havrilla carrying a drill, which helped him connect the dots.
In what could only be described as a horrifying experience, Havrilla watched the couple and their 10-month-old baby sleeping. Talking to the media, Ashley said the family had no idea what was happening as the visibly shaken woman teared up.
Jerome allegedly warned Havrilla to stay away from his family two days before finally confirming he was watching his family in their home on North Taylor Avenue on the Mexican War Streets on the North Side of Pittsburg.
Also read: 15 Bad Habits That Destroy Your Metabolism
Robert Havrilla Was Charged With Stalking and Trespassing
The chilling case from 2017 ended once the Pittsburg couple caught the then-alleged peeping tom on tape and called the police. Havrilla was charged with stalking and trespassing.
Havrilla's attorney stated that his client did not have malicious intent. Instead, he wanted to do maintenance, not to peep or do anything malicious.
Though it was proved that the neighbor was, in fact, spying on the young family, many believe that his sentence was too light. Robert Havrilla was fined and released on one-year probation despite being guilty of criminal trespassing.
The Kennedys described the man who watched them as someone who kept to himself and was "reclusive."
The family's attorney, Jack Goodrich, told Inside Edition:
"It's that scary to think somebody can be that intrusive in somebody's home," he said. "In my humble opinion, he was waiting for the creep show."
Also read: 30 Horrible Things Men Wear That Women HATE
Stalkers Are Getting More Creative
There has been a rise in stalking and spying cases all across the globe. From using drones to using tiny smart cameras, being a peeping tom has never been so easy.
The creepiest part of the Kennedy case was that the baby's crib was next to the marital bed. That is why we are not quite sure what kind of program the intruder was expecting, if any.
That's why you have to trust your gut and check for the monsters under the bed. They might not be a child's imagination after all.
READ NEXT:
Sylvia Silverstone is a passionate writer who loves to share her knowledge and expertise on a wide range of topics, including beauty, life hacks, entertainment, health, news, and money. With a keen eye for detail and a talent for storytelling, Sylvia's engaging writing style keeps readers coming back for more.