Finding the perfect decorating style for your home that reflects your persona can be a challenging but rewarding process. With so many different styles and tastes available for a home, narrowing down your preferred decor might be a daunting task but it doesn't have to be.
With a little research and awareness, you will be able to zero in on exactly what you want your home to look like and the feel you want it to exude and it will be a very worthwhile endeavor.
Choosing Decorating Style to Match Your Style
Here you can find the most popular interior design styles shortly explained with examples. Take note as you go over the list, which one grabbed your attention the most?
The Contemporary Home Decor Style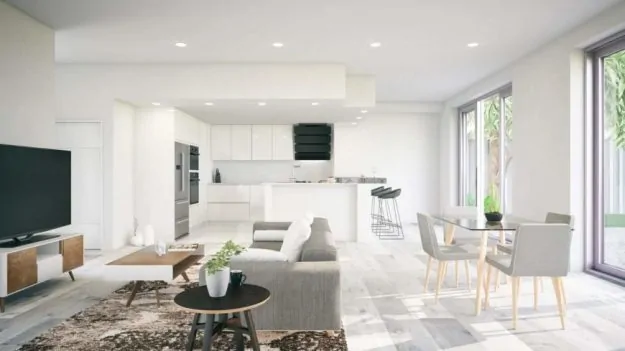 Is it the clean lines and no-fuss design of contemporary furniture? If you have furniture with straight lines and sleek designs, and typically lots of black or white or bold solid colors, the modern design decorating style might appeal to you.
The Country Home Decor Style
Does country home decor style appeal to you? White furniture, rustic or homemade designs, and florals are all hallmarks of the country design style. It gives off a casual, homey feel.
The French Home Decor Style
The French decorating style entails rich fabrics, ornate furniture, and an antique feel; the mixing of rustic and ornate is a hallmark of French decor. Couches and pillows are fluffy and have a lot of curves, and the furniture has extravagant details. Many times a single color is layered and repeated throughout the home.
The Traditional Home Decor Style
Traditional decorating styles involve classic styles and wood pieces or leather furniture to give structure to a room. Simplicity is important in traditional decorating, giving order to a home, using soft colors, designs, and fabrics.
The Southwestern Home Decor Style
The Southwestern style is characterized by an earth-toned color palate. Rough textures, open space, woven and rustic furniture, and craftsmen items such as pottery range throughout the home. Red, orange, turquoise, and browns create a southwestern feel in the house.
The Shabby Chic Home Decor Style
Shabby Chic is a popular home decorating design nowadays. Shabby chic involves vintage white pieces that bring a sense of calm to a room. Varying pieces of furniture are placed in the home to give a look that has a sense of history to it, as opposed to purchasing an entire matching set bought on one occasion. This home design emphasizes antique pieces while achieving a welcoming and elegant result.
Home Should Be a Reflection of Values and Personality
Maybe a decorating style hasn't completely stood out in your home just yet the way you envision it to be. Just keep in mind that decorating your home in a way that speaks of you is a process that typically does not happen over one weekend. It will be an ongoing endeavor that takes time. It brings with it an awareness of what you like and don't like and shopping in a way that reflects that.
Walking into a home that does not reflect your personal decorating style can be disheartening and unwelcoming. But once you are able to decorate your home in a style that reflects your desires and taste, home will be a place that you want to spend time and will be proud to show off.
There are many more styles than described in this post, so continue to research and be aware of styles that sound appealing. Achieving a home that is decorated according to your personality and taste is something to celebrate. It will fill your home with peace and bring comfort and relaxation to family and friends.
If you find this read rather helpful, feel free to share and pass along to family and friends who might get a tip or two out of it! Don't forget to comment your thoughts too!
Read next: DIY Glow in the Dark Rocks & Pathways.
Cynthia is a U.S. writer who has been writing online for more than a year. She enjoys writing and sharing the latest hair fashions including caring for hair, and giving hair style tutorials; tips for having great skin and a healthy body just to name a few things. Offering a little advice for getting through tough days is another subject she enjoys adding her 2 cents on. She has lots of hands-on experience with hair care, lifestyle tips and hair styles.