Gel nails are a trend that never go out of style. They are a great way to bring out your personality and add a little style to your life. Not to mention the play with colors and patterns to brighten up every day with new vigor. These gel nail designs are great to pair up with your outfit of the day, or to signify an important event or holiday. Be it the 4th of July or just a fun day out on the beach, you can always match it with nail art to truly be in the spirit of it. 
Here are 30 gorgeous and oh-so-adorable gel nail ideas to try out this summer.  
1. Cotton Candy Gel Nails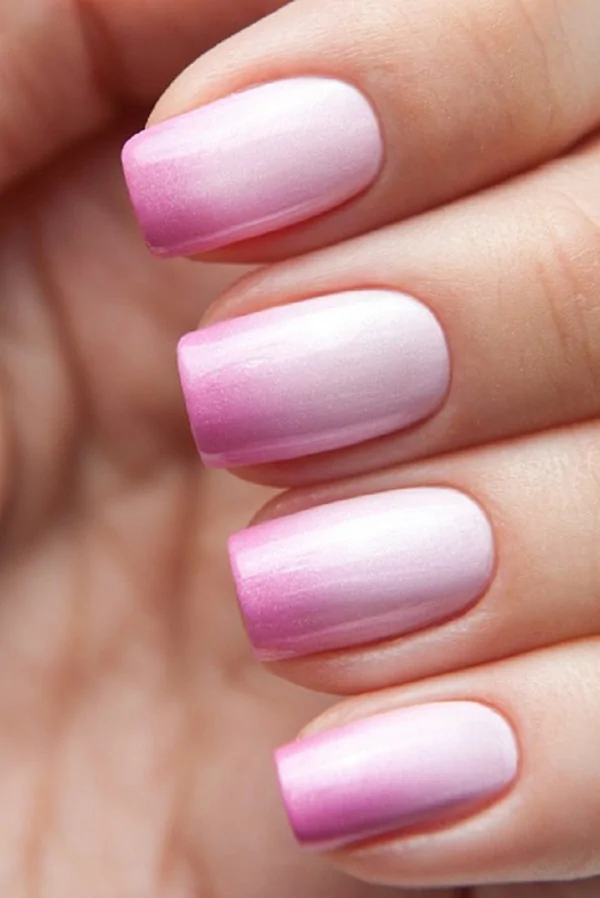 Summers remind one of lively festivals, theme parks, popcorns and cotton candy on a bright sunny day. This nail art is the perfect blend of a cool summer color with a subtle ombre to give a frosted, cotton candy shade. These gel nails look posh and dainty. The effect can be achieved by mixing a handful of shades of the color pink, and works for both long and short nails beautifully.
2. Mix It Up With Glitter and Neon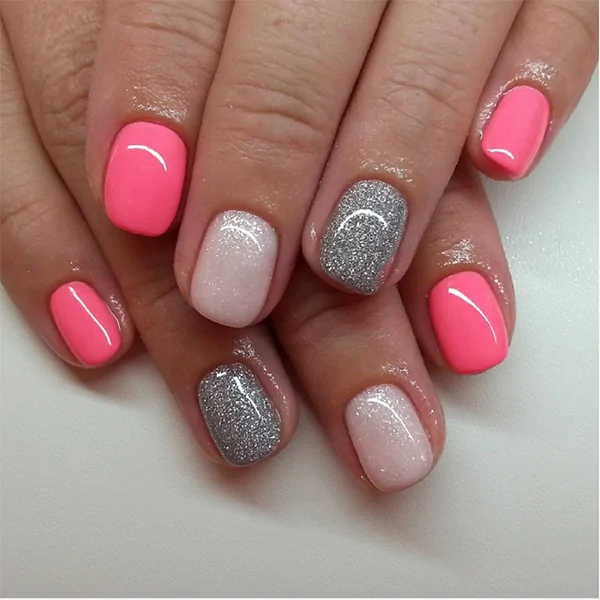 For those who love all things sparkly and shiny, glitter is a mandatory addition to your nail art. A nice coat of glitter makes your nails pop, and what better way to keep the lively vibe going than to match it with some bright neon shades? This combination makes your nail look glitzy and glamorous while also keeping the overall look minimal. Mix and match with your favorite neon tones and add a little sparkle to make it magical.
3. It's All About Patterns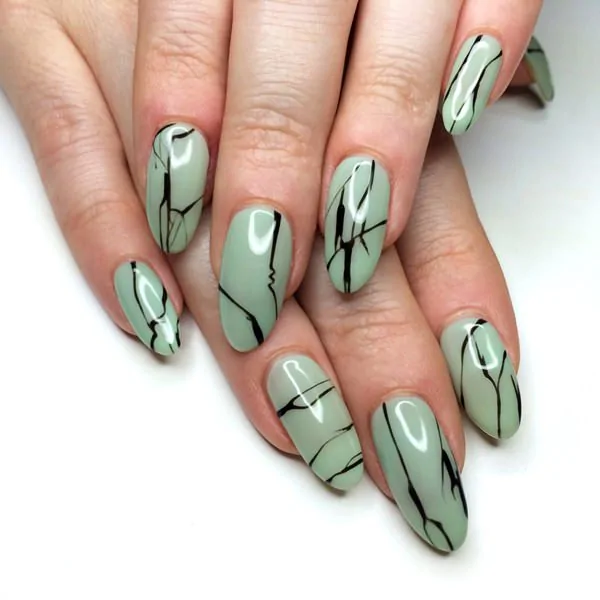 A chic and classy gel nail art for those who want to keep it simple yet set out a style statement. The lovely shade of green is beautified with black patterns that give it a playful look to match your outfit. The two colors work wonderfully together and can be achieved with little effort. This is ideal for those who have longer nails, as you have room to work with the patterns. 
4. Colorful and Dainty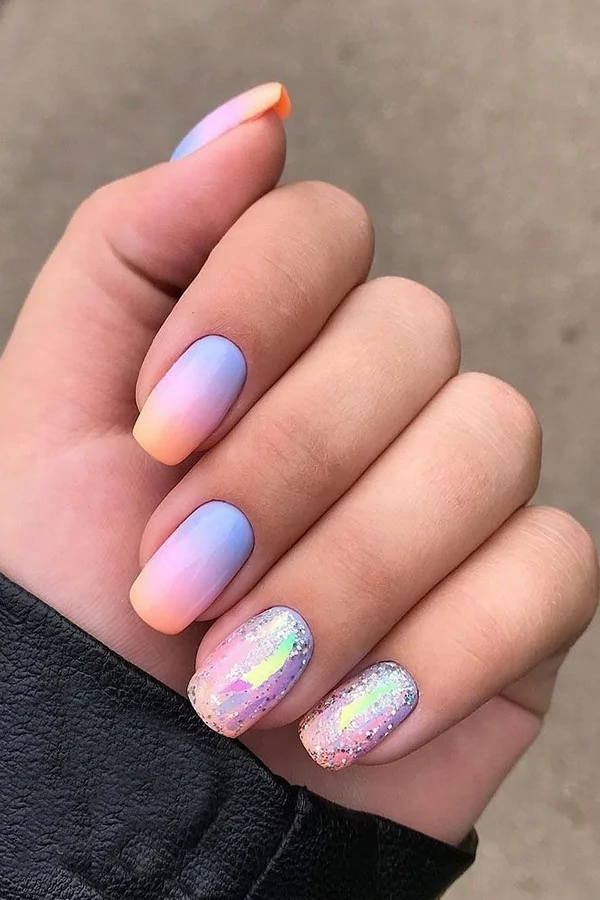 Paint with all the colors of the wind this season! Summers are meant to be cheerful, warm and tropical. What better way to celebrate the sunny days than to paint your nails in all the bold and wonderful colors that reminds one of a tropical drink. Play around with your favorite colors and set out a style statement of your own. 
5. Metallic Touch Gel Nails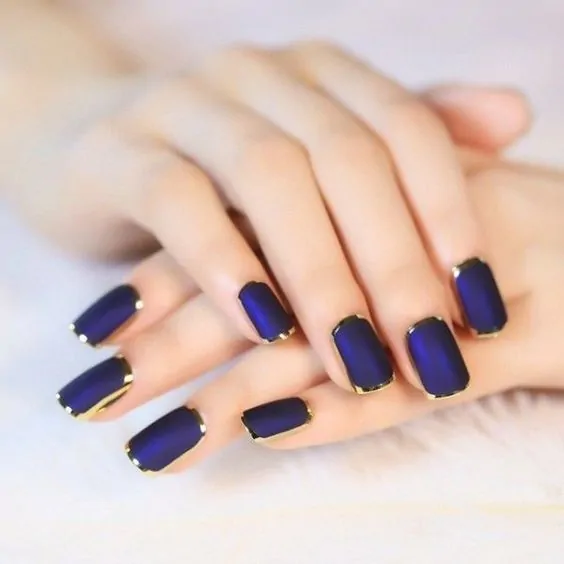 This gel nail pattern almost gives off a futuristic, artsy look that's quite modish and fashionable. Most girls prefer matte nails, and this design gives it an edge to really make the colors pop with a trendy touch of its own. All you have to do is get some golden nail paint and contour the nails with it after applying your favorite color, though we highly suggest this elegant royal blue. 
Related: 30 Gorgeous Nail Art Ideas That Are Actually Easy To Make At Home
6. Tropical Vibes Gel Nails
This cool and tropical nail art will make you feel like you are on an island vacation without a care or worry in the world! Even when living out a mundane routine, this nail art will keep you in full spirits. The lovely shade of light pink brings out the beautiful patterns with fun details of the dancing pineapples and tropical leaves. 
7. Bling It Up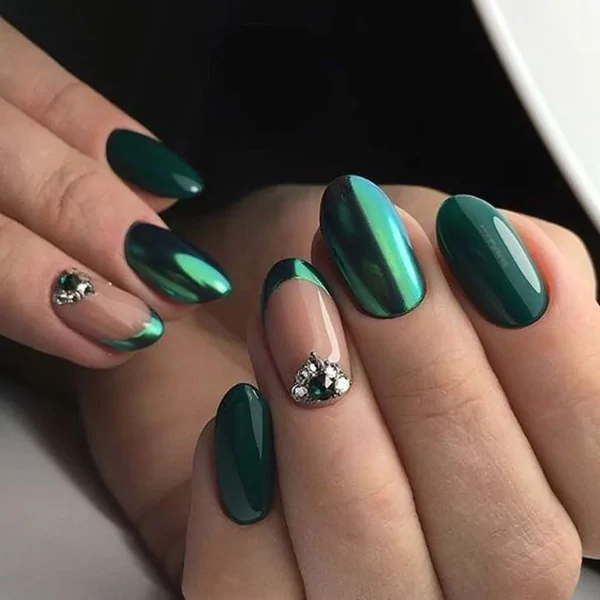 If you want to glam up a simple and polished look, try adding some bling to it for a luxurious vibe. Nail art is taken to the next level when you add some lovely nail jewels to the look. This subtle and smart metallic green color is posh and lavish, but with the addition of some dainty jewels it gives off an imperial and queenly look. 
8. The Jolly Flamingos Gel Nails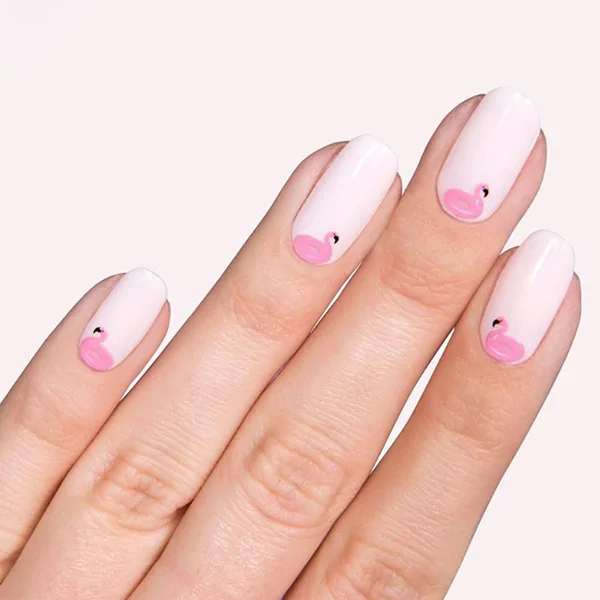 This lovely gel nail art encapsulates the true essence of summer without going too overboard. The flamingoes in a darker shade of pink add a brilliant touch to an overall gentle coat of baby pink. It is the perfect nail art to brighten up your summer days with a girly pattern and color. 
9. Adorable and Girly Gel Nails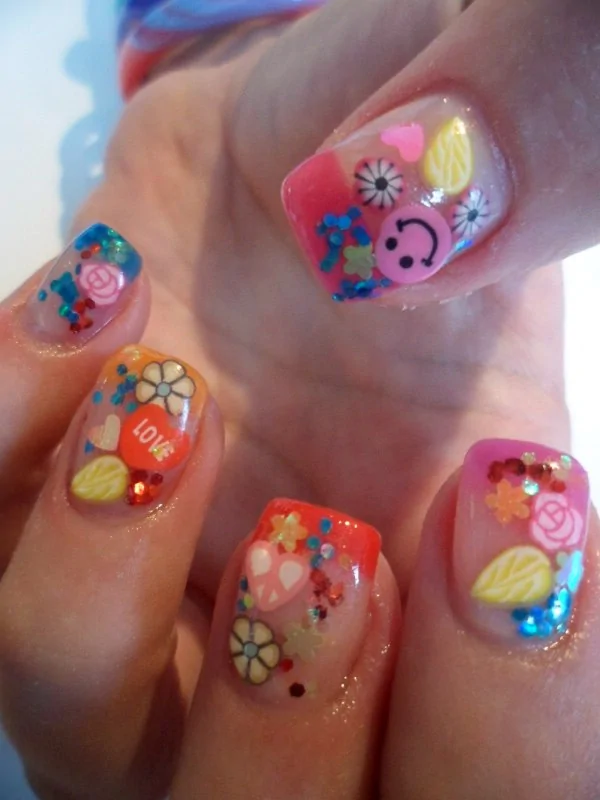 This nail art captures all things girly! The pretty and feminine patterns are beautified with a touch of glitter on the edges and some tiny nail jewels to add a glitzy effect. We guarantee that it'll bring a smile on your face and spruce up your spirits every time you look down at your nails. Play with different summer shades as the base or just use them on the tips with longer nails. 
10. Tiny Hearts Gel Nails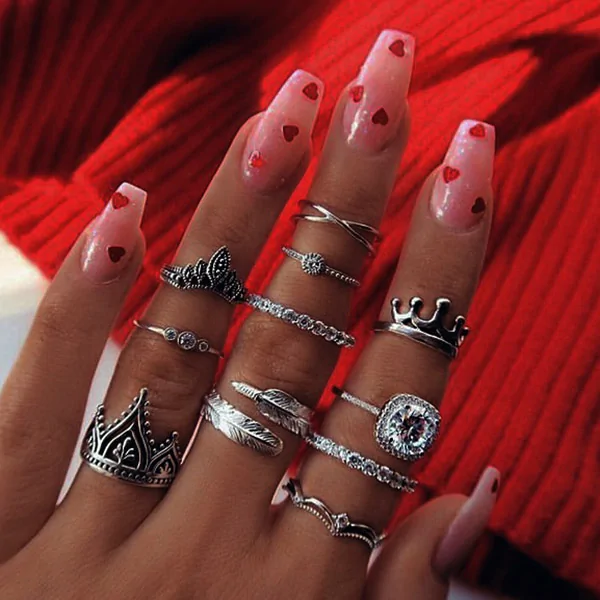 Nothing's cuter than tiny little hearts spread out on a glossy base. This gel nail art is as stylish and girly as it gets. A lovely shade of lustrous pink nail paint forms the base, as tiny red hearts are painted on top to give it a striking look. This is also a great idea for Valentine's Day, or any day dedicated to the celebration of love and all things pretty!
Related: 15 Trendy Gel Nail Designs for Spring
11. Metallic Art Gel Nails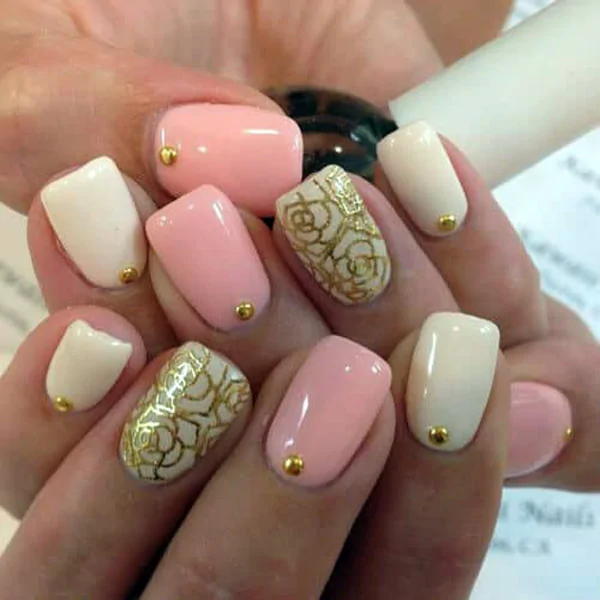 Besides metallic paint as a base, you can also use it to make patterns and flowers amidst subtle and cool shades to really make your nails pop. This lovely design is delicate and elegant, with serene pastel colors that are popular in summers. It's a very refreshing look with a lot of neutral shades to play with, and the little gold embellishment detail is just exquisite. 
12. Glitzy French Manicure Gel Nails
Everyone's familiar with the fine-looking and evergreen French manicure. Although it is one of the classiest looks you can carry, there's always room to amp it up a bit and take a unique twist on this timeless nail art. The French gel tips can be beautified with the addition of some glitter, perhaps a nice color or stamping nail patterns to really set it apart. 
13. Marble Finishing Gel Nails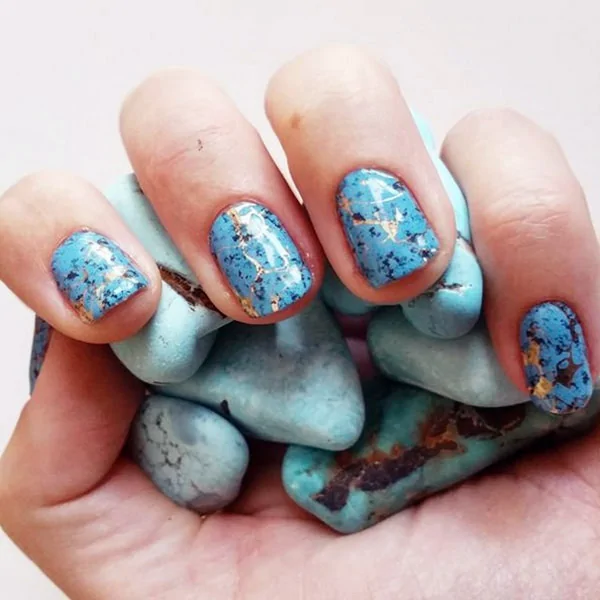 On hot summer days, you need to surround yourself with colors that give you a cool, easygoing vibe. What better than a lovely shade of turquoise with marble effect to beat the heat? The tasteful hues of blue bring out the black and gold accents that give it a lovely stone appearance. It's easy on the eyes and a refined summer aesthetic.  
14. Pastel Ombre Gel Nails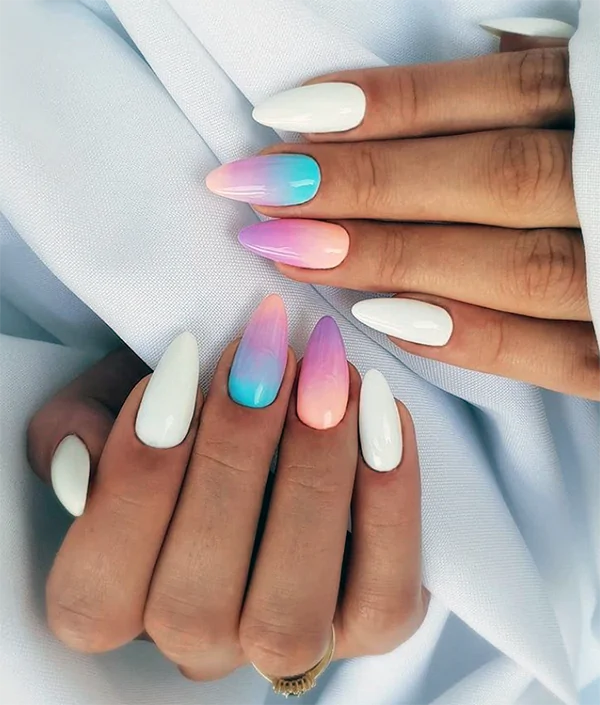 Almond shaped nails are quite in at the moment. With a beautiful and elegant, tapered and long look, there's a lot of areas to work with and really let your imagination run wild. For this gel nail art, however, it's kept simple and subtle with a sexy twist. Pastel colors are ideal for summers, giving off a cool vibe with an ombre effect that soothes the eyes.
15. Flora and Fauna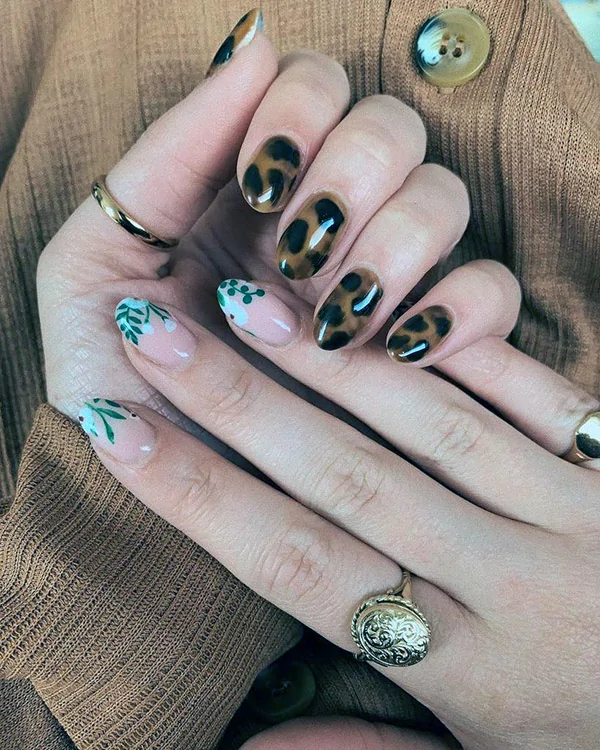 How about a little mix and match? This artistic pattern is amazingly paired to give you an iconic look that's unparalleled in its distinct beauty. Playing with two different motifs and color palettes has never been so much fun! On the one hand, you have an animal print while on the other, there's a dainty and delicate floral design to tie up the whole look. 
Related: Fun Nail Art
16. Delicate Roses Gel Nails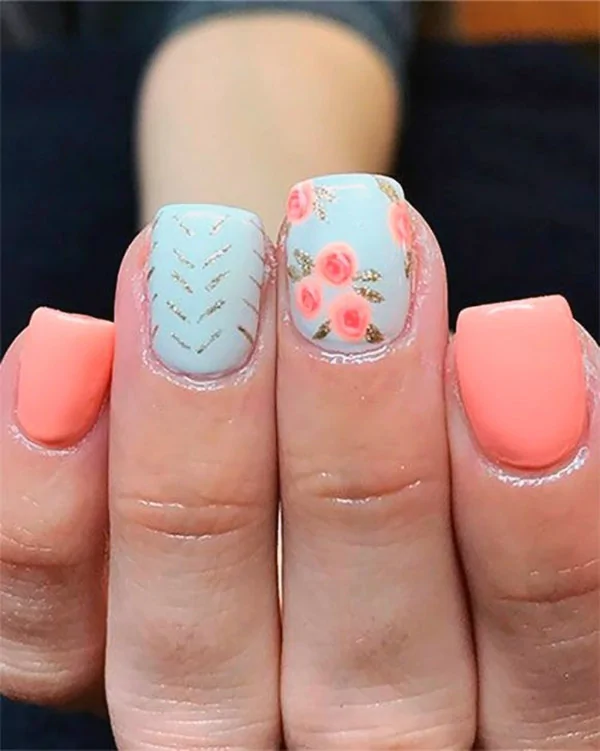 This is one of the most refreshing and cool designs in the bunch. A beautiful pattern that works amazingly well on both short and long nails. In this image, you can see how manageable it is to carry even with shorter nails. While some nails are only painted with a pastel matte paint, the other two really pop with an elegant rose pattern and some glitter to prettify it.
17. Shiny Details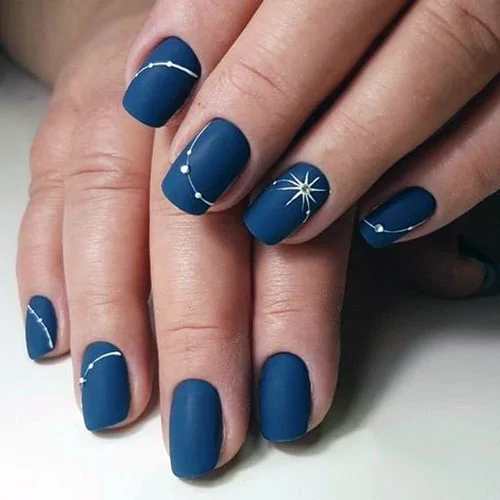 This gel nail art is elegance personified! A seamless matte look is always in style, and perfect to use as a base for delicate and elusive celestial patterns of the star and constellations. A deep blue color looks absolutely dreamy to bring out the classiness of the silver patterns painted across delicately, along with curved lines and tiny rhinestone studs inspired by the galaxy.
18. Fine Wine Gel Nails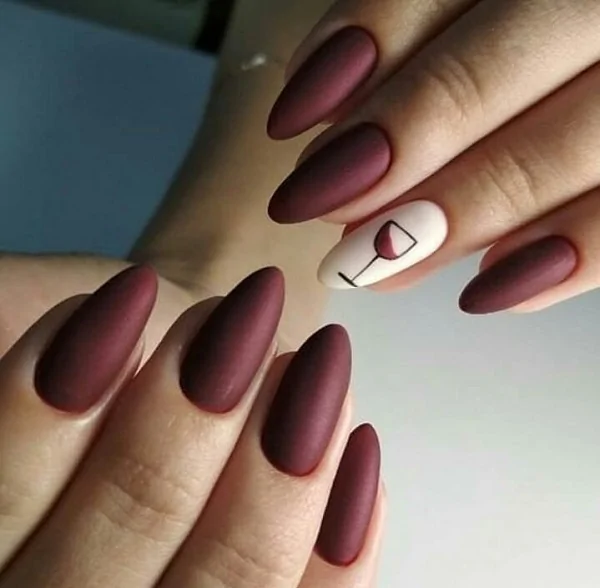 This is a bold and beautiful design with a fun detail of a wine glass, an ideal nail art for a girl's night out! Show the world your personality and style aesthetic with a chic and sophisticated design. The dark and deep color resembled red wine itself, leaving out one nail for the actual wine glass with a clear white base. 
19. Bohemian Twist Gel Nails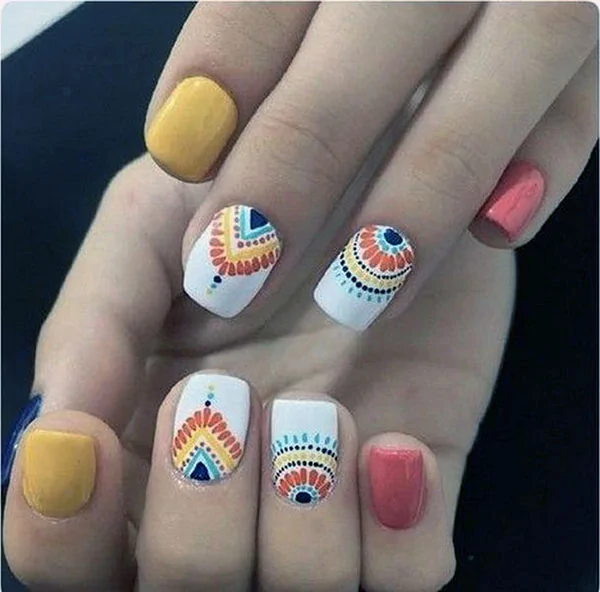 Rock this lovely care-free bohemian gel nail art with short nails. This ties up a hippie and happy-go-lucky look perfectly, and can be painted on when going on live music concerts or just a regular day out in the world. Brighten up your style aesthetics with sunny and charming colors that warm you up. The lovely shades of yellow and pink really bring the whole look together. 
20. Lush and Natural Gel Nails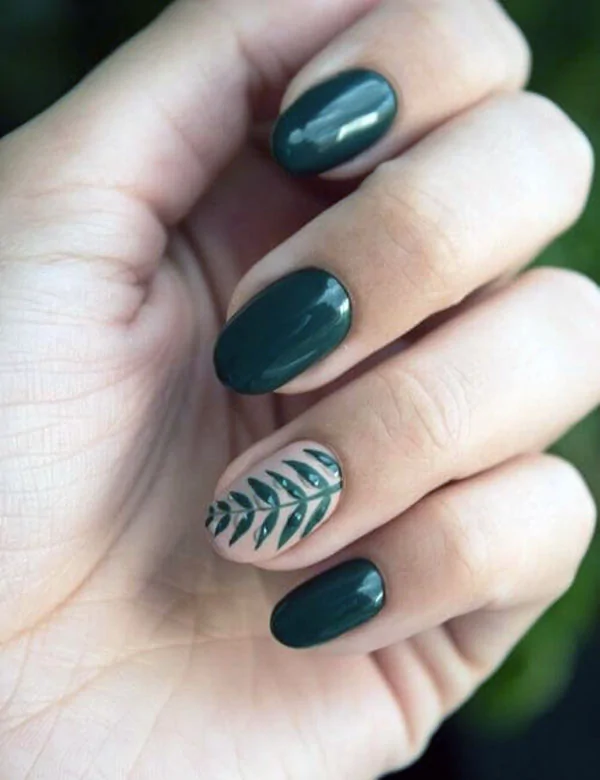 A beautiful gel nail art with a tropical vibe. The lush green color looks absolutely stunning, and the single nail art of leaves with beaded details that looks like raindrops gives life to this style aesthetic. It is fabulous and gives off a really neat and stylish look. The best thing is that it works with both short and long nails with any shape you like!
21. Juicy and Delicious Gel Nails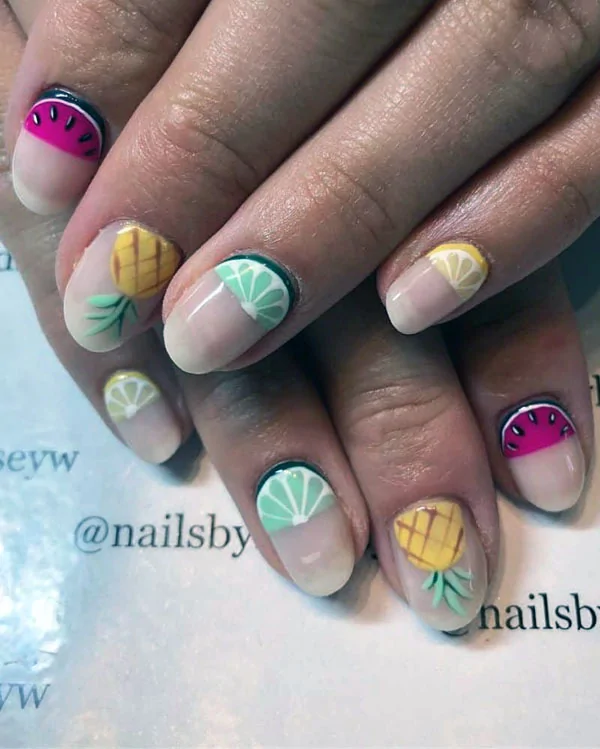 Add a little pop of color and fun to your manicure with this lovely nail art. It really captures the essence of summer brilliantly with some fun tropical fruits that add some sugar and spice to the season – and to your style aesthetics as well. With lime, lemons, pineapple, and watermelon, you've got a fine collection of all the summer fruits right on your nails. 
22. Loud and Psychedelic Gel Nails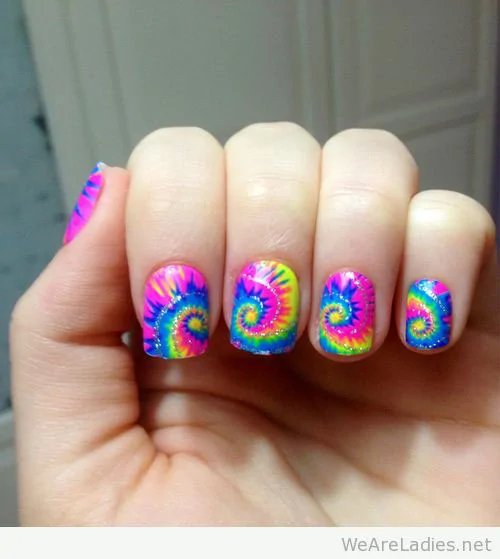 A bold and beautiful gel nail art that has a personality of its own. It almost gives off a tie-and-dye look that would look amazing with tie-and-dye shirts or dresses, or perhaps just a plain block print! The colors are vibrant and fun, perfect for summer days out on the beach or just partying with friends. This nail art will put you in the true party spirit for sure!  
23. Somewhere Over the Rainbow 
This cheerful and girly look has all the colors of the rainbow in a unique and fun style. Mix and match the different colors in pastel hues as small strips across the finger. It works perfectly with short nails and gives a very jovial and chirpy vibe. 
24. Classy and Professional Gel Nails
These neutral colors blend together perfectly, with one stand-out pattern of a mandala that's sleek and classy. This look can be carried out in the workplace, as it gives off a very smart and sophisticated vibe to pair up with your work attire. 
25. The Butterfly Effect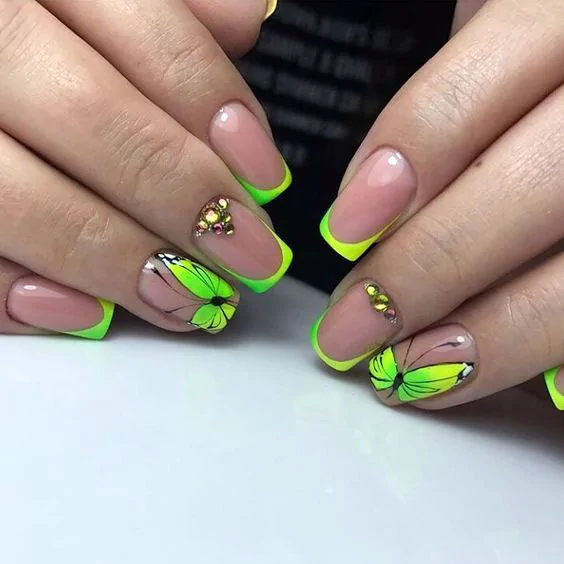 Summers are for the flowers to bloom and butterflies to fly freely in the gardens and parks. This lovely look makes use of a bright neon green on the fingertips, along with a delicate butterfly pattern and some lovely embellishments for an aesthetically pleasing look. 
Related: 7 Secrets to Beautiful Nails
26. 3D Gel Nail Art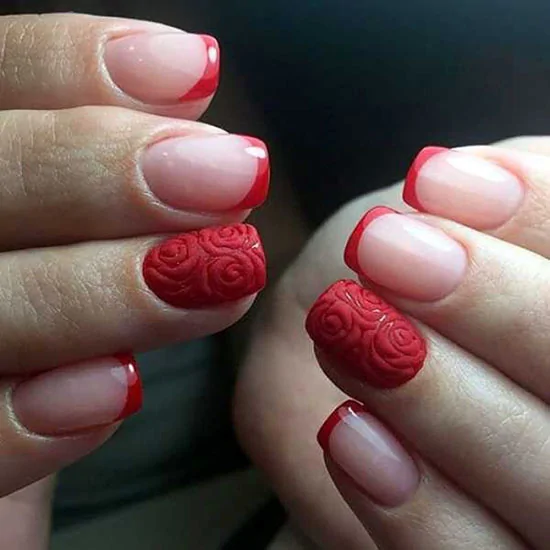 This gives a unique twist to a standard gel nail art. Use a bright red instead of white for the manicured tips, and use an accent nail with breathtaking 3D art to literally make the patterns pop! You can play around with colors and beautify your nails with the lovely floral designs.  
27. Prominent Shapes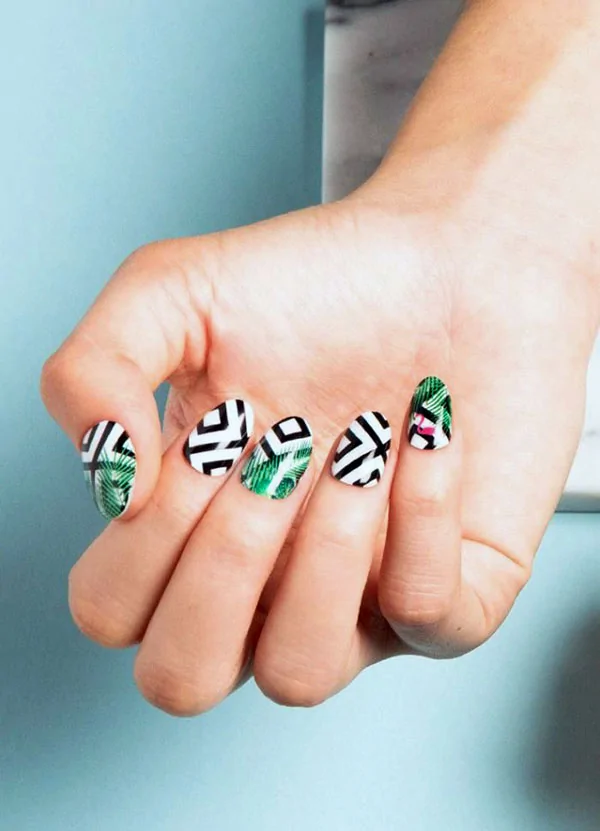 Bold and artistic geometrical shapes and patterns make for an edgy and refined look. This gorgeous black and white pattern is beautified with some tropical vibes of leafy details and playful flamingoes to make it more summer-appropriate. 
28. Criss-Cross Style Gel Nails
This pattern can be recreated with any color combination of your liking, but nothing beats the classic neutral colors as they give off a very neat and uniformed look. A sophisticated look that can be used in the workplace, or with a fun neon pattern to bring out that party spirit. 
29. Beachy Vibes Gel Nails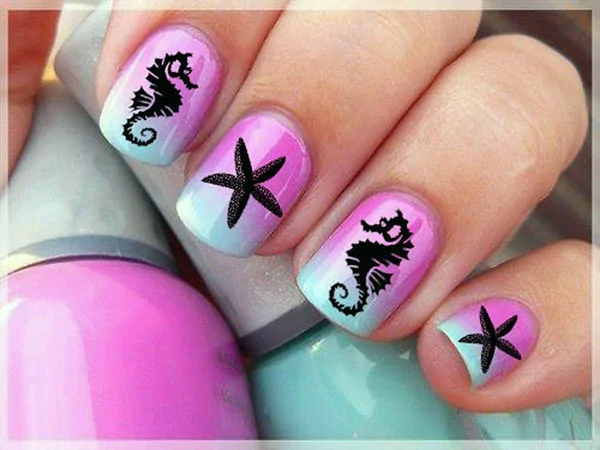 Who doesn't love going to the beach in summers? This amazing nail art will give life to your beach parties. In lovely hues mimicking the colors of the sea and sunset, you can use nail stamps to intensify the beach theme with starfish and seahorses!
30. Ice-cream Nail Art Gel Nails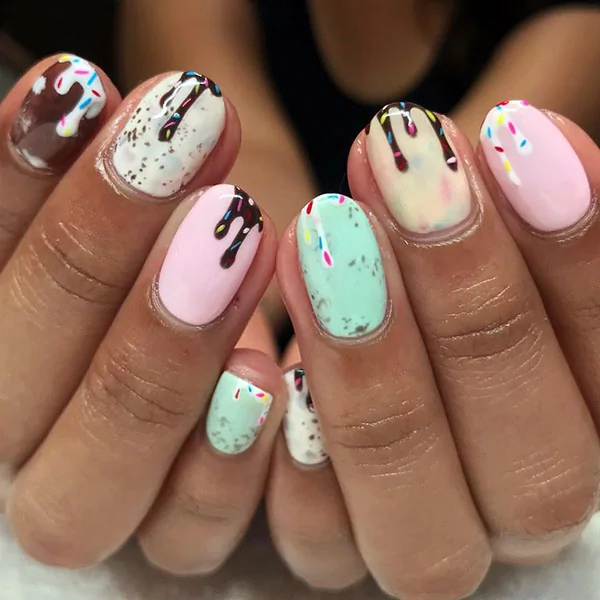 We have left the best for the last! These delicious ice cream patterns embody the perfect summer vibe and remind you to get some ice-cream on the way home! You can play with different patterns and designs to reflect on the toppings, sprinkles, and chocolatey goodness. 
Which one is your favorite? Let me know in the comments below.
Everything you need for cute gel nails at home
Here are our favorite hand-picked supplies you'll need for cute gel nails. Just click on the photo to see it on Amazon:
PIN THIS TO SAVE FOR LATER
Cynthia is a U.S. writer who has been writing online for more than a year. She enjoys writing and sharing the latest hair fashions including caring for hair, and giving hair style tutorials; tips for having great skin and a healthy body just to name a few things. Offering a little advice for getting through tough days is another subject she enjoys adding her 2 cents on. She has lots of hands-on experience with hair care, lifestyle tips and hair styles.