Are you looking for ways to organize your jewelry? Whether you need to store and organize your fine jewelry or you're looking for tips to keep your costume jewelry neat and tidy, these simple methods will work for you.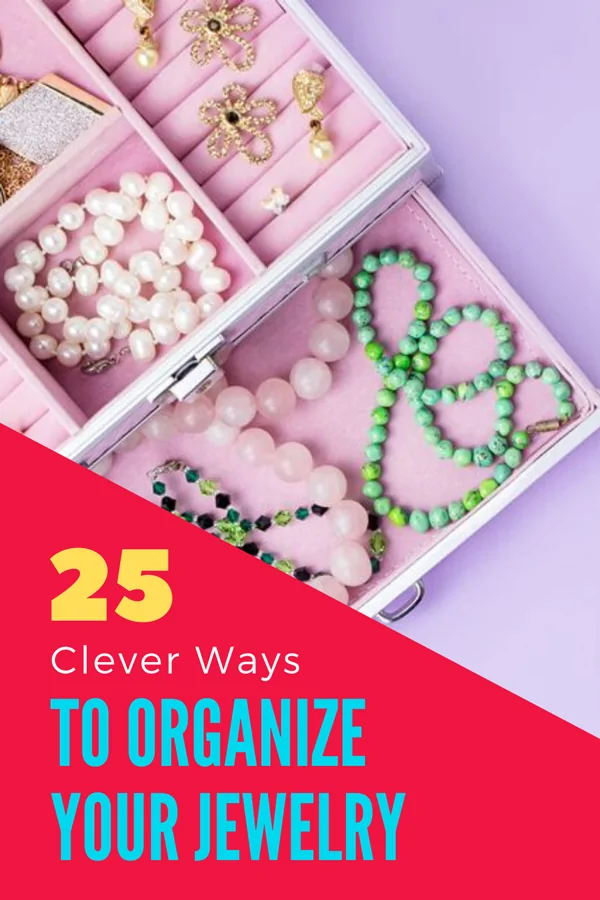 How to Organize Your Jewelry The Right Way
When it comes to ways to organize your jewelry, the most important thing to keep in mind is to store it so it isn't damaged. You don't want your jewelry to become tangled with other pieces while you're storing it. And, you don't want it to be tarnished.
If you're crafty, you can make many of these ideas on your own. Or, you can purchase jewelry organizers to make the process simpler.
What's the best way to store jewelry? 
It's important to store your jewelry so that it doesn't touch other pieces in your collection. You can store necklaces, earrings, and brooches in small plastic baggies that seal shut. This will protect them from humidity and verdigris.
Keep delicate jewelry in a jewelry box with a satin or felt lining. This lining will protect pearls and semi-precious stones from being damaged while you store them. So, one of the best ways to organize jewelry is by keeping each piece in a separate compartment in a larger jewelry box.
Fine jewelry should be stored in a safe, whether at home or at the bank, to prevent theft. Adding it to your insurance policy is also essential. That way you will be reimbursed if it is ever lost or damaged.
Store costume jewelry that you frequently wear out in the open. It will be easier to find. And, you won't risk damaging the pieces you don't wear as often that way.
How do you keep jewelry from tarnishing? 
If you're looking for ways to organize your jewelry, it's important to protect it from tarnish. To prevent your jewelry from tarnishing, you should take steps to protect it from moisture and humidity. Keep your jewelry dry and out of direct sunlight. Finally, you can use a jewelry protectant spray for added protection.
What is the best type of jewelry box to use? 
So, the jewelry box you choose will depend on how much jewelry you need. You can store large amounts of jewelry in a jewelry armoire. But, if you have only a few favorite pieces to store, a smaller jewelry box that is lined in felt or satin will work just as well.
How to organize jewelry for travel 
Wondering how to organize jewelry for traveling? If you are traveling, you won't want to bring your entire jewelry box with you. You can use a fabric jewelry roll to bring along your necklaces and bracelets.
Or, they make individual round plastic jewelry storage containers to keep larger pieces, earrings, and brooches safe. That way, you can bring along with you only what you need while you're traveling.
How to store earrings 
Earrings can be stored safely on earring cards and placed in a larger jewelry box. This will help prevent you from losing an earring or losing a backing. If you have earrings you regularly wear that you want to display. They make earring trees that will allow you to attach multiple pairs of earrings to one holder.
If you're looking for ways to organize jewelry and you're crafty, you can make an earring tree of your own using plastic canvas and an old picture frame. Choose a larger or smaller picture frame depending on how many pairs of earrings you have.
How to display bracelets 
So, if you have beautiful vintage jewelry you want to display, you can show off your bangles and bracelets using a three-tier jewelry organizer. Be sure to get one of these bangle bars in velvet to protect your bracelets from damage.
25 Clever Ways to Organize Your Jewelry
A jewelry box with a satin lining is best for storing delicate jewelry.
Plastic bags that zip shut help keep jewelry tarnish-free.
Expensive jewelry should be stored in a safe.
Costume jewelry you wear often should be stored out for easy access.
Use a jewelry protectant spray to protect from tarnish.
Store large amounts of jewelry in an armoire.
Jewelry storage containers work well for traveling.
Fabric jewelry rolls work for larger necklaces.
You care store earrings on an earring tree.
Create your own earring tree with a photo frame and plastic canvas.
Modular organizers save space if you're wondering how to organize jewelry in a small area.
Use Kraft jewelry boxes with cotton if you need to pack your jewelry for storage.
Put jewelry you wear more often on the top layer of an organizer.
Create wooden jewelry racks to hang your necklaces by attaching cup hooks to a strip of wood.
An old cup tree is a unique way to store large bulky beaded necklaces.
Mount a pegboard on the inside of your closet door to hang necklaces and bracelets.
Nestle small teacups inside your bureau drawer to hold your bangles and bracelets.
A bangle bar or tiered display is a fun way to show off vintage bracelets.
An empty egg carton is an inexpensive way to organize earrings and pins.
You can use a paper towel roll holder to organize bracelets rather quickly.
If you have a large amount of jewelry to display, you can use a three-tiered cupcake stand.
Organize larger necklaces in a silverware organizer.
An inexpensive over the door shoe holder is an easy way to keep jewelry organized.
Keeping your jewelry visible is an excellent way to remind you to wear it regularly.
Store your jewelry out of direct sunlight to prevent damage.
Looking for more ways to organize your jewelry?
Here are some of my favorites:
Wall Door Mount Mirrored Jewelry Armoire Cabinet
Mirrored Cabinet Jewelry Armoire
Rotating Makeup Organizer

Also, check out our 80 Brilliant Organizing and Storage Solutions for Your Entire Home
You can find lots of jewelry storage ideas at Ikea and other container and decor stores too. Finally, you can look for jewelry storage ideas on Pinterest if you are crafty and want to create something unique.
Cynthia is a U.S. writer who has been writing online for more than a year. She enjoys writing and sharing the latest hair fashions including caring for hair, and giving hair style tutorials; tips for having great skin and a healthy body just to name a few things. Offering a little advice for getting through tough days is another subject she enjoys adding her 2 cents on. She has lots of hands-on experience with hair care, lifestyle tips and hair styles.