Remember the iconic edge-of-your-seat fight on the rope bridge in Indiana Jones and the Temple of the Doom?
So many fans have wished to see in real life the famous overpass that provided the setting for one of cinema's most memorable scenes.
Well, if you are a cat owner, now you have the chance to get an ingenious miniature version of this very cat bridge – and ensure hours of entertainment for your moggie – and yourself!
Related: People Are Crocheting Tiny Cat Couches In Their Free Time
Robustly constructed from solid pine wood and hand-crafted rope, the Indiana Jones cat bridge can hold up to 85lbs in weight (up to 160lbs with the use of additional rope). It stretches from 35 to 145 inches in length – customize it to your individual requirements, attach it to your preferred place, and voila – it's playtime for your feline friend!
Any cat would love exploring the bridge, testing its strength with claws, or swinging, jumping, and leaping from it, just like Dr. Jones during his wild adventures. In addition, once your cat is ready to take a nap, the bridge can easily double as a hammock.
And the bridge will help you save money on repairing and replacing the home furnishings. Bored cats, especially if young, sometimes tend to entertain themselves in ways that could be destructive to the house interior. Instead, this rope bridge provides them with their own adventure zone!
Aside from entertaining your pet, the bridge will also deliver health benefits long term. While young kittens are usually tireless, older cats sometimes become sedentary and as a result, may suffer loss of muscle strength and agility.
Playing on the bridge will help your cat stay in top shape. And of course, think of all the adorable videos and pictures you can take to cheer friends and family with your pet's escapades!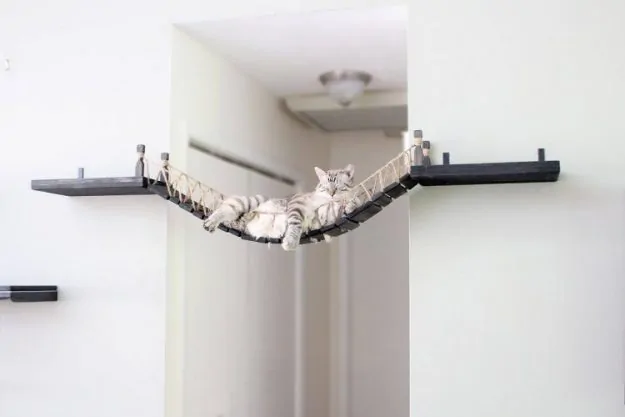 The rope bridge is the ultimate cat toy – funny, useful, and hard-wearing. Gift it to your companion – and to yourself - and bring Indy's sparkle home!
You can buy it HERE.
Read Next:
Sylvia Silverstone is a passionate writer who loves to share her knowledge and expertise on a wide range of topics, including beauty, life hacks, entertainment, health, news, and money. With a keen eye for detail and a talent for storytelling, Sylvia's engaging writing style keeps readers coming back for more.