When all else fails, there are home remedies to rescue you from the depths of damaged roots and frizzy tangled webs of despair. Yes, I'm talking about hair remedies. Before you go about booking an appointment in a salon or spa, try some stuff out of the pantry and see how it works wonders for your hair.
Whether you suffer from excessive dryness and dandruff, or greasy and dull hair that's hard to manage, there's a solution for it in an easy to prepare homemade hair mask. Try a few of these recipes at home and feel the difference just within a few days.
Best Homemade Hair Masks For Damaged Hair
A lot of elements of your everyday routine can contribute towards damaging your hair. From chemicals, curling rods, and straighteners to direct exposure to the sun, all of these can cause damaged hair. The component that's lacking the most in such cases is protein. Therefore a hair mask recipe containing yogurt and eggs offer the best remedy for damaged hair.
Yogurt hair mask recipe
Yogurt is not only high in protein but also has milk fat that nourishes the roots, soothes an itchy scalp, and supplies a healthy dose of probiotics.
To prepare a hair mask with yogurt, use one teaspoon of olive oil and one tablespoon of honey with ¼ cup yogurt and apply to damp hair for about half an hour.
Basic egg hair mask recipe
For a simpler mask, just try a basic egg! Egg in itself is a great binder that doesn't need other components. The yolk has an abundance of proteins, fats, and healthy vitamins that the hair needs. The yolk has a moisturizing effect on the hair, while the egg whites cleanse the scalp – thanks to the bacteria-eating enzymes it contains.
For this mask, all you have to do is beat an egg and apply it to mildly dampened hair for 20-30 minutes, and then wash it out with an organic shampoo.
Related: HOMEMADE HAIR CONDITIONING RINSE
No.1 DIY Recipe For Hair Growth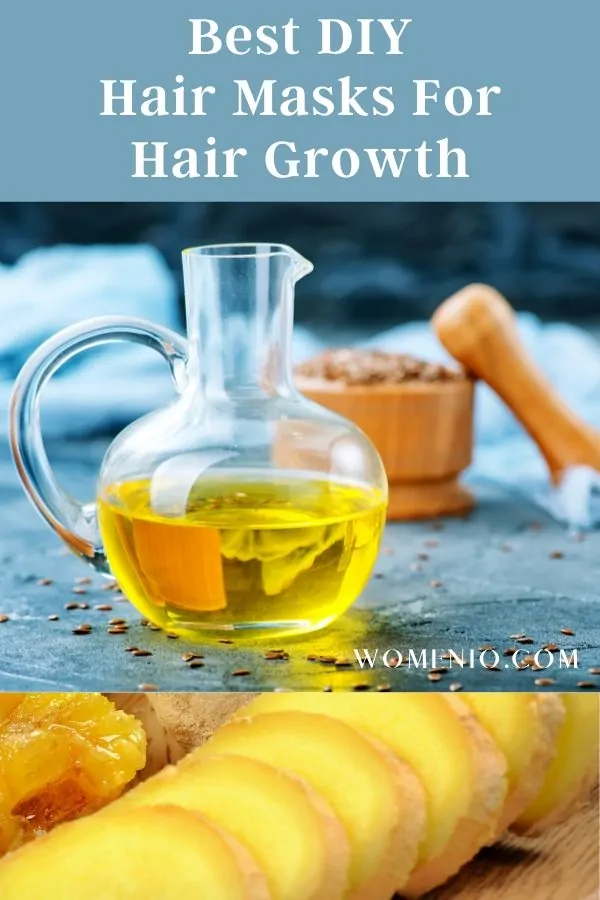 In order to speed up the growth of your hair, it's important to understand the factors that control it in the first place. The key factor for healthy hair growth is activated blood circulation of the scalp, which in turn strengthens and stimulates the hair follicles to grow. While some prefer going for expensive treatments like PRP, simple hair masks can do the trick just as effectively.
Ginger Hair Mask
Ginger is one of the top ingredients for hair growth.
Chop some fresh ginger and grind it into a paste.
Make a mask with one tablespoon of ginger paste along with a tablespoon of coconut oil, jojoba oil, and olive oil.
This mixture should be applied to the scalp by massaging deeply with fingertips for a few minutes.
Make sure the entire scalp is covered with the concoction, and massaging it thoroughly will further enhance the blood circulation.
Leave the mask on for half an hour, and use it twice a week to get the best results.
If you can tolerate the strong odor, some blended onion juice can also be added to the hair mask or used separately on the scalp 40 minutes before shampooing.
If you want to boost your hair's volume check out our Natural Homemade Hair Volume Booster Recipe
Best DIY Hair Mask For Dry Hair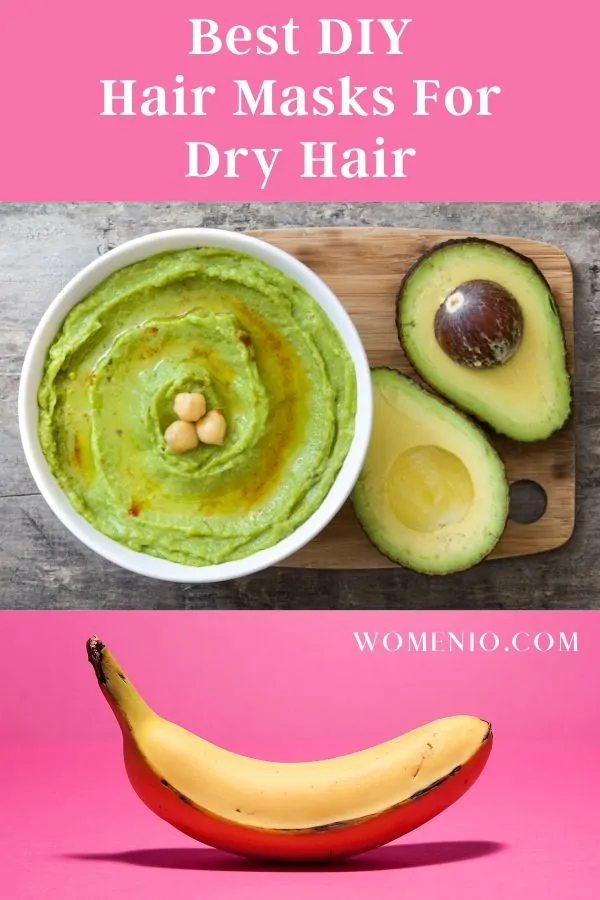 Dryness of the scalp can cause the hair to appear damaged, weak, and brittle. Not to mention the excessive dandruff which can lower your self-esteem greatly. Repairing the strands by proper moisturizing helps the damaged scalp to heal and rehydrate.
Avocado hair mask recipes
Avocadoes are rich in oils and healthy fats that provide nourishment to the scalp and the hair strands.
You will need half of a ripe avocado for this hair mask, which can be mashed to a paste consistency along with a tablespoon of honey and olive oil.
All the ingredients work in conjunction to reverse dryness and reduce the scalp from damage due to blow drying or other hair styling tools. Make sure that you use organic raw honey as it is loaded with enzymes that add softness and shine to the hair.
Avocado can also be used with overripe bananas and coconut oil. Banana has natural oils and potassium which adds softness and suppleness to the hair and improves its elasticity, preventing breakage and brittleness.
Blend ripened avocado and banana into a fine paste and add 1-2 tablespoon of warm coconut oil to make a hair mask.
Leave it on the scalp for at least 40 minutes and use once or twice a week.
Best DIY Hair Mask For Bleached Hair
Bleach exposes your hair to heat and chemicals that leave them damaged while depriving the scalp and roots of natural moisturizing. This, in turn, can make the hair brittle and damaged. Before they become too rough and unmanageable, try this simple DIY mask at home to bring back its original shine and healthy look.
Pumpkin, oats, and shea butter hair mask recipe for bleached hair
A mixture of pumpkin, oats, and shea butter will give your bleached hair the extra care and attention it needs.
For this, you will need 2 ounces of pulp from raw and seedless pumpkin, 1 teaspoon of ground oatmeal, 2 ounces of solidified shea butter, and 2 ounces of raw coconut oil with 1 ounce of olive or sunflower oil.
Mix the wet ingredients first and then add oatmeal powder to blend it all in a smooth consistency.
Apply to the hair and massage thoroughly with fingertips so that it is spread evenly throughout the scalp.
This mask should be left on for 10 minutes and then rinsed away with water.
You can also store this paste in the fridge for 5 days when sealed properly.
Best Hair Mask For Curly Hair
Curly hair is truly precious. While some take the help of irons, curlers and whatnot, others are naturally gifted with dreamy locks. However, they do demand extra care as they are more prone to tangling up and having an unkempt and frizzy look. Save yourself from a tangled up mess of dry and damaged hair with a DIY mask for curly hair.
Castor oil treatment for curly hair
Castor oil is great for curly hair as it smoothens the strands and reduces frizz. It is abundant in ricinoleic acid which enhances the blood circulation of the scalp and also balances the pH.
Use 2 tablespoons of castor oil with one egg yolk and 10-15 drops of rosemary essential oil.
Egg yolk has biotin, folate, and Vitamin A and E, all of which are good for moisturizing and hair growth, while rosemary nourishes the strands and prevents tangling.
Keep the mask on for half an hour and then wash it out with an organic shampoo.
Use the mask twice a week in order to get the best results with smooth and silky hair that can be easily managed and styled.
Related: TOP 2 WAYS TO STRAIGHTEN CURLY HAIR
Homemade Hair Masks For Soft Hair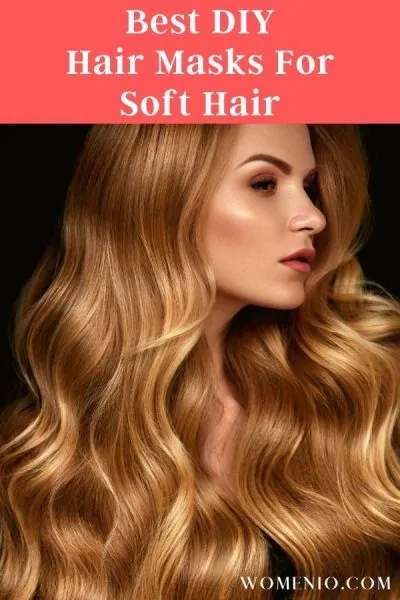 Who doesn't want soft and silky hair? They are easily manageable and can be used for numerous hairstyles. While regular oiling with any hair oil can ensure some degree of softness and suppleness, using a few special ingredients will take the lustrous shine and smoothness of your hair to the next level. This is especially useful for already dry and damaged hair.
Strawberry hair mask recipe
A homemade strawberry hair mask is quite promising for soft and shiny hair. Strawberry works amazingly for greasy and oily hair, but in case you have a dry scalp and want to prevent it from over-drying, use it with oil for best results.
For this, you will need a few pieces of fresh strawberry blended to a fine puree, mixed with 1 tablespoon of honey and coconut oil.
This mixture should be applied to damp hair and left for half an hour.
Your hair won't just be soft, but will also smell divine!
Milk and avocado recipe
Milk is another great ingredient for soft hair.
Make a hair mask with ¼ cup milk, 1 small ripened avocado blended to smooth consistency and 1 tablespoon of almond or olive oil.
The natural fats in milk impart nourishment and softness that's better than any hair conditioner.
Related: GREASY HAIR FIX
Best Natural Hair Mask For Frizzy Hair
Living with frizz day after day is not easy. It's hard to style your hair or try out a new look. Frizzy hair also takes longer to brush and are difficult to detangle, causing them to break.
The best way to manage the frizz is the regular use of a conditioner, but with the chemicals used in the hair conditioners available in the market, you can't expect them to impart much softness to the hair either.
Fortunately, you can find all-natural and effective conditioners right in your fridge.
Mayonnaise Hair Mask Recipe
Mayonnaise is the ultimate hair conditioner that will de-frizz your hair in no time. Although it can be used on its own to get the job done, making a hair mask has its added benefits for the hair.
For extremely frizzy hair, make a hair mask with 2 tablespoons mayonnaise, 1 tablespoon honey, and 1 egg.
Egg yolk is also a natural moisturizer that softens the hair, while honey is a humectant that locks moisture within the hair strands.
All of these together bring buoyance and vibrancy to the hair while reducing frizz.
Best DIY Hair Mask For Thin Hair
When it comes to thin hair, less is more. Hair masks should comprise of ingredients that add volume to the hair and promote further hair growth by stimulating the blood circulation and hair follicles.
Don't weigh down your hair with fancy oil treatments and heavy conditioners to achieve the desired effect. A simple hair mask of two ingredients would do the trick just fine.
Related: BEER RINSE FOR LIFELESS HAIR
Milk and Honey Treatment
All you need is milk and honey. While thicker hair needs high-fat content from milk, for thin hair, skim milk is preferred but you can use full-fat as well.
If you do use skimmed or low-fat milk, add 1 teaspoon of flour so that the mask is thick enough to be applied properly.
Use two cups of milk along with two teaspoons oh honey.
It's better to use lukewarm milk for this mask, and pour the mask over the hair in small portions, making sure that every strand and area of the scalp is covered.
Leave it on for about 20 minutes and then rinse with shampoo.
Another great mask for thin hair is with ripe bananas and honey. Bananas being rich in potassium nourish the scalp and hair follicles, thickening the hair and providing suppleness.
Top Hair Mask Recipes For Colored Hair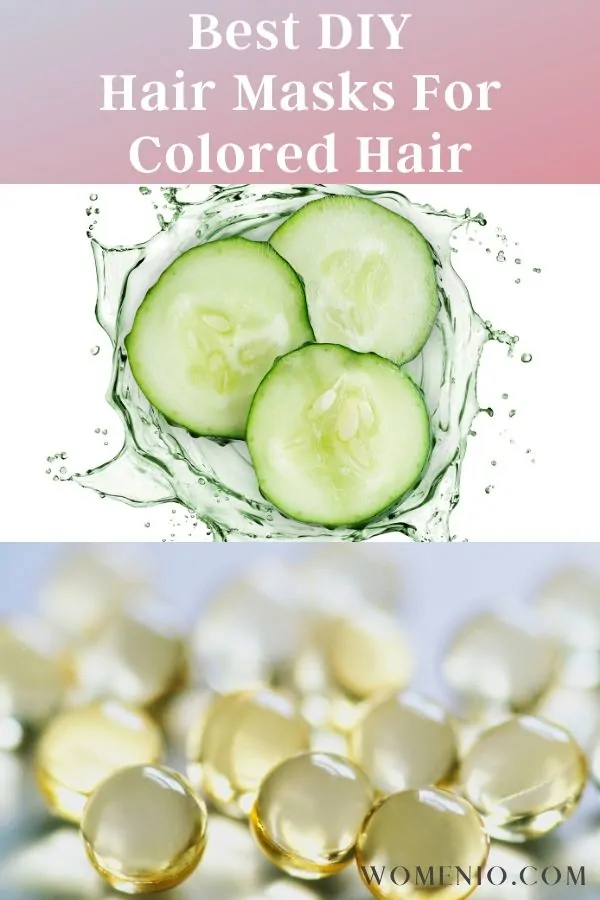 Colored Hair is not only damaged by chemicals but also need to be preserved to have the same shiny look and luster as they did at the time of treatment.
Give your colored hair the special care they deserve with simple homemade hair masks that strengthen the roots and prevent graying.
Are you into colored hairs? Check out the mesmerizing holo hair.
Vitamin-E & Egg Hair Mask Recipe
As colored hair often lacks vitamins, using a mask made with egg yolk and Vitamin E is a great way to restore its natural beauty and suppleness. Vitamin E pills are commonly available in the market.
Take one pill and mix it with 2 egg yolks.
You can also add a few drops of lavender essential oil for moisturizing and heavenly smell.
Vitamin E along with the proteins and fats from egg yolk work beautifully to brighten and strengthen the hair.
Cucumber and honey Hair Mask Recipe
Another simple mask can be made with cucumbers and honey.
Grate 1-2 small cucumbers and blend them into a paste.
Mix with 1 tablespoon honey and add 2 tablespoon of olive oil for moisturizing.
This mask can be used 2-3 times a week.
Best Homemade Hair Masks For Split Ends
Split ends don't always mean an unwanted haircut. There are easier ways to manage this problem at home effectively. Try these simple hair masks and say goodbye to those damaged split ends with dry and unhealthy hair strands.
Apple and Peach Hair Mask Recipe
A refreshing mask made form apples and peaches will leave your hair strong with a lovely fruity smell. These fruits are rich in a number of minerals and vitamins that help with split ends and nourish the roots.
Take one fresh apple and peach (skinned) and blend them into a fine puree.
Mix the paste with 3 tablespoon of milk and apply on the hair for about 45 minutes.
Fish Oil Hair Treatment
A fish oil repairing mask is also good for split ends. It contains omega 3 and 6 oils that are nourishing for the hair and scalp.
Use a few fish oil capsules and mix them with coconut oil and lavender essential oil.
Heat it till the oil gets lukewarm and pour it within a shallow bowl.
Dip the split ends into the oil mixture and slowly massage the oil up to the strands and roots.
Wrap your hair with a shower cap or towel and leave it in for 45 minutes.
Fun fact: Did you know you can style your hair with toothpaste?
Cynthia is a U.S. writer who has been writing online for more than a year. She enjoys writing and sharing the latest hair fashions including caring for hair, and giving hair style tutorials; tips for having great skin and a healthy body just to name a few things. Offering a little advice for getting through tough days is another subject she enjoys adding her 2 cents on. She has lots of hands-on experience with hair care, lifestyle tips and hair styles.