Gift-giving is an art only a few have mastered, especially when you are looking for really useful gifts under $30. While you have to be considerate and thoughtful about the gift you give, it should also be budget-friendly and useful for the receiver.
There are many products out there that are practical, valuable, and easy on the pockets, making them ideal for gift giving. Some of these are mentioned here to serve as inspiration for the next big event, buy these and thank me later!
Adorable Fox Tea Infusers
Reminding one of the playful art of origami, this charming fox tea infuser is a wonderful gift to give. Give it to the tea lover in your life and watch them use it daily for brewing their favorite herbal teas. The dangling stainless steel fox adds an adorable touch to the infuser and makes it one of a kind.
>>> Get it on Etsy
Comfy Reading Pillow
There are many useful applications of a reading pillow. Though they are primarily built for books, they can also be used for an iPad or other tablets. The lovely design with cute patterns and colors appeals to kids and adults alike, and the comfy foam material supports your precious gadgets safely.
>>> Get it on Etsy
Hand-carved Night Light
Everyone uses night light for their bed table or study. These lovely LED night lights come in tasteful hand-carved designs for a thoughtful, creative touch to an otherwise mundane everyday item. The cutesy nightstand can be given as a housewarming or baby shower gift, or as a beautiful home décor item on special occasions.
>>> Get it on Etsy
A Colorful Tie Dye Shirt
Tie-dye shirts are reminiscent of the good old 90s. Nobody would get a tie-dye shirt for themselves, but will surely love to get them as a gift. It makes for a useful gift for men and women both, as the psychedelic colors speak to everyone. Gift the colorful tie-dye shirts to remind old friends of the good times shared together.
>>> Get it on Etsy
Personalized Diaries and Journals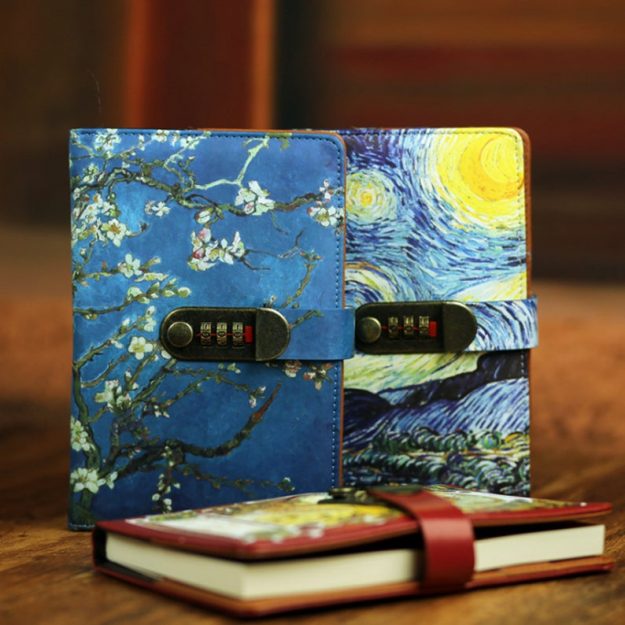 Journaling is a wonderful self-therapy that should be encouraged and appreciated. The great thing about a good notebook is that it never goes wasted. Whether you give it to a poetic friend who likes to jot down every profound thought, or as a useful gift for your mom to make lists and write family recipes, these lovely diaries will come in handy for all! Furthermore, the combination lock and beautiful artsy patterns add a nice touch.
>>> Get it on Etsy
Personalized Bullet Pen
A timeless, sophisticated bullet pen is one of the best and most useful gifts for men. This particular one comes with a customizable gift box for a thoughtful personal touch. The refined combo of steel and copper pen in a wooden box gives it a stately look, and will surely make the receiver feel extra special.
>>> Get it on Etsy
Mugs with a Special Message for the Parents
Searching for useful gifts for parents? Look no further! These high-quality and flawlessly smooth ceramic mugs boast a glossy white color with mom and dad prints professionally printed on them. The mugs can be further customized to add a cute message or a touching quote for the receiver to cherish for life.
>>> Get it on Etsy
Engraved Cutting Boards
With a fine selection of wood, engraving location, and design options, you have a lot of room to personalize and make this wonderful gift one of a kind. It makes for a very useful gift for moms and comes in handy around the kitchen for meal preps, decoration, and serving.
>>> Get it on Etsy
A Delicate Name Necklace
A charming name necklace is one of the most useful gifts for women. The immaculate finishing and dainty design are unparalleled in their beauty, and will surely make the receiver feel special. Gift this on anniversaries, mother's day, or birthdays and watch the receiver's face light up.
>>> Get it on Etsy
Serving Tray Set
One can never have enough serving utensils. They are not only useful but also serve as decorative items around the house. The lovely stencil painting and dry brush work on the serving trays and platters give it a royal look and make for a very thoughtful housewarming present.
>>> Get it on Etsy
F.R.I.E.N.D.S Pot Holders
Everyone has a favorite TV show or movie they are heavily invested in. Friends being one of the most popular ones, these tasteful pot holders will surely make for a useful gift for a friend that loves the popular sitcom. The high-quality material and stitching are definitely Monica approved!
>>> Get it on Etsy
Outdoor Wine Glass Holder
Make all the outdoor parties an elegant affair by giving the gift of these outdoor wine holders in a variety of colors. The artistic design pairs well with fine wine and allows the receiver to enjoy their favorite drinks while soaking in the sun.
>>> Get it on Etsy
Back Massager
Once you cross that mark of 20 years of age, everyone needs a massager. This useful hands-free massager can be adjusted at various positions for the shoulders, back, and hips. It is a great gift to give to a loved one so that they can have an unwinding hands-free massage session anytime they want.
>>> Get it on Etsy
Personalized Men's Wallet
A wallet is one of the most useful gifts for men. The beautiful leather-bound cover can be engraved to give it a personal touch, and always remind the receiver of you. Wallets are cost-effective and never go out of style. Not to mention, one can't have too many of them as they come in a variety of styles, colors, and uses, including wallets with RFID blocking technology that protects card information.
Chunky Weighted Blanket
Weighted blankets are truly magical! They can send you off to one of the finest night's sleep. With a beautiful knitted wool pattern and standout colors, this gorgeous weighted blanket is one of the most useful gifts that will be appreciated by anyone suffering from insomnia/anxiety.
>>> Get it on Etsy
Antique Candle Holder
The charm and beauty of a vintage candelabra can't be overstated. It always comes in handy around the house, and is a great gift to give along with some scented candles. It makes for a unique and stylish piece of decoration, and can be placed anywhere in the house.
>>> Get it on Etsy
Engraved Forks
Even the most mundane items can be made extra special with a warm and thoughtful touch. While forks are everyday use tableware, special engravings give them a personal feel, so that they are only pulled out for special occasions.
>>> Get it on Etsy
Handcrafted Flower Pots
It's the simple things in life that hold the most beauty. This lovely handcrafted Amish flower pot makes for a very useful gift for housewarming parties and anniversaries. Present them to a loved one with their favorite floral arrangements to decorate on the counter top or window sill.
>>> Get it on Etsy
Quilted Make-up Bag
Makeup bags are very useful gifts for women. They are multi-purpose and versatile. They always come in use whether you are headed out for lunch or traveling with some portable last minute items. The beautifully patterned linen fabric looks gorgeous and makes for a great gift.
>>> Get it on Etsy
Arty Wall-Hanging Paper Holder
With a whimsical beaded design, this lovely wall-handing toiler paper holder is truly a statement piece that will be admired by anyone who receives it. The useful gift item is needed in every house, and the thoughtful detailing makes it as much decorative as it is useful.
>>> Get it on Etsy
Artistic Bookmarks
Does your friend love the Eiffel tower? Gift them this lovely Eiffel tower bookmark to keep with them in their favorite books or journals. Every time they open a book or turn a new page, they'll be reminded of you and the thought you put into this exquisite and timeless gift.
>>> Get it on Etsy
Vintage Cookie Jar
The stunning vintage cookie jar in a cute gingerbread house shape is a wonderful gift to give on thanksgiving or Christmas. With fine touches and attention to details, the cookie jar has a festive vibe that will be loved by the kids of the house as much as the adults. Not to mention, you'll always be welcomed with fresh cookies!
>>> Get it on Etsy
Personalized Hammer
Every house needs a tool box. Even though it's a very practical gift, it can be customized with personal touches to give it an intimate feel. It makes for a useful gift for men, and is a perfect gift to give on housewarming parties.
>>> Get it on Etsy
A Beautiful Brooch
Handcrafted in a unique whimsical shape, this lovely Celtic brooch makes for one of the most useful gifts for women. Whether it's adorned over a sweater, a knitted scarf or a blouse, it will transform it into a chic statement piece.
>>> Get it on Etsy
Magnetic Key Holder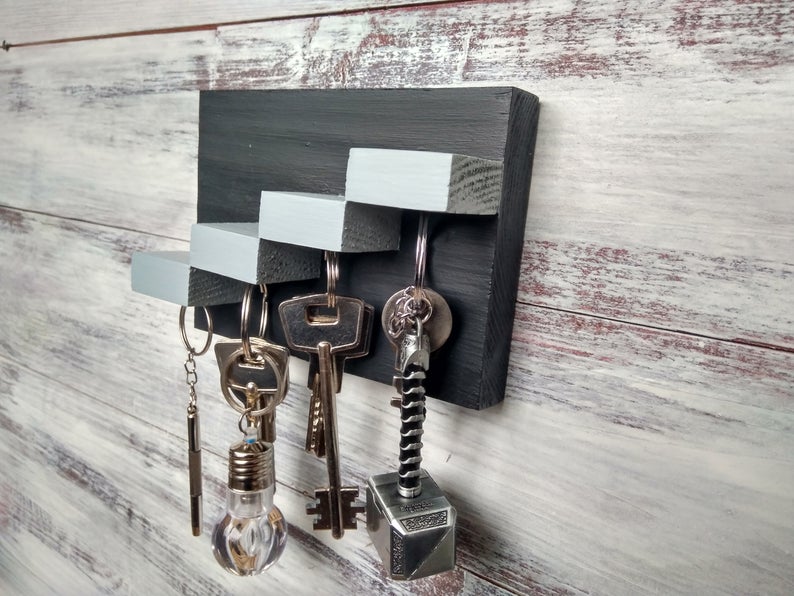 The contemporary look and stylish design of this magnetic key holder will brighten up the entryway and makes for a useful gift for housewarming and anniversaries. The receiver will surely appreciate you for it as there will be no misplaced keys and last-minute problems while heading out of the house.
>>> Get it on Etsy
Photo Frame with LED Light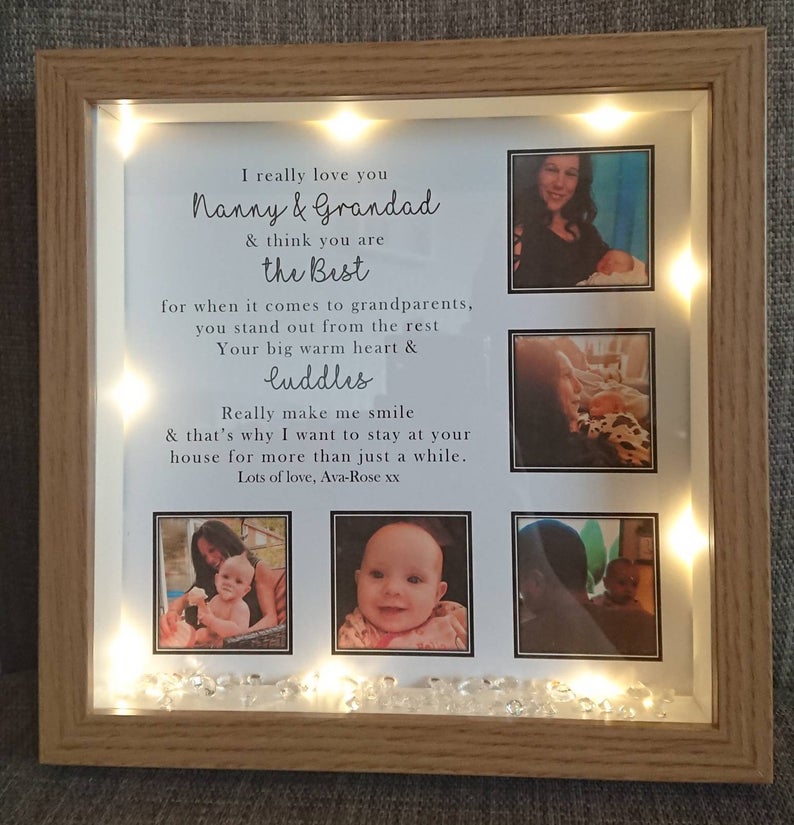 This gorgeous photo frame is a useful gift for moms to personalize and adorn it with baby photos. It makes for a great gift for housewarmings, baby showers, and birthdays. With a sleek and clean look along with LED lights and tasteful short messages, it will be a centerpiece in any room that it's placed in. As a thoughtful touch, you can add some photos to the frame that the receiver would like.
>>> Get it on Etsy
Lipstick Powerbank Portable Phone Charger
Power banks are very practical gifts, as they are portable and always come in handy when you are running out of battery. However, with the unique girly look and dainty design, the delicate lipstick-shaped power bank makes for an extra special and useful gift for women. With psychedelic colors and a lovely look, this is a great gift for anyone who likes makeup.
>>> Get it on Etsy
Lap Desk
This is an item nobody buys for themselves, but everyone needs it for sure! There's a lot of practical use to come out of it, and it has universal applications. The lap desk is most suitable while using a laptop from the bed or the couch, and makes for a very useful gift for men with its sleek look and timeless vintage feel.
>>> Get it on Etsy
Organizer Purse Insert
We all know how hard it is to find something once it is dumped into the bottomless pits of a handbag. Gift this lovely and useful gift to your mom to help her keep all the useful daily items well organized. There are several pockets that can hold important items like a cellphone, keys, pens, sunglasses, and other things within a hand's reach.
>>> Get it on Etsy
Cute Leather Key Toppers
These cute personalized key toppers make for a lovely gift for friends and loved ones. With a lot of great options in color and design, you can personalize these key toppers by engraving them with names or special dates.
>>> Get it on Etsy
Tie Holder for Dads
Brighten up your dad's day with this super useful gift for dads. With a personal touch and customizable design, this tie holder will be cherished by the receiver for life. It can easily be hung in the closet for ties or other small items and is a great gift for father's day or birthdays.
>>> Get it on Etsy
Electronics Organizer Bag
Small electronic items like charging cables, earphones, plugs, and batteries can be misplaced easily, especially while traveling. This useful organizer bag in a beautiful floral pattern will be there to save the day, and make you the king/queen of gift-giving!
>>> Get it on Etsy
Ceramic Canisters
This is the best gift to give at housewarming parties. One can never have enough jars and canisters to use around the house. This lovely ceramic canister set looks luxurious with a polished glossy finish and labeling, which makes organization in the pantry a breeze.
>>> Get it on Etsy
These were my top picks of the best useful gifts under $30. If you have a good idea or recommendation don't hesitate to share it with us in the comments below.
Read Next:
Sylvia Silverstone is a passionate writer who loves to share her knowledge and expertise on a wide range of topics, including beauty, life hacks, entertainment, health, news, and money. With a keen eye for detail and a talent for storytelling, Sylvia's engaging writing style keeps readers coming back for more.