Weak nails are frustrating. They're fragile, they break easily and they don't grow as fast as you'd like them to.
So, how to strengthen nails at home?
Follow our 4 simple nail care practices, eat these 5 foods, and use the olive oil nail soak recipe that I'm going to show you below.
Strengthening and keeping our nails healthy at home is very important, yet we tend to pay less attention to it than we do to our skin. It' s easy to stop brittleness with just a little attention and some home remedies.
Why do my nails break easily?
Our fingernails tell us a lot about our health, as they are usually the body's indicator for various deficiencies. Weak, brittle nails are often caused by a vitamin deficiency.
Iron deficiency is reflected in the nail plate, which can become weak and brittle, or develop dents and ridges. Folic acid and iron are essential micro-nutrients for the body as they play an important role in blood production. Hair loss and fatigue may also occur, so if you experience a combination of these symptoms, it is worth seeking medical advice.
Related: Why are my fingernails soft and bendy?
A calcium deficiency can also cause brittle nails, as this mineral is responsible for bone health and tooth strength. For women, it is particularly important to supplement it because a persistent deficiency can lead to bone loss. You can supplement or eat foods high in calcium such as broccoli, almonds, sardines, milk, or cheese.
Although weak nails are most often caused by a vitamin deficiency, other factors also affect their strength and growth rate.
Related: Why is there always dirt under my nails?
Constant typing contributes to the thinning of the stratum corneum, which is under pressure from the hard surface. In the long term, it can lead to cracking and fragmentation of the nail plate.
Dehydration is also a major problem, as constant hand washing dries out the nail bed and can damage the underlying tissue.
4 simple practices to make your nails stronger
There are many reasons for brittleness, so if you have other symptoms of vitamin deficiency, it's always worth seeking medical advice. However, for healthy nails, a few changes are often all it takes to restore the beauty of your nails. In spring and summer, nail plates are more prone to drying out, so they need even more attention in the warmer months.
1. Regular moisturizing
It is important for the body to consume enough water, which is essential for both beautiful skin and stronger nails. Dry skin also affects the nails, and the dry cuticle around the nail bed can limit nail growth.
Hand washing can also cause dehydration, which is further amplified by alcohol-based hand sanitizers. Active ingredient-rich hand creams return lost moisture to the cuticle, restoring softness to the skin around the nail area.
2. Keep your hands dry
Constant humidity and moisture is bad for your nails, so it's important to always wipe your hands dry. This is especially important if you have false nails or gel polish. It is easy for various germs and bacteria to get underneath a damaged polish, which can cause infections due to the moisture.
Always carry a small towel or cloth to wipe your hands dry and protect your nails.
3. Use nail polish moderately
Frequent nail varnishing can lead to yellow discoloration and can easily weaken the plates. Acetone also weakens the surface, making the situation worse. It is advisable to rest the nails from time to time and to leave them without polish for at least a day before repainting.
If you want to give your nails a longer rest, use a nail strengthening liquid like this to help protect the nail plate.
4. Nourishing treatments straight from the kitchen
With plenty of vitamins in olive oil, it's worth using a brush to coat your nails and cuticles a few times a week. Massage in thoroughly, leave on for at least 20 minutes, then wash off.
Lemon can be a great help as it not only strengthens nails but also removes yellowish discolorations. Simply cut a lemon in half and rub it over the surface.
Of course, you should also remember to follow a good vitamin-rich diet, which is the key to healthy nails. Minerals nourish the cuticle and valuable nutrients make the cuticle much stronger.
What should I eat to strengthen my nails?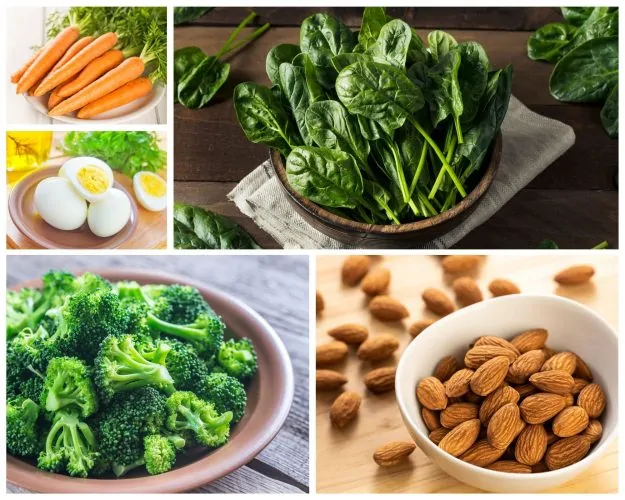 The importance of a healthy diet cannot be stressed enough, because apart from deficiency diseases, unpleasant symptoms such as hair breakage or chapping nails also appear. To avoid this, it is not worth denying your body of any nutrients.
Remember, the health and strength of your nails depends on your diet!
For some people with weaker, slower-growing nails, it is worth taking more of certain vitamins. Some products focus specifically on the health of hair and nails, but these are medicines, so it's much better to supplement the missing nutrients naturally, without any drugs.
Eat these 5 foods to make your nails shiny and strong
These foods are particularly rich in biotin, iron, and zinc, among others, which are all essential for healthy nails.
Broccoli
Broccoli is rich in iron, zinc, vitamin C and even has immune-boosting properties. During the autumn, it is recommended to eat it not only for the sake of healthy nails. A lack of iron can lead to thinning of the nails, so it's a good idea to eat foods, like broccoli, that are rich in it.
Eggs
Eggs are rich in biotin, which not only helps to prevent nail fragmentation but also hair loss.
Almonds
Almonds are a source of high levels of vitamin E and magnesium, so they also contribute to healthier and longer nails.
Carrots
Carrots are packed with vitamin A, which has a strengthening effect, and regular consumption also makes bones harder to break.
Spinach
Spinach is also highly nutritious, as it contains both vitamin C and vitamin E. Regular consumption will result in strong and healthy nails.
Homemade nail strengthening treatment
This remedy will brighten and strengthen your nails in 2 weeks. It's a simple two-step treatment that is not only good for weak nails, but also for dehydrated hand skin. We will only use natural ingredients, which are easy to obtain!
Weak nails are brittle, crack easily, break off, and don't look pretty. Sometimes nails can become brittle due to frequent polish application, but weakness of the nail plates can also be caused by vitamin deficiencies. It usually takes between three and six months for a whole nail to be replaced, or to grow down, on the hands, so if you have a patchy, ridged, or yellowish surface, it can take a relatively long time to get rid of the problem.
Related: Why do acrylic nails hurt the first day?
If you paint your nails regularly, it's a good idea to stop polishing every now and then while the weakened stratum corneum regenerates. Zinc deficiency slows down nail growth, so for strong, healthy-looking nails, nutrient intake is just as important. Vitamins A, D, B7, B2 and B12 all contribute to the formation of nail cells, but iron, zinc and calcium also help the process.
In addition to a good diet, there are other ways to help strengthen the keratin that builds up on the nail plates. This simple nail-growing serum can be the basis of a home manicure, making nails shiny, bright and strong, while speeding up their growth.
Olive oil nail soak recipe
Olive oil nail soak softens the skin, strengthens your nails, and make them grow faster.
Frequent hand washing and the use of disinfecting chemicals are not good for the skin and nails, but the lack of sunlight and fresh air can also affect the backs of your hands. During quarantine, many people find that the skin on their hands becomes rough and dry, cuticles break more easily and nails grow more slowly. A simple solution to such problems is a two-step treatment with olive oil.
Ingredients of olive oil nail soak:
1/2 lemon juice
1 teaspoon extra virgin olive oil
1 teaspoon salt
1/2 cup warm water
How to use the olive oil nail soak?
Pour warm water - not hot - into a bowl, mix the ingredients and soak your hands in it for half an hour every day. Don't wash your hands afterwards, just towel dry.
Ingredients for the nail care oil:
1 teaspoon extra virgin olive oil
2 vitamin E capsules
small jar with lockable cap
How to use the nail care oil?
Put the ingredients in a small jar that you can seal. Pierce the capsules and squeeze the contents into the bowl with your fingertips. Stir up the mixture and apply daily after a nail-growing hand bath.
Use a sterile ear cleaning stick to reach into the jar, pick up a small amount of the oil mixture and drizzle it over the cuticles. Massage thoroughly into cuticles with your fingers and spread evenly over nails.
After it softens, gently press back the skin with a cuticle stick once a week. After two weeks, you can expect to see spectacular results: your nails will grow faster, your skin will become silkier and smoother, your cuticles will become brighter, shinier and stronger, and the breakage of cuticles will disappear completely.
Sylvia Silverstone is a passionate writer who loves to share her knowledge and expertise on a wide range of topics, including beauty, life hacks, entertainment, health, news, and money. With a keen eye for detail and a talent for storytelling, Sylvia's engaging writing style keeps readers coming back for more.