If you're looking for a style that will both amaze and impress, then the holographic hair is a perfect choice!
First, let's talk about the most frequently asked questions, then we will take a closer look at some glamorous examples.
via Pinterest
What Is Holographic Hair?
Holographic hair is a form of dyeing your hair to make it look like it's a reflective holographic surface, giving your hair a rainbow-like effect and making it seem as if the strands are constantly shifting.
Holographic hair (also called "holo hair") is made up of prismatic shades across the entire spectrum and it usually includes pink, purple, yellow, teal, blue, green, etc. colors.
The holographic dye can be applied all throughout the hair or only a section that stands out.
Holographic hair is instantly recognizable as a unique and colorful style.
With its rising popularity, many people seek to rock out holographic hair and set their own style statements. No wonder, the dreamy and fascinating colors of holographic hair will leave you in awe every time when you see it.
The Creation of Holographic Hair
We can thank a few aspiring and creative hair stylists to bring this iridescent hair trend into notice for the first time in 2017. Since then, it has kicked off and made its name in the hairstyling industry with some of the most ambitious shades and patterns with mesmerizing holo effect. You've probably already heard about this intriguing hair color trend, as it is often a trending topic on Pinterest and Instagram.
Holographic hair was first introduced by Ross Michael's Salon through one of their social media handles. From there, it picked on and began to evolve as a unique and exciting trend, where everyone wanted to know how to get holographic hair.
How is Holographic Hair Achieved?
This holographic look is achieved with the clever technique known as 'hand-pressed coloring'. The same method is also used for screen printing, but in this case, the effect is brought on to your luscious locks!
Professional stylists paint various patterns over a sheet of Plexiglas with holographic hair dye, and then the dye is transferred to the hair strands. This process is repeated several time with lovely pastel hues like lavender, blue and pink over multiple sections of hair. Besides foil or balayage, this technique has a greater hold over the vibrancy and brilliance of colors.
How to Do Holographic Hair - DIY Tutorial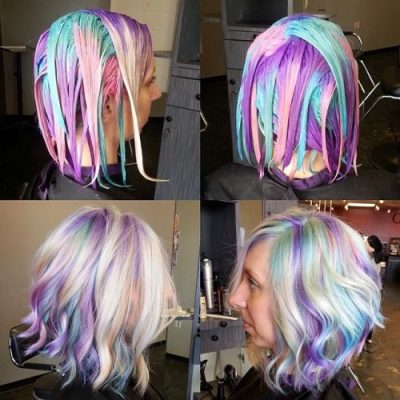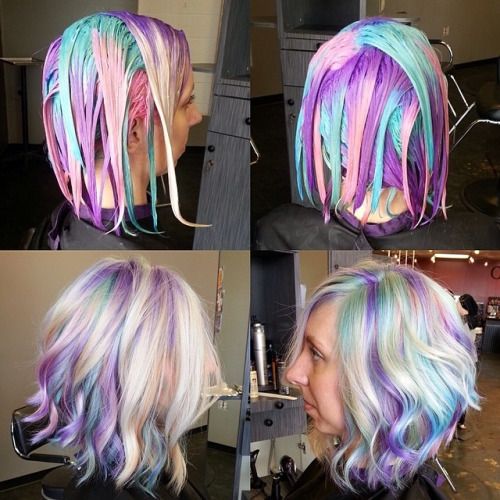 Surprisingly, it is not that hard to achieve a holographic hair color. Although it is pretty straightforward once you get the hang of it, holographic hair dye can seem a bit complicated at first.
I recommend to get your awesome streaking and dyeing from a professional hair salon, especially if you don't have any previous experience of hair dyeing. With the use of high-end holographic hair foam, you will get a beautiful makeover with the perfect unicorn hair.
One thing to note here is that the holographic hair dye works best with pale hair.
Unless your hair is naturally pale, the first step in this process will be bleach to achieve a nice and light blonde shade.
After this, panels of different colors are brushed or foiled into the hair in layers and streaks for a remarkable multi-dimensional rainbow effect when doing so yourself. The best thing about these shades are that there's a lot of room for experimentation and mix-and-match.
For instance, for those with graying hair, the sublime pastel highlights will bring out an incandescent opal sheen that looks very fresh and youthful. In any case, I guarantee a total transformation to give your personality a dainty and vibrant boost!
For those of you who just want to appreciate a new look without having to go through an actual transformation, I recommend a holographic wig. It is easily available online, and it can give you a nice makeover without actually having to go through the process of a holographic hair dye.
If you are looking for something similar hair style but more moderate, check out this Dip-Dye Hair Coloring Tutorial and Styles.
How to Style and Maintain Holo Hair?
As with all hair treatments and hair dyes, holographic hair also needs a certain upkeep to maintain their healthy lustrous glow and shine for the weeks that follow. Pastel colors are quick to fade, but even while fading, they maintain their subtle beauty! Using a color protecting shampoo and conditioner can slow down this fading of course.
I also recommend going for frequent glosses here and there to maintain a bright and shiny look even with fading colors. There are certain sprays, serums and glitters that can also help you achieve this desired effect while staying at home, yet keeping up with the radiant and shiny look.
As for the styling of holographic hair, it's a chance to really get creative. I believe that wavy hair and holographic patterns go hand in hand. They really bring out the best of the holographic effect. Get those hot rollers out and go for a breezy wavy look with a touch of glossing mist to help the various hues and patterns shine through and gleam beautifully in the daylight. Loose braids also works well to give a quintessential unicorn or mermaid look.
Trending Holo Hair Colors & Styles
Here are some amazing examples that will definitely inspire those who still need a little push to be convinced of the mesmeric splendor of holographic hair.
Mesmerizing Holographic Color
Holographic hair goes well with all hair types, whether straight, curly or wavy. They bring out the best hues with a multi-layered unicorn inspired effect. In this style, you'll notice that each strand has different colors running through their lengths, mixed with the playfulness of the waves to give a truly beautiful and outstanding holographic effect.
Brilliantly Luminous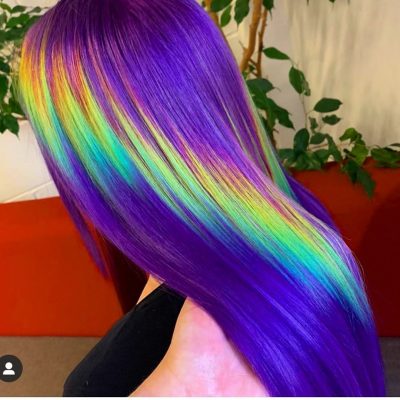 Ah, put those shades on when going out in daylight. These holographic hair have such a stunning sheen and futuristic glow about them that we can't help but be in awe! This is achieved by adding a metallic toner to the pastel hues. An extra step for those who like to set their own trends and always be one step ahead with their fashion aesthetics!
Holographic Unicorn Mane
This exceptional hairstyle follows a lot of intricate work with the right knowledge of colors and hues. The artistic and one-of-a-kind technique depicts how awesome holographic hair dye looks when done by a professional hairstylist. Makes it well worth those long tiring hours at the salon and the somewhat pricey treatment! Transform your hair into a shimmering unicorn mane with this flawlessly amazing look.
Playing With Holo Patterns
Doesn't this look like fairy hair? This lovely and playful holographic hair is so dreamy and magical I can't stop admiring it for its unique beauty. The style is achieved by varied placement of color panels by the hairstylist. It creates a rare combination with varying vibrancies of different shades, creating a truly artistic vision of different hues running along the entire length of the hair. Flaunt this whimsical look on parades and parties, and give yourself an enchanted makeover.
Soft and Subtle Holographic Look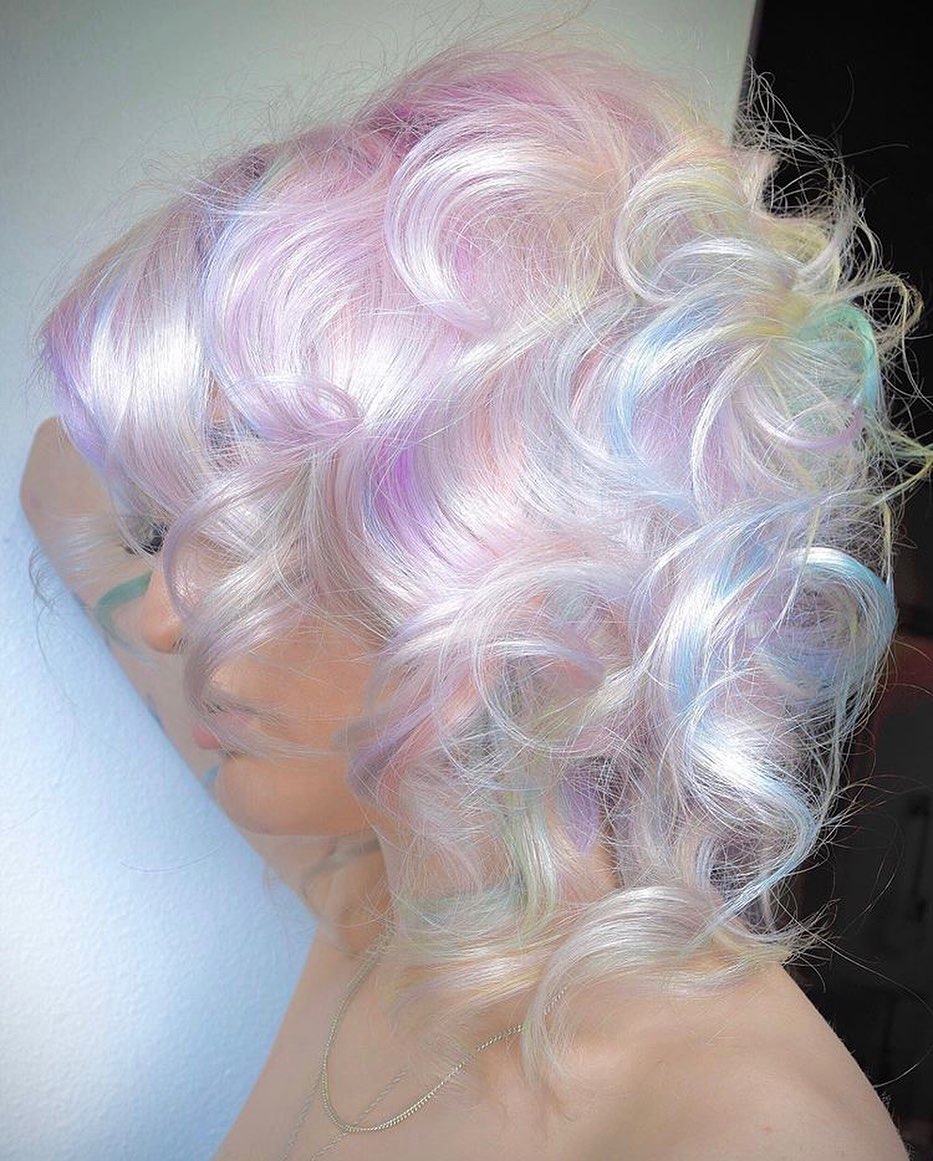 For those who want to show off a lovely holographic hair dye without going too overboard with its psychedelic effect, this beautiful and elusive look gives you just the right amount of holographic touch to a pretty shade of blonde. People will notice it without it being too in-their-face. The pastel hues and patterns are further enhanced with curls and an elegant up do.
Prismatic Effect
Along with playful patterns and varied hues, this hairstyle compliments the thin and delicate pastel hues adorned hair strands with a striking metallic tone. This creates a wonderful opal prism, giving a lustrous shine to the rainbow effect. As a bonus, this blended technique requires minimal upkeep and maintenance, as the regrowth of the hair further blends in to the effect.
Mermaid Locks & Long Hair
We have talked much about the different styles and patterns achievable with curly and wavy hair. This holographic hairstyle is a treat for those who have long and straight hair. Getting various colors and patterns with an impactful effect is easier when there's so much to work with! For a wondrous mermaid inspired look, the softer shades are mixed with a vibrant pop of color here and there that really moves as the hair shifts and blows with the wind, creating a unique holographic effect that's rousing and extraordinary.
Minimalistic Pastel Hues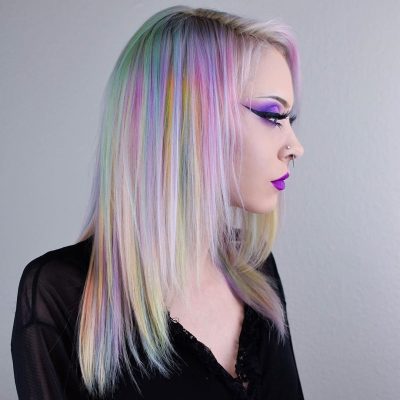 This is a great look for those with naturally blonde hair. Some soft pastel highlights really take an ordinary hairstyle to the next level of awesomeness. As it doesn't have a defined pattern from roots to tips, it fades away beautifully, and all the while giving a subtle and soft look that looks natural yet still stands out! I recommend this look to those who are not sure about going all in the first time they try holographic hair dye.
Beautifully Toned Short Hair
For those with short hair, there's a lot that can be done to be a part of the vivacious holographic hair trend. Whether you have a charming pixie cut, blunt bangs or an edgy cut, everything goes well with opalescent and vibrant holographic hair. By leaving out the roots, it gives room for fading without looking bad, with colorful rainbow edges to flaunt for weeks. A shiny shade of metallic grey can be used as the base for a lustrous look.
Tie-Dye Inspired Holographic Hair Color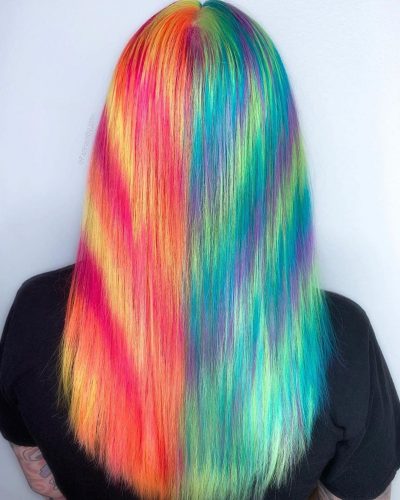 What goes well with a lively and hippie tie dye shirt? That's right, its tie dye holographic hair! Nothing can be more groovy and stylish than these beautiful tie dye patterns, ideal for summers to mix and match with your attire. This style completely relies on color placement! It demands movement, compelling you to go out into the world and flaunt this unique and effervescent style while living your best life.
Holographic Hair Compilation Video
If you are still looking for ideas, check out this video.
Which one is your favorite?
Holo Hair With IGK Foamo Holographic Hair Foam
Another great idea that I'm sure you'll enjoy is the IGK's foamo holographic hair foam.
This potent and effective hair color gives an instant glowing look without the need of bleach, and works well even with the darkest hair shades. It can be quite scary to bleach your hair to a blonde shade if you are born with naturally dark hair color. But that shouldn't mean that you can't get the psychedelic rainbow hues that are so popular and setting their own style statement. This holographic hair foam is a testament to the success and welcoming trend of holographic hair. Flaunt the Technicolor flair to your dark and mighty mane in all the beautiful hues of the rainbow.
How Does IGK Foamo Holographic Hair Foam Work?
Foamo is essentially a type of colored mousse. The dispensing process is the same as any hair styling and dyeing product available in the market, so it's nothing you are not already familiar with. I can understand how uncertain one feel while trying a new hair product to their hair for the first time, but rest assured of the quality and highly pleasant effects of this hair foam without damaging your hair. All you have to do is squirt some foam into the palm of your hand, and apply it to your hair the same way as any styling mousse. Just one dollop would do!
Smooth it out and reach from the tips to the roots while gently rubbing it in. Not only does it impart a lovely shade, but is also effective against frizz and flyaway. Make sure that you comb your hair while the foamo is still wet, as it's definitely not a good idea to do so when it dries! That's pretty much all that needs to be done to enjoy this shade shifting, glitter packed holographic hair foam. The colors shift from pink to teal, with a vitamin-rich moonstone extract and blue sea kelp extract to impart a galactic, iridescent look, starting from a subtle shimmer to a ravishing holographic finish.
With salon treatments, the holographic hair effect can be a tad costly, sometimes reaching up to $200 or more. Foamo holographic hair foam is a cost-effective solution for those those who are wondering how much does holographic hair cost. It is a more rational alternative for those who don't wish to take that long and expensive trip to the salon.
Sylvia Silverstone is a passionate writer who loves to share her knowledge and expertise on a wide range of topics, including beauty, life hacks, entertainment, health, news, and money. With a keen eye for detail and a talent for storytelling, Sylvia's engaging writing style keeps readers coming back for more.