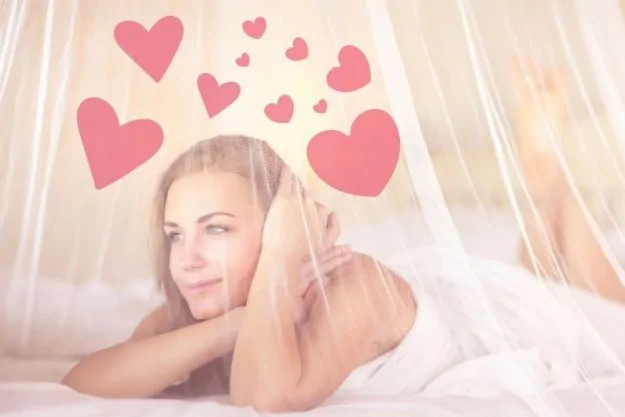 Experts say the official infatuation stage of a new relationship will probably last from 1-6 months. The length of infatuation varies from person to person. Some people believe that infatuation fades as soon as you start living with your partner and get used to their habits.
Be aware of your judgment and lack of common sense during the infatuation period. It's when mistakes can be made because we are so swept up within the moment.
Infatuation is a powerful emotion that can make people feel like they're on top of the world. But it also has its dark side, and it's important to keep your head on straight if you want to avoid these pitfalls.
Related: The 3 Most Important Things in a Relationship
What is Infatuation
Infatuation is a feeling of intense or obsessive love, typically short-lived. It can be experienced as sexual desire, joy, and excitement. The word infatuated derives from the Latin word "infatuare," meaning to become foolish or crazy; hence infatuation may mean either "to cause someone to become foolish" or "to become foolish oneself."
If you've ever been infatuated with someone before, then you know how hard it can be to get your head around things when they are happening!
Related: Signs he truly loves me
Infatuation can be caused by the way someone looks, talks, and acts. Sometimes it's just sexual desire that fuels it.
Signs of Infatuation
Here are 17 signs of infatuation:
You see her/him perfect

You have a difficult time focusing on anything else
Your heart beats faster when you hear his or her voice
You find yourself smiling for no reason
When he or she texts, you can't wait to respond
He or she is the first thing that pops into your head in the morning and the last thing before going to bed at night
You can't stop thinking about that special person
You want to be around them all the time
You feel like you're walking on air when they're around
Everything that's happening is exciting and new because of them
It feels like you don't even know yourself anymore because of how much they've changed you for the better
They become your number one priority
Your heart races when they text or call
You feel like you can tell this person anything
You make a lot of sacrifices in order to spend more time together
Your friends are starting to get annoyed because you talk more often about this person than anyone else in your life
There are signs that he may not be right for you (i.e., his temper) but you ignore them because of how much you like him
What is the difference between love and infatuation?
It is easy to confuse love for infatuation. Both of them are powerful feelings that can make you feel like the happiest person on earth, but there are key differences between the two.
There are many misconceptions about what love is. It's not always hearts and flowers. It can't be bought in a store or found with an app. Relationships take work and understanding to keep going. One of the most common myths is that infatuation equals love, but this couldn't be further from the truth.
Infatuation is rooted in obsession, lust, and neediness, while love builds over time with patience, respect, kindness- these qualities will help you find true happiness when you're ready for something more serious than just a fling.
Moving from infatuation to love
When infatuation wears off, the relationship becomes more about love and compatibility and less about blind passion.
Or, things will get complicated if you are not with the right person...
Related: Why Do Couples Break-Up After a Year or Two
If you're with the right person, this magical phase can last forever in the form of LOVE. That doesn't mean there won't be days when you want to claw your partner's eyes out. It doesn't mean they don't drive you insane sometimes, with their annoying little quirks or bad habits.
It simply means that you choose to love them every day. You miss them when they're not around. They still give you millions of butterflies. You're excited when a message pops up from them on your phone.
Related: How To Make Your Man Miss You
It means that you feel warm and fuzzy inside when you hear a song that reminds you of them. You will often find yourself wondering how you got so damn lucky that this incredible human keeps choosing to love you right back.
Guaranteed, throughout the years, you will argue about money and chores and the kids, but if you take the time out to prioritize each other, you can keep the spark alive forever.
How to keep the spark alive when infatuation wears off
There are plenty of simple yet creative ways you can make this happen, and some of them are simply a matter of making a little extra effort to show how much you care.
Of course, there are the classic things such as scheduling regular date nights, trying a new skill or hobby together, such as taking a cooking or dancing class.
Related: How To Know He Is Perfect For You
Some other cute ideas are to bring home their favorite treat or surprise them at work with a lunch delivery of their favorite food. You can also put on some music, dance with them in the living room, or cook them a nice surprise dinner.
Immersing yourself in each other's hobbies is also a fun idea, along with heading off on a road trip together. Another way to help keep your relationship on track is to take a love languages quiz to help you gain a deeper understanding of your style of giving and receiving affection.
If you're looking for a cost-effective way to show you care, try using sticky notes to leave them sweet messages around the house, in their bag, lunch box, car, or anywhere else you can think of.
36 questions to fall in love
A unique thing to do with your partner on date night, designed to help you get closer to each other and strengthen your bond, is to ask each other Arthur Aron's famous 36 questions. 
Known as the 36 questions that lead to love, they are described as having the ability to make strangers fall in love with each other. These questions would certainly invoke some unique conversations.
The questions are split into three sets of 12, each one getting deeper as they go along. Set 1 begins with quite standard, superficial questions about your ideal dinner guest, your perfect idea of a day, and what you are most grateful for.
It ramps up a little in the second set, delving into some deeper questions about yourself, your treasured memories, and your personal meaning of love.
The questions bring it home in set 3, with a range of questions which you can see aim to bring two people closer, bonding over embarrassing moments and naming the best things about the other person.
If you're curious, give it a go with your partner (or a total stranger if you prefer). What have you got to lose?
Five Senses Box
In terms of gift-giving, for birthdays, anniversaries, or just because they deserve to be spoilt, a unique way to approach it is to collate a 'Five Senses Box'.
The premise is simple, provide them with one (or more) gifts representing each of the five senses.
Depending on the interests of your loved one, the possibilities are endless.
Here are some examples to get your creative juices flowing:
Sight
Sunglasses

A novel by their favourite author

A personalised book or photo album
Taste
Their favorite chocolate

A surprise dinner date

A picnic in a beautiful location
Smell
Perfume or cologne

Freshly baked cookies

A massage with scented oils
Sound
A playlist you have made for them

A personalised Spotify Plaque

Build-a-Bear with a custom voice recording
Touch
Lingerie (for either one of you to wear)

An adorable hoodie for the cooler months

A weighted blanket
Nicole Graham is a relationship expert at Womenio.com. She is helping women grow into their best selves so they can be confident and bring more love, passion, and purpose to their lives. Nicole enjoys studying the psychology of love and is passionate about writing on them. She offers helpful tips and advice to help overcome any relationship issue, whether you're single or already in a relationship.