What makes a strong relationship? The 3 most important things in a relationship are honesty and loyalty, shared goals, and chemistry.
If you do not have these three ingredients into your relationship then it will never last the distance.
Related: Wants and Needs in a Relationship
Honesty and loyalty
Honesty is everything. In friendships, family, work, but especially within romantic relationships.
When you discover that someone you have placed your trust in has been dishonest with you, it can rock you to your very core. It shifts the foundation you have worked to build your bond on, and it fills you with such an intense sense of betrayal. It causes you to begin doubting yourself and your judgment, which can be a confusing experience.
To have a successful relationship, you need to have faith in the person you are in a relationship with - trust that they will always be straight with you and tell it like it is, no matter the consequences. Any sense of dishonesty can be shattering, but of course, none more so than cheating.
Related: 8 SIGNS HE LOVES THE OTHER WOMAN
There are many different reasons or excuses for cheating, and although it can be soul-destroying, there are some occasions where healing can be done, and it may be forgiven. This, of course, depends on the people involved and the circumstances.
One of the most significant factors for many people is whether the cheating was admitted or found out. Infidelity can be forgiven, but can it be forgotten? Can anyone put it behind them entirely?
It would take a lot of time and healing to gain back the trust that was once broken. Living in a relationship where you feel constant anxiety every time your partner is home late or takes a late-night phone call would be an absolute nightmare.
Surely the best way to avoid it all is just to be honest and faithful to your partner in the first place. Sadly, it may be a case of "easier said than done", given that statistics suggest that upwards of 40% of marriages are affected by cheating.
Related: THIS IS WHY COUPLES BREAK UP AFTER A YEAR OR TWO
Goals
Shared goals are important because they allow the two people in a relationship to work together on something. They also build trust and make you feel more connected with your partner by knowing that both of you have the same goal in mind, which is usually spending time together.
Which restaurant should you eat at on Saturday night? Do you want to buy a house in the city or the suburbs? Will we adopt a big dog or a small dog?
Within reason, compromising is a part of life and love, but where do you draw a line in the sand regarding your relationships? Differences in opinion when it comes to more important topics, such as your fundamental life goals, can create an insurmountable roadblock.
Related: HOW TO FIND A GOOD MAN TO MARRY
For instance, what do you do when one person wants to get married and the other doesn't? Or when one partner wants a big family, and the other doesn't want to be a parent at all?
Nobody is right, and nobody is wrong, and it doesn't mean you love each other any less. Love and compatibility are just two entirely different things.
If you find yourself on a different page to your partner when it comes to one of your non-negotiables, whereby you just can't see how your life paths are going to meet, you will eventually find yourself in an impossible position.
If you are heading in separate directions and long for different lifestyles, what's the point of staying together now?
Don't get me wrong, breaking up with someone that you are still in love with is one of the hardest things you will ever need to do.
Related: SIGNS HE'S THE ONE
At the end of the day, though, the longer you draw it out and hang around with your head in the sand despite knowing that there will eventually be an expiry date on your relationship is only bound to cause yourself and your partner more heartache in the long run.
Chemistry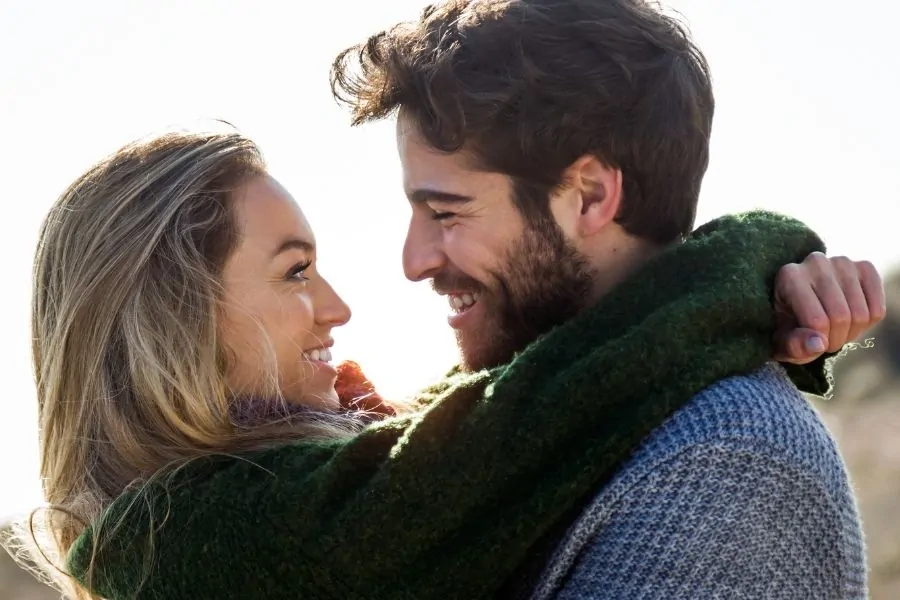 So you've found a partner who is honest and faithful to you - great! You've discussed all the important things like marriage, children, and values, and guess what? You agree on all of it. Fantastic - but don't go rushing off to lock in a wedding date just yet.
Okay, so you split the bills, and share a space with them, and even laugh at their jokes sometimes. But do you have chemistry? Do you have cheeky, flirty little banter with them?
Related: "DOES HE LOVE ME?"
Do they have a great smile and a laugh you want to hear for the rest of your life? Are you drawn to them in a way where you just want to be around them as much as you can? Do you have that intangible, inexplicable attraction to them?
There are plenty of people who end up with their 'good on paper' person, settling into a comfortable situation. They are nice enough, they make you happy enough, and you get along just fine - but they don't have those fireworks.
If you need to question whether or not you have great chemistry, you probably don't.
If that is the case, then sorry, but they are not the one for you. They may be Mr or Mrs. Good-on-Paper, but essentially you are just two people watching the world go by, killing time together - and life is far too short for that.
Conclusion
In order to have a successful relationship, you need the 3 things listed above. If these are not present in your current relationship or if you feel like they may be missing, it's time for some soul searching and self-reflection to figure out what changes can be made.
Relationships take work and effort on both sides of the equation; if one person is unwilling to put in any work then that will eventually lead to all sorts of problems down the road.
Make sure that honesty, shared goals, and chemistry are always at the core of every romantic connection so everyone involved has something worth fighting for!
Nicole Graham is a relationship expert at Womenio.com. She is helping women grow into their best selves so they can be confident and bring more love, passion, and purpose to their lives. Nicole enjoys studying the psychology of love and is passionate about writing on them. She offers helpful tips and advice to help overcome any relationship issue, whether you're single or already in a relationship.