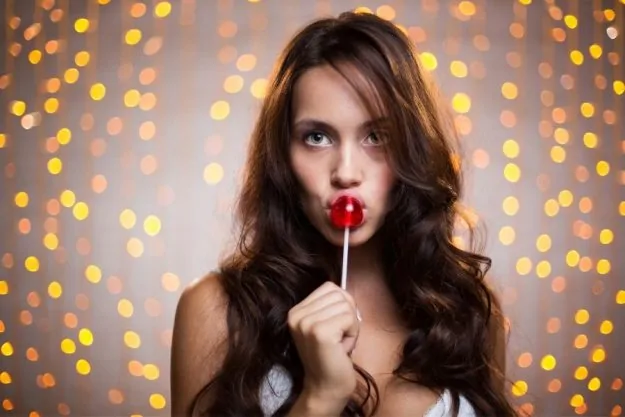 Teasing is an art form. If you want to make him beg for more, then you need to know how to do it properly.
It takes a little practice and patience. The key to teasing a guy is to keep him longing for more. You should never give away too much of what he wants. If you are not careful, your man will get bored with the game very quickly. If you do it right, he'll be begging for more!
So, how to make him beg for more?
Depending on your goal and relationship with him, there are different ways that you can go about this. There's always the ever-reliable hair flip, seductive whispers in his ear, showing him some of your assets, and more.
Related: How to turn him on - 10 Tips
Here are some of the most brilliant tease techniques on how to tease a guy.
Bite Your Lips And Smile
They say that a smile is the best look a woman can wear on her face. We say that a seductive smile will definitely look better to your man.
If you want to tease him, you can try licking your lips suggestively- even do a bit of lip biting, all the while maintaining eye contact with him. This will probably make him want to take your clothes off as fast as he can. Then, when you get his full attention, kiss him passionately and carry on with whatever you were doing as if nothing happened.
Also read: Love Letter For Him That Makes Him Cry
Flip Your Hair
Flipping your hair is one of the most basic tips anyone you ask will ever tell you to do. It is basic because it works almost all of the time. In fact, studies show that men think it's seductive when a woman flips her hair.
Of course, you have to do it right for it to work. You can't just do a bit of a headbang and hope for the best. You can maybe run your fingers through your hair slowly before you flip it back. Or you can turn your back and slowly turn around to him. If that doesn't knock the socks off his feet, I don't know what will.
Just make sure you do it naturally, if not casually. Also, try not to hit him in the face with your hair. Because unless your hair is fine, smooth, and silky, I don't think he's going to appreciate that at all.
Related: How to flirt with a guy you want
Whisper In His Ear
Ears are one of the most sensitive and erogenous zones in our bodies. Whispering or even gently breathing into them can arouse any man who ever walked the earth.
If you find yourself eating dinner with your friends, and you feel like being playful, you can start by whispering suggestions in his ear. There's nothing like a public place to get your man started. You can even make it more exciting by telling him how you look forward to doing all those things with him in private.
Show Him A Little Skin
Men are visual creatures. Believe it or not, most of them get attracted or fancy themselves in love at first sight, with ladies who show great legs, decent boobs, or pretty faces.
So if you want to tease him and make him beg for more, you have to give him some incentive. The next time you go out with friends, try to dress like you want him to bring him home with you. Not too slutty, of course. You can leave some for his imagination. Make sure you show your assets.
If you want an amazing night, you can also try sending him a sexy picture of yourself with a suggestive caption. He will probably rush home and beat the door down with his fists if this happens.
Tell Him Your Secret Fantasy
Most men have very active imaginations. So if you steer your conversation to something a little more NSFW to set the scene, he will surely be very receptive.
Perhaps you can tell him your darkest bedroom fantasy or this one position that you sometimes imagine yourself doing with him in the bed. You can also keep the conversation really casual by maybe mentioning that you like to be on top. You can also tell him some of the naughtiest dreams you've had about him.
If these conversations don't do it for him, he must either be very tired, or there's probably something wrong.
Tease His Senses
If you don't want to make a direct attack, you can also use body language to sneak an attack on his imagination. Perhaps you can pick something up off the floor in front of him to show him your cleavage. This works almost all the time.
You can also try bending over to show him how good your bum looks in those tiny shorts. You can also try eating phallic food like bananas, sausages, and popsicles in a seductive way. This will definitely make him imagine your mouth on something else besides food.
Wear Some Of His Clothes
If you wear some of his clothes, it will make him feel like you belong to him. So if you can, try putting on his white work shirt with nothing else underneath. This will probably bring out his wild, possessive side.
If he was ignoring you for a game or work before, I can guarantee you his complete attention all night if you walk in with that outfit. You will probably have to beat him off with a stick so you can sleep.
Touch Him In All The Right Places
Most men are tactile as well as visual creatures. They like to be touched and caressed as much as we do. So if you're in a dark movie theatre, and you find your mind wandering off from the plot, you can always entertain yourself by putting your hand close to his package.
You can also try rubbing his thighs during a conversation, as well as touch his arms or his chest playfully. This will definitely let him know that you're up to something devious and that you want to play all night.
Strip For Him
A surprise like this should only be given to him occasionally. You can try doing it if he comes home tired from work. If you want him to provide you with his attention, then a striptease will probably work just fine. You can even throw in a little lap dance.
Teasing your guy into a good mood with your playful and seductive movements, all while taking your clothes off and keeping eye contact, is a guaranteed hit. A man loves a woman who is confident about her body and isn't shy about owning it.
If you're feeling particularly frisky, you can also tie him down and dominate. By the end of this, he will probably be wild with wanting to touch you. He will probably pay you back when it's his turn.
Make Him Touch You
One of the easiest ways to get him worked up is to make him touch you. If you can, invent some reasons why. You can maybe rub your calves in front of him after a long day at work. Or perhaps you can ask him to give you a foot rub, a shoulder rub, or a full body massage.
Of course, since you have a different way in mind in getting your full relaxation, you can take your clothes off and wear a towel if he says yes. That way, you will be skin to skin. You can also voice out your pleasure by sexy, sleepy, satisfied grunts and noises. You can even tell him to go "harder", "lower", or "deeper". This will probably drive him out of his mind.
Be Adventurous
If you want him to beg for more, you should probably find or invent new ways to turn him on. There is no need to limit your sexual activities to one or two positions, for example.
If you can, flip to being the dominant partner. You can even try out positions that are not very anatomically possible. Or maybe you can seduce him and talk dirty to him. Do everything he normally does to you, and make it good.
You can even make him do the hands-off approach. You can tie him up and then do an ultimate tease to his senses by running a variety of things- like feather, leather, and maybe even a whip (if you're feeling wild). You can also use your hands and your lips if you want to.
Use Some Ice
Ice is one of the cheapest sexual toys anyone has ever come up with. Surprisingly though, it is also one of the most effective in foreplay. It works wonders on hot skin.
To start with, you can put an ice cube on your mouth before you start trailing kisses all over the face and body. If you want, you can also blindfold him for a better tactile experience. You can even run some ice cubes all over his pecs down towards his groin. It will be extremely pleasurable to him, not to mention a little painful.
---
Read next: Make him fall in love with you
Nicole Graham is a relationship expert at Womenio.com. She is helping women grow into their best selves so they can be confident and bring more love, passion, and purpose to their lives. Nicole enjoys studying the psychology of love and is passionate about writing on them. She offers helpful tips and advice to help overcome any relationship issue, whether you're single or already in a relationship.