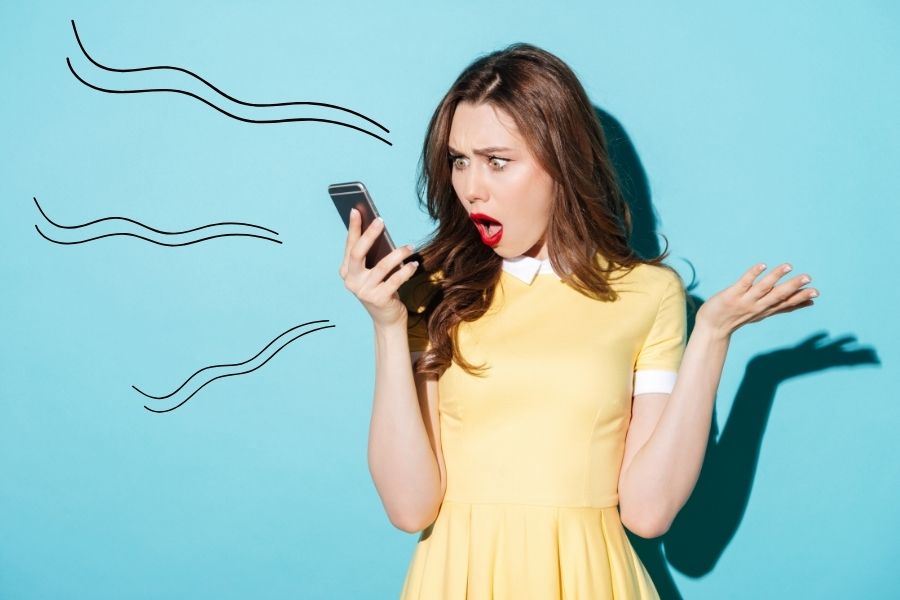 Blocking someone on social media is pretty easy. All it takes is a few clicks, and then it's done. However, it evokes strong emotions in both parties. The reason, however, can be a bit confusing and misleading. You may be asking yourself the question, "Why did he block me?" and unless you ask him directly (and he answers you honestly), you'll never really know for sure.
Some of the reasons why guys block you could be because he likes you too much, he wants to forget you, or maybe he just doesn't want to talk to you anymore. He might have blocked you out of anger, frustration, jealousy, insecurity, fear. Or maybe he's a player. It could even be that he's not the one who blocked you, but his jealous girl "friend".
Related: How Does a Guy Feel When You Block Him
Logic in relationships can sometimes be complicated. So, to untangle it and answer the question above, here are some reasons why guys block you.
He Likes You Too Much
This reason may seem a little far-fetched, but really, it happens all the time. One of the reasons we block someone is that it hurts to see them happy and beautiful on social media. This could be what's happening too.
He probably likes you even though you only consider him as a friend. Perhaps it hasn't even entered your mind that he may want more than friendship with you. This means that it hurts him every time he sees you smiling in a picture with some other guy. It triggers his deepest emotions.
Then, to move on from his unrequited feelings, he blocks you. You probably won't see him for a while in real life either, if this is the case.
Related: He Blocked Me, Will He Come Back?
He's Done With You
Perhaps his reason is a lot more hurtful to you. Maybe, this time, he just doesn't like you anymore. It could be that he flirted with you on social media before. One thing led to another, you slept with him, and he got what he wanted, and now he's done. He's probably not the kind of guy who's ready to settle down.
Perhaps he's just not the decent kind of guy. After getting what he wanted from you, he probably blocked you to prevent you from bothering him further. He doesn't want to stay connected. He also doesn't want anything more. Yes, he does sound like a jerk. Unfortunately, some guys are like this.
Related: How to let a man know you are mad through text
He's Confused
Most guys are actually emotional- they just don't like to wear their feelings on their sleeves. So if he blocked you, he could be feeling something altogether new to him. Perhaps he doesn't know what to do about said emotion.
So he runs away. He avoids dealing with it. You've probably exchanged a lot of messages on social media. Most of your flirtations have gotten serious, and since this is new to him, he probably disappeared because he didn't know how to handle it.
You're Too Much For Him
Some men prefer to be dominant in a relationship. However, in this day and age, not all women like to be dominated. He probably likes an agreeable woman. So if you're one of the ladies who are a forward, confident, strong-willed, opinionated, and independent woman, he probably blocked you because you're too much for him. Maybe you have such strong energy that it makes him feel overwhelmed.
It is not your fault if he doesn't think you're an agreeable woman. Maybe you're just really not compatible. You don't belong together. Strong women are not for weak men. He probably feels this way, and in order to avoid further unpleasant (for him) conversation where he tries to explain why you will never work out as a couple, he just blocks you and ends it there instead.
You Offended Him
Some guys are sensitive, and if you're the kind of girl who flirts by roasting a guy, you're not meant for each other. You probably hurt his feelings when you accused him (jokingly) of being racist when he said he didn't like black coffee. You'll want to be more sensitive and tactful if you want to keep your beautiful relationship.
It may have been funny for you, but it could be a sensitive topic for him. Once he's hurt, he'll want to get away from you to lick his wounds. Of course, if you feel that you've hurt his feelings, it would be best if you apologized before he thinks about blocking you. Or once he already did, then make sure to apologize in person. Don't let your strong energy kills his spirit.
Related: How to Know if Someone Doesn't Want to Be Your Friend Anymore
He Doesn't Like You Like That
Maybe he doesn't know how to let you down gently. You probably indicated to him how much you liked him by double-tapping all his Instagram posts and commenting a lot of hearts. Because he's a guy, he doesn't know how to disappoint you without actually disappointing you.
So, instead of figuring out how to reject you without hurting you (a tough feat), he blocks you instead. He's probably thinking that if he doesn't see you, he won't be thinking about how to let you down. Out of sight, out of mind.
He Has A Jealous Girl 'Friend'
No, he's not taken. This is probably why he's flirted with you a lot on social media. Of course, you'll be confused about why he suddenly blocked you when everything was going so well.
Well, crazy as it may seem, he probably has a girl 'friend' who's been in love with him for so long. She sees him smile every time you comment on his posts, which of course, makes her mad.
In a desperate attempt to make him pay attention to her, instead, she probably accessed his phone and blocked you from his social media accounts. They're best friends, so of course, he trusts her with his phone. So unless you see him in person, you'll never know why he suddenly blocked you.
And he would be equally confused until he figures out that you're blocked from his profile.
He Expects Something From You
One of the surest ways to get someone's attention is to block them. Once they learn that you've done it, they'll constantly be thinking about why you did such a thing. Some of the most sensitive people will lose sleep thinking about it.
He probably expects something from you if this is the case. Aside from your attention and worry, maybe he wants you to apologize for something you did or said to him. Or perhaps he wants to let you know that you neglected him, and now he wants your loving attention.
Either way, he wants to get a reaction from you. He knew that if he messaged you, you'd probably be too busy to read it, much less answer it. So instead, he shocks you by disappearing completely. He knows that you'll notice his absence more than his presence.
Related: What he says and what he means
He's Tired Of Your Behavior
He could be one of the guys you rely on a lot in life. And as such, you are entirely too much like yourself whenever you're with him. You don't care about impressing him or anything. This means that he almost always ends up seeing and experiencing the worst of your attitude and behavior.
Related: What to do if your partner mad at you
And in your quest to be honest to yourself and such, you probably hurt him in the process. Perhaps it's even that you've hurt him over and over, and then you apologized over and over, as well, without improvement. As they say, the best apology is changed behavior.
Since you don't seem to care enough about him to change your bad habits, he's become tired of being your emotional sponge and punching bag. This is why he blocked you.
To him, you don't want to change yourself enough to stop hurting him (perhaps inadvertently), so he's taking charge of the narrative and blocking you to keep you from hurting him instead.
He's Trying To Gain Back Control
Perhaps he feels that you have the upper hand, and he wants to gain back control over your not-so-beautiful relationship. Men, generally, don't like women to have the upper hand. So he blocks you. He thinks (probably correctly) that once you realize he blocked you, you will be upset.
He's thinking that you'll most likely apologize even though you don't know what you did wrong. And he'll probably act like he's thinking about it before he forgives you and unblocks you. This is an underhanded move. He's probably not a very good guy if he does this. Manipulative people tend to do things like this all the time.
He's Trying To Prove A Point
It could also be that you've been fighting, or arguing and you don't give him a word in edgewise. It could be that you're too exacting in your opinion, as well as well-researched in your argument. He could be thinking that he has to get your attention enough to prove his point.
Some people say 'period' when they don't want to argue anymore. Well, if you're messaging, it's tough to use that to end an argument or prove a point. So, instead, he blocks you and ends the conversation his way. He knows that if he doesn't do it, you'll somehow find a way to get the last word.
Did he block you because he cares?
If the person who blocked you was your loved one, then the answer is yes, he blocked you because he cares about you.
Here is why.
Blocking a loved one is quite different from blocking someone you don't have a strong bond with or even dislike.
Sometimes your loved one simply wants you to know that they are hurt. If your partner blocks you, his sadness and anger are expressed passively. This shows that he still cares about you, otherwise he would not have such strong feelings for you.
People sometimes expect too much from their loved ones, so it's inevitable that they get hurt by them by accident, then they get angry and block them to show it.
So what do you think, did he block you because he cares?
He still cares for you very much, but he is angry at the moment, and speaking with you would hurt him even more.
FAQ
What Does It Mean When He Blocks You?
When he blocks you, it means that he doesn't want anything to do with you anymore. He wants a relationship break. He's probably trying to cut you off from his life. However, it's also possible that he likes you way too much, or he is mad at you. Emotions run high sometimes. But either way, he's done talking to you for now. If you try to contact him again, he may ignore you.
Why Would He Just Block Me Out Of Nowhere?
If he blocks you out of nowhere, he probably has hidden feelings for you, and he's trying to get a handle on them. He probably thinks that there's no chance of you getting together or being more than friends. This is why he's dealing with his feelings his own way. Of course, it could also be that someone else blocked you. Especially if everything's been going great and then suddenly, you're blocked.
Will He Come Back After Blocking Me?
Doubtful. However, the answer to this depends on his reason for blocking you. If he wanted to forget you, then no, he's probably not coming back. However, if he just wants to get your attention, or maybe he wants you to apologize, he will probably come back once you've soothed his ego. Sometimes, a relationship break can be helpful.
What To Do If A Guy Blocks You?
If a guy blocks you, first, try to think about his reason. If you believe you've offended him somehow, make sure to apologize. Communication is always better than silence. However, if it seems as though he's blocked you because he got what he wanted from you, then don't bother going after him. You'll only become a nuisance, or worse, you will over-inflate his ego. Don't let it bother you too much, and carry on being one of the strong women in the world.
Why Did He Block Me For No Reason
He probably has a reason for blocking you- you just don't know it yet. There is logic in relationships. If he's important to you, try to figure out why he could've done such a thing. You probably hurt his feelings or offended his sensibilities. Or perhaps you're too aggressive and forward, which makes him feel emasculated. Maybe you're too much of an independent woman, and he thinks you'll never need him. There are no such things as blocking someone for no reason. If you want to know why he blocked you, send him text messages. If he blocks your number as well, see him in person.
Nicole Graham is a relationship expert at Womenio.com. She is helping women grow into their best selves so they can be confident and bring more love, passion, and purpose to their lives. Nicole enjoys studying the psychology of love and is passionate about writing on them. She offers helpful tips and advice to help overcome any relationship issue, whether you're single or already in a relationship.