Your boyfriend could learn to hate you for a lot of reasons. He could feel suffocated in your relationship because of your controlling nature. He could also feel abandoned because you don't have nearly enough time for him. This will cause his affection to take a turn for the worse.
There are several signs to look out for to figure out if your boyfriend hates you. He could threaten to break up with you, sulk every time he sees you, ignore your effort, and such. What's important is your response to his behavior.
However, all these are part and parcel of being in a healthy relationship. Together, let us explore all the possible signs and reasons why your boyfriend hates you, as well as what to do if he does.
11 REASONS WHY YOUR BOYFRIEND HATES YOU
1. YOU'RE TOO CONTROLLING
There are times when you really want things to go according to plan. This is alright. However, when it spills over to your boyfriend, and it affects his freedom and sense of individuality, that's when it's not okay.
You may be forgetting the fact that he's not a thing you can control. He's a human being. You can't control his behavior, reactions, or emotions. Even if you argue that he has some vices you want him to quit, you cannot force him, too. Nor can you give him ultimatums.
If he wants to change, he has to do it for himself. His intention has to come from deep within and not from outside manipulation.
Or perhaps you're trying to give him a make-over. Maybe you don't like the way he dresses, which is why you're always telling him to wear this and that, and you've picked up the habit of buying his clothes. Or it could be that you're always telling him to pick up other friends because you don't trust them. This is why you're also forbidding him from hanging out with them.
Related: What to Do When You Are Mad at Your Boyfriend
If this is how you behave, it's no wonder he started to hate you. Perhaps you should throttle down on your controlling behavior, so you can give him space to breathe and be himself.
2. YOU DON'T HAVE TIME FOR HIM
Your boyfriend could have been feeling sad because of your busy schedule, and when you showed no signs of slowing down, he went from sad to being supremely pissed. This is because he needs quality time with you, and he wants to be your number 1 priority, or, at the very least, one of your priorities in life.
He's feeling abandoned. He just wants you to spend time with him and on him. He wants to feel important, loved, and cherished. Treat him as a toddler, and shower him with attention and affection.
If you carry on with your busy schedule, no matter how much he will pretend to be a mature adult and tell you that it's fine, it's not okay. You have to start managing your time better. Because if he is unhappy with your time away, that means he's trying to make time for you as well. You just need to meet him halfway.
3. YOUR BOYFRIEND IS AN ABUSIVE PERSON
Your boyfriend may hate you because he is an abuser and has abusive behavior towards you and others. It means that he doesn't respect or value you at all. You can tell by how he treats you. If he's been treating you badly, it might be best to leave this violent relationship right now before things get any more serious.
You should not be surprised by any of his actions towards you. It's just how abusers behave. They use their power over others to control them. In fact, they can even make people think they love them when they really don't! This kind of hateful behavior is common among narcissists who want to keep their victims under their thumb.
What's more, abusers often use their partners' love against them. They try to make their partner believe they're not good enough, so she'll stay with them. In fact, most people who abuse others usually have some sort of mental illness like depression, narcissism, anxiety disorder, bipolar disorder, etc.
If you suspect abuse from your partner, make sure to have an escape plan and also seek help immediately.
4. YOU'RE CONSTANTLY MENTIONING YOUR EX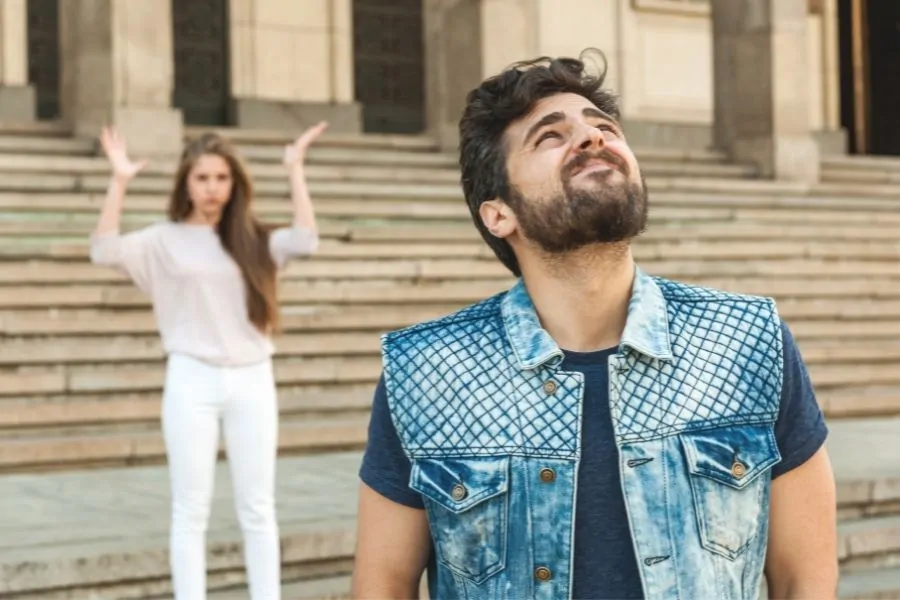 Understandably, you have memories of your past relationships. However, if you actively think about an ex and constantly mention his name, or worse, comparing him to your current boyfriend, you have to understand his reaction. No wonder your boyfriend will develop hate feelings towards you.
No one likes to be compared to an ex or hear continuous talk about them. Not even you. So don't put your boyfriend in the position of sharing the same space in your mind with an ex. If you haven't gotten over your previous boyfriend, you shouldn't have entered into another relationship.
If you continue being like this, your boyfriend will obviously have resentful feelings by your constant comparisons. He will grow to hate you in time for making him feel things he shouldn't have felt while he was in a relationship with you. Instead of security, you've made him feel like he is in constant competition with your ex for your love.
5. YOU DON'T RESPECT HIS BOUNDARIES
Respecting each other's boundaries is a must in a solid relationship. If you genuinely love each other, you will leave the other person enough private life to breathe and to be themselves. A person can cause serious relationship issues if they do not respect their partner's boundaries. They try to control everything they see and hear without giving any consideration to what their partners want.
This means that if he tells you to stay out of the shower whenever he's there, that could be another boundary he wants to establish. This is not him drawing a line. It just means that he wants to keep some parts of him private. And that's okay. Try not to take it too personally, and stop thinking that it's about you.
Related: What to do when your boyfriend is mad at you
Try to give him enough space to breathe so he doesn't suffocate in a bad relationship. Allow him to share things with you once he's ready and not before. Don't force him into anything. This will only lead to resentment, and eventually, to hate.
6. YOU'RE BEING TO JEALOUS
Being clingy is one thing. It's irritating but generally acceptable in small doses. Overthinking, however, coupled with a little crazy, is just too much. If you don't end up alienating your boyfriend or making him run the farthest away from you, he will eventually learn to hate you for this.
For example, a lot of people find a little jealousy attractive. They say that if you're jealous, it means that you care. But some people don't like it, as well. It reeks of insecurity and not a slight distrust, which doesn't seem like such a good foundation for a strong relationship.
So stop checking his phone whenever it pings, and he's not around. Stop overthinking in the middle of the night, making up scenarios that only end up hurting you. Stop imagining that he's cheating or that he's falling out of love with you. Your jealousy is only contributing to the many reasons why he should.
You're in a relationship. That is equivalent to a promise. Trust him.
7. YOU HAVE PERSONAL/WORK PROBLEMS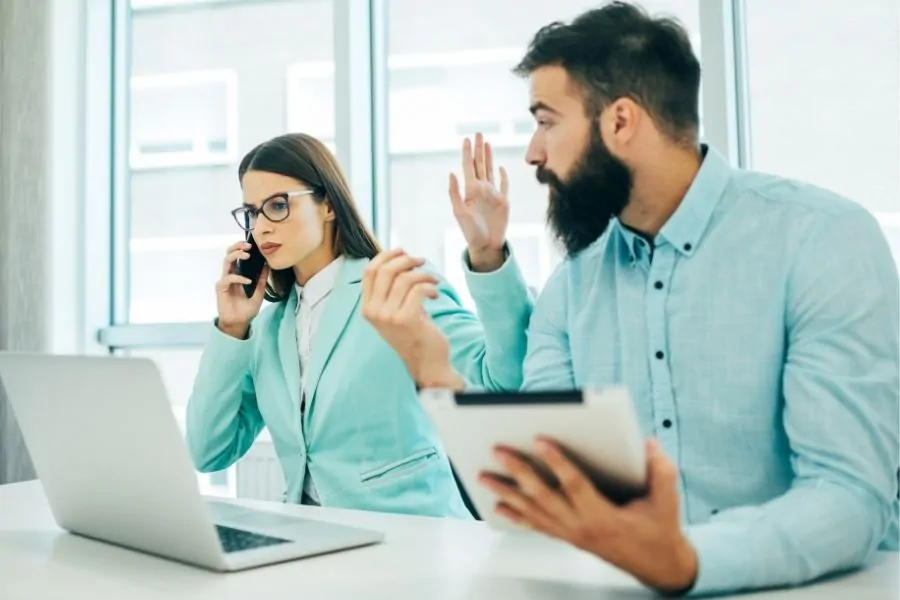 When you're having problems, whether personal or work-related, it will eventually spill over to your personal life. And when that happens, your boyfriend will, of course, feel it. He will notice that you're trying to distance yourself from him. Yes, perhaps you have good intentions, but they won't matter if you don't explain.
Because of your problems, you will be neck-deep in trying to deal with it, and you will not realize that your boyfriend is also having difficulties. Perhaps he has issues of his own, and he could have used your help. Or maybe his issues stem from you not having enough time for him.
Regardless, he will most likely grow to hate you for being too selfish. You're so immersed in your own problem that you have no time or inclination to help him out with his anymore. Of course, if you explained to him beforehand, he could have understood. But you didn't.
8. HE DOESN'T LIKE SOMETHING YOU DO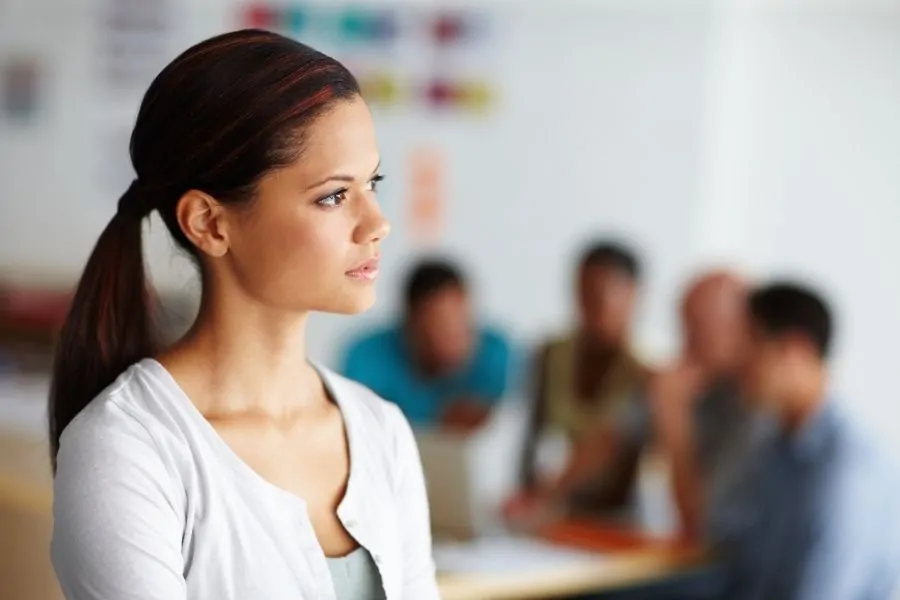 You may have an attitude and behavior that he hates. Perhaps you snore too loudly or act all high and mighty every time he tries to talk to you about politics. Or maybe he thinks you're a know-it-all because you always seem to know the answer to anything he asks.
This will make him hate you eventually. Especially if he's tried to talk to you about it, and you didn't accept it. Or maybe you refused to even listen. Perhaps you're in denial. Or perhaps you really just don't want to be criticized like that. Either way, if you want the relationship to last, you should listen and compromise.
9. YOU IGNORE HIS ADVICE
He could be a little tired of you solving your problems alone or run to your friends or parents for advice. You don't reach out to him at the first sign of trouble and ask him for help. Perhaps he wants you to trust him enough to come to him if you have problems. Or maybe he just wants to feel needed.
Women who have been single for a long time tend to want to solve their problems on their own, instead of dragging their boyfriends into the mess with them. This is also true for most strong, independent women. It's not that they have relationship issues with their boyfriends. They are just used to solving things on their own.
This could offend their boyfriend, of course. Especially if he wants to help out and ends up getting ignored. Men want to feel needed. So perhaps it would be all-around better if you try to rope them in, even if it's only pretending. Eventually, you'll get used to asking him for his opinion or advice.
10. YOU FLIRT WITH EVERYONE
Some people are just naturally outgoing. A lot of ladies are like that, and it's a tricky situation if they have boyfriends. Especially since guys are also naturally territorial. When a woman goes out on a date, and then ends up laughing and talking to everyone she meets along the way, he might think something is going on between her and someone else. A man doesn't like when his woman flirts with other men. He feels threatened by this.
Of course, your boyfriend could choose to accept it. Especially if he's secure enough knowing that you love him. However, if you just started dating, and he's still a bit insecure about his role in your socially active life, then he'll probably dislike your flirtatious way of interacting with people.
He could talk to you about it, but you will probably think that you're doing nothing wrong. And you'd be right. Unless, of course, you're intending to make things complicated for yourself by acquiring some backup booty calls.
If he does open up to you about it, try to put his mind at ease by making sure he understands that you are not flirting. You're only social. And there's nothing wrong with that. Reassure him by making sure he knows that he's the only one for you.
11. YOU TAKE HIM FOR GRANTED
No one wants to be treated like he's part of the background as your relationship progresses. Especially if you used to dress up for him, and take care of him when you started going out. Perhaps you've gotten too comfortable in your routine that you've begun to take him for granted.
This is not a good thing, and you should definitely fix this. After all, you wouldn't want him to do this to you, would you? Being taken for granted hurts. It feels like you don't see him as someone special anymore. It'll feel more like you're friends who have gotten used to each other.
If this happens, try to fix things with him before it's too late. He could learn to hate you for this, and it's hard to come back from that.
15 SIGNS THAT YOUR BOYFRIEND HATES YOU
1. HE PICKS A FIGHT WITH YOU
If he's been picking a fight with you every time you open your mouth to try and talk to him, that's an obvious sign that he hates you. He's probably as hurt as he is resentful, which made his love for you turn into hate.
So if he gets angry with you immediately after you comment on the news you're both listening to, he's probably fed up with you.
2. HE PULLS AWAY
You could be trying to hug him to get closer to him, and he'll just pull away and gives you the silent treatment. This means that he wants distance from you. He's probably angry enough to the point of explosion, or perhaps numb from all the pain you've caused him. This is why he pulls away.
Related: When your boyfriend ignores you after a fight
If he does this, it's probably best not to push it unless you want to engage in a shouting match with a side of throwing breakable stuff.
3. HE'S CRITICAL OF YOUR FLAWS
Whereas before, he was accepting and totally cool about all your unpleasant attitudes and flaws. Now that he hates you, he'll probably start bringing them up every chance he gets. This is so you'll know exactly why he's so angry and hateful. A bad sign it is.
It could also be that he wants you to face your own faults so that you can change or so that you can see for yourself how unpleasant your personality is. It's harsh, but it's probably repressed rage.
Related: How to handle a rude boyfriend
4. HE DOESN'T CARE ABOUT YOU ANYMORE
Back when you were still on good terms, he was very attentive and caring. He treated you like a princess. So much so, in fact, that when he started hating you, the complete 180-degree turn took you by surprise.
So he's stopped cooking for you or waiting up for you. He doesn't care much if you're sick, either. This means he hates you, and whatever love he felt for you before has gone because of it. His true colors are showing now.
He may even stop talking to you altogether. If he starts doing these things, then there's no turning back. You need to end this right here and now.
5. HE DOESN'T WANT TO DO THINGS TOGETHER WITH YOU
So he doesn't want to go to the Coldplay concert with you or go see Hamilton on Broadway despite all your plans to go together. This means he hates you enough that he's done with your company. You've probably made him feel abandoned before, which is why he hates you now.
Related: Signs he doesn't want to be with you
If he stops wanting to do things together with you, don't force it. He's hurt, and he's resentful.
6. HE PUTS YOU DOWN IN PUBLIC
Yes, this is a toxic and hateful thing to do. But he probably hates you too much now to want to insult you in front of your friends and other people. He wants to disgrace you. Maybe he's subtle about it, or maybe he doesn't bother with subtlety. If he does this, it's a huge sign that he hates you more than ever.
7. HE REFUSES TO TALK ABOUT THE FUTURE
You'd be talking about your future plans and about what you want to do when you're married, and he just won't comment. Or maybe he'd pretend not to hear what you said. He could also just walk out. A partner through life would talk about their hopes and dreams, and they wouldn't shut down. They'd listen and respond. That's what partners do. And yet, he refuses to say anything at all.
If he does any of these things, it means that he doesn't see a future with you anymore. You should probably stop trying to convince him to talk about it with you.
8. HE BLAMES YOU FOR EVERYTHING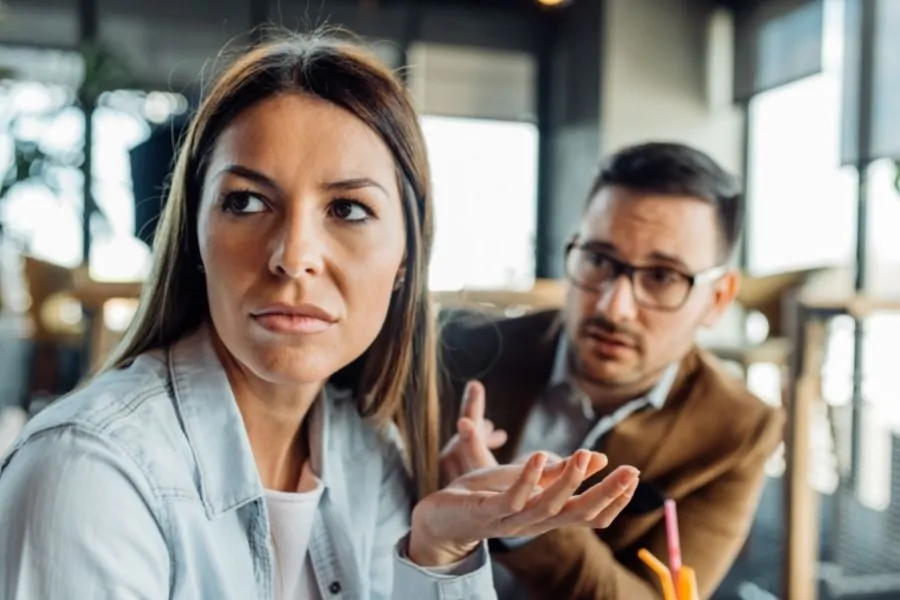 It could be raining outside, and he would blame you for it. Or maybe he woke up late, so of course, it's your fault. A black-out could occur, and he would take it out on you. If he hates you, he would want to blame everything on you. His shitty behavior can be explained by the fact that he might feel caged in an abusive relationship or trapped in some kind of prison where he feels helpless. To him, you're Eve and Pandora all rolled into one.
9. HE DOESN'T NOTICE YOUR ACCOMPLISHMENTS
You could win the Nobel Prize for all he cares. In fact, even if you come up with the cure for cancer, he won't even clap you for it. Perhaps he doesn't care about you enough to notice. It could also be that he noticed, and he just doesn't care to acknowledge it. Whatever the reason, he won't be applauding you for anything anytime soon.
10. HE COMPARES YOU WITH OTHER WOMEN
When he starts to objectify you and compare you with other women, it means he doesn't care about hurting your feelings anymore. Or perhaps his goal is to hurt your feelings. He probably hates you for all the times you did this to him by comparing him with your ex. So now he's returning the favor.
11. HE THREATENS TO BREAK-UP WITH YOU
If he starts threatening to break up with you every time you argue, that's a sure sign that he hates you. It could be that he's just waiting for the right time to do it. Or perhaps he's been trying to give you a reason to break up with him. Either way, he wants out of a loveless relationship, and he's not shy about it. A happy couple will fight sometimes, but they don't threaten each other.
12. HE CHANGES HIS PASSWORD
He could have been the type who gave you all his log-in information as a sign of trust, and when his feelings began to change, he began to reset everything. This means that he doesn't trust you anymore. Since you routinely check his accounts, you would know what he did. Yes, he hates you enough to let you know that he doesn't trust you anymore.
13. HE KEEPS SECRETS
Keeping secrets about things you both should know about as a couple is a telltale sign of trouble. So if you catch your boyfriend texting and then suddenly putting his phone away when you walk into the room, that's a big red flag. Or he could step outside to take a call instead of just going to the other room. He could even disappear for hours without letting you know about it.
When these things start happening, it means he doesn't respect you enough to let you know where he is. Or perhaps he doesn't care if you figure it out yourself. He also doesn't care if doing all these things hurt you. He's too far gone.
14. HE LOOKS AT OTHER WOMEN
If you catch him double-tapping other women's pictures on Instagram when he didn't use to do it before, that's a warning sign that he's beginning to look at other women with speculation. And he doesn't care if you see it. He probably wants you to see it and know, in your heart, that he's over you.
15. HE DOESN'T LOOK AT YOU THE SAME WAY
Your boyfriend doesn't look at you with love anymore, and he did so before. Even though he told you he loved your singing voice, he doesn't compliment you anymore when he hears you sing. He may even turn critical and say you didn't sound good when you did, just out of spite. This means he hates you enough to be mean and petty without feeling guilty about it.
WHAT TO DO WHEN YOUR BOYFRIEND HATES YOU
The first thing is to talk to him. Good communication can fix any relationship problem. If you feel him slowly distancing himself from you, or growing resentful and hateful, don't just ignore it and hope it goes away because it won't. Not until you fix it.
Perhaps you can fix your relationship, or maybe you won't be able to. What's important is that you try. Try hard. And try to think about him, instead of just yourself. You're a team now. Or at least, you're supposed to be.
If, however, you believe that your relationship has become too toxic to salvage, it's best to walk away and learn from your mistakes. Hateful feelings are contagious. If you don't want them to spread to you, get out while you still can.
It takes courage to give up, too. In fact, you need just the same amount of courage to fight for your relationship.
FAQ
How Do You Know If Your Boyfriend Hates You?
You will know by his words and his actions that he hates you. He won't be shy about it. He will say hurtful words and do awful things. Some sure signs that he hates you will include him picking a fight with you, pulling away from you both physically and emotionally, keeping secrets, etc.
Why Does It Feel Like My Partner Hates Me
You probably did something wrong. It takes a lot to turn love and affection into hate. Perhaps you were too controlling, or maybe you didn't give him time and attention. There could be a lot of other reasons. Either way, you feel like he hates you, probably because he does.
How Do You Test a Guy to See If He Really Loves You
There are a lot of signs if a guy really loves you. However, if you want to know for sure, the simplest test is to check his honesty. It may not feel like much, but only men who respect you and care for you will be honest with you all the way. If he listens to you and cares about your opinion, that's also a plus.
Why Does My Boyfriend Hate Me but Won't Leave
He probably thinks your relationship is worth fighting for and staying for. Perhaps he's waiting for the right time to talk it through with you. Or maybe he still loves you enough to stay even though it hurts him more than it does you. Either he is a respectful boyfriend who still loves you, or he has some kind of interest to stay with you.
Why Does My Boyfriend Hate Me All of a Sudden
You probably did something to make him hate you all of a sudden. Or maybe he wasn't already in the right frame of mind when it happened. Either way, his feelings can't be blamed solely on him. You must have done something to trigger such strong emotions.
What to Say When Your Boyfriend Says He Hates You
You could ask him why in order to open the conversation so that you begin healing. Or you could give him some chill time. It probably took you aback as well. That kind of venom is not something you say every day, even in an argument. So you can give the both of you some space to deal with things before you can talk about them like adults.
Nicole Graham is a relationship expert at Womenio.com. She is helping women grow into their best selves so they can be confident and bring more love, passion, and purpose to their lives. Nicole enjoys studying the psychology of love and is passionate about writing on them. She offers helpful tips and advice to help overcome any relationship issue, whether you're single or already in a relationship.