If you're looking for how to turn on a guy over text without being too obvious, then you've come to just the right place.
Whether you're trying to keep the spark alive in your relationship or just feeling a little bit frisky and have your eye on a special someone, there are a ton of ways you can get a guy into the mood over text without being too obvious. For example, here are a bunch of Flirty Good Morning Text Messages For Him to start the day.
Turning On a Guy With Text Messages Without Being So Obvious
I'm sure you want to be as subtle as possible while you try to turn him on - just so he's left wanting more, right?
If so, here are some winning texting techniques on how to turn your guy on in a not-so-obvious way and how to escalate the situation when the time comes. 
First, ease into it and read the situation

before

getting your knickers off.
Trust me, I know you're in the mood, but you don't want to rush the situation! That's the absolute worst thing you can do. If you jump straight into the dirty text messages, you risk coming across as too forward and a little bit desperate.
If this is a new guy you're pursuing, you don't want him to get the wrong impression of you. The last thing you want is for him to think this is a pastime for you and something you do regularly with random guys, him included.
He probably wants to know that you're actually interested in him and, therefore, he's that lucky someone. 
The last thing you want to do is scare him off by being too full on!
First, judge the mood of the conversation to be sure now is the right time to start up spicy texting. There's nothing more embarrassing than striking up the dirty talk when they're at the office or with their mates. 
You'll be able to tell whether you have the green light based on how he's acting and how he typically reacts to your flirtatious comments. You'll also be able to tell by comparing the interaction to similar ones you've had in the past.
If this is a new relationship, then you definitely want to judge whether now is the right time for those dirty text messages. He might not be into dirty texting, and you might put him off by going in for it so soon! You could ruin the entire blossoming relationship by being too straightforward. This is why it's important to ease into the situation.
Try flirting with him and being a little bit suggestive before sending anything inappropriate or unsolicited. I know it's a common myth that guys are always horny, so you have to remember that they're people too.
They're subject to wants, needs, and consent just as much as we ladies are. If he's not into it, lay off.  
Just sit back and think about the current vibe of the situation. Is he making flirty remarks back? If so, he's almost definitely in the right mood to ramp up the heat.
After you've decided whether he's progressing towards a naughtier conversation, you might wonder how to do so.
Here's how you should approach the scenario to guarantee success:
Pay him compliments to kick the conversation off.
Everyone loves receiving some good old-fashioned compliments! Try paying him a few innocent ones before getting into the dirtier stuff. This will boost his ego and start to get him into the right mood. 
If you're just starting up the conversation, try to keep the compliments on the tamer side. You should try to avoid these being overtly direct or ambiguous. At the moment, you want to be as straightforward as possible just to let him know you're into him. 
You're not in a rush here, so take your time!
Remember that you're just trying to give him a bit of a confidence boost and letting him know you find him attractive before jumping into the good stuff.
Doing so will make him start to think about his own attraction to you. If he starts to think about the way you look, you're not too far off from making him need you like crazy!
If you're stuck for ideas, try something like "did I mention that you looked really good last night?" or "your new haircut really suits you - it makes you look so handsome." 
The key is to draw attention to and praise his appearance subtly. A little ego lift will go a long, long way. 
You might even get a good compliment or two back if you're lucky! An ego lift of your own and a little insight into what he thinks about you. Win, win!
Now time to proceed with some innocent flirting to get you both in the mood.
Now you've made it clear you're attracted to the guy and thinking about him in that way, it's time to turn up the heat! Start with some innocent flirting to test the waters and see whether he's into it. 
Again, we're trying to keep it on the cleaner side here. It's too early on in the conversation to jump into anything too hot and heavy.
Therefore when flirting, you should try to keep things generally light-hearted for the time being. Be playful and a little bit cheeky - teasing is your path to success.
You don't want to hit him with too much of the good stuff too earlier on because the fun might be over far sooner than you want it to be. Even worse, he might again be put off by how forward you're being.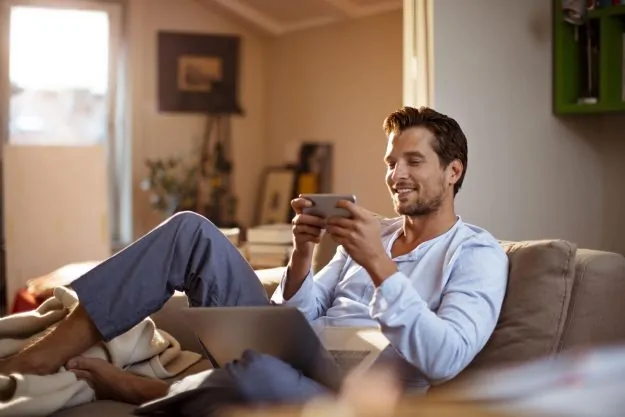 Fire up those flirty text messages!
To flirt, carry on with the compliments you gave him but try to be a bit cheekier with them. Make it clear that you're in a flirtatious, even daring, mood by drawing attention to how he makes you feel.
Try something like, "I was so nervous being without you yesterday," or "I can't stop checking my phone to see if you've replied yet." 
Flirty texts like these let him know that you think about him generally and therefore let him know that you're into him. Now he won't start to worry that you're only into him when you hit him with dirty texts later on.
Click here to learn more about flirting over text. I wrote a long and useful article about it.
Remember, the overall aim here is to show him that you don't just want him, but you also need him. He is in control of your emotions because you sure can't keep them under control yourself!
Give him the power, or make him think he has the power. A little white lie is fine if it's leading up to the time of his life. 
Be suggestive
Once you've started flirting and he seems to be enjoying it, it's time to become more suggestive.
As a conversation starter, you could tell him what you're doing right now and get him thinking about you in the present. It also lets him know that it's a good time for the texting to get a bit dirtier on your end. Hopefully, he'll let you know what he's doing too, so you have the green light to become a little bit naughtier. (Remember that if he's at work, NOW IS NOT THE TIME TO PROCEED.)
If you're stuck on how to progress from here, try something like this: "I just got out of the shower, and it's a bit cold in here."
Now he's starting to picture you in a teeny tiny towel... (And, again, don't feel bad about telling a white lie or two, they're harmless.)
The trick here is to make him think about you visually. This doesn't have to start off naughty, though! The shower comment is a good trick, but you could also try something tamer, like asking him for some advice on an outfit. 
"Do you like my hair like this?", "Does the shirt match this skirt?" or "Do you think this color makes my eyes pop?" all get him thinking about the way you look in the present. You can accompany comments like these with pictures too.
A photo might give his imagination more to work from, but it's completely up to you whether you want to or not.
Tease him a little bit.
You want to keep him on edge, but you also don't want to let him grow bored with the situation. To do this, be flirtatious, and even a little bit dirty, but don't keep it going for too long.
Most of the time, dirty texting is about getting each other in the right mood for when you see each other in person. But if you draw it out for too long, he might get a bit tired of it. 
You could also stray a bit further from flirting and instead start up a bit of a scandalous conversation when teasing him. Maybe try one of these dirty 69 pickup lines.
If the mood is right, ask him some flirty questions instead. "What's your biggest kink?" "What do you want to do to me right now?" You can show him the right way with a suggestive question. Use your own imagination, and in turn, he'll use his!
Be wary that it might not be the time for dirty texting.
Be careful to keep things on the safe side if it's not really an appropriate time for him. For example, if you know he's at work, you probably shouldn't be trying your hardest to get him hard!
You should probably find out what he's doing, where he is, or who he's with before you move much further past the flirting and teasing stage. God forbid his family member sees a naughty text message before you've even had the introductions.
At this point you are ready to be more direct and take the texting to the next level.
Let him know that you're turned on.
There are few things quite as hot as a woman who feels and knows what she wants and needs. If you're in the mood, tell him so! It puts everything out in the open and gives your man the control to do what he pleases with it. 
Maybe send him some cheeky photos of yourself, if you're both into it.
If you feel comfortable and you know he's OK with you both sending spicy photos of each other, then send him something hot! These don't have to be completely nude photographs if you're not comfortable. 
Remember, nothing is more of a turn-on than imagination! Throw some hot lingerie on and let his mind wander. His imagination will do the rest. 
You don't need to get your nude photos out to have him burning for you! A little bit of skin is enough of a tease for most guys. Let your words do the rest.
Again, just make sure it isn't an inappropriate time to be doing so. God forbid his boss, friends, or a family member see it as well.
Be bold!
You're hot, confident, and have nothing to be afraid of. Don't be scared to be a little bit assertive. Tell him what you want. 
If the conversation has already progressed into an intimate one, take charge. Guys love a woman that knows what she wants in the bedroom.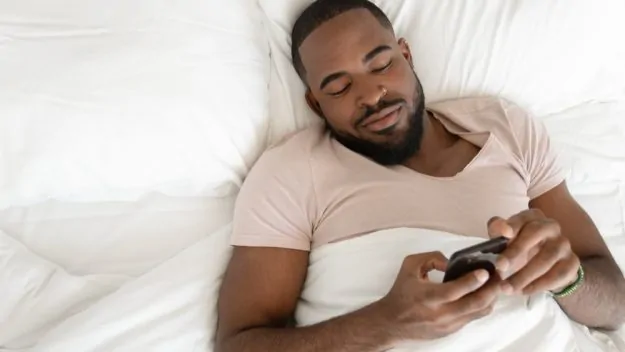 Build anticipation!
If you're trying to get him in the mood because the two of you are seeing each other later, this step is perfect!
You want to turn him on and make him need you, but you don't want to ruin the fun too soon or before you see each other. This means you need to tease him just enough, but you leave him wanting more. 
To do this, you can talk about when you're going to see each other. Tell him some of the things you want to do to each other and make him eager to see you, make him miss you like super crazy.
Some of the things you could tell him are, "I have a surprise for you later…" or "I can't wait for you to see how I've gotten all dressed up for you."  
Just remember not to over hype the situation too much while doing this step. While it will definitely turn him on, it might put too much pressure on him for when the time comes, and you actually see each other. It might even put too much pressure on you!
If you're already in a relationship with the guy.
Don't worry, all of the other tips on this list will work to turn you man on whether you're in a committed long-term relationship or if you're just starting up one! But if you're already in a committed relationship with the man you're texting, you have an obvious advantage, so it will be a little easier for you to strike up that kind of convo.
You've probably tried something like this with him before, and even if you haven't, you have some sort of intimate relationship and attraction to each other that has been confirmed. Therefore you can be a bit more obvious with your flirting and have the gift of experience on your side. 
First of all, you want to remind him that he struck out when he won you over and couldn't find a better woman if he tried. You are a prize that he should be beyond grateful for!
To do this, you need to take him on a trip down memory lane, which is actually your golden ticket to success here. You should try to remind him of all the times you've had together, so he'll realize how fantastic the relationship you share is.
You can do this by reminding him of some of the things you've done, and you should probably focus on some of those memories in the bedroom! Recount some of your more frisky and exciting ren-de-vous' so he can relive them in his head. 
If you're not up for this, you could always just try to tease him with a visual. I'm sure there's a naughty little costume or some hot lingerie he just goes crazy for when you wear it. Remind him of that. Maybe you'll even whip it out for him later tonight if he earns it.  
It is much easier to turn on a man you've already had an intimate relationship with because you don't have to rely so much on his imagination. You can predominantly rely on his memory. And if he needs to use his imagination, it will be a little bit easier to let it wander because he knows exactly where it's going. 
Lastly, have fun!
The last thing to note is that this is just as much about you as it is about him.
This isn't a chore or something only he should be enjoying. Dirty texting is supposed to be fun for both of you! Remember on your journey of turning a guy on to make sure you're in the right mood too.
It's all well and good knowing he wants you, but you need to make sure that you want him at the moment just as much.
So there you have it - tease, tease, tease! Remember that every situation is different, and these steps might not be perfect for everyone.
But one thing I can promise you; nothing will turn on your guy more than the things you plant in his imagination. This way, you've not been too obvious because it's his mind doing all of the work! Good luck.
Biggest Turn On For Guys Over Text
The biggest turn on for guys over text is the following set of actions:
Tell him that you can't stop thinking about him and that you're turned on for him.

Let him know what you're wearing or not wearing.
Let him know what you want to do to him.
Let him know what you want to do to you.
Finally, send him a hot photo or video of yourself.
When you are done with these steps, your guy will almost explode from lust and desire. He'll be ready and willing to do whatever you ask. You can use this technique to turn any guy on for you.
You can skip any of the steps if you are not comfortable with them. Make sure to keep the texting fun and comfortable for you too.
Read Next:
Nicole Graham is a relationship expert at Womenio.com. She is helping women grow into their best selves so they can be confident and bring more love, passion, and purpose to their lives. Nicole enjoys studying the psychology of love and is passionate about writing on them. She offers helpful tips and advice to help overcome any relationship issue, whether you're single or already in a relationship.